Trip to Portugal - Vila Chã
The beach is one of the parts of the fishing village of Vila Chã, in the municipality of Vila do Conde. It is one of the southernmost sands of this community that still retains much of the most traditional fishing gear. It is not uncommon there to find small boats or fishermen on the coastal rocks. The rocks are really one of the strongest images of the beach, in its bathing area, where there is a lot of iodine in the water.
There are those who prefer the morning but it is at sunset that the place enchants. To enjoy the landscape, just sit on the terrace in the Pucinho restaurant-bar, a space that has been around for decades, and where you can have a coffee or line up with the house specialties, all based on seafood and fish caught nearby. . Clams, navalheiras or shrimp are a good reason to accompany with a white wine. For those who prefer a meal, there are grilled fish or seafood rice.
There is much to discover around. Leaving Pucinho to the north, the course is towards the more traditional Vila Chã where the small fishing boats are still on the beach. To the south, there is the walkway that allows you to reach Labruge, along the way there is another corner on the beach of Castro São Paio that I will post about this magnificent place.
Peaceful and sheltered from the wind, Vila Chã Beach has a small sand with several rocky areas and good infrastructure that provide all the support that bathers may need.
The ideal place to take a walk by the sea, as Vila Chã is small and does not have many people, which gives you the opportunity to relax.
In the last photos I found this house with this decoration that you could not fail to photograph.
---
Visit Portugal
Images © 2020 @portugalcoin | All Rights Reserved
---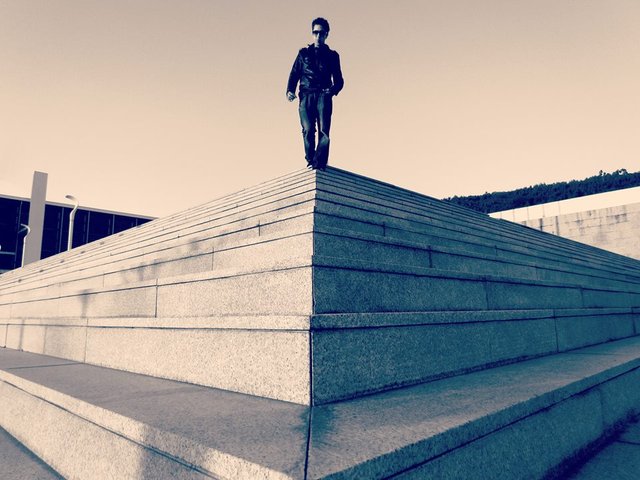 Portugalcoin 🇵🇹
WELCOME to my blog on Steem blockchain. Here you will find several trips I take in Portugal and information about the main monuments, squares, streets, palaces...
Hug from PORTUGAL!