The Diary Game - 28/10/2020: Homemade Creations - Creazioni fatte in casa [ENG-ITA]
[ENG]
Hello everyone!
In recent days, I have been limiting my work trips to the bare minimum, given that in Campania, the region in which I live, unfortunately we are recording a very high number of Coronavirus infections.
Many municipalities have been quarantined, as the epidemic has exploded like a bomb and this is a very delicate moment because it's necessary to prevent health structures from collapsing.
Certainly, the population density of our cities, the impossibility of applying a total closure and, in many cases, people's lack of responsibility and respect for the rules, make the situation critical.
My work allows me to be able to hear customers even from a distance, so, except in cases where it is absolutely necessary to meet, I have chosen to avoid going around.
On some occasions, even the customers themselves ask me or recommend it, because they may know the emergency conditions in their area.
In this sad situation, however, I want to highlight a positive side, namely that of having the opportunity to spend more time with my family.
So I have fun with my son Leo, as he is not going to school either, and when I am at home, he is always very happy to build or create something with me.
I have already shown his creative vein in various previous posts, especially during the lockdown period I proudly showed off his art.
He is only a little over three years old and inherited a passion for this kind of thing from his grandfather.
This time, at his suggestion, we did a little engineering work with magnets...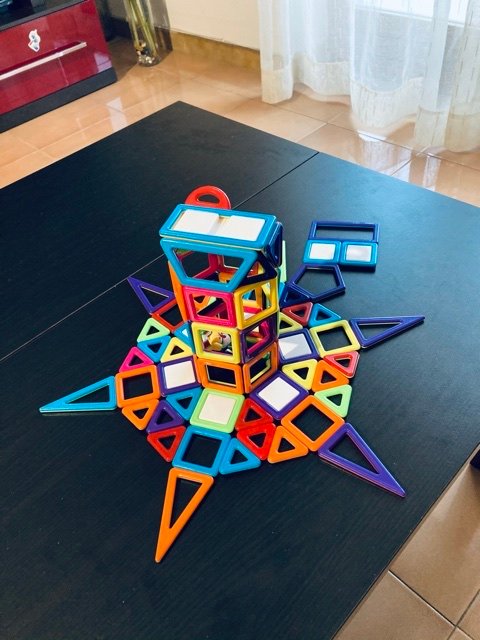 It is a house for Jeeg Robot (you should be able to see it inside) surrounded by a circular base.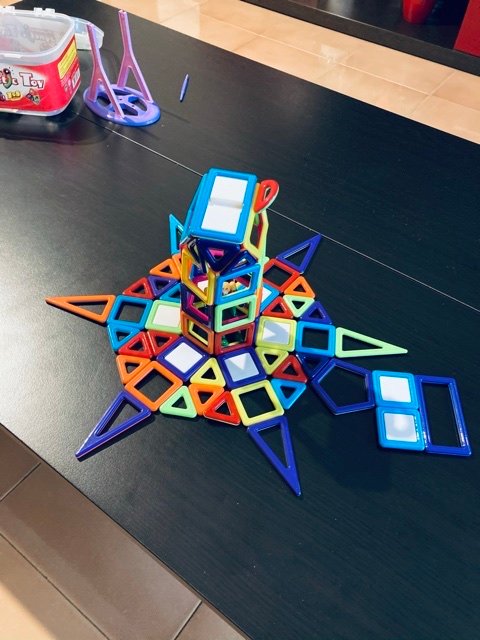 It was as always very fun and stimulating to create this little construction, as Leo is very precise, imaginative and absolutely not confusing.
As we assembled the pieces, we came up with ideas on how to decorate the exterior of this small building or what shapes to use for the various areas.
We also took the opportunity to review the shapes, but he already knew them all well, except the pentagon and the hexagon.
So it was also an opportunity to learn something new.
At the end of our work, we took these photos and sent them to the grandfather who really appreciated.
Now, in the next few days, we will certainly do some Halloween chores and I will gladly show you some.
See you soon!

This post is set to Power Up 100%
cc: @steemitblog, @steemcurator01, @steemcurator02
I hope to be lucky... 🍀😁

Thanks to all of you for reading my article.
If you liked it, share it on your blog and write me a comment with your impressions.
I'm part of the @Italygame Team together with @mikitaly, @mad-runner, @ilnegro and @sardrt.
GM
---
All images are the exclusive property of the author.
[ITA]
Ciao a tutti!
In questi ultimi giorni, sto limitando le mie uscite lavorative al minimo indispensabile, visto che in Campania, la regione nella quale vivo, purtroppo stiamo registrando un numero veramente molto alto di contagi da Coronavirus.
Molti comuni sono stati messi in quarantena, visto che l'epidemia è esplosa come una bomba e questo è un momento davvero delicato perché è necessario evitare che le strutture sanitarie arrivino al collasso.
Di sicuro, la densità abitativa delle nostre città, l'impossibilità di applicare una chiusura totale e, in molti casi, la mancanza di responsabilità e rispetto delle regole da parte delle persone, rendono la situazione critica.
Il mio lavoro mi permette di poter sentire i clienti anche a distanza, così, salvo i casi in cui è assolutamente necessario incontrarsi, ho scelto di evitare di andare in giro.
In alcune occasioni sono anche gli stessi clienti a chiedermelo o a raccomandarmelo, perché magari conoscono le condizioni di emergenza della loro zona.
In questa triste situazione, però, voglio evidenziare un risvolto positivo, cioè quello di avere la possibilità di stare più tempo con la mia famiglia.
Allora mi diverto con mio figlio Leo, visto che anche lui non sta andando a scuola, e quando sono a casa, è sempre molto contento di costruire o creare qualcosa insieme a me.
Ho già mostrato in vari post precedenti la sua vena creativa, soprattutto durante il periodo del lockdown ho fatto orgoglioso sfoggio della sua arte.
Ha solo poco più di tre anni e ha ereditato la passione per questo genere di cose dal nonno.
Stavolta, su sua proposta, abbiamo fatto una piccola opera ingegneristica con i magneti...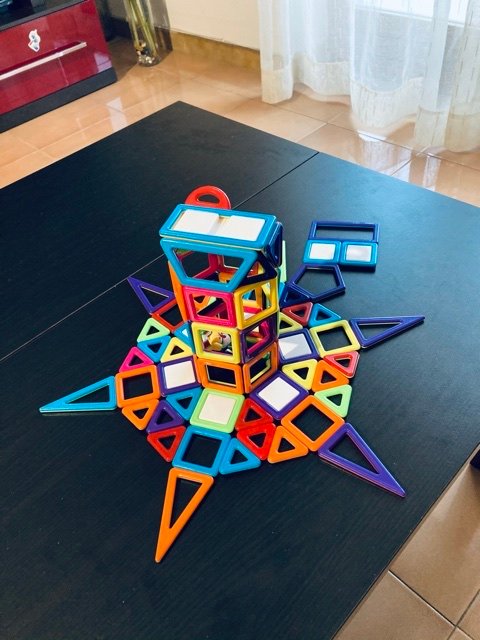 E' una casa per Jeeg Robot (dovreste riuscire a vederlo all'interno) circondata da una base circolare.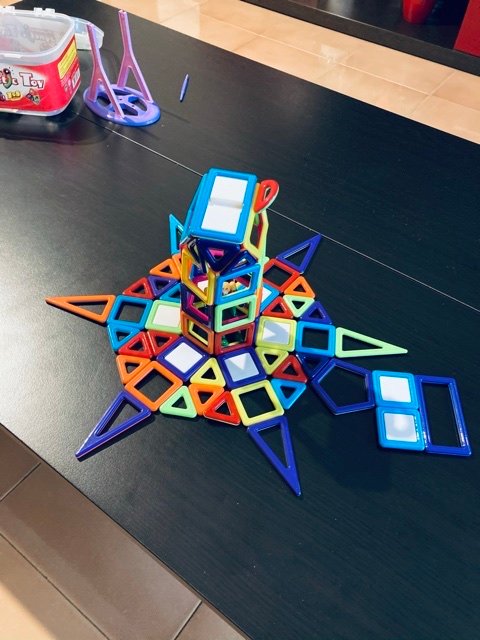 E' stato come sempre molto divertente e stimolante creare questa piccola costruzione, visto che Leo è molto preciso, fantasioso e per niente confusionario.
Man mano che montavamo i pezzi, ci venivano le idee su come decorare l'esterno di questo piccolo palazzo o su quali forme utilizzare per le varie aree.
Abbiamo anche approfittato per ripassare le forme, ma lui le conosceva già bene tutte, tranne il pentagono e l'esagono.
Quindi è stata anche un'occasione per imparare qualcosa di nuovo.
Alla fine del nostra lavoro, abbiamo scattato queste foto e le abbiamo inviate al nonno che ha apprezzato molto l'opera.
Adesso, nei prossimi giorni, faremo di certo qualche lavoretto di Halloween e ve ne mostrerò con molto piacere qualcuno.
A presto!
---
Grazie a tutti voi per aver letto il mio post.
Se vi è piaciuto, condividetelo sul vostro blog e scrivetemi un commento con le vostre impressioni.
Faccio parte del Team @Italygame insieme con @mikitaly, @mad-runner, @ilnegro and @sardrt.
GM
---
Tutte le immagini sono di esclusiva proprietà dell'autore.
---