The Diary Game - 30/09/2020: Fantasy Footbal 2020/21: a good start - Fantacalcio 2020/21: un buon inizio [ENG-ITA]
[ENG]
Hello everyone!
Last night the recoveries of the first day of Serie A ended, as some teams had finished later the previous season, due to the commitments in the final stages of the European Cups.
When the matches of a given day are postponed, those who play Fantasy Football have the possibility to choose two options:
evaluate all the players of the teams whose matches are postponed with a 6
wait for the games to be played and calculate the results after the round is completed
In this particular case, we have unanimously chosen to wait for the recoveries of the matches, essentially for two reasons:
it was 3 games out of 10 overall and inevitably giving a 6 to so many players would have skewed the results
a recovery date had already been established and therefore we would have had to wait just one more week to close and finally calculate the results.
And so, now I will talk to you about the outcome of the first two days, which, for me, have been extremely positive.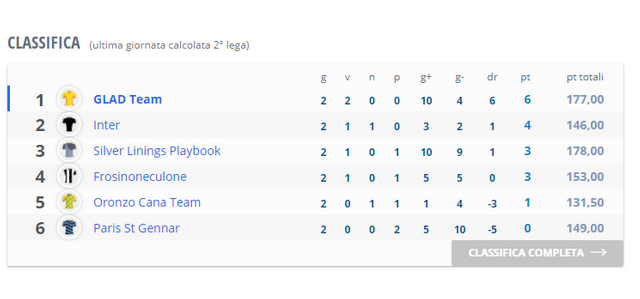 This is the current ranking.
My team is GLAD Team and therefore, as you can see, I'm in first place with full points.
I must say that I am very surprised with this result, because as I said in the post where I presented my team, I was not very happy with how my sealed auction went.
Instead my players started in an incredible way, giving me two days really full of satisfactions and goals.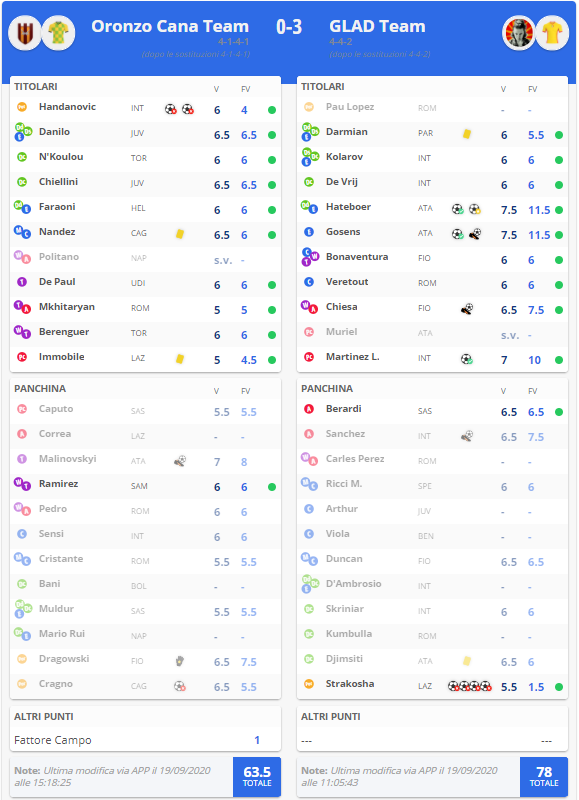 This is my first win, a solid 0-3 with 78 points.
The team proved solid, beyond the goalkeeper Strakosha who I had put on the bench and who entered the field given the absence of Pau Lopez.
Especially the side midfielders of Atalanta Hateboer and Gosens shone, they were imperial against Lazio, as well as Lautaro Martinez, the Argentine striker of Inter who is experiencing a great moment of form and who managed to score despite playing only a segment of the match against Benevento.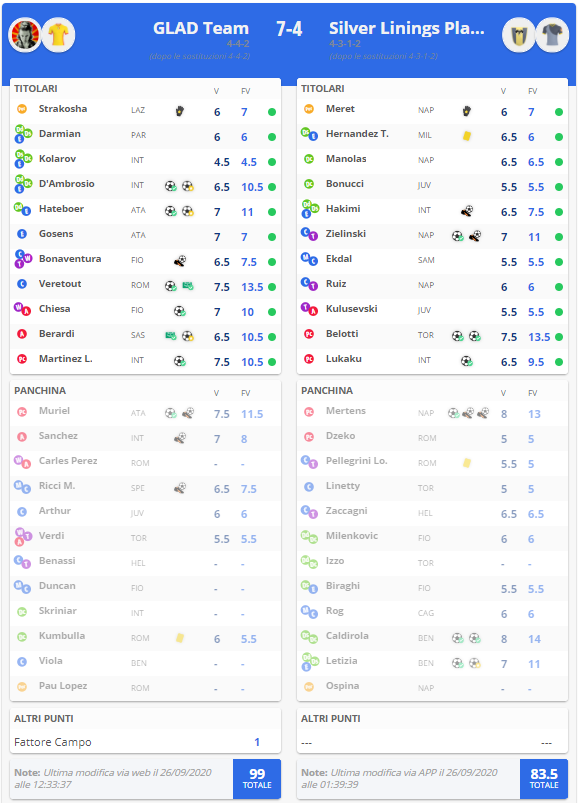 The second day, which ended earlier than the previous one due to the recoveries of the postponed matches, was even more triumphant.
I was facing the strongest team in our league and I beat them with a stratospheric and pyrotechnic 7-4!!
Here the top list is very long...in practice, defenders, midfielders and forwards scored.
It was an extraordinary day, in which I even reached the exceptional score of 99 points!!
In short, my team gave me some really important signals, distorting the idea I had after the end of the transfer market.
Who knows if it was just a coincidence or if it really will be another great season...it's still early to say, the matches are many and moreover the specter of Covid is hovering over us, especially after the news of the positivity of 15 members of Genoa.
We will see what happens, in the meantime I enjoy these two beautiful victories and the first place in the standings.
---
Thanks to all of you for reading my article.
If you liked it, share it on your blog and write me a comment with your impressions.
I'm part of the @Italygame Team together with @mikitaly, @mad-runner, @ilnegro and @sardrt.
See you soon!
GM
---
All images are the exclusive property of the author.
[ITA]
Ciao a tutti!
Ieri sera si sono conclusi i recuperi della prima giornata di Serie A, visto che alcune squadre avevano terminato più tardi la stagione precedente, a causa degli impegni nelle fasi finali delle Coppe Europee.
Quando vengono rinviate le partite di una determinata giornata, chi gioca al Fantacalcio ha la possibilità di scegliere due opzioni:
valutare tutti i giocatori delle squadre le cui partite sono rinviate con un 6
attendere che le partite vengano giocate e calcolare i risultati dopo che sia stato completato il turno
In questo particolare caso, abbiamo scelto all'unanimità di aspettare i recuperi delle partite, essenzialmente per due motivi:
si trattava di 3 partite sulle 10 complessive e inevitabilmente dare un 6 a così tanti giocatori avrebbe falsato i risultati
era già stata stabilita una data di recupero e quindi avremmo dovuto aspettare solo una settimana in più per chiudere e calcolare definitivamente i risultati.
E così, adesso vi parlerò dell'esito delle prime due giornate, che, per quanto mi riguarda, sono state estremamente positive.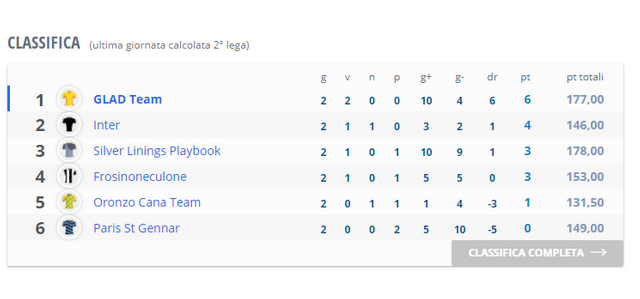 Questa è la classifica attuale.
La mia squadra è GLAD Team e quindi, come vedete, sono al primo posto a punteggio pieno.
Devo dire che sono molto sorpreso di questo risultato, perché come avevo detto nel post in cui avevo presentato la mia squadra, non ero molto contento di come fosse andata la mia asta a busta chiusa.
Invece i miei giocatori sono partiti davvero in modo incredibile, regalandomi due giornate davvero ricche di soddisfazioni e di gol.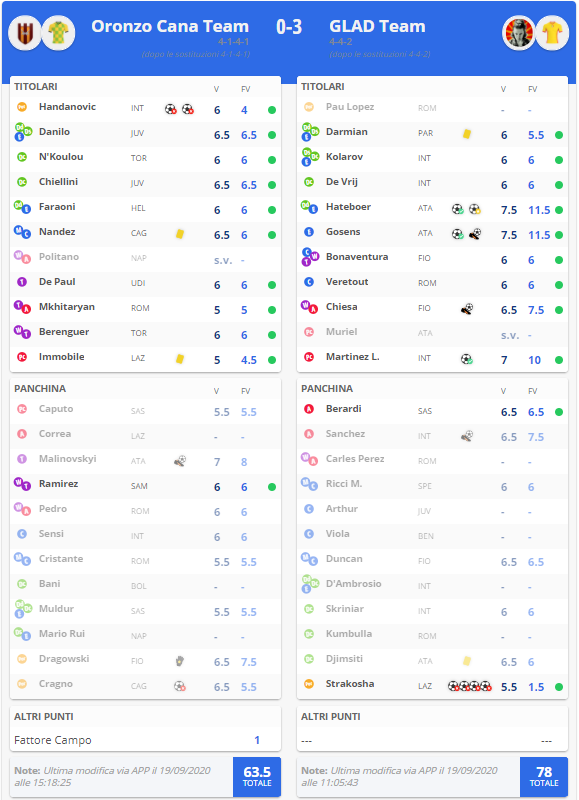 Questa è la mia prima vittoria, un secco 0-3 con 78 punti totalizzati.
La squadra si è dimostrata solida, al di là del portiere Strakosha che avevo messo in panchina e che è entrato in campo vista l'assenza di Pau Lopez.
Hanno brillato soprattutto gli esterni dell'Atalanta, Hateboer e Gosens, imperiali contro la Lazio, oltre a Lautaro Martinez, il bomber argentino dell'Inter che sta vivendo un grande momento di forma e che è riuscito a segnare pur giocando soltanto uno spezzone di partita contro il Benevento.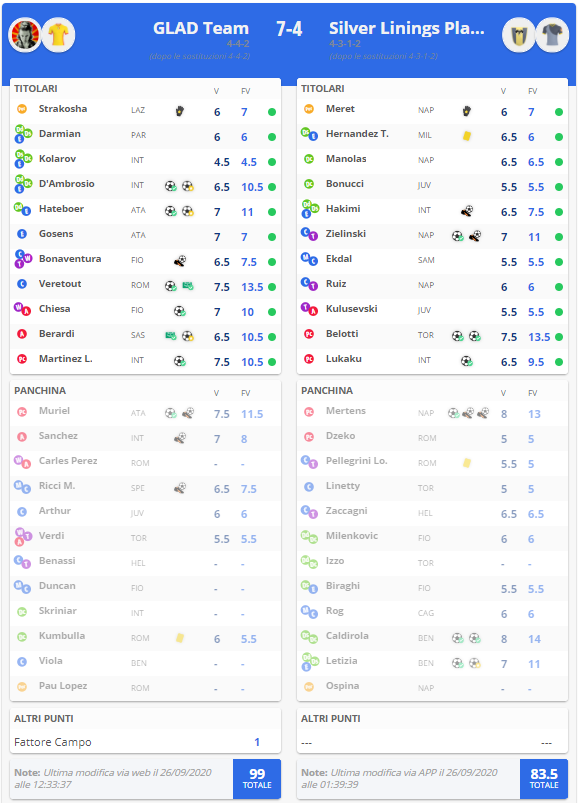 La seconda giornata, che in ordine temporale si è conclusa prima della precedente a causa dei recuperi delle partite rinviate, è stata ancora più trionfale.
Affrontavo la squadra più forte della nostra lega e l'ho battuta con uno stratosferico e pirotecnico 7-4!!
Qui la lista dei top è lunghissima...in pratica sono andati in gol difensori, centrocampisti e attaccanti.
E' stata una giornata straordinaria, nella quale ho addirittura raggiunto il punteggio eccezionale di 99 punti!!
Insomma, la mia squadra mi ha dato dei segnali davvero importanti, stravolgendo l'idea che mi ero fatto dopo la conclusione del mercato.
Chissà se è stato soltanto un caso o se veramente sarà un'altra grande stagione...è ancora presto per dirlo, le partite sono tante e inoltre lo spettro del Covid si aggira su di noi, soprattutto dopo la notizia della positività di 15 tesserati del Genoa.
Vedremo cosa accadrà, intanto io mi godo queste due belle vittorie e il primo posto in classifica.
---
Grazie a tutti voi per aver letto il mio post.
Se vi è piaciuto, condividetelo sul vostro blog e scrivetemi un commento con le vostre impressioni.
Faccio parte del Team @Italygame insieme con @mikitaly, @mad-runner, @ilnegro and @sardrt.
A presto!
GM
---
Tutte le immagini sono di esclusiva proprietà dell'autore.
---