Very important UPDATES 👉 I LOVE ITALY's Prize Pool is 💰 150 STEEM + 15 SBD 💰!! / Aggiornamenti importanti 👉 Il montepremi di I LOVE ITALY è di 💰150 STEEM + 15 SBD 💰!!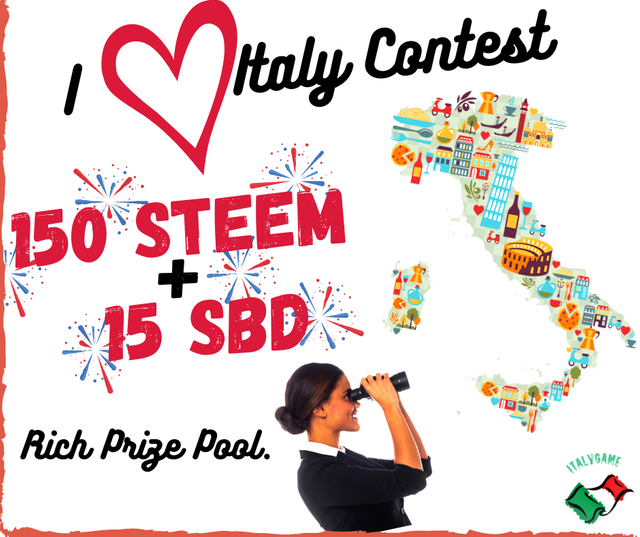 There are no more excuses, with this rich prize pool we of the ItalyGame team are expecting many posts about our wonderful country.
Tell us about the place in Italy that has remained in your heart and soul and you can be among the winners of the super mega fantastic prize pool!
The contest is generously supported by @stephenkendal, @shortsegments, @famigliacurione and @symbionts, so now the prize pool is 150 STEEM + 15 SBD.
Don't forget you have time until the whole day of Sunday 23 August to participate with a maximum of 2 posts and please write in the title I Love Italy then the name of the place you want to report using always the tags: #iloveitaly #italy #ita and leaving the link of your post below in the comments.
The prize pool will be distributed in the following way:
In 1st place 50% of the prize pool is expected.
In 2nd place the 30%.
In 3rd place the 15%.
For all other participants there is a 5% bonus.
You can find few simple rules to follow HERE in the initial post with the contest procedures.
🎊 PARTICIPATE NOW! We are waiting for you. 🎉
See you soon and thanks for reading our post.😉
Italian Version
Non ci sono più scuse, con questo ricco montepremi noi del team di ItalyGame ci aspettiamo tantissimi post sul nostro meraviglioso paese.
Raccontateci il luogo dell'Italia che vi è rimasto nel cuore e nell'anima e potrete essere tra i vincitori del super mega fantastico montepremi!
Il concorso è generosamente supportato da @stephenkendal, @shortsegments, @famigliacurione e @symbionts, quindi adesso il montepremi è di 150 STEEM + 15 SBD.
Non dimenticare che hai tempo fino a tutta la giornata di domenica 23 agosto per partecipare con un massimo di 2 post e per favore scrivi nel titolo I Love Italy poi il nome del luogo vuoi segnalare usando sempre i tag: #iloveitaly #italy #ita e lasciando il link del tuo post qui sotto nei commenti.
Il montepremi verrà distribuito nel modo seguente:
Al 1 ° posto è previsto il 50% del montepremi.
Al 2 ° posto il 30%.
Al 3 ° posto il 15%.
Per tutti gli altri partecipanti è previsto un bonus del 5%.
Puoi trovare alcune semplici regole da seguire QUI nel post iniziale con le procedure del concorso.
🎊 PARTECIPATE SUBITO! Vi aspettiamo. 🎉
A presto e grazie per aver letto il nostro post.😉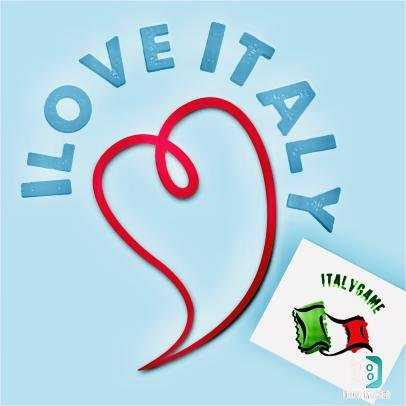 The ItalyGame team includes:
@girolamomarotta, @sardrt, @ilnegro, @mikitaly and @mad-runner.