WEEKLY REPORT - N.21- Italy Community Updates, info about other Contests / REPORT SETTIMANALE - N.21- Aggiornamenti della Comunità Italy, info su altri Concorsi.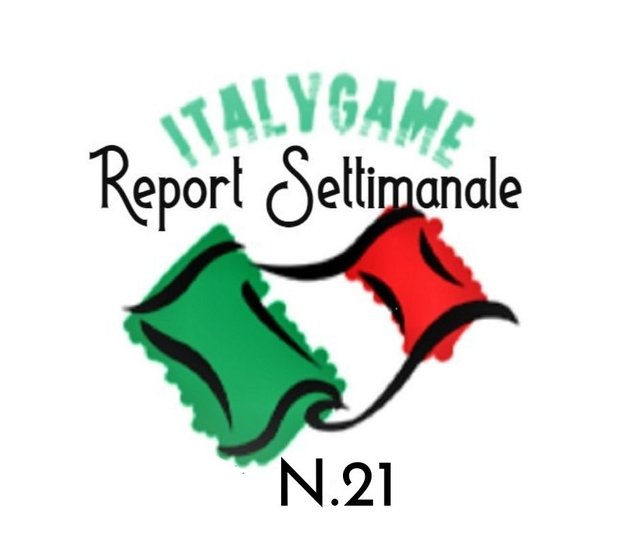 Happy weekend to all our Italy friends..
Today is our 21st Weekly Appointment with updates and advancements affecting our community Italy, we are delighted because every week they continue to increase numbers of users who follow our community.
Also this week we can't complain as from: 803 we have reached 🎉 837 🎉 users!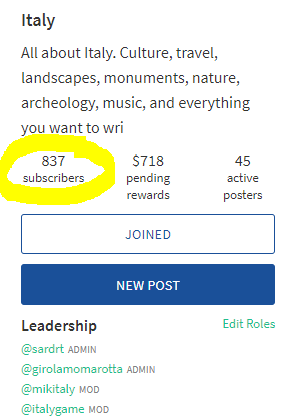 As always, our thanks go to all the users of Italy who continue to give great value to our community and to the entire Steemit platform with their constant contribution.😉
---
---
💡CRYPTO PROFESSORS NEWS
The @steemitblog team announced in its latest post the 5 Professors who will organize the cryptocurrency courses, to which we congratulate them wishing them good work and we can't wait to participate in their lessons.
@besticofinder [ Sri Lanka ]
@gbenga [ Nigeria ]
@sapwood [ India ]
@stream4u [ India ]
@yohan2on [ Uganda ]
---
---
💡ITALIAN TRANSLATION OF STEEMITBLOG COMPETITIONS
Below we list the Italian translations of all important communications from @steemitblog and posts from other communities that we consider interesting and useful for users of Italy.
LATEST POST TRANSLATED:
---
FIXED POST TRANSLATED:
---
---
💡HOW TO BE ACTIVE ON STEEMIT
Every week we propose our post HOW TO BE ACTIVE ON STEEMIT to remind all users who follow us that there are many opportunities to actively participate on the platform, so as to easily orient themselves in the choice of competitions organized by the @steemitblog team and also other various initiatives to participate in proposals from other communities.
Find our list in the following post written in both English and Italian: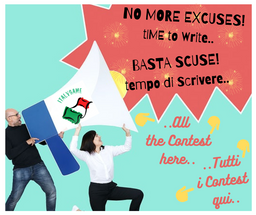 ---
---
💡TUTORIAL: HOW TO DO IT ..
How to DELEGATE Steem Power through Steemworld.
A post by @girolamomarotta very useful both for new users and for all Steemit users who would like to know more about some tools that improve our navigation on the Steemit platform.
Enjoy the reading.

Tutorial: How to delegate using Steemworld - Come delegare usando Steemworld [ENG-ITA]
---
---
💡THE BEST USER OF THE WEEK
The contest that rewards the user of Italy che si impegna through his posts to actively participate on the Steemit platform helping to grow our community.
The purpose of our contest is to support our best user with a contribution of 5 SBD every week.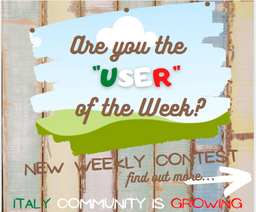 HERE
more info.
---
---
💡🚀 200% POWER UP!! 🚀 -
It is the competition for all users of Italy, in which you have to convert SBD into Steem and earn with the very advantageous exchange in the platform's internal market.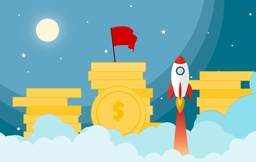 HERE
more info .
That's all for this update too, good continuation on Steemit and keep following our updates.😜
ItalyGame Team
---
---
---
- VERSIONE ITALIANA -
Buon fine settimana a tutti i nostri amici di Italy..
Oggi è il nostro 21° appuntamento settimanale con gli aggiornamenti e i progressi che riguardano la nostra comunità Italy, siamo contentissimi perché ogni settimana continuano ad aumentare i numeri di utenti che seguono la nostra comunità.
Anche questa settimana non ci possiamo lamentare visto che da: 803 siamo arrivati a 🎉 837 🎉 utenti!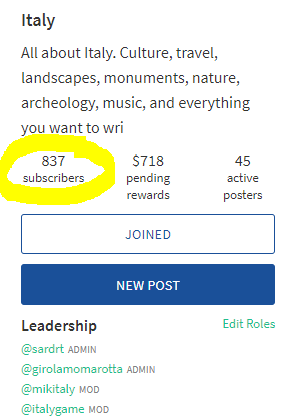 Come sempre il nostro ringraziamento va a tutti gli utenti di Italy che con il loro costante contributo continuano a dare un grande valore alla nostra comunità e a tutta la piattaforma di Steemit.😉
---
---
💡NEWS SUI PROFESSORI DI CRIPTOVALUTE
Il team di @steemitblog ha annunciato nel suo ultimo post i 5 Professori che organizzeranno i corsi sulle criptovalute, ai quali facciamo le nostre congratulazioni augurandogli buon lavoro e non vediamo l'ora di partecipare alle loro lezioni.
@besticofinder [ Sri Lanka ]
@gbenga [ Nigeria ]
@sapwood [ India ]
@stream4u [ India ]
@yohan2on [ Uganda ]
---
---
💡TRADUZIONE IN ITALIANO DEI CONCORSI DI STEEMITBLOG
Di seguito elenchiamo le traduzioni in italiano di tutte le comunicazioni importanti di @steemitblog e i post da altre comunità che riteniamo interessanti e di utilità per gli utenti di Italy.
ULTIMI POST TRADOTTI:
---
ALTRI POST TRADOTTI:
---
💡COME ESSERE ATTIVI SU STEEMIT
Ogni settimana proponiamo il nostro post COME ESSERE ATTIVI SU STEEMIT per ricordare a tutti gli utenti che ci seguono che ci sono tantissime opportunità per partecipare attivamente sulla piattaforma, così da orientarsi facilmente nella scelta dei concorsi organizzati dal team di @steemitblog e anche altre varie iniziative a cui partecipare proposte da altre comunità .
Trovate il nostro elenco nel seguente post scritto sia in inglese che in italiano: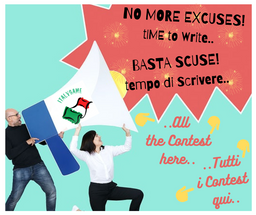 ---
---
💡TUTORIALE: COME FARE ..
Come DELEGARE Steem Power attraverso Steemworld.
Un post di @girolamomarotta molto utile sia per i nuovi utenti che per tutti gli utenti Steemit che vorrebbero saperne di più su alcuni strumenti che migliorano la nostra navigazione sulla piattaforma Steemit.
Buona lettura.

Tutorial: How to delegate using Steemworld - Come delegare usando Steemworld [ENG-ITA]
---
---
💡IL MIGLIORE UTENTE DELLA SETTIMANA
Continua il contest che premia l'utente di Italy che si impegna attraverso i suoi post a partecipare attivamente sulla piattaforma di Steemit contribuendo a far crescere la nostra comunità.
Lo scopo del nostro contest è supportare il nostro migliore utente con un contributo di 5 SBD ogni settimana.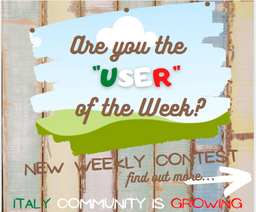 QUI
per maggiori informazioni.
---
---
💡🚀 200% POWER UP!! 🚀 -
E' il concorso per tutti gli utenti di Italy, in cui si deve convertire SBD in Steem e guadagnare con il vantaggiosissimo cambio nel mercato interno della piattaforma.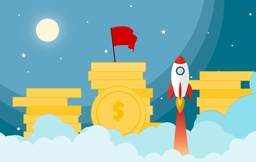 QUI
maggiori informazioni.
---
---
---
---
Anche per questo aggiornamento è tutto, buon proseguimento su Steemit e continuate a seguire i nostri aggiornamenti.😜
ItalyGame Team


The ItalyGame Team includes:
@girolamomarotta, @sardrt, @ilnegro, @mikitaly , @mad-runner

---
---
---
---
@steemitblog @steemcurator01 @steemingcurators @shortsegments @steem-agora @ciska @xpilar @stephenkendal @reflektor @hingsten @bippe @twinner @upmewhale @symbionts @upvu @gotogether @jphamer1 @justyy @sct.krpw
---
---