- THE DIARY GAME - 19/10/2020 .. A beautiful warm autumn day by the sea./ Una bella giornata calda d'autunno al mare.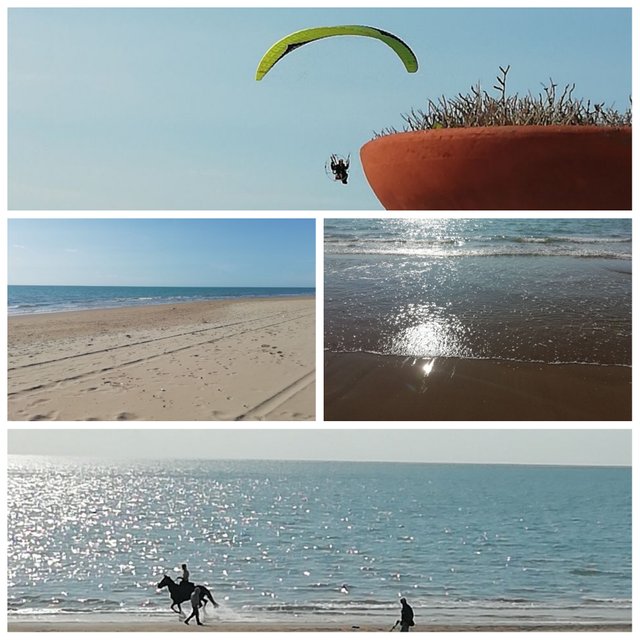 A sunny day that started with about 10 degrees in the morning and then reached 20 at lunchtime and I didn't miss the opportunity to spend some time by the sea.
So I woke up as always at 6.30 a.m. and all ready in the car at 7 to go to school.
I had to find the right time to go and get the codes for the electronic register because due to Covid you can no longer go to the school office but you have to make an appointment, so the school operators deliver the communications or, in this case, the codes, outside the school complex.
Anyway I finally got these blessed codes -I wonder way it wasn't possible to find a way to send them by email - now I can access my daughter's account to see assignments, grades and the latest news also to justify absences and I find this fantastic.
The school approaches digitization. I hope it continues on this path.
After completing my schedule and taking my daughters back from school and having lunch, finally after 2.30 pm I was able to go to the beach.
🇮🇹
Una giornata di sole iniziata con una decina di gradi la mattina e poi ha raggiunnto i 20 all'ora di pranzo e io non mi sono fatta sfuggire l'occasione di passare un po' di tempo al mare.
Perciò sveglia come sempre alle 6.30 e tutte pronte in macchina per le 7 per andare a scuola.
Ho dovuto trovare il momento giusto per andare a prendere i codici del registro elettronico perché per via del Covid non si può più andare nella segreteria della scuola, ma bisogna prendere un appuntamento così gli operatori scolastici che ci consegnano le comunicazioni o in questo caso i codici, all'esterno del plesso scolastico.
Comunque ho preso finalmente questi benedetti codici -perché poi non si sia potuto trovare un modo per inviarli tramite la mail questo non lo comprendo - adesso posso accedere all'account di mia figlia per vedere compiti, voti e ultima novità anche per giustificare le assenze e questo lo trovo fantastico.
La scuola si approccia alla digitalizzazione. Speriamo prosegua in questo cammino.
Dopo aver sbrigato i miei impegni e aver ripreso le mie figlie da scuola e dopo aver pranzato, finalmente dopo le 14.30 me ne sono potuta andare al mare.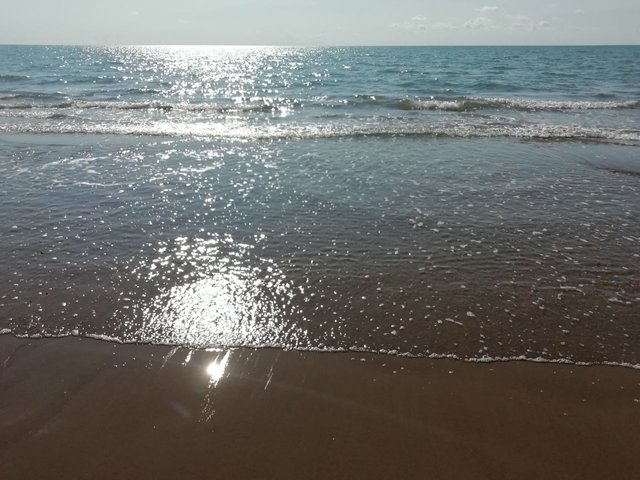 It was a little windy but it was great, the sun was so hot that I stayed in my t-shirt.
The water was calm certainly not to entice you to take a dip, however, as always, its eternal movement hypnotizes every glance.
🇮🇹
C'era un po' di vento però si stava benissimo, il sole era così caldo che sono rimasta in t-shirt.
L'acqua era calma certo non da invogliare a farsi un tuffo però come sempre il suo eterno movimento ipnotizza ogni sguardo.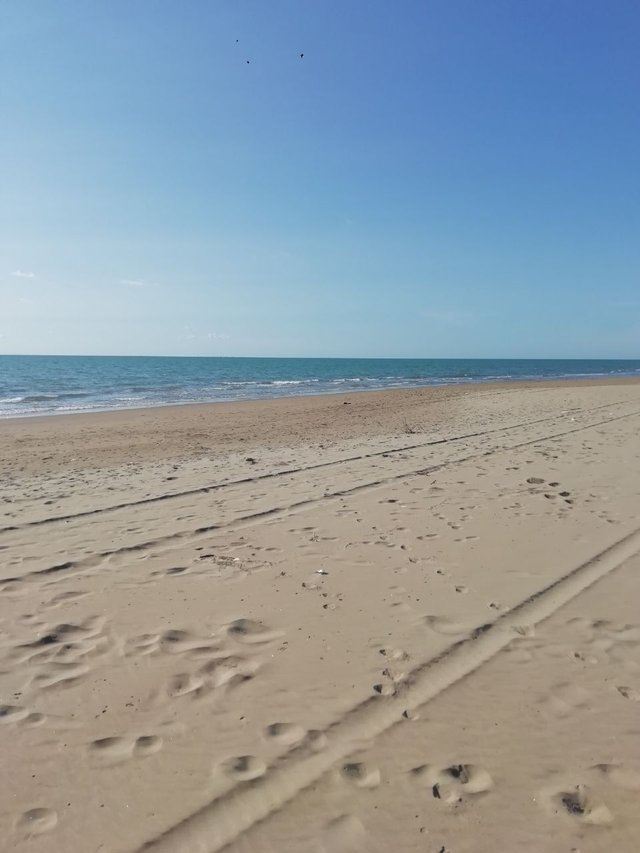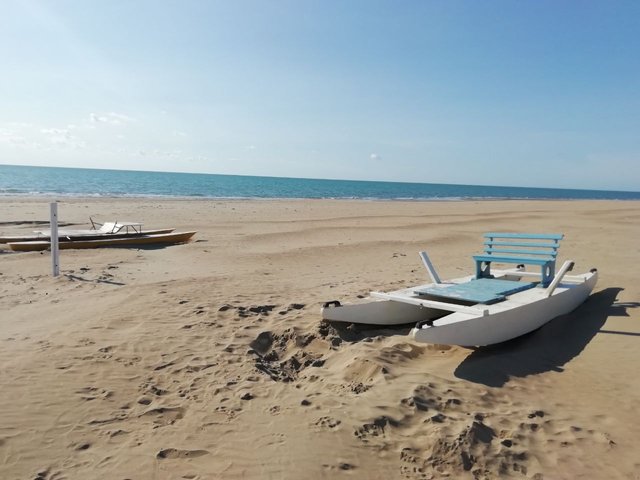 When you think of the sea, summer always comes to mind and yet there are those who manage to enjoy special moments even when the season changes and temperatures drop.
Like me, many people who love to walk by the sea, alone, in company or walking with their 4-legged friends.
🇮🇹
Quando si pensa al mare viene in mente sempre l'estate eppure c'è chi riesce a godersi momenti speciali anche quando cambia la stagione e scendono le temperature.
Come me tante persone che adorano passeggiare in riva al mare, da soli, in compagnia o passeggiando con i propri amici a 4 zampe.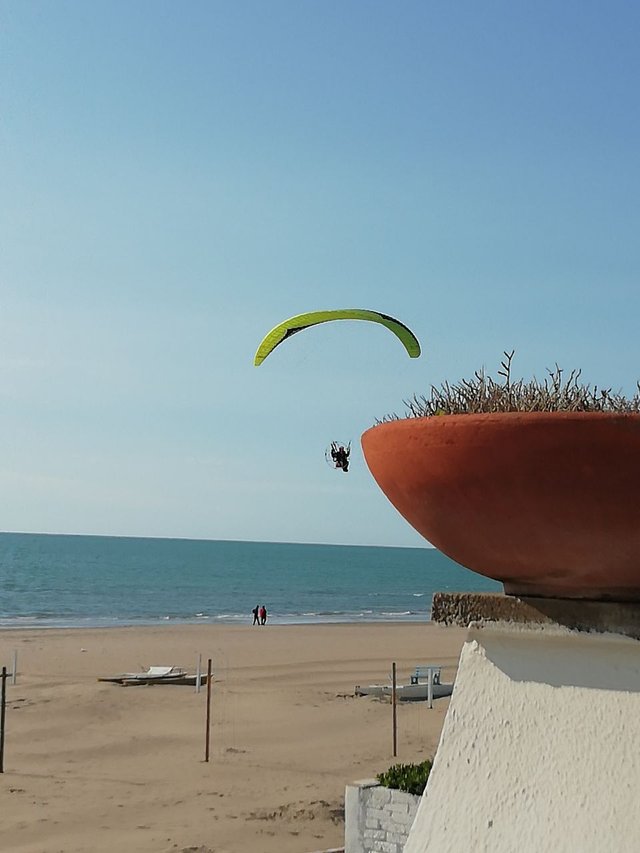 And those who practice their favorite sport such as motor paragliding and can enjoy a marvelous view of the sea from above.
🇮🇹
E chi pratica il proprio sport preferito come il parapendio a motore e può godere di una meraviglia vista del mare dall'alto.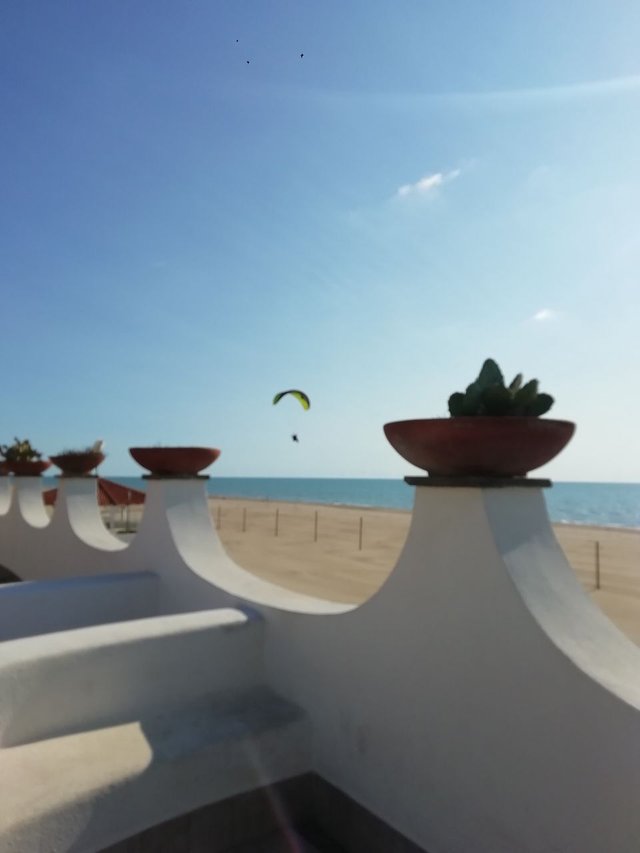 And who, instead of the dog, loves to let his horse run by the sea.
Unfortunately, my phone's zoom did its best to take a decent distance shot, but it gives a pretty good idea.
It may seem strange to see a horse galloping on the beach but *Agro Pontino" is famous for its Butteri.
The cowboys of the Agro Pontino have nothing to envy to their more famous cousins of the Tuscan Maremma.
In fact, in 1890 the cisternesi cowboy team from Cisterna di Latina, led by Augusto Imperiali, distinguished itself for having won the famous challenge launched by Buffalo Bill during the Wild West Show, the Roman stage of the European tour of his circus, which consisted in taming wild American foals.
In short, real heroes other than horse herders.
🇮🇹
E chi invece del cane si diverte a far scorrazzare il suo cavallo sul bagnasciuga.
Purtroppo lo zoom del mio cellulare ha fatto del suo meglio per fare una foto a distanza decente, ma rende abbastanza l'idea.
Può sembrare strano vedere un cavallo al galoppo sulla spiaggia ma l'Agro Pontino è famoso per i suoi Butteri.
I cowboy dell'Agro Pontino non hanno nulla da invidiare ai cugini più conosciuti della Maremma toscana.
Anzi nel 1890 la squadra dei butteri cisternesi cioè di Cisterna di Latina, capeggiata da Augusto Imperiali, si fece notare per aver vinto la celebre sfida lanciata da Buffalo Bill durante il Wild West Show, la tappa romana della tournée europea del suo circo, che consisteva nel domare puledri americani selvaggi.
Insomma dei veri e propri eroi altro che pastori di cavalli.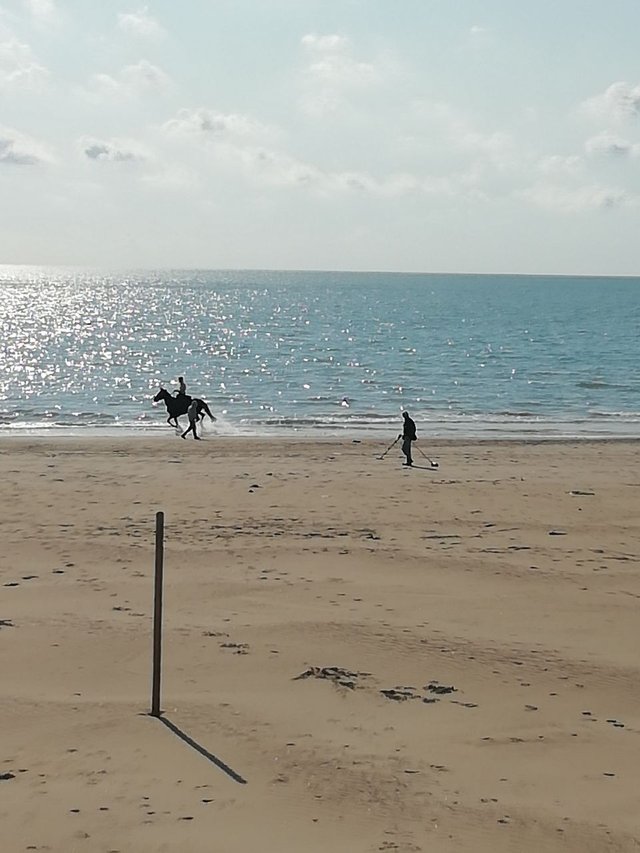 My afternoon at the beach has recharged me, not only for me of course but also for my husband and our dog. We are energized to face another day. Hoping that tomorrow there is also a nice warm autumn day.
Thanks for reading my post.😜
🇮🇹
Il mio pomeriggio al mare mi ha ricaricato, non solo a me chiaramente ma anche a mio marito e la nostra cognolotta. Siamo carichi per affrontare un altro giorno. Sperando che anche domani ci sarà una bella giornata calda d'autunno.
Grazie per aver letto il mio post.😜
---
---
Original pictures of mine
Tor San Lorenzo Beach. Lazio - Italy
---
---
I'm part of ITALYGAME Team
together with: @girolamomarotta, @sardrt, @mad-runner, @ilnegro.