stem73 NEWS: - transfer SBD to Altcoins [EN] [IT]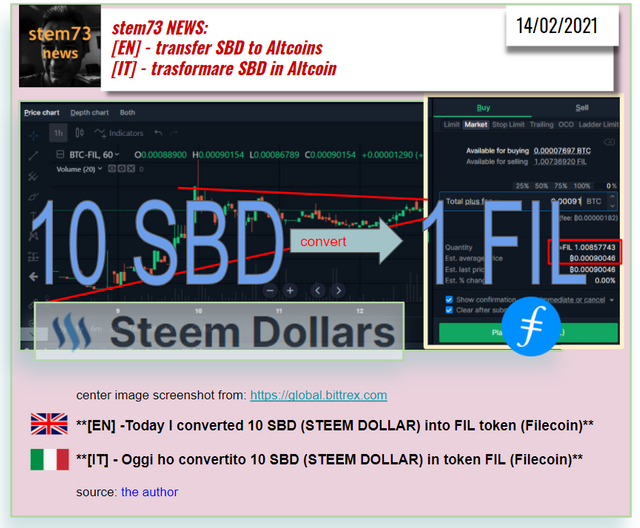 center image screenshot from: https://global.bittrex.com
[EN] -Today I converted 10 SBD (STEEM DOLLAR) into FIL token (Filecoin)
[IT] - Oggi ho convertito 10 SBD (STEEM DOLLAR) in token FIL (Filecoin)
source: the author
[EN] - My opinion
Today I converted 10 SBDs into 1 FIL. The operation is not easy. First you need to create an SBD wallet in BITTREX, then transfer the SBDs from the STEEMIT WALLET to the BITTREX SBD wallet. Then you have to convert the SBDs into BTC, then enter the BTC market and with the BTC buy the FIL coin. Today the value of the coins was such that with 10 SBD (Steem Dollar) you could buy 1 Filecoin (FIL). If we take a look at the BTC / FIL chart, it can be seen that the exchange rate was quite stable lately. However, prices are compressing, it could be that in the future, in 2022, FIL is worth more than the $ 40 it is now.
[IT] - Considerazioni personali
Oggi ho convertito 10 SBD in 1 FIL. L'operazione non è semplice. Prima bisogna creare un wallet SBD in BITTREX, poi trasferire gli SBD dallo STEEMIT WALLET al wallet SBD di BITTREX. Successivamente bisogna convertire gli SBD in BTC, poi entrare nel mercato BTC e con i BTC acquistare la moneta FIL. Oggi il valore delle monete era tale che con 10 SBD (Steem Dollar) si potevano acquistare 1 Filecoin (FIL). Se diamo un'occhiata al grafico BTC/FIL si può notare che il cambio ultimamente era abbastanza stabile. I prezzi però si stanno comprimendo, potrebbe essere che in futuro, nel 2022, FIL valga di più dei 40$ di adesso.