GRAN TORINO - The first time I see one and maybe it will be the last too [IT] - [EN]
ITALIAN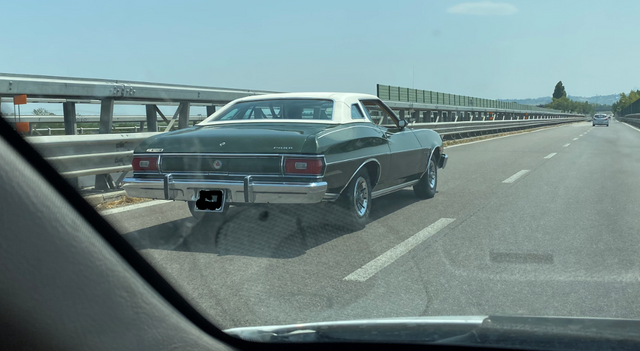 Sabato scorso mentre ero in macchina ho visto in lontananza una macchina davanti a me che mi sembrava particolare. Ho capito subito che davanti a me c'era un autovettura di una certa importanza.
Ho accelerato per avvicinare l'auto e poi l'ho superata per capire bene che autovettura fosse.
Nel sorpassarla ho capito subito che era una FORD - GRAN TORINO.
La Ford realizzò una autovettura chiamata TORINO tra il 1968 e il 1976 per il mercato americano. Nel 1972 venne fatto un remake importante di questo modello, ed uscì con i nome di GRAN TORINO.
L'autovettura aveva il motore un anteriore V8 con una cilindrata di 5769 cm³.
Era una vettura Coupé con due porte da cinque posti.
Dopo averla sorpassata ho rallentato per farmi sorpassare di nuovo.
La GRAN TORINO ha mostrato i muscoli e mi ha superato nuovamente. Il conducente ha visto che ero rimasto sorpreso di vedere una GRAN TORINO per strada. MI ha sorpassato in un attimo e non l'ho più vista.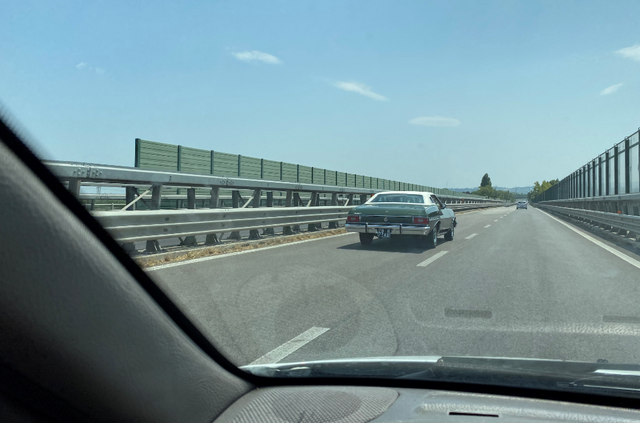 L'autovettura era esattamente come quella del famoso film uscito nel 2008 di Clint Eastwood, il film "Gran Torino". Il colore era esattamente il verde che aveva l'autovettura del film. L'unica differenza era quella della cappotta. Nel film la Gran Torino del protagonista aveva la cappotta nera, quella che ho visto io l'aveva bianca.
UNO SPETTACCOLO per uno come me che ama le automobili e la loro storia.
---
ENGLISH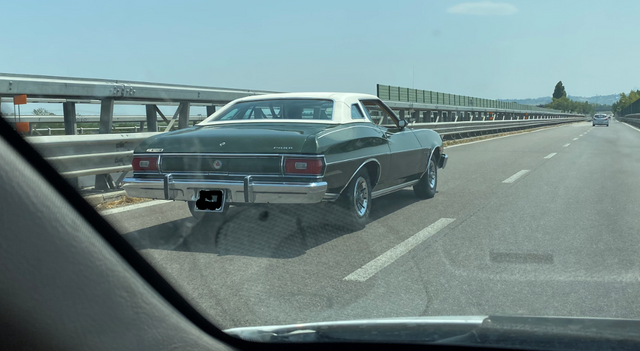 Last Saturday while I was in the car I saw in the distance a car in front of me that seemed particular to me. I immediately understood that in front of me there was a car of some importance.
I accelerated to approach the car and then overtook it to understand what car it was.
As I passed it, I immediately understood that it was a FORD - GRAN TORINO.
Ford built a car called TORINO between 1968 and 1976 for the American market. In 1972 an important remake of this model was made, and it came out under the name of GRAN TORINO.
The car had a front V8 engine with a displacement of 5769 cm³.
It was a five-seat two-door coupe car.
After overtaking it I slowed down to be overtaken again.
GRAN TORINO flexed its muscles and overtook me again. The driver saw that I was surprised to see a GRAN TORINO on the street. She overtook me in an instant and I never saw her again.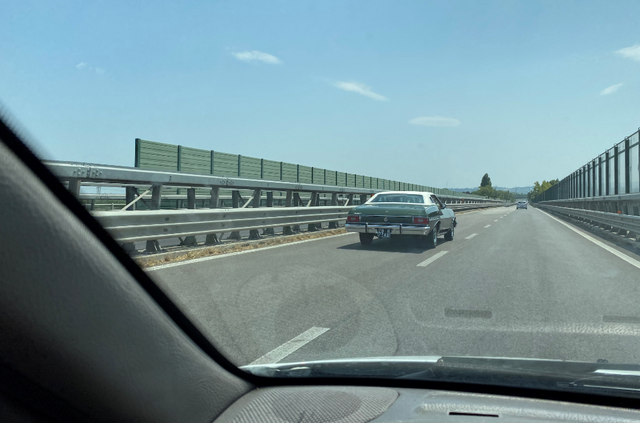 The car was exactly like that of the famous film released in 2008 by Clint Eastwood, the film "Gran Torino". The color was exactly the green that the car in the film had. The only difference was that of the hood. In the film, the protagonist's Gran Torino had a black top, the one I saw had a white one.
A SHOW for someone like me who loves cars and their history.
---
Below the song GRAN TORINO interpreted by Jamie Cullum, sound theme of the film Grand Torino

---
👉 Penny4thoughts 👈
This post adheres to the #penny4thoughts project, suggested by @famigliacurione, an experiment planned by @remlaps that aims to improve and increase the interaction between users of the platform.
To learn more ..
just listen to Tino in Curione Live episode 37
or follow the instructions step by step in the post Un Penny Per I Tuoi Pensieri