stem73 NEWS: Binance: BNB, All-time high!!! [EN] - [IT]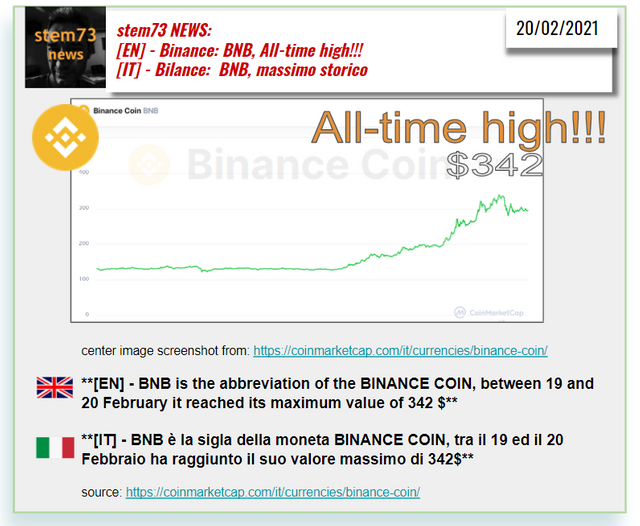 center image screenshot from: https://coinmarketcap.com/it/currencies/binance-coin/
[EN] - BNB is the abbreviation of the BINANCE COIN, between 19 and 20 February it reached its maximum value of 342 $
[IT] - BNB è la sigla della moneta BINANCE COIN, tra il 19 ed il 20 Febbraio ha raggiunto il suo valore massimo di 342$
source: https://coinmarketcap.com/it/currencies/binance-coin/
[EN] - My opinion
The BINANCE COIN has been performing very well for several weeks. On December 1st 2020 it was worth $ 30, today BNB is worth $ 293. During this rally the cryptocurrency reached its all-time high of $ 342. The BNB currency, or the BINANCE COIN, is a currency linked to BINANCE. Today Binance is the best known cryptocurrency exchange in the world, founded in 2017 by Changpeng Zhao. Changpeng Zhao is a Chinese-Canadian executive born in Jiangsu, China, who moved to Canada in the late 1980s, and is known on social media as CZ.
My Referral ID is:
https://www.binance.com/en/register?ref=11937710
[IT] - Considerazioni personali
La moneta BINANCE COIN sta facendo ottime performance da molte settimane. Il primo Dicembre 2020 valeva 30$, oggi BNB vale 293$. Durante questo periodo di rialzo la criptomoneta ha raggiunto il suo massimo storico di 342$. La moneta BNB, ovvero il BINANCE COIN, è una moneta legata a BINANCE. Oggi Binance è l'exchange di criptovalute più conosciuto al mondo, fondato nel 2017 da Changpeng Zhao. Changpeng Zhao è un dirigente cino-canadese nato in Jiangsu, China, trasferitosi in canada alla fine degli anni '80, ed è conosciuto sui social come CZ.
Il mio Referral ID è il seguente:
https://www.binance.com/en/register?ref=11937710