stem73 NEWS: SUN: created for DeFi on TRON [EN] - [IT]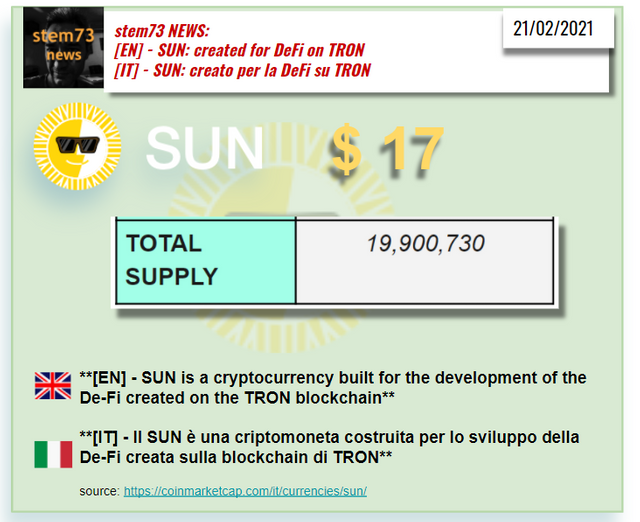 [EN] - SUN is a cryptocurrency built for the development of the De-Fi created on the TRON blockchain
[IT] - Il SUN è una criptomoneta costruita per lo sviluppo della De-Fi creata sulla blockchain di TRON
source: https://coinmarketcap.com/it/currencies/sun/
[EN] - My opinion
The total supply of this cryptocurrency is 19.9 million tokens. A comparison with Bitcoin: the total amount of Bitcoins that can be in circulation are 21 million and to date 18 million have been created. The value of the SUN today is $ 17.16 and has a market capitalization of $ 81 million. The token appeared in September 2020 with a value of $ 33.
What do you think of the SUN token?
[IT] - Considerazioni personali
La supply totale di questa criptomoneta è di 19,9 milioni di token. Un paragone con Bitcoin: la quantità totale di Bitcoin che potranno essere in circolazione sono di 21 milioni e ad oggi ne sono stati creati 18 milioni. Il valore del SUN oggi è di 17.16$ ed ha una capitalizzazione di mercato di 81 milioni di dollari. Il token è apparso in Settembre 2020 con un valore di 33$.
Voi cosa ne pensate del token SUN?