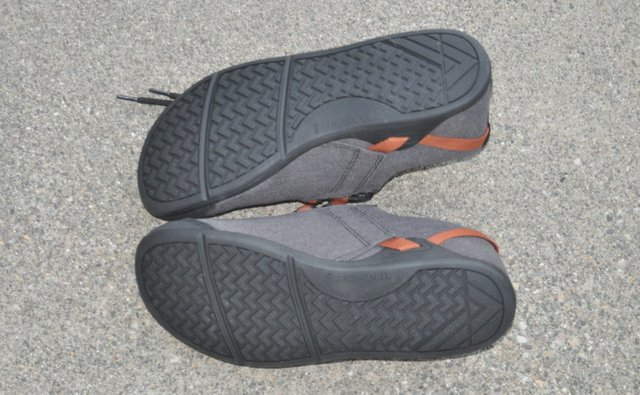 I walked 10K steps a day for most of 2020. I recorded steps during #thediarygame. I also started riding my bike again.
Unfortunately, I realized that I was wearing through the soles of my shoes and I did not have sufficient funds for a new pair.
I decided to try walking barefoot for my 10K steps. A lady in the neighborhood thought I must be a prowler because I was slinking about with no shoes and threatened to call the police. I thought that odd, but decided against the barefoot walks and simply gave up on the 10 K step game instead.
Well, I am pleased to announce that I got a new pair of shoes for the new years. This are Xero Shoes. Xero Shoes makes a minimalist shoe that is advertised as having a durable, yet flexible sole that can withstand 5000 miles. Assuming 2500 steps in a mile, I should be able to get 12 million steps in these shoes.
My only complaint with the shoes is they seem to run a half size small and are quite narrow. This second picture shows the Xero Shoes compared with my New Balance shoes. Both shoes are 8½ US Mens,
I am running a soft relaunch of the @vagabondspirit game. This is a game played with a pedometer and OpenStreetMap. For every step I take in the real world, my vagabond spirit takes a step in the vagabond world. If there is interest in the game I will open it to the public.
To make the game interesting I will do the following. Xero Shoes has an affiliate program. If I make any sales, I will use the money from the sale as rewards in the Vagabond Spirit game. It is unlikely that the game will ever make more than the hosting fees. This page has the ad for the shoes.
The final picture shows my current shoes which fit perfectly and the Xero Shoes which are a little bit small.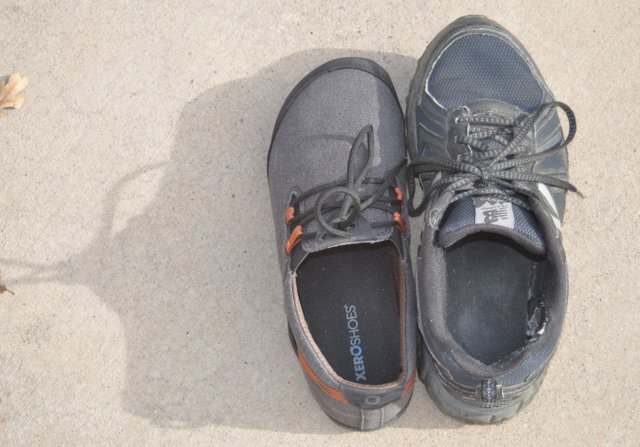 Here are my steps so far for 2021:
| Day | Steps |
| --- | --- |
| 2021-01-04 | 11,457 |
| 2021-01-03 | 10,112 |
| 2021-01-02 | 10,022 |
| 2021-01-01 | 11,229 |
| Total | 42,820 |
If the Xero Shoes marketing material is correct, then I have 11,957,180 steps to go before I wear out these shoes.