THE DIARY GAME : 04 de agosto de 2020: Bay rum, carne y un caracol/Bay rum, meat and a snail
Hola, amigos de steemit.
Llegamos al cuarto día.
Dejo mi relato cotidiano y algunas fotos hechas con un LGPhoenix3. Todas las imágenes y la composición gráfica me pertenecen.
Agradezco a la comunidad de World of XPilar por prestarme su espacio para la publicación de hoy.
Y es así porque he traído un dibujo para un amigo de esta plataforma.
Comencemos.
~~~~~~~~~***~~~~~~~~~~
Hello, friends of steemit.
I've reached the fourth day.
I leave my daily story and some pictures taken with an LGPhoenix3. All the images and the graphic composition belong to me.
I thank the World of XPilar community for lending me their space for today's publication.
And it is so because I have brought a drawing for a friend of this platform.
Let's get started.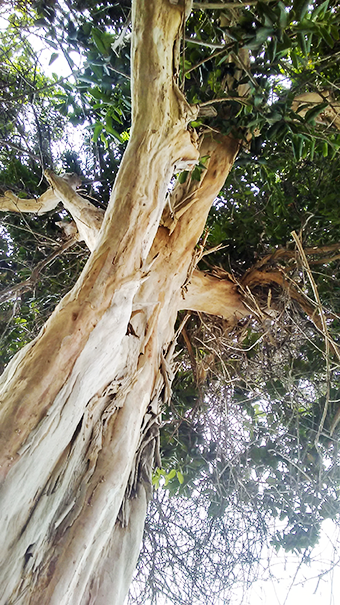 Cuarta jornada. El árbol de bay rum
Querido diario mío de mi corazón, hoy es uno de esos días en que he hecho muy poca actividad física. No me he acercado al huerto más que para dedicarle una mirada lenta y espaciosa a uno de los árboles que más amo contemplar: el árbol de bay rum.
El árbol de bay rum es todo aroma mentolado. Rompes una hoja y esparce un perfume fresco, que llena los pulmones y se pega al paladar. El árbol que tengo en mi huerto es un árbol muy viejo. Un amigo biólogo me dijo una vez , luego de examinarlo, que no podía tener menos de cincuenta años, y yo creo que puede ser más viejo aún.
Este árbol desprende constantemente su corteza, de manera que deja a su pie una alfombra perfumada. De sus hojas hago infusiones cuando tengo alergias y de su corteza saco una tinta de un hermoso marrón rosáceo que pronto mostraré por acá.
La mañana ha pasado rápido, con calor, y pronto dejé las contemplaciones para hacer algunas tareas domésticas aburridas, y con las cuales no los aburriré a ustedes. Una cosa fue notable en esta cotidianidad.
Fourth day. The bay rum tree
Dear diary of my heart, today is one of those days when I have done very little physical activity. I have come to the orchardword only to devote a slow and spacious gaze to one of the trees I love to contemplate most: the bay rum tree.
The bay rum tree is all menthol aroma. You break a leaf and it spreads a fresh perfume, which fills your lungs and sticks to your palate. The tree I have in my garden is a very old tree. A biologist friend of mine once told me, after examining it, that it could not be less than fifty years old, and I think it may be even older.
This tree is constantly shedding its bark so that it leaves a scented carpet at its foot. From its leaves I make infusions when I have allergies and from its bark I get an ink of a beautiful pinkish brown that I will soon show here.
The morning has passed quickly, with heat, and soon I left the contemplations to do some boring housework, and with which I will not bore you. One thing was remarkable in this everyday life.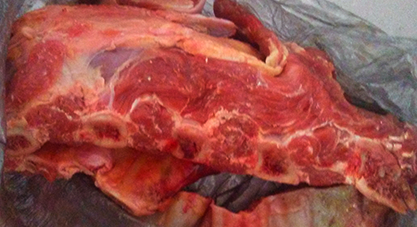 Carne
No soy una gran cocinera. Hago cosas muy simples, sabrosas, sin mucho trámite, con excepción del pan (me encanta hacer pan y me aplico con la experimentación en el tema), los vinos de fruta (principalmente de parchita y cerezas criollas) y, recientemente, el vinagre de fruta.
Quiero decir que pocas veces la cocina es para mí arte, aunque sí es una relación intensa, especiada, de búsqueda del pasado. Y algunas veces es una experiencia estética.
Hoy un trozo de carne roja, fresca y lozana, me pareció una cosa de lo más bonita. Y puedo decir que la sopa que prepare con ella me quedó bastante buena.
Meat
I'm not a great cook. I do very simple, tasty things, without much formality, except for bread (I love making bread and I apply myself to experimentation in the subject), fruit wines (mainly patchwork and Creole cherries) and, recently, fruit vinegar.
I want to say that rarely is cooking for me an art, although it is an intense, spicy relationship, searching for the past. And sometimes it is an aesthetic experience.
Today a piece of red meat, fresh and lush, seemed to me a most beautiful thing. And I can say that the soup I prepared with it was quite good.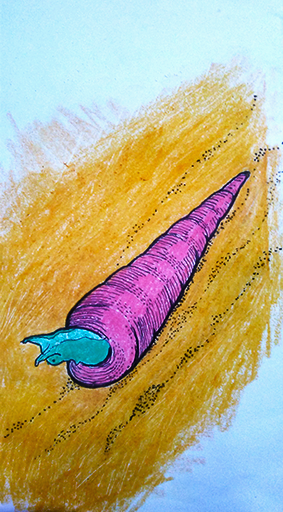 Un caracol
Hace unos cuantos días participé en un concurso de la comunidad de World of Xpilar. Mi participación fue montada tarde en la noche y estaba cansada, de manera que mi dibujo fue bastante deficiente. Mi amigo @juancar347, a quien conozco de esta plataforma, por sus increíbles trabajos fotográficos y crónicas de viajes, me hizo notar que el caracol de mi dibujo figuraba tan diminutamente que casi no se le veía. Me dijo que le hubiera gustado verlo.
Desde hace unos días quiero dibujar el caracol de @juancar347, y hoy, por fin, lo hice.
Si el diario me deja tiempo, publicaré un post dedicado a él y lo publicaré.
Mientras estas pocas cosas ocurrían, mis gatos andaban por ahí, siendo gatos.
A snail
A few days ago I participated in a contest of the World of Xpilar community. My participation was mounted late in the noceh and I was tired, so my drawing was quite poor. My friend @juancar347, who I know from this platform, because of his incredible photographic works and chronicles of travels, made me notice that the snail in my drawing was so tiny that you could hardly see it. He told me that he would have liked to see it.
Since some days ago I want to draw the snail of @juancar347, and today, finally, I did it.
If the newspaper gives me time, I will publish a post dedicated to him and I will publish it.
While these few things were happening, my cats were walking around, being cats.
Today was a relaxed day. I hope tomorrow will be better.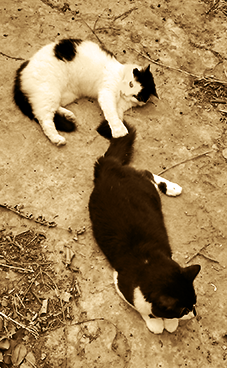 Hoy ha sido un día relajado. Espero que mañana sea mejor.

Gracias por leer.