El Ocaso de tu Recuerdo - imagen inspiración de @xpilar por @davidcentenor / The Twilight of Your Remembrance - image inspiration @xpilar by @davidcentenor.
¡Bienvenidos a mi Blog amigos de #steemit!
---
Welcome to my Blog friends of #steemit!
---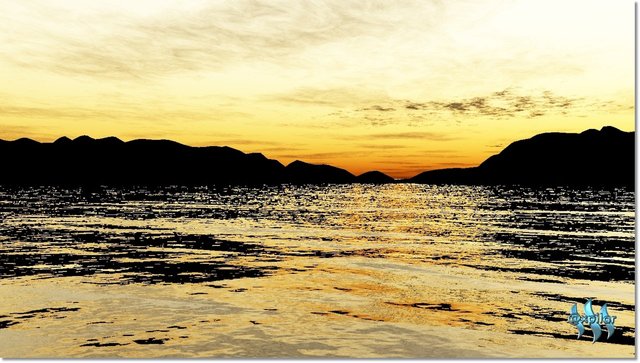 ---
No dejo de mirar esta foto de nuestro último ocaso, recuerdo tu sonrisa y el brillo que destellaba de tu ser, tu largo cabello azabache haciendo contraste con tu piel blanca, tus ojos con aquella mirada que sólo solías hacerme con invitándome a soñar, era emocionante cuando me susurrabas al odio cosas que me gustaban y que compartíamos en la intimidad.
I keep looking at this picture of our last sunset, I remember your smile and the glaration that flashed from your being, your long jet hair contrasting with your white skin, your eyes with that look that you only used to make me with inviting me to dream, it was exciting when you whispered to me the hatred things that I liked and that we shared in privacy.
---
Fue ese último ocaso en donde estabas alegre de ir a nuestro sitio de amor, aquella playa solitaria al sur de la ciudad a pocos kilómetros como protegida por una hilera de montañas haciendolo mágico y misterioso, un bosque montañoso con una línea de paso que nos hace llegar al final del camino como una luz de arena fina y agua cristalina, era nuestro sitio preferido, allí fue la primera vez que vi tu silueta desnuda una noche de fogata y una carpa donde pasamos aquella noche, el tiempo no corría, todo se detenía contigo, la mujer más bella de mi vida.
It was that last sunset where you were happy to go to our place of love, that lonely beach south of the city a few kilometers away as protected by a row of mountains making it magical and mysterious, a mountain forest with a line of passage that makes us reach the end of the road like a light of fine sand and crystal clear water , it was our favorite place, there was the first time I saw your naked silhouette on a bonfire night and a tent where we spent that night, time I didn't run.
---
Fue en ese atardecer donde me di cuenta que te Amaba, que sería para ti el resto de mi vida, fue en ese ocaso que guarde en una imagen que me perdí en ti, fue en esa playa donde decidí ser tuyo para siempre, nunca olvido cuando me dijiste si aquella noche, para casarnos y ser felices por siempre, como si fuera ayer han pasado 35 años de aquello, lo tengo fresco en mi memoria y ahora regreso siempre a nuestro lugar íntimo donde te declaré mi amor por siempre, y aquí estoy mirado tu silueta desnuda junto a la arena y las montañas en recuerdos, solo recuerdos, porque te has ido dejandome solo aquí viviendo y solo me quedan nuestros recuerdos intactos el camino de montañas hacia la arena fina, el mar cristalino y una foto del ocaso de tu recuerdo.
It was in that sunset that I realized that I loved you, that it would be for you for the rest of my life, it was in that sunset that I knew in an image that I lost in you, it was on that beach that I decided to be yours forever, I never forgot when you told me if that night, to get married and be happy forever, as if it were yesterday have passed 35 years of that , I have it fresh in my memory and now I always return to our intimate place where I declared my love forever, and here I am looking at your naked silhouette by the sand and mountains in memories, only memories, because you have left me alone here living and I only have our memories intact the path of mountains towards the fine sand, the crystal clear sea and a picture of the sunset of your memory.