Sunday Reflection: Time to Get the Harvest In!
My parents were, in a sense, "Hippies" before their time!
That said, my parents actually weren't Hippies at all, they were very clean cut upper-middle class suburbanites, but they were also very practical.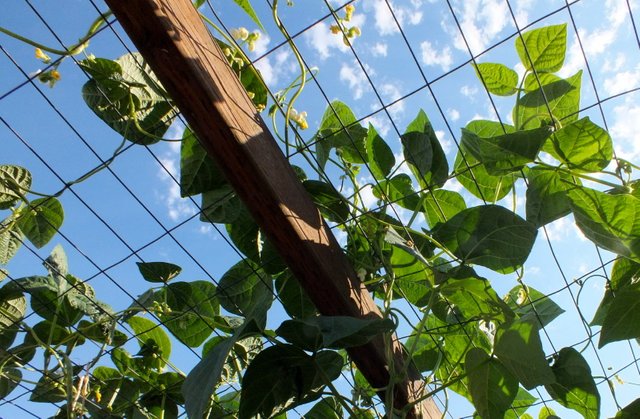 Pole beans on our trellis
They were sick and tired of the limited variety of fresh fruits and vegetables available from mid-1960's Danish supermarkets, so they decided — having both lived in California before returning to Denmark to settle down — they were just going to grow their own vegetables.
I was indoctrinated into this process as quite a wee child. There are pictures of me at age four, helping with the vegetable garden... and for whatever other "faults" they may have had, my parents taught me a lot about gardening, and ever since childhood I have always felt at home growing our own fresh stuff.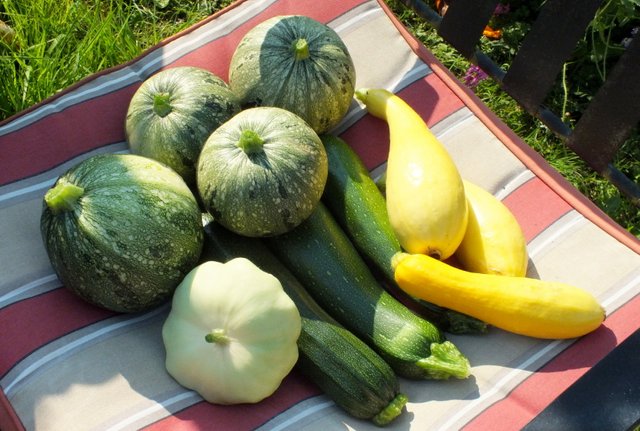 Home grown squash
Freezing and Baking and...
After a total of 11 days of sitting in unhealthy smoky air, we finally have sunshine again!
And with that, it was time to get active in the garden again, and to bring in quite a load of fresh goodies that became ripe and ready, in spite of the smog completely blocking the sun.
This afternoon, we processed and froze quite a load of Zucchini and Yellow Squash, as well as green beans. The last of the "good" apples were washed, peeled and sliced... then put in bags and frozen for winter, so we can make apple pies with our own apples! I was also able to harvest a few more pounds of blackberries, which joined the 10+ lbs already in the freezer.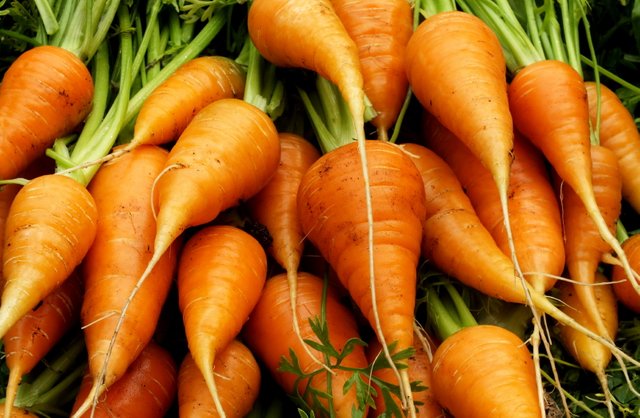 Loads of fresh carrots!
Our "Accidental" Freezer...
We have a huge deep freezer. We always intended to have a deep freezer, but not one anywhere near as large as the one we have.
When we first moved into our house, we ordered a freezer online to be delivered — it was going to live in our utility room downstairs.
However, when the delivery crew showed up, they had brought a different model; one that was much larger than the one we'd ordered and paid for.
So the delivery supervisor got on the phone to his office, and evidently they were feeling generous or something, because I overhead part of the conversation where the office manager said "Ask the customer if they just want to keep the bigger freezer at no extra charge!"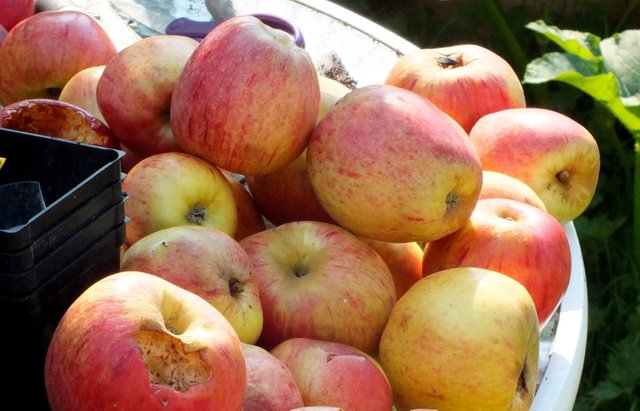 last of the apples
And so we did!
Although we did have to change our set-up because it was too large for the utility room... so the freezer now lives in the garage. And, of course, it has been a blessing because we've been able to put away substantial amounts of food... and take advantage of really good deals at the market when they come up.
For the moment, we are just filling the freezer with our own homegrown fruit and vegetables.
Harvest Time Was Always Fun
When I was little, I always enjoyed harvest time — I still do — and remember finding it fascinating that those tiny little seeds could result in so much food!
One of my favorite things was digging up the last of the potatoes with my dad, and sorting them by size: The little ones for boiling and eating, the large ones for baked and mashed potatoes. We kept them in crates of moist sand in our outdoor shed, where they would keep until spring without sprouting.

Green beans!
Although we can, of course, buy pretty much anything we want at the supermarkets of 2020, I still prefer fresh homegrown produce. There's something comforting about "knowing where it came from." And, of course, it just tastes better!
And now, I will put an end to today's post, as I can smell Mrs. Denmarkguy's fresh zucchini bread, getting ready to come out of the oven.
Thanks for reading, and I hope you've all had a great weekend!
How about YOU? Do you have a garden for homegrown fruits and vegetables? What sorts of things do you grow? Is it harvest time, where you are? As always, comments, feedback and other interaction is invited and welcomed! Because — after all — SOCIAL content is about interacting, right? Leave a comment-- share your experiences-- be part of the conversation!
(All text and images by the author, unless otherwise credited. This is ORIGINAL CONTENT, created expressly for this platform — NOT A CROSSPOST!!!)
Created at 20200920 18:15 PDT
x043