Today I drew a picture that came to my mind [ ENG-ESP ]
"Today I drew a picture that came to my mind".
"Hoy hice un dibujo que me vino a la mente".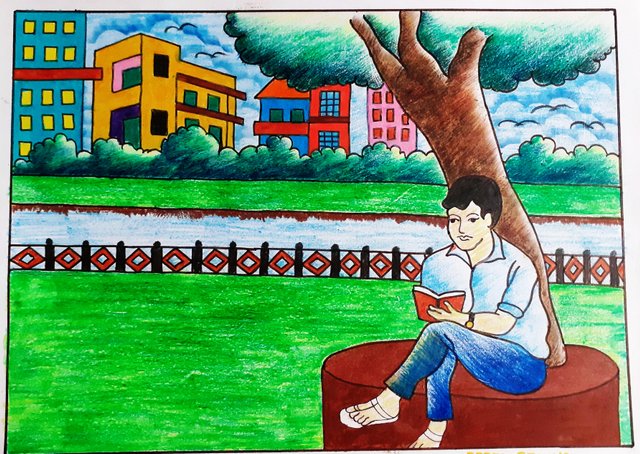 **Galaxy M20**
Today I drew a picture that came to my mind//Hoy hice un dibujo que me vino a la mente
25.09.2020
Hi everyone! Hope everybody is well. Today I drew a picture of an urban environment. This morning I sat down at leisure and drew this picture. Although I always try to draw in my spare time. I don't always draw pictures so I try to draw something occasionally.

¡Hola a todos! Espero que todos estén bien. Hoy hice un dibujo de un entorno urbano. Esta mañana me senté tranquilamente y dibujé este dibujo. Aunque siempre trato de dibujar en mi tiempo libre. No siempre hago dibujos, así que intento dibujar algo de vez en cuando.

Even today I have tried to draw this picture from my own thoughts. This kind of picture comes to mind while sitting in the morning and thinking about what to draw. Then I try to draw the picture on paper according to my thoughts.

Incluso hoy he tratado de dibujar esta imagen de mis propios pensamientos. Este tipo de imagen me viene a la mente mientras está sentado por la mañana y piensa qué dibujar. Luego trato de hacer un dibujo en papel de acuerdo con mis pensamientos.

At first I didn't have a big thick piece of paper to draw the picture with 3 sketch pencils, rubber, and some different color pencils. First I drew a large tree and made a circle at the base of the tree to make room for sitting. Then I drew a picture of a gentleman sitting in that place and also a book in his hand which he is reading carefully.

Al principio no tenía una hoja de papel grande y gruesa para dibujar la imagen con 3 lápices de dibujo, goma y algunos lápices de colores diferentes. Primero dibujé un árbol grande e hice un círculo en la base del árbol para dejar espacio para sentarse. Luego hice un dibujo de un caballero sentado en ese lugar y también un libro en su mano que está leyendo con atención.

Then I just rubbed it with a pencil to make it look like green grass with its side down. Then I built a wooden fence next to it which has space to look like water on that side. Then I made a field-like space on that side of the place to look like water. Then I built a few big houses of brick, sand, cement and made it look like a city.

Luego simplemente lo froté con un lápiz para que pareciera hierba verde con el lado hacia abajo. Luego construí una cerca de madera al lado que tiene espacio para que parezca agua en ese lado. Luego hice un espacio en forma de campo en ese lado del lugar para que pareciera agua. Luego construí unas cuantas casas grandes de ladrillo, arena, cemento y la hice parecer una ciudad.

Then I made a blue sky and drew pictures of some flying birds. Then at the end of the pencil sketch I tried to make the sketches clear by coloring using a few different colored pencils. This is how I finished my drawing by painting everything.

Luego hice un cielo azul y dibujé algunos pájaros voladores. Luego, al final del boceto a lápiz, traté de aclarar los bocetos coloreando con algunos lápices de colores diferentes. Así terminé mi dibujo pintando todo.

I used a ( 2B/ 4B / 6B) pencil to draw this picture.

Usé un lápiz (4B / 6B) para hacer este dibujo.

I hope you all like my drawings! You can comment on how I like the pictures, I will be happy to read them.

¡Espero que a todos les gusten mis dibujos! Puedes comentar como me gustan las fotos, estaré feliz de leerlas.

**THANK YOU! :))**