ArtVenture Contest. Bailando con Pan / Dancing with Pan
Saludos, esta es mi participación para el concurso de dibujo tradicional con temática de Hallowen, mi dibujo se titula Bailando con Pan, está inspirado en la celebración de Samhain o nuevo año celta y representa a una bruja bailando con el Dios Pan, esta figura se asocia a la naturaleza y a la festividades o bacanales, su cuerpo es mitad chivo y es el arquetipo de demonio, en las creencias paganas se le adora a Pan y por consiguiente me inspiro en la celebración de noche brujas jugando con elementos tradicionales como contemporáneos, el dibujo lo realicé con acuarela y bolígrafo sobre cartulina.
Greetings, this is my participation for the traditional drawing contest, my drawing is titled Dancing with Pan, it is inspired by the celebration of Samhain or the Celtic New Year and represents a witch dancing with the God Pan, this figure is associates with nature and festivities or bacchanalia, his body is half a goat and is the archetype of the devil, in pagan beliefs Pan is worshiped and therefore I am inspired by the celebration of witches night playing with traditional and contemporary elements, the I made drawing with watercolor and pen on cardboard.
Bailando con Pan / Dancing with Pan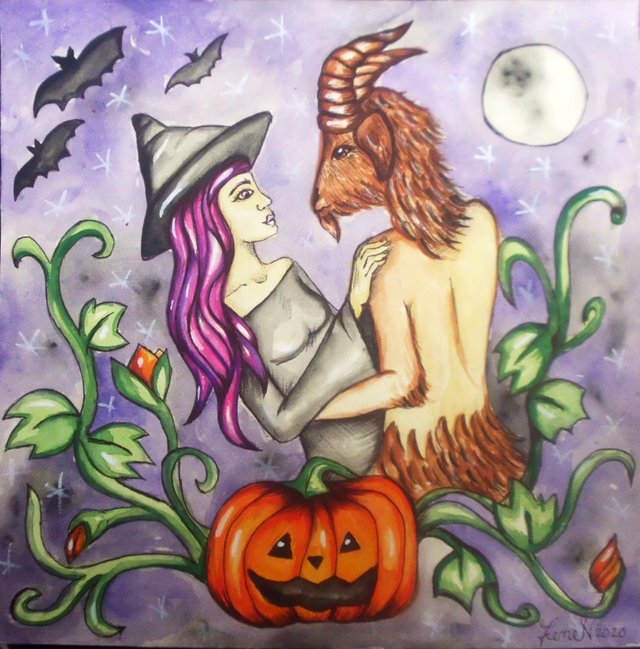 Título: Bailando con Pan
Autora: Irene Navarro
Año: 2020
Técnica: Acuarela y bolígrafo sobre cartulina guarro
Dimensiones: 20x 20 cm
Title: Dancing with Pan
Author: Irene Navarro
Year: 2020
Technique: Watercolor and pen on cardboard
Dimensions: 20x 20 centimeters
Proceso / Process
Para realizar este dibujo realicé un boceto con lápiz de grafito Hb ejerciendo poca presión sobre el papel.
To make this drawing, I made a sketch with Hb graphite pencil exerting little pressure on the paper.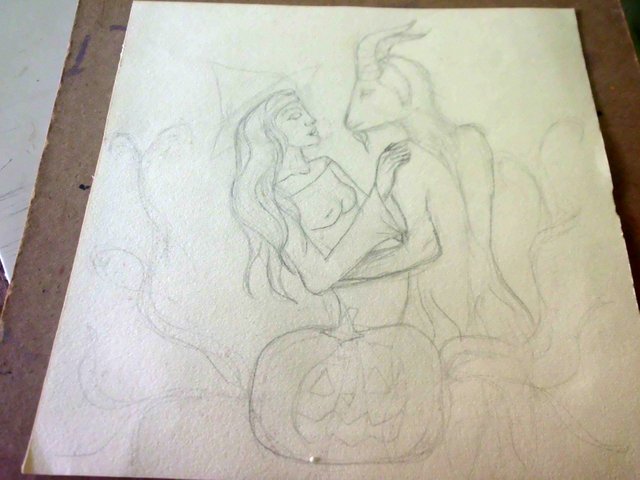 Comencé a pintar el fondo con acuarela de color violeta y negro.
I started to paint the background with purple and black watercolor.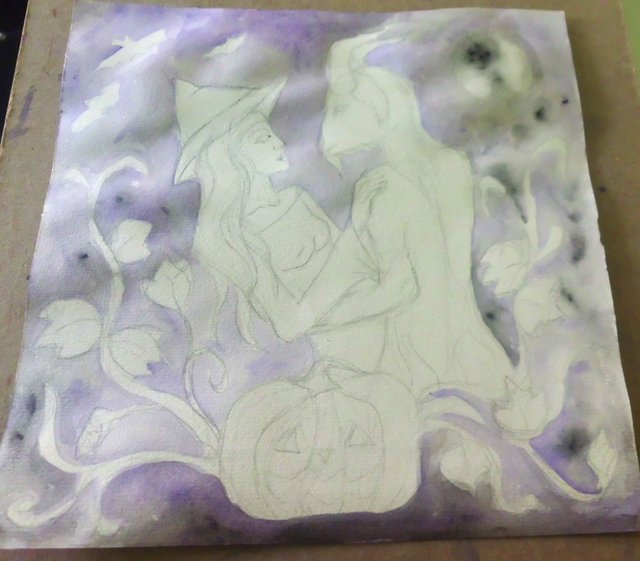 Para la piel de la bruja utilicé acuarela amarillo ocre.
For the witch's skin I used ocher yellow watercolor.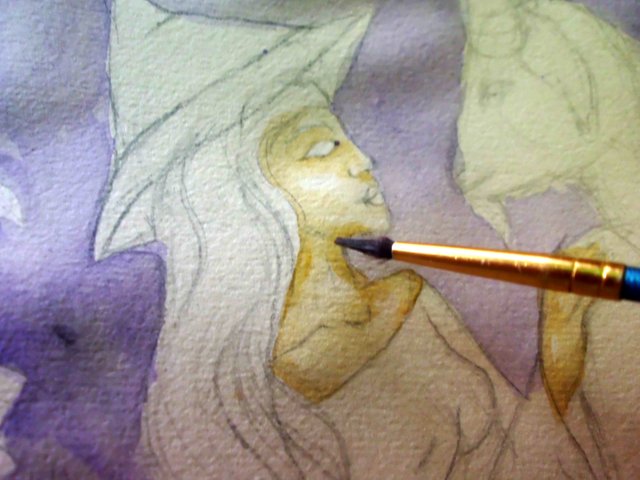 Para pintar la piel y el pelaje de Dios Pan utilicé acuarela marrón siena y sombra tostada.
To paint the skin and fur of God Pan I used sienna brown watercolor and tan shadow.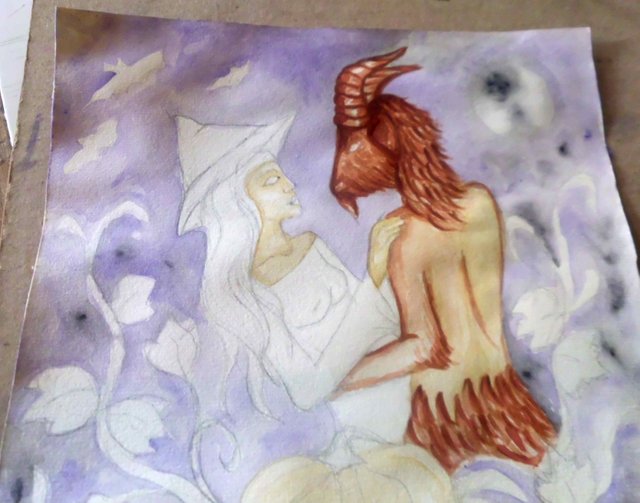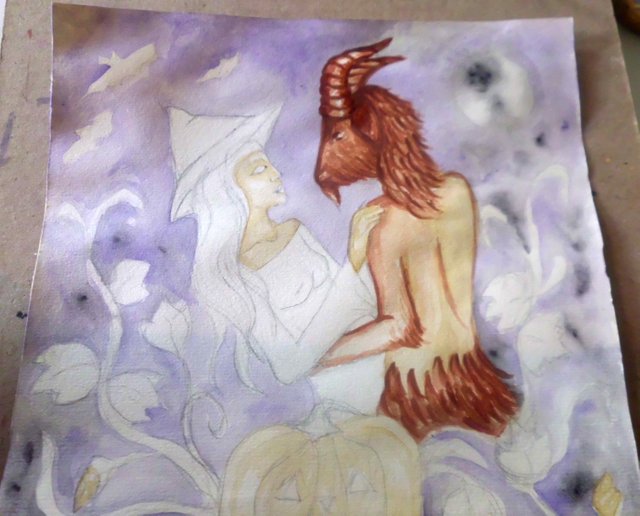 Para la calabaza y las flores utilicé, acuarela amarillo ocre, amarillo naranja y bermellón. Después reforcé un poco el color del fondo.
For the pumpkin and flowers I used ocher yellow, orange yellow and vermilion watercolor. Afterwards, I strengthened the background color a bit.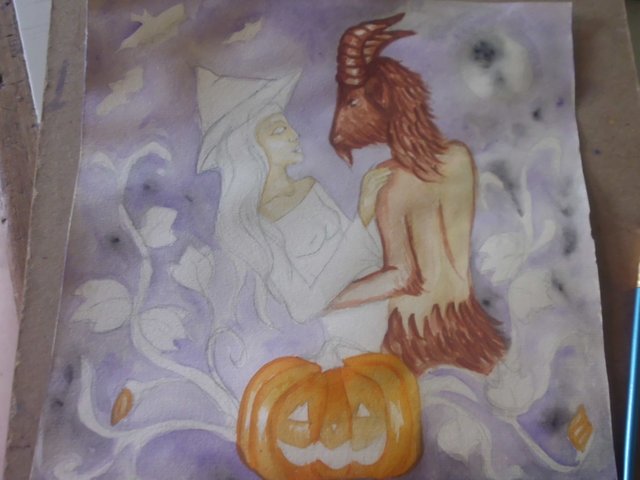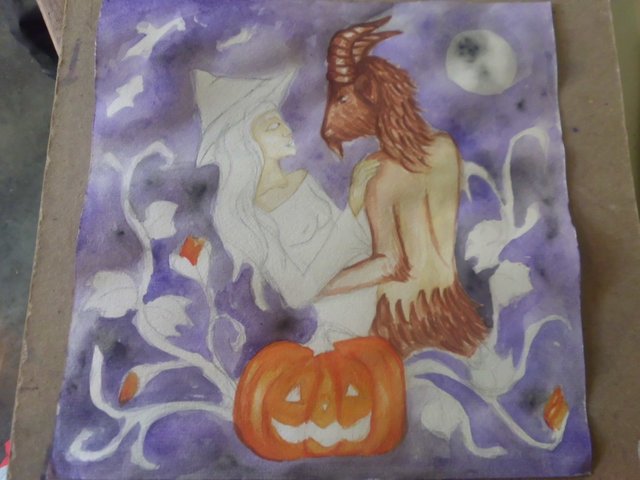 Pinté el cabello de la bruja con acuarela rosa y violeta.
I painted the witch's hair with pink and purple watercolor.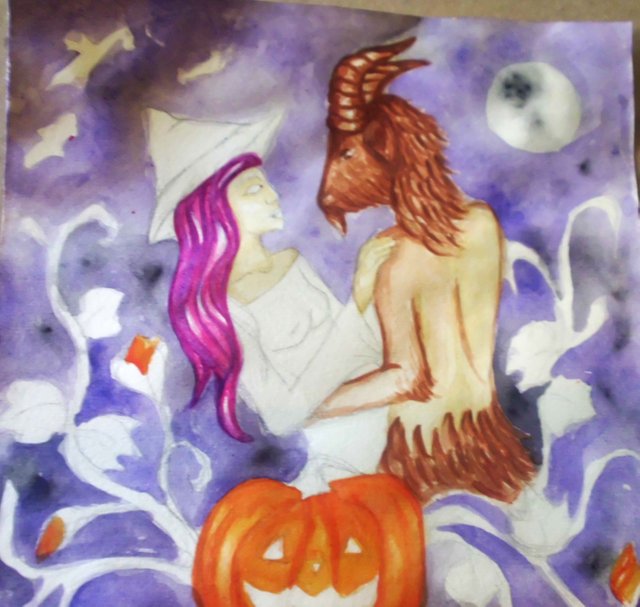 Para los tallos de la planta de calabaza utilicé acuarela sap green y deep green.
For the stems of the pumpkin plant I used watercolor sap green and deep green.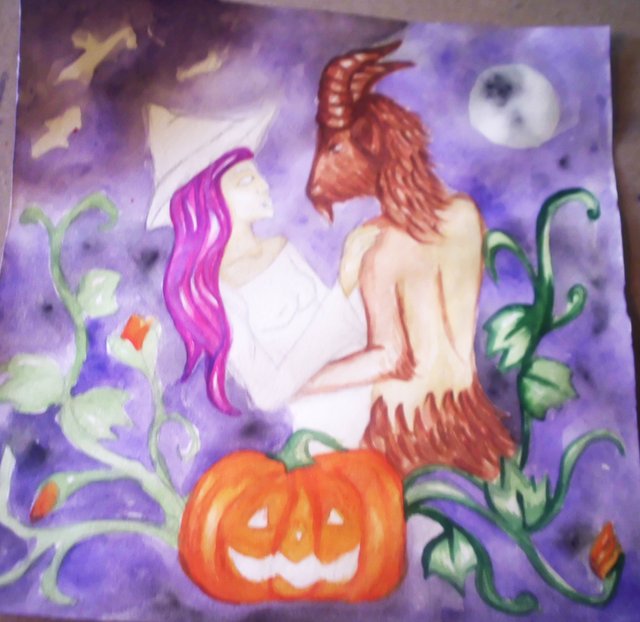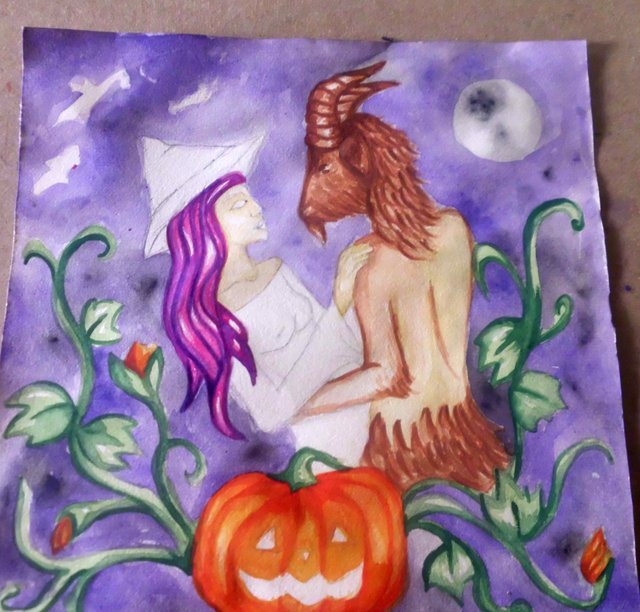 Para el vestido y sombrero de la bruja utilicé acuarela negra logrando los tonos grises con agua, para los murciélagos, la luna y las sombras de planta también utilicé acuarela negra.
For the witch's dress and hat I used black watercolor, achieving the gray tones with water, for the bats, the moon and the plant shadows I also used black watercolor.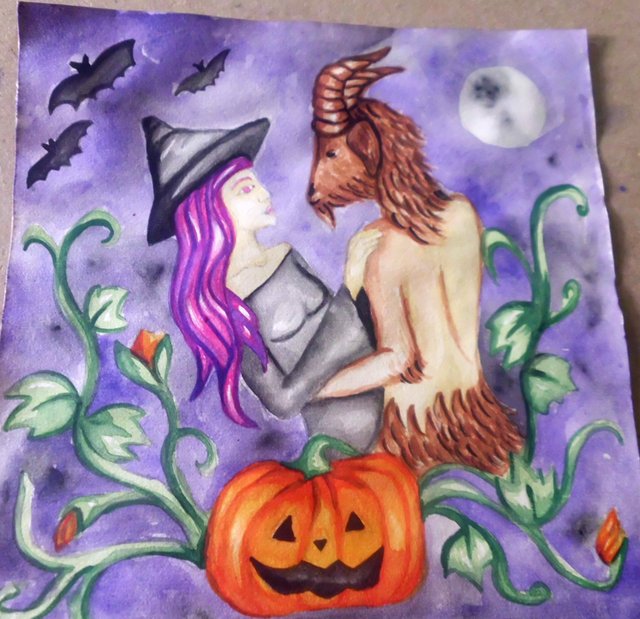 Realicé los contornos y las sombras con tramas de bolígrafo negro.
I made the outlines and shadows with black pen hatches.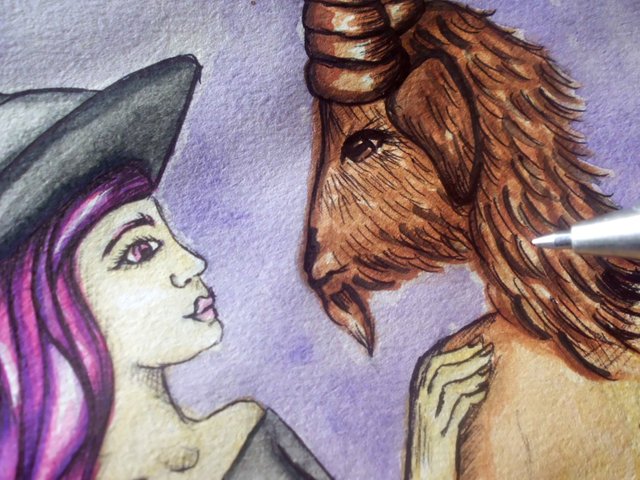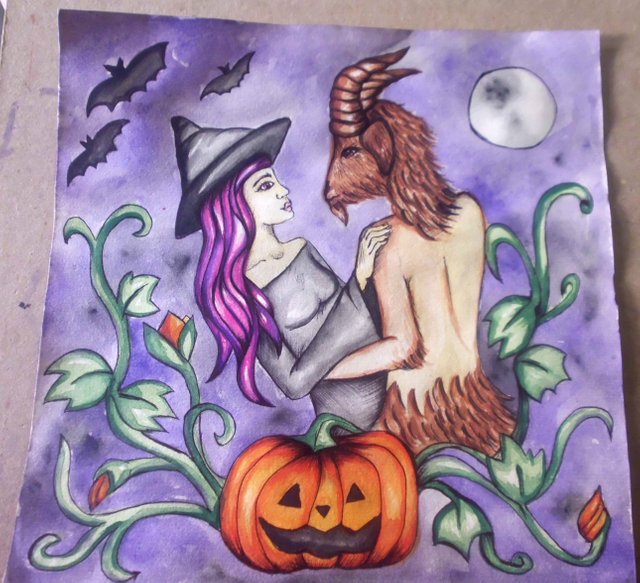 Resultado / Result
Para finalizar realicé las luces con acuarela blanca.
To finish I made the lights with white watercolor.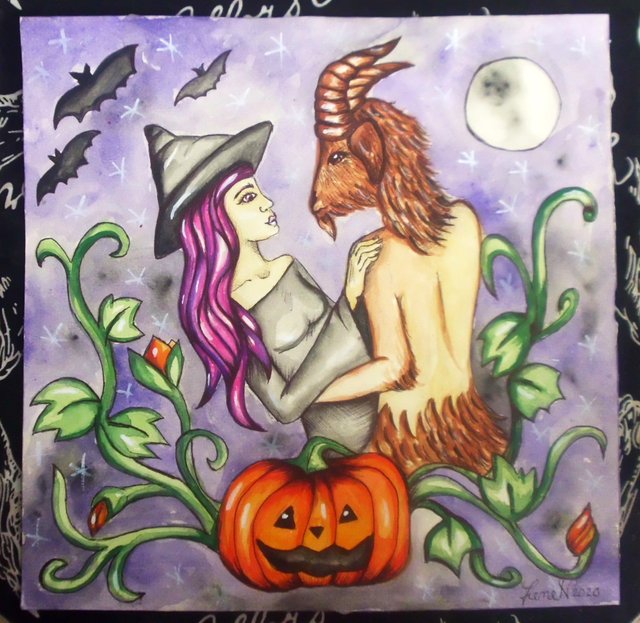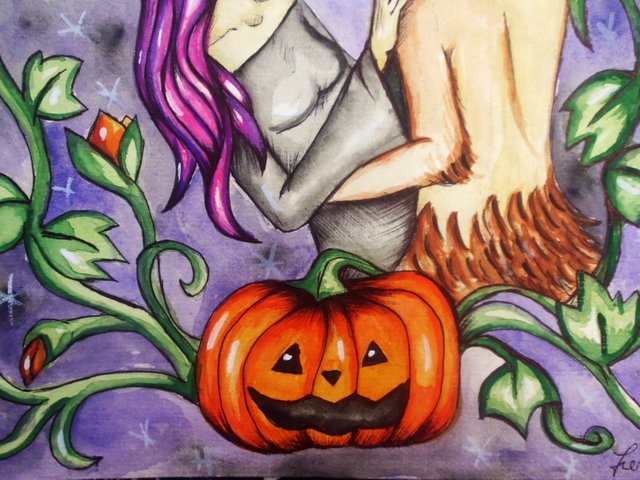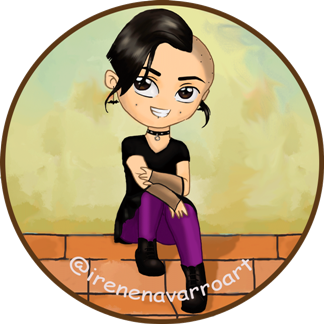 Espero les haya gustado. Les invito a leer mis próximas publicaciones y siempre estaré dispuesta a responder sus preguntas y comentarios ¡Muchas gracias!
I hope you liked it. I invite you to read my next publications and I will always be willing to answer your questions and comments, Thank you!