Como estampar camisetas con serigrafía artesanal / How to stamp T-shirts with hand-made screen printing
La serigrafía es la técnica de estampado que consiste en la impresión de una imagen a partir de una matriz, la técnica se basa en las imágenes positivas o negativas, es decir, dejar los espacios huecos por donde se quiera pintar y tapar los que no, en una superficie que permita el paso de la pintura, en este caso la tela.
La forma más profesional de hacerlo es a través de emulsiones especiales para serigrafía, estas emulsiones son a base de una sustancia fotosensible, con ellas se usa una caja de luz o en su defecto el sol, para secar el componente activo en ellas y que las partes de la imagen se queden sin sellar en la tela del bastidor, sin embargo, en esta ocasión les comparto el paso a paso para estampar una camiseta con la misma técnica pero sin usar emulsiones, sin usar químicos ni materiales complicados.
Silkscreen printing is the stamping technique that consists of printing an image from a matrix, the technique is based on positive or negative images, that is, leaving hollow spaces where you want to paint and cover those that do not, on a surface that allows the passage of paint, in this case the fabric.



The most professional way to do this is through special screen printing emulsions, these emulsions are based on a photosensitive substance, with them a light box or, failing that, the sun, is used to dry the active component in them and that the Parts of the image remain unsealed on the fabric of the frame, however, this time I share the step by step to stamp a shirt with the same technique but without using emulsions, without using chemicals or complicated materials.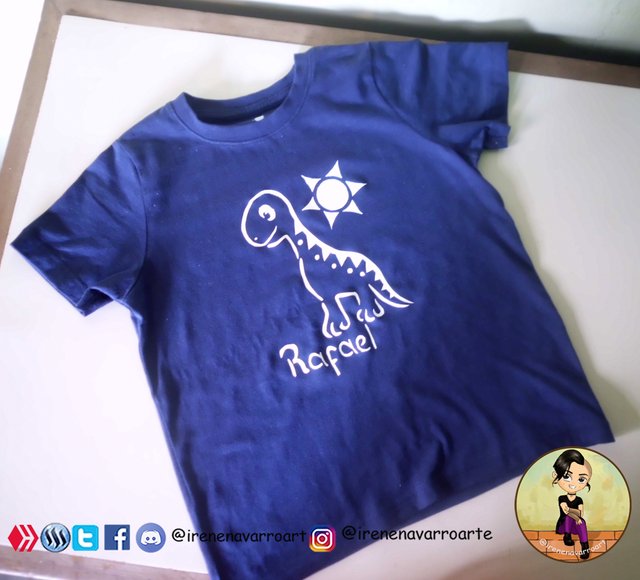 Materiales / Materials
Un bastidor de madera
Chinches para oficina (alfileres)
Tela dopiovelo (cualquier tela bastante translucida que se usa para mosquiteros y cortinas)
Una lamina de acetato: recomiendo reciclar una radiografía impresa.
Cúter
Cinta adhesiva
Una espátula o pedazo de goma espuma
Papel bond: puede ser de reciclaje
Lápiz
Marcador
Tijera
Pintura para serigrafía a base de agua (si usan pinturas plásticas deben tener un secador eléctrico para secarla)
Camiseta de algodón
A wooden frame
Office pins
Dopiovelo fabric (any fairly translucent fabric used for mosquito nets and curtains)
An acetate sheet: I recommend recycling a printed radiograph.
Cutter
Scotch tape
A spatula or piece of foam rubber
Bond paper: can be recycled
Pencil
Marker
Scissors
Water-based screen printing paint (if you use plastic paints you must have an electric dryer to dry it)
Cotton shirt



Proceso / Process
Preparar el bastidor: Lo primero que hay que hacer es tomar nuestro bastidor y colocarle la tela dopiovelo bastante tensada con ayuda de los chinches o alfileres de oficina, procurando que no queden ondulaciones.
Prepare the frame: The first thing to do is take our frame and place the dopiovelo fabric quite taut with the help of the office pins, taking care that there are no ripples.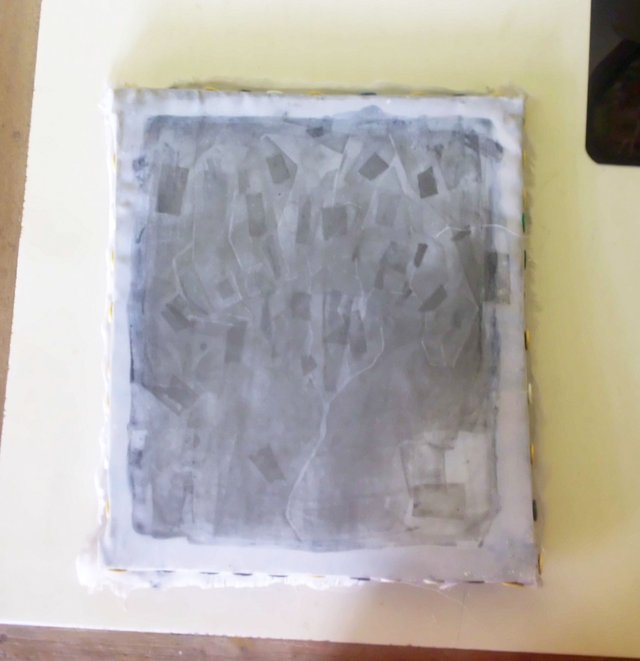 Preparar el acetato: Si se usa un acetato reciclado de una radiografía, sugiero lavarlo y cepillarlo con fuerza para que la tinta negra se desvanezca lo máximo posible, puesto que lo ideal es que el acetato nos sirva para calcar la imagen más adelante.
Prepare the acetate: If using an acetate recycled from an x-ray, I suggest washing and brushing it hard so that the black ink fades as much as possible, since the ideal is for the acetate to serve to trace the image later.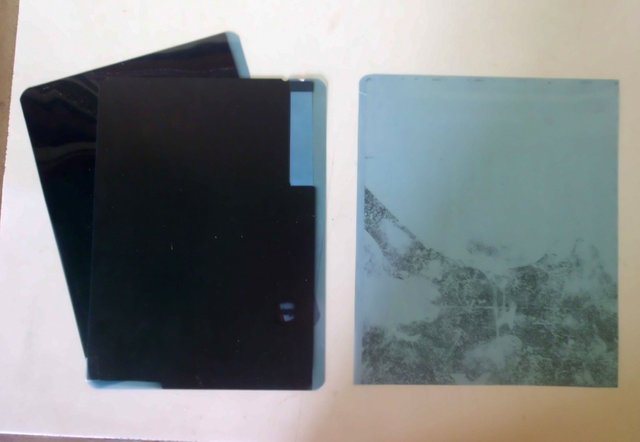 Medir el acetato con el bastidor y cortarlo del mismo tamaño.
Measure the acetate with the frame and cut it to the same size.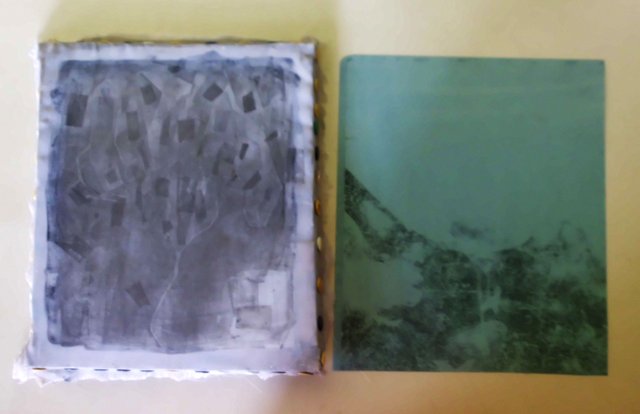 Hacer el diseño: Cortar el papel bond del mismo tamaño que el acetato. Trazar una línea de borde en el papel correspondiente al ancho de la madera del bastidor, para delimitar el área de dibujo. Dibujar el diseño que queramos, teniendo en cuenta las zonas que quedaran cubiertas.
Make the design: Cut the bond paper the same size as the acetate. Draw a border line on the paper corresponding to the width of the wood of the frame, to delimit the drawing area. Draw the design we want, taking into account the areas that will be covered.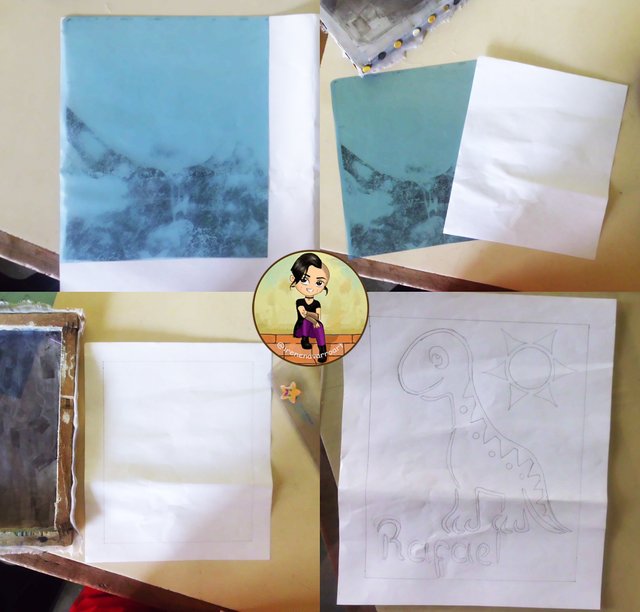 Calcar el dibujo en el acetato: colocando el papel por debajo de este, fijándolo con cinta adhesiva y trazando las líneas con un marcador.
Trace the drawing on the acetate: placing the paper underneath it, fixing it with adhesive tape and tracing the lines with a marker.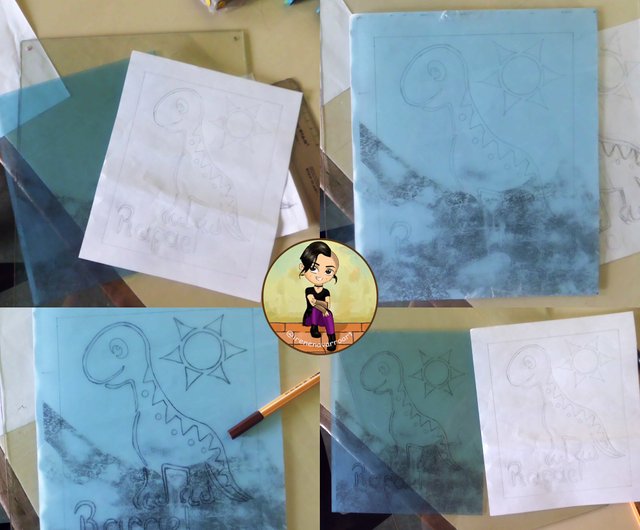 Crear la matriz: con ayuda de un cúter, cortar el acetato siguiendo el diseño calcado, lo ideal es comenzar con las áreas más pequeñas y simples, hasta completar el diseño.
Create the matrix: with the help of a cutter, cut the acetate following the traced design, the ideal is to start with the smallest and simplest areas, until completing the design.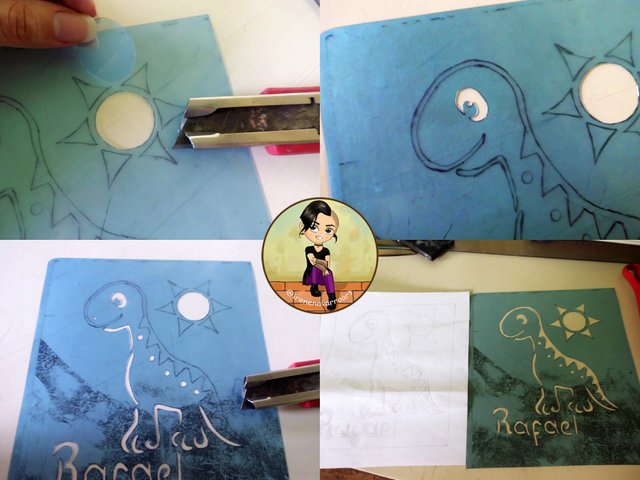 Colocar el acetato sobre el bastidor por el lado de la tela, es decir al contario de los listones de madera del bastidor, tener en cuenta la dirección del diseño, puesto que si se coloca al revés, las letras o dibujo queda invertido. Fijar el acetato con cinta adhesiva.
Place the acetate on the frame on the side of the fabric, that is, opposite the wooden slats of the frame, taking into account the direction of the design, since if it is placed upside down, the letters or drawing is inverted. Fix the acetate with adhesive tape.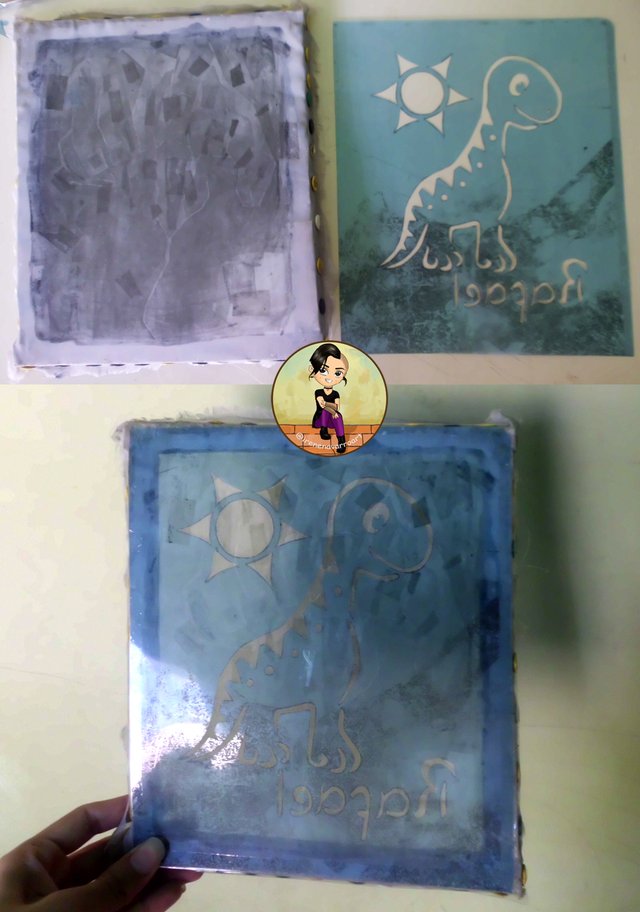 Estampado: Colocar la camiseta en una lamina de madera o cartón que permita mantenerla extendida y que al pintar la pintura no traspase el otro lado.
Stamping: Place the shirt on a sheet of wood or cardboard that allows it to be kept extended and that when painting the paint does not cross the other side.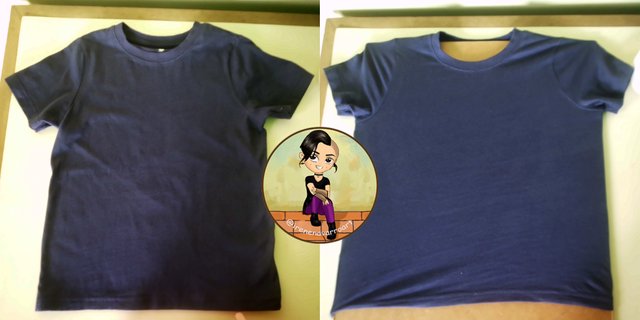 Colocar la matriz en el lugar que deseamos estampar, con el lado del acetato descansando sobre la camiseta. Con ayuda de una cuchara de plástico colocar una generosa cantidad de pintura en la espátula, extender la pintura con la espátula de forma vertical de arriba hacia abajo, la espátula debe tener una ligera inclinación, recomiendo pasar unas tres veces para asegurar que la pintura cubra todos los poros de la tela, hacerlo de manera rápida debido a que la pintura seca muy rápidamente. Al retirar el bastidor debe hacer de abajo hacia arriba cuidadosamente. El diseño debe quedar perfectamente impreso en la camiseta, si hay fallas es porque no se extendió bien la pintura como en mi caso ya he utilizado el mismo dopiovelo muchas veces.
Place the matrix in the place we want to stamp, with the acetate side resting on the shirt. With the help of a plastic spoon, place a generous amount of paint on the spatula, spread the paint vertically from top to bottom with the spatula, the spatula should have a slight inclination, I recommend passing three times to ensure that the paint covers all the pores of the fabric, do it quickly because the paint dries very quickly. When removing the frame you should carefully do the bottom up. The design must be perfectly printed on the shirt, if there are flaws it is because the paint did not spread well as in my case I have already used the same dopiovelo many times.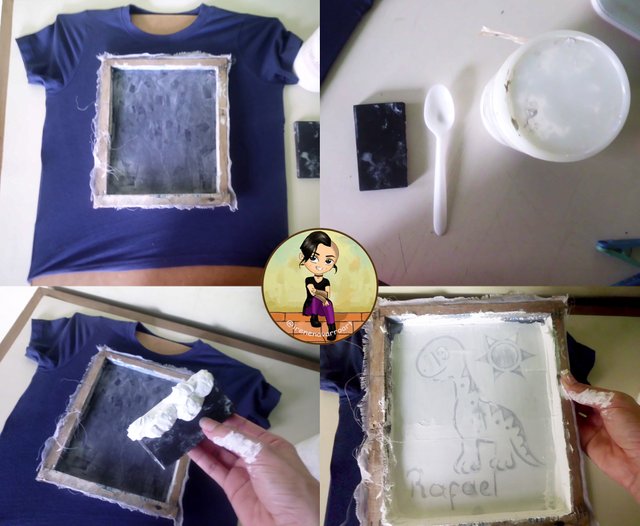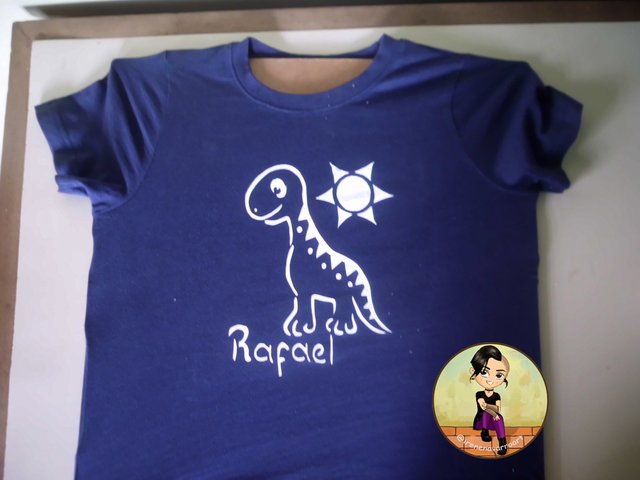 Resultado / Result
Una vez impresa la camiseta se debe estampar la siguiente si fuera el caso de manera inmediata, si se observan que la pintura se secó y tapó los poros se debe proceder a lavar el bastidor antes de hacer una nueva impresión. Esta es una manera económica de hacer estampados sencillos y rendidores, ya que el diseño y el bastidor se pueden reutilizar muchas veces.
Once the shirt is printed, the following should be stamped if it were the case immediately, if you see that the paint has dried and clogged the pores, the frame should be washed before making a new impression. This is an inexpensive way to make simple and performance prints, as the design and the frame can be reused many times.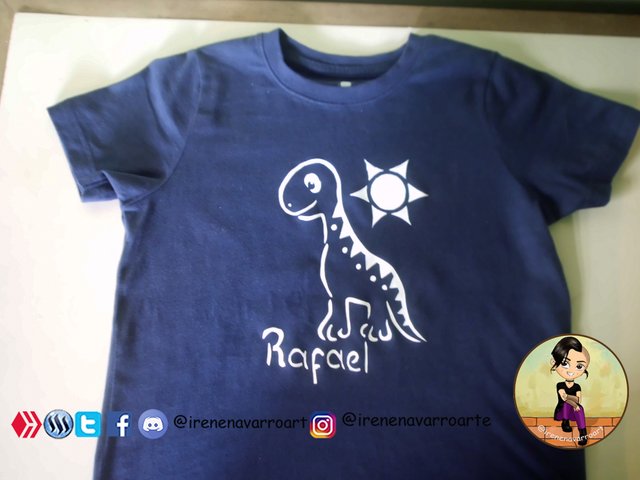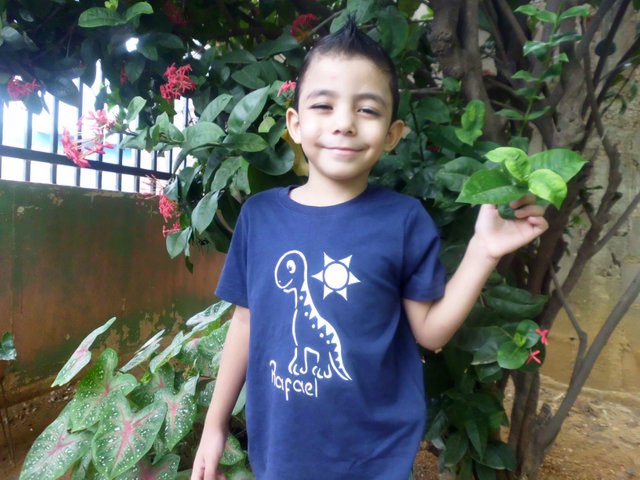 Invítenme un Café/Support Me on Ko-Fi


Si te gusta mi contenido y quieres apoyarme a seguir dibujando, pintando, escribiendo y tejiendo puedes invitarme un Ko-fi en el enlace que les dejo aquí abajo, les recuerdo que es fácil, se usa Paypal y Tarjeta. ¡Muchas gracias a todos!


If you want to support my art you can also make donations for the value of a coffee (Ko-Fi) this uses Paypal, it is simple and with it I will be able to continue knitting and buying materials to create and share my publications


https://ko-fi.com/irenenavarroart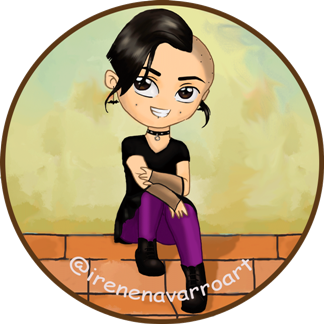 Espero les haya gustado. Les invito a leer mis próximas publicaciones y siempre estaré dispuesta a responder sus preguntas y comentarios, también pueden seguirme y contactarme en cualquiera de mis redes sociales. ¡Muchas gracias!
I hope you liked it. I invite you to read my next publications and I will always be willing to answer your questions and comments, you can also follow me and contact me on any of my social networks. Thank you!