Contest Week, Showing my Profession./ Concurso Semanal, Mostrando mi Profesión
Saludos! esta es mi entrada para el concurso propuesto por
@adeljose
de la comunidad
World Of Xpilar , el cual consiste en realizar un dibujo relacionado con tu profesión, las bases las pueden leer completas en la publicación original:


Regards! This is my entry for the contest proposed by

@adeljose

from the World Of Xpilar community which consists of making a drawing related to your profession, the bases are You can read complete in the original publication:
Contest Week, Showing my Profession./ Concurso Semanal, Mostrando mi Profesión
Mi participación / My entry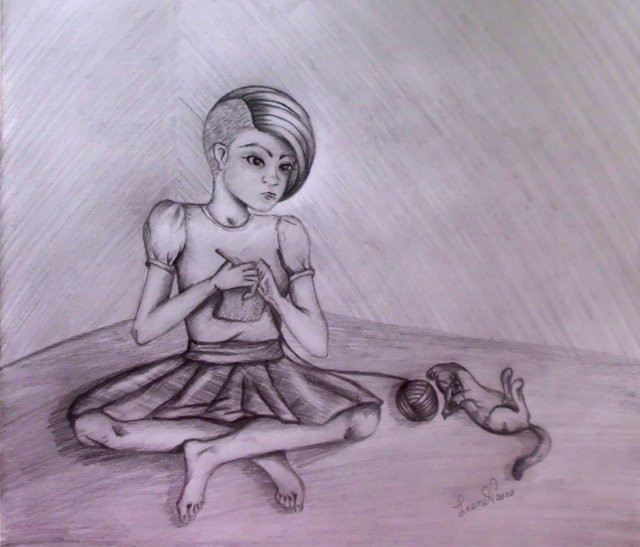 Las profesiones a veces no son planeadas, algunos estudiamos para cumplir un rol distinto al que terminamos haciendo, es decir, estudiamos una profesión y hacemos carrera en otra, en mi caso tengo dos carreras universitarias, ambas se relacionan con mi personalidad y mis aptitudes, sin embargo, el entorno de mi país ha hecho que saque provecho de todas mis capacidades fuera de lo formal, me gradué para ser maestra y aunque lo ejercí por poco tiempo la situación económica me lo impidió, también me gradué en Artes Plásticas y hasta ahora para mi es una profesión de libre ejercicio, donde a través de ella he podido relacionar mi trabajo con el arte textil, bien sea con fines netamente artísticos o con fines económicos, mi pasión con el tejido es mi profesión y es a lo que mayor tiempo le dedico después de mi labor de madre.
Mi dibujo representa mi libertad creativa, mi espacio de trabajo en casa que en ocasiones deja de ser la mesa para ser el suelo, donde me siento descalza a crear con mis manos, asimismo, muestra la siempre traviesa compañía de mi gato, actualmente es el gato de mi hijo, pero en el pasado han sido mis anteriores gatos, es decir, siempre he tenido en pequeño compañero felino a mi lado jugando con los hilos y desbaratando mis ovillos de estambre e incluso llegando a poner en peligro la integridad de algunos de mis trabajos, como sucedió con el cuadro tejido que hice para mi tesis de grado, el cual fue trabajado con 50 ovillos diferentes que debían estar ordenados para seguir tejiendo, sucede que el gato aprovechó la madrugada para hacer un total desastre de hilos, lloré y tarde al menos tres horas quitando los nudos y ordenándolos de nuevo.
The professions are sometimes not planned, some of us study to fulfill a different role from the one we end up doing, that is, we study one profession and make a career in another, in my case I have two university degrees, both are related to my personality and my aptitudes, However, the environment of my country has made me take advantage of all my abilities outside of the formal, I graduated to be a teacher and although I exercised it for a short time the economic situation prevented me, I also graduated in Plastic Arts and until now For me it is a profession of free exercise, where through it I have been able to relate my work with textile art, either for purely artistic purposes or for economic purposes, my passion with weaving is my profession and it is what I have spent most of the time doing. I dedicate to him after my work as a mother.



My drawing represents my creative freedom, my work space at home that sometimes ceases to be the table to be the floor, where I feel barefoot to create with my hands, it also shows the always mischievous company of my cat, currently it is the my son's cat, but in the past they have been my previous cats, that is, I have always had a small feline companion by my side playing with the threads and disrupting my yarn balls and even endangering the integrity of some of the my work, as happened with the knitted work that I did for my graduate thesis, which was worked with 50 different balls that had to be ordered to continue weaving, it happens that the cat took advantage of the early morning to make a total mess of threads, I cried and take at least three hours to remove the knots and rearrange them.
Imágenes del proceso / Process images
El dibujo esta realizado con lápices de grafito, HB para el boceto, 2B para los tonos altos y medios y 6B para los tonos bajos, es decir los tonos oscuros, el soporte es papel bond 24 tamaño carta.
The drawing is made with graphite pencils, HB for the sketch, 2B for the high and medium tones and 6B for the low tones, that is, the dark tones, the support is letter size 24 bond paper.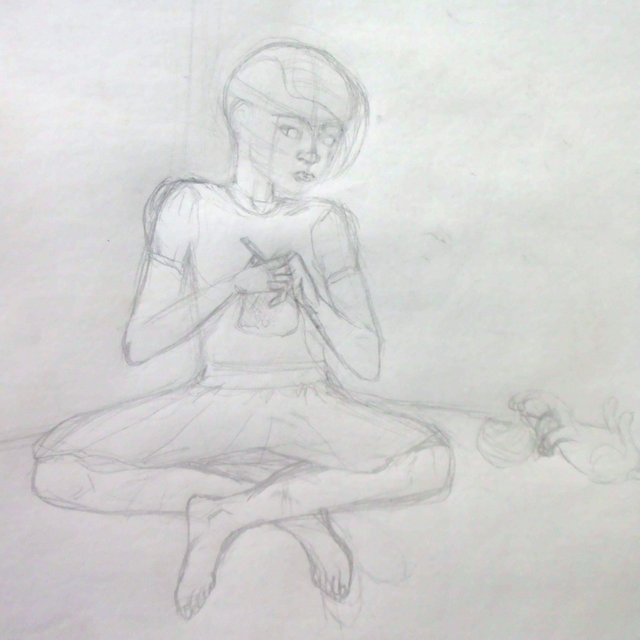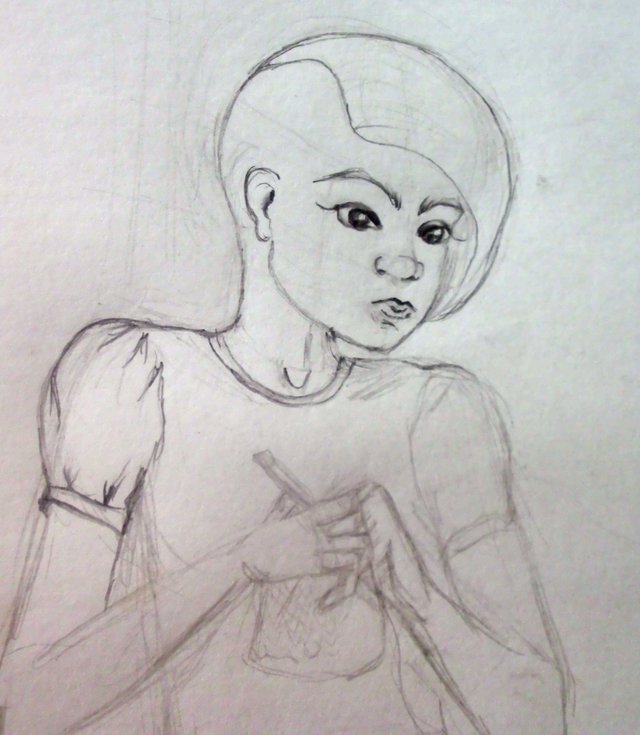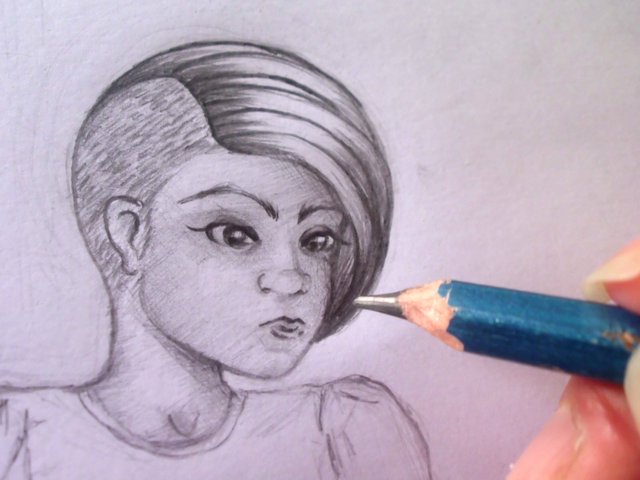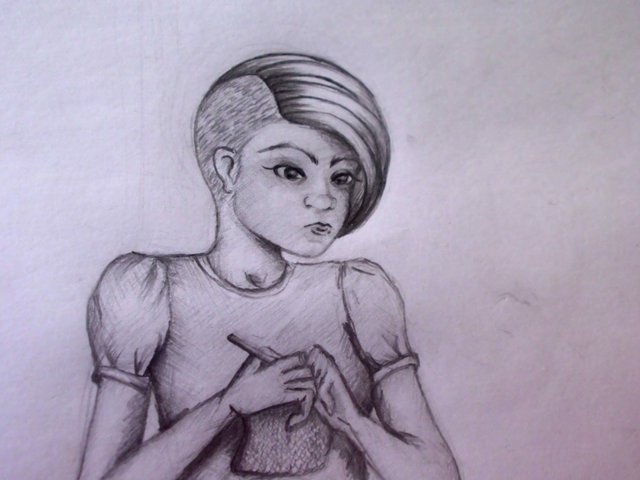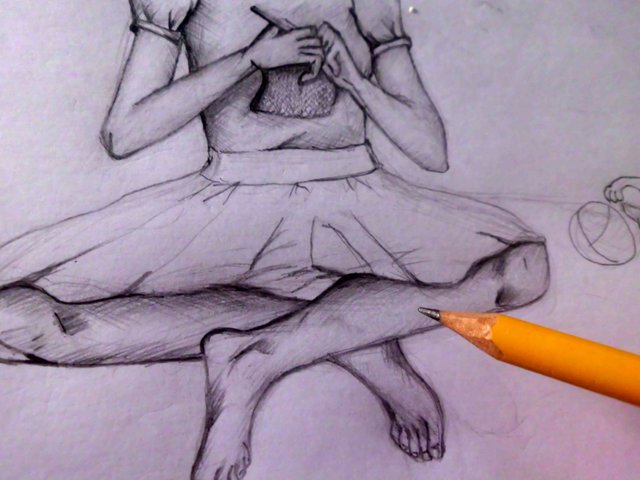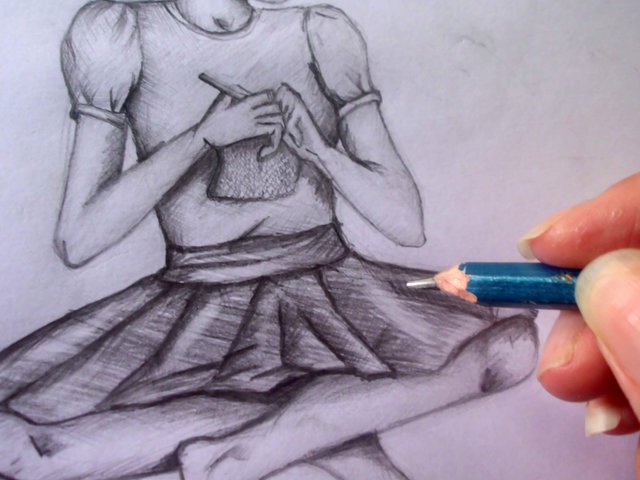 Resultado / Result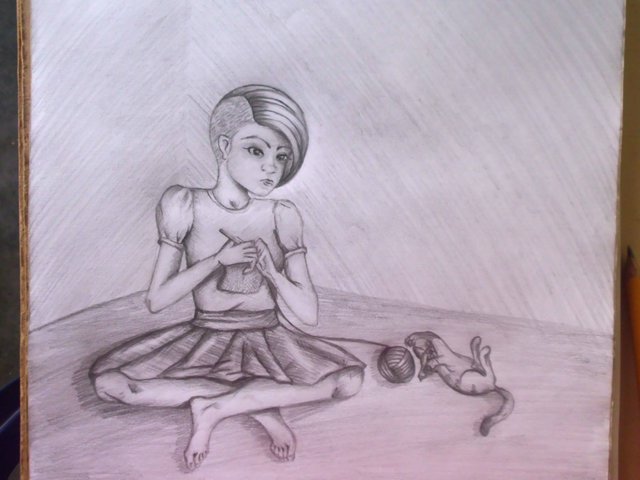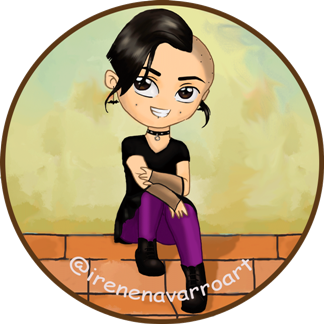 Espero les haya gustado. Les invito a leer mis próximas publicaciones y siempre estaré dispuesta a responder sus preguntas y comentarios, también pueden seguirme y contactarme en cualquiera de mis redes sociales. ¡Muchas gracias!
I hope you liked it. I invite you to read my next publications and I will always be willing to answer your questions and comments, you can also follow me and contact me on any of my social networks. Thank you!