Naruto Sennin
¡Saludos! en esta ocasión les comparto un amigurumi con forma de Naruto modo Sennin, hace algún tiempo realicé un encargo de amigurumi modo Bijuu, pero era más grande, esta vez hice uno pequeño que se puede usar como llavero.
Regards! This time I share an amigurumi in the shape of Naruto Sennin mode, some time ago I made an order for amigurumi Bijuu mode, but it was bigger, this time I made a small one that can be used as a keychain.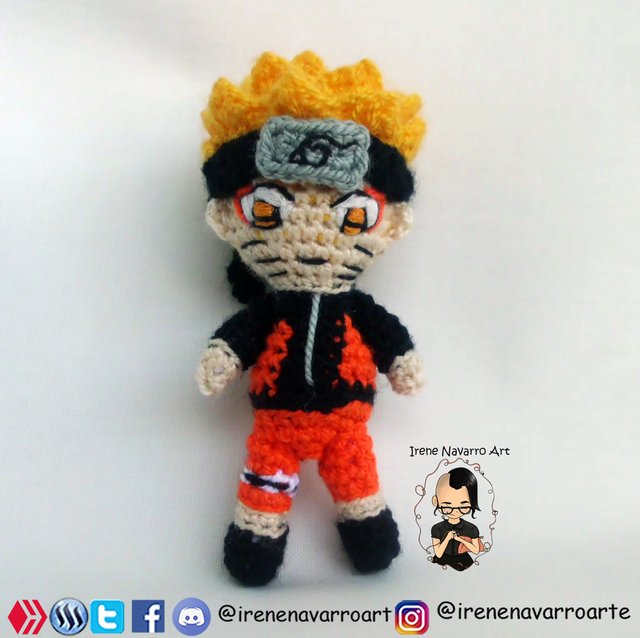 Descripción del personaje / Character description
El Modo Ermitaño, conocido como Sennin, Senjutsu,o Modo Sabio, es una de la especialidades adquiridas por el protagonista en Naruto Shippuden, para ello él se entrena con los sapos para poder concentrar en su cuerpo la energía que viene de la naturaleza es decir el chakra natural, es por ello que su aspecto cambia.
The Sennin or Senjutsu Mode, is one of the specialties acquired by the protagonist in Naruto Shippuden, for this he trains with the toads to be able to concentrate in his body the energy that comes from nature, that is, the natural chakra, that is why its appearance changes.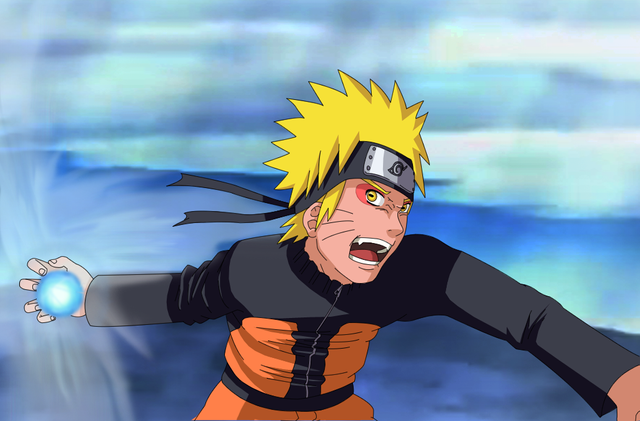 Imagen de referencia / Reference image
Proceso / Process
Los materiales utilizado para este amigurumi fueron, ganchillo Nº 4 (1,25mm), hilo para crochet de color beige claro, amarillo, negro, naranja y gris, relleno de fibra sintética antialérgica, aguja grande, tijera, hilo y aguja para bordar.
Comencé tejiendo la cabeza haciendo un círculo de hilo amarillo para crear la zona correspondiente al cabello, posteriormente continué con hilo beige para formar el rostro y con hilo amarillo para la parte posterior de la cabeza, fui haciendo disminuciones hasta formar la esfera de la cabeza. Para el cuerpo tejí con hilo color negro y adicioné hilo naranja para las zonas correspondientes a la ropa, rellene con fibra y cerré el tejido.
The materials used for this amigurumi were, crochet No. 4 (1.25mm), light beige, yellow, black, orange and gray crochet thread, antiallergic synthetic fiber filling, large needle, scissors, thread and embroidery needle.



I started knitting the head making a circle of yellow thread to create the area corresponding to the hair, later I continued with beige thread to form the face and with yellow thread for the back of the head, I made decreases until I formed the sphere of the head. For the body I knitted with black thread and added orange thread for the areas corresponding to the clothes, fill with fiber and closed.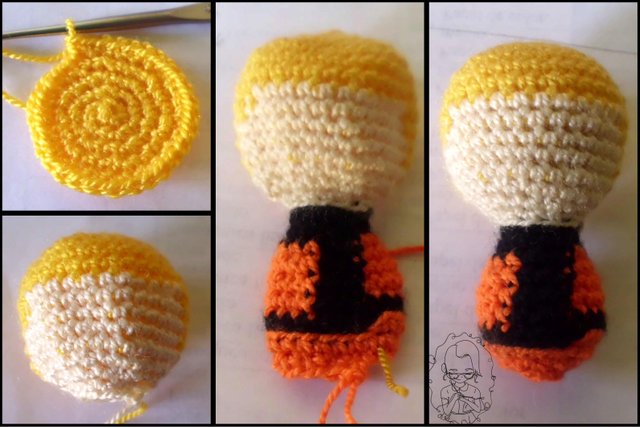 Para el cabello, retomé el tejido con hilo amarillo, tejiendo picos por toda la cabeza para formar el cabello de Naruto.
For the hair, I picked up the knit with yellow thread, knitting spikes all over the head to form Naruto's hair.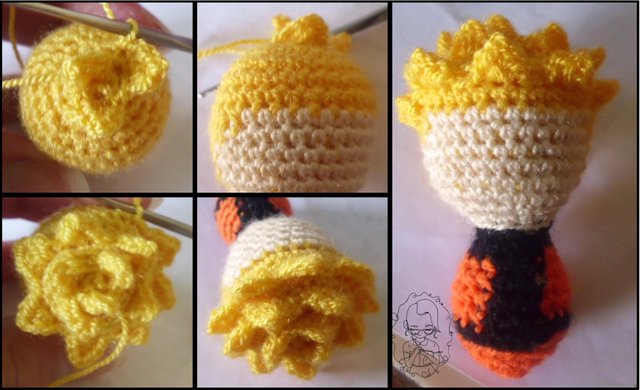 Para hacer las piernas, tejí con hilo negro para formar los zapatos, seguí tejiendo con hilo beige para la pierna y naranja para el pantalón. Hice dos piernas iguales, rellené con fibra y las cosí al cuerpo.
To make the legs, I knitted with black thread to form the shoes, I continued knitting with beige thread for the leg and orange thread for the pants. I made two equal legs, filled with fiber and sewn them to the body.
Para los brazos, comencé tejiendo con hilo negro para formar la manga del traje, terminé con hilo beige para la mano, rellené con fibra y cerré, hice dos iguales y los cosí al cuerpo con el mismo hilo para crochet.
For the arms, I started knitting with black thread to form the sleeve of the suit, I finished with beige thread for the hand, I filled with fiber and closed, I made two the same and sewn them to the body with the same thread for crochet.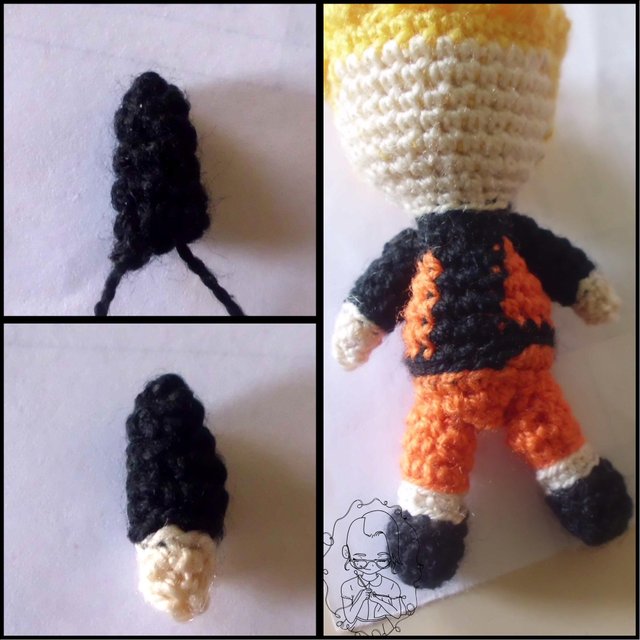 Para el símbolo de la Aldea del Remolino que tiene en la espalda, tejí un circulo con hilo rojo y bordé el remolió con hilo negro. Lo cosí al cuerpo.
For the Swirling Village symbol on his back, I knitted a circle with red thread and embroidered it with black thread. I sewed it to the body.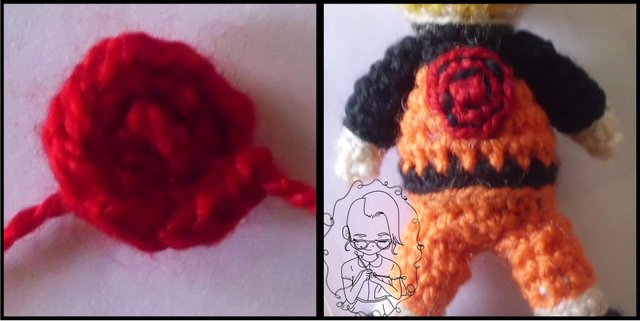 Los ojos y detalles del rostro los bordé con hilo de coser y aguja. Las orejas las teji con hilo beige. El protector de la frente lo tejí con hilo gris y el símbolo de Konoha lo bordé con hilo negro, la cinta la tejí con hilo negro.
I embroidered the eyes and face details with sewing thread and needle. The ears were knitted with beige thread. I knitted the forehead protector with gray thread and I embroidered the Konoha symbol with black thread, the tape I knitted with black thread.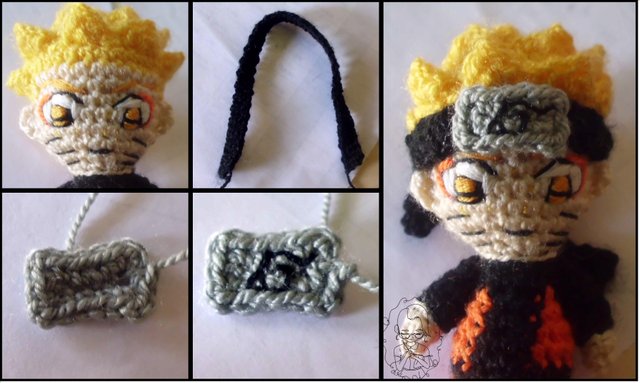 Resultado / Result
Los detalles que resaltan del Modo Sennin de Naruto son los ojos, estos llevan una sombra naranja en los bordes y tienen una pupila de ojos de sapo. El amigurumi mide 8 centímetros por lo que los detalles son muy pequeños.
The details that stand out from Naruto's Sennin Mode are the eyes, these have an orange shadow on the edges and have a toad-eye pupil. The amigurumi measures 8 centimeters so the details are very small.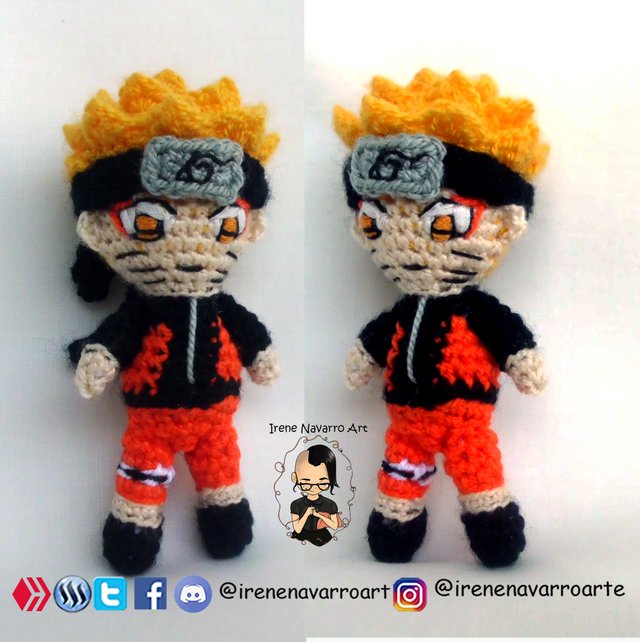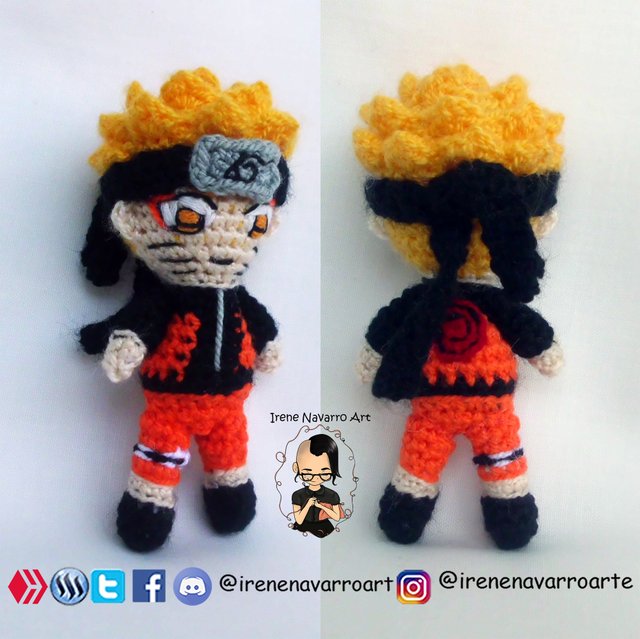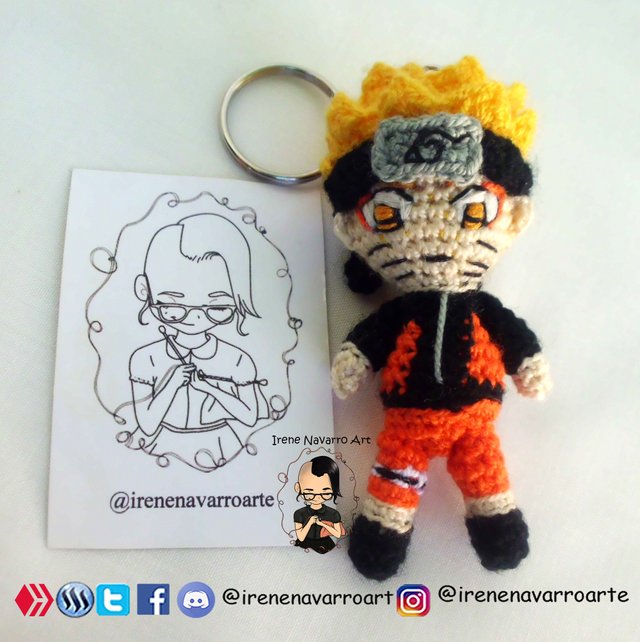 Imágenes tomadas con cámara Casio QV-R100 y editadas en Adobe Photoshop Cs6
Images taken with Casio QV-R100 camera and edited in Adobe Photoshop Cs6
Invítenme un Café/Support Me on Ko-Fi


Si te gusta mi contenido y quieres apoyarme a seguir dibujando, pintando, escribiendo y tejiendo puedes invitarme un Ko-fi en el enlace que les dejo aquí abajo, les recuerdo que es fácil, se usa Paypal y Tarjeta. ¡Muchas gracias a todos!


If you want to support my art you can also make donations for the value of a coffee (Ko-Fi) this uses Paypal, it is simple and with it I will be able to continue knitting and buying materials to create and share my publications


https://ko-fi.com/irenenavarroart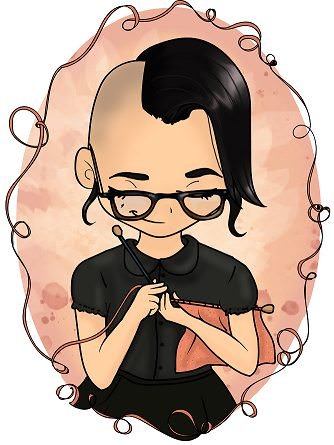 Espero les haya gustado. Les invito a leer mis próximas publicaciones y siempre estaré dispuesta a responder sus preguntas y comentarios, también pueden seguirme y contactarme en cualquiera de mis redes sociales. ¡Muchas gracias!
I hope you liked it. I invite you to read my next publications and I will always be willing to answer your questions and comments, you can also follow me and contact me on any of my social networks. Thank you!