Osita para Graduación / Little bear for graduation
Lamentablemente en todos los niveles educativos, las graduaciones de este año se vieron aplazadas o canceladas debido a la pandemia, algunos pudieron recibir sus diplomas por correo o como en mi caso retirar el título por secretaría, sin presencia de familiares ni amigos, sin ningún contacto, manteniendo todas las medidas de prevención. Es por eso que a pesar de todo lo malo, decidí hacerle un amigurumi a mi amiga y compañera de graduación, para darnos ánimo y de algún modo celebrar el cumplimento de nuestra meta.
Este amigurumi tiene la forma de una osita con un atuendo de graduación. Para ello utilicé hilo para crochet de color marrón claro y beige, ganchillo Nº 4 (1,25 mm), relleno de fibra sintética antialérgica, dos perlas de plástico para los ojos y una perla de plástico más pequeña para la nariz.
Unfortunately at all educational levels, this year's graduations were postponed or canceled due to the pandemic, some were able to receive their diplomas by mail or, as in my case, withdraw the degree by the secretary, without the presence of family or friends, without any contact , maintaining all the preventive measures. That is why despite all the bad things, I decided to make an amigurumi for my friend and classmate, to give us encouragement and somehow celebrate the fulfillment of our goal.



This amigurumi is shaped like a bear with a graduation outfit. For this I used light brown and beige crochet thread, crochet No. 4 (1.25 mm), anti-allergy synthetic fiber filling, two plastic pearls for the eyes and a smaller plastic pearl for the nose.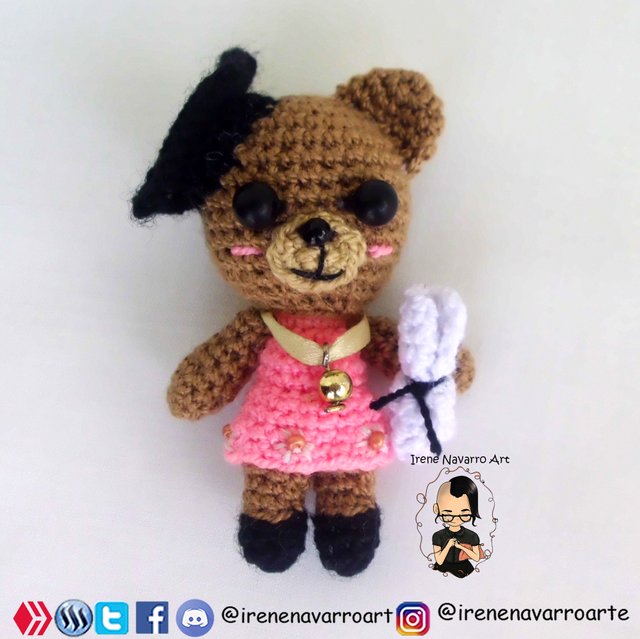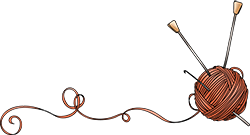 Proceso / Process
Comencé a hacer la cabeza con el hilo color marrón, tejiendo un círculo, continuando el tejido de manera recta para después hacer disminuciones y crear una esfera.
I began to make the head with the brown thread, weaving a circle, continuing the weaving in a straight way, and then making decreases and creating a sphere.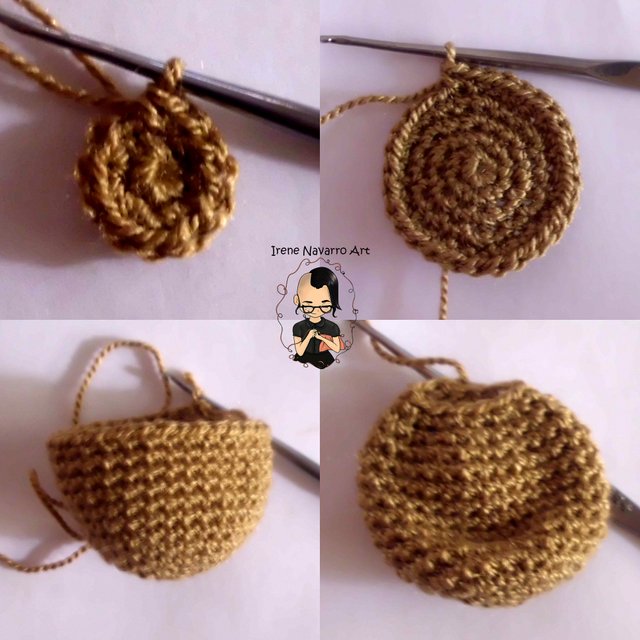 El cuerpo lo tejí con hilo rosado, comenzando desde la parte inferior de la cabeza, haciendo aumentos progresivos en el tejido hasta formar el vestido. Rellené con fibra.
I knitted the body with pink thread, starting from the bottom of the head, making progressive increases in the fabric to form the dress. Filled with fiber.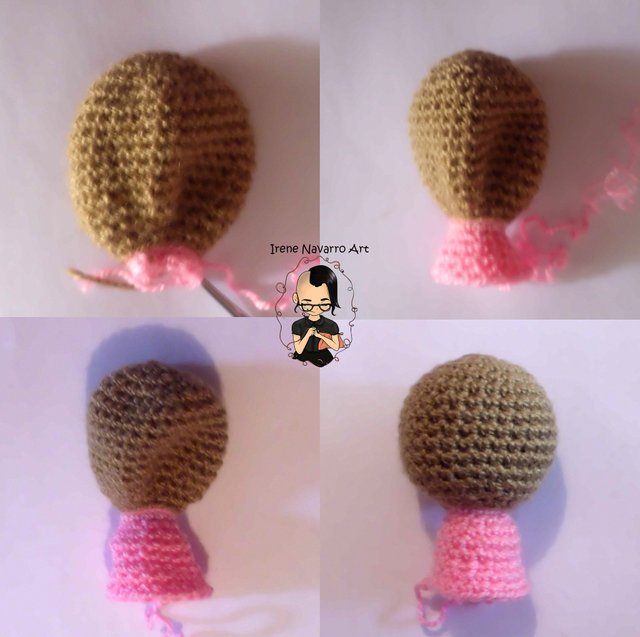 Las piernas las tejí de forma separada con el hilo marrón para después unirlas y formar la entrepierna, rellené las piernas con fibra.
I knitted the legs separately with the brown thread to later join them and form the crotch, I filled the legs with fiber.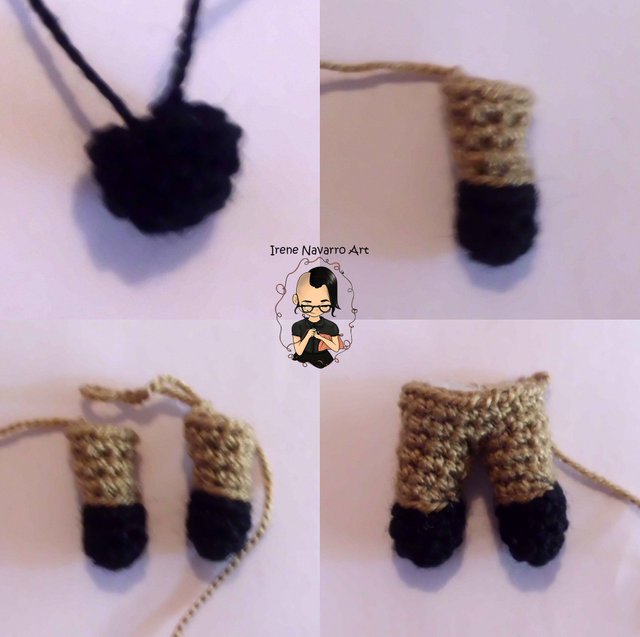 Los brazos los tejí con el hilo marrón, rellenando con fibra antes de cerrar.
I knitted the arms with the brown thread, filling it with fiber before closing.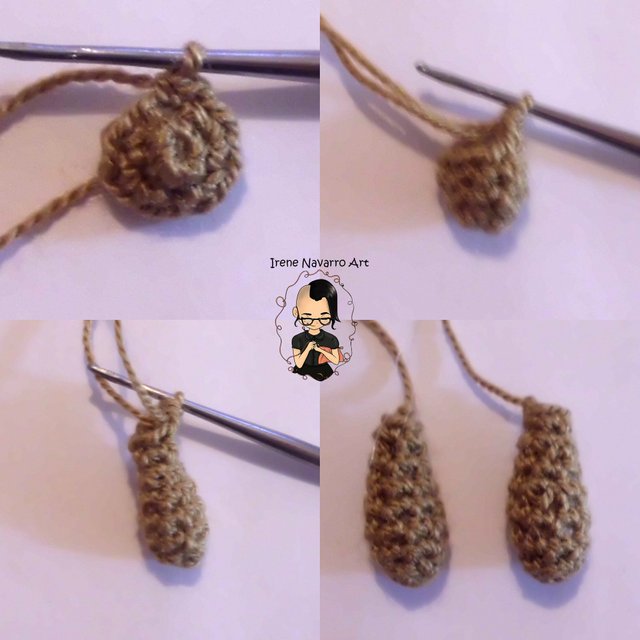 Cosí las piernas al cuerpo por debajo del vestido, cosí los brazos de cada lado y cosí una pequeña cola por debajo del vestido.
I sewed the legs to the body under the dress, sewed the arms on each side and sewed a small tail under the dress.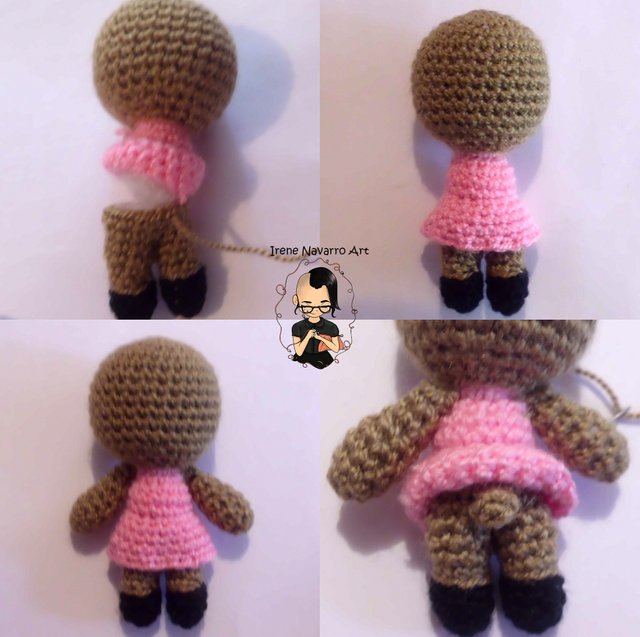 La oreja la tejí con hilo marrón, formando un círculo y tejiendo de manera recta por dos vueltas, posteriormente doblé el tejido sin rellenar y lo cosí a la cabeza.
I knitted the ear with brown thread, forming a circle and knitting it straight for two turns, later I folded the fabric without filling and sewed it to the head.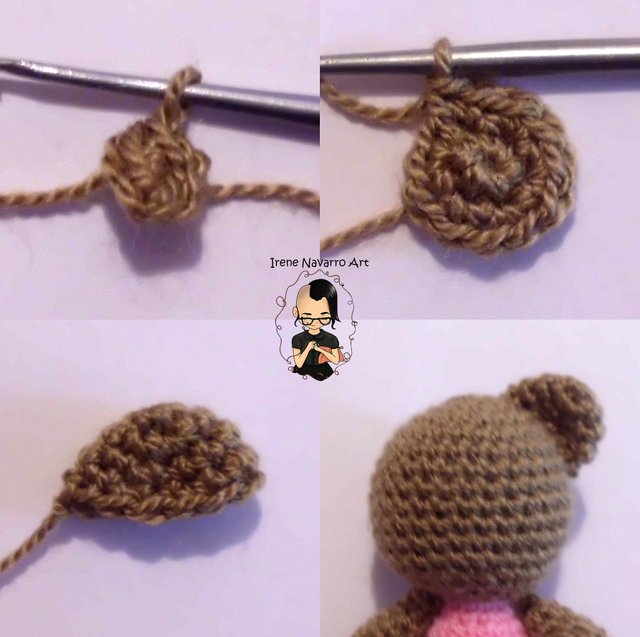 Para el birrete, tejí un cuadro con hilo negro, sobre éste levante una hilera circular de puntos y continué de manera recta hasta obtener la altura deseada. Cosí el birrete a la cabeza, introduciendo un poco de relleno.
For the mortarboard, I knitted a square with black thread, on this I raised a circular row of stitches and continued straight until obtaining the desired height. I sewed the mortarboard to the head, introducing a little filler.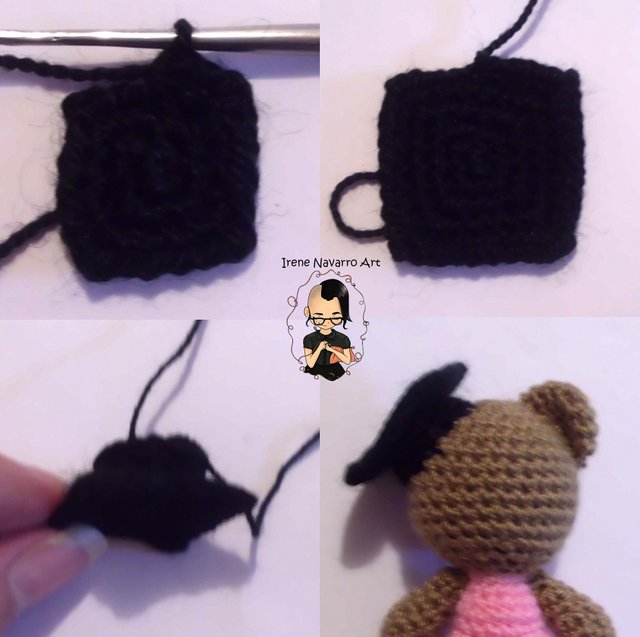 El hocico lo hice con hilo beige, tejiendo un círculo el cual cosí a la cabeza, con hilo de coser cosí la perla de plástico para formar la nariz, cosí las dos perlas para formar los ojos y borde la boca.
I made the muzzle with beige thread, knitting a circle which I sewed to the head, with sewing thread I sewed the plastic pearl to form the nose, I sewed the two pearls to form the eyes and edged the mouth.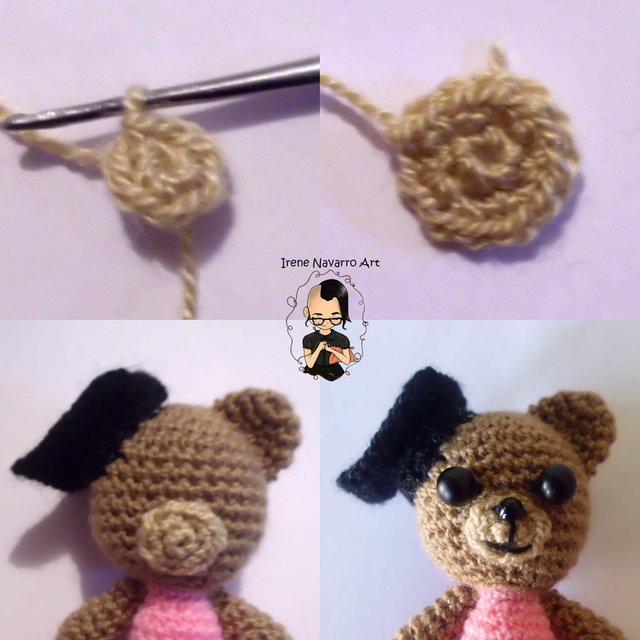 Para la medalla utilicé un perla de plástico dorado y una cinta, el diploma lo hice tejiendo un cuadro con hilo blanco el cual enrollé y cosí al brazo.
For the medal I used a golden plastic pearl and a ribbon, I made the diploma by weaving a square with white thread which I wound and sewn to the arm.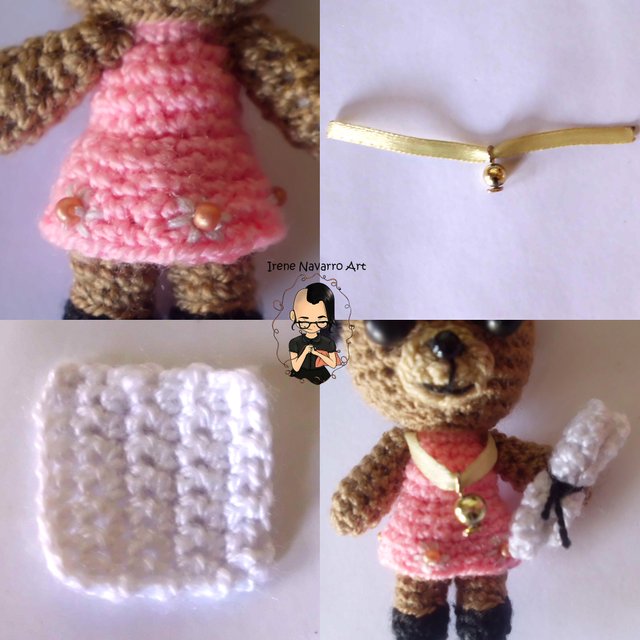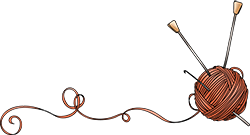 Resultado / Result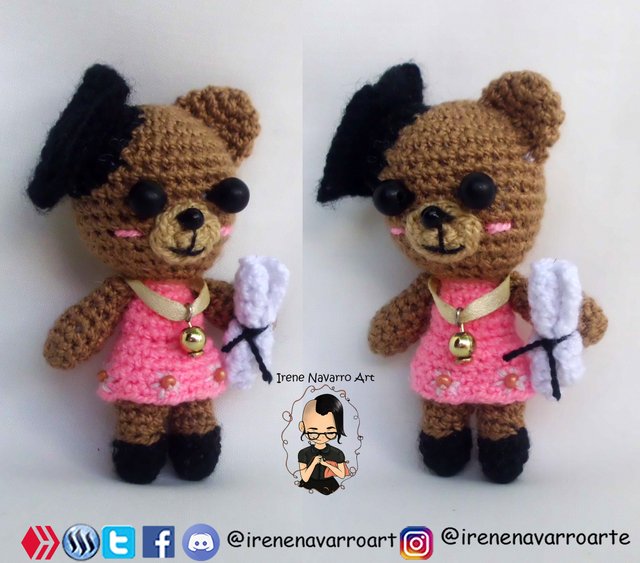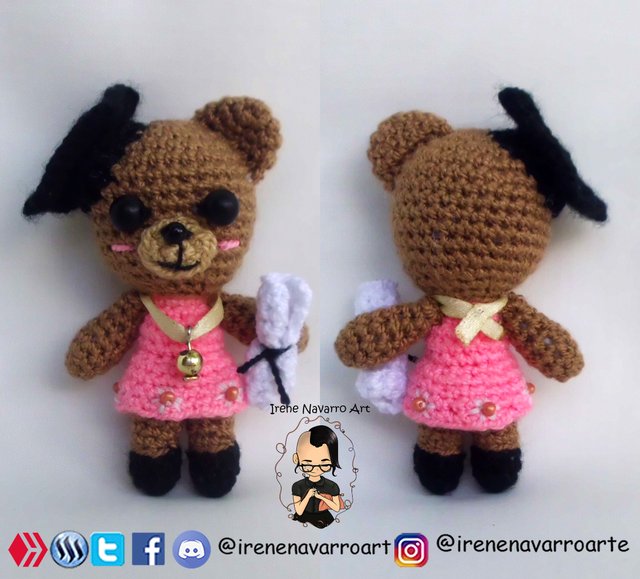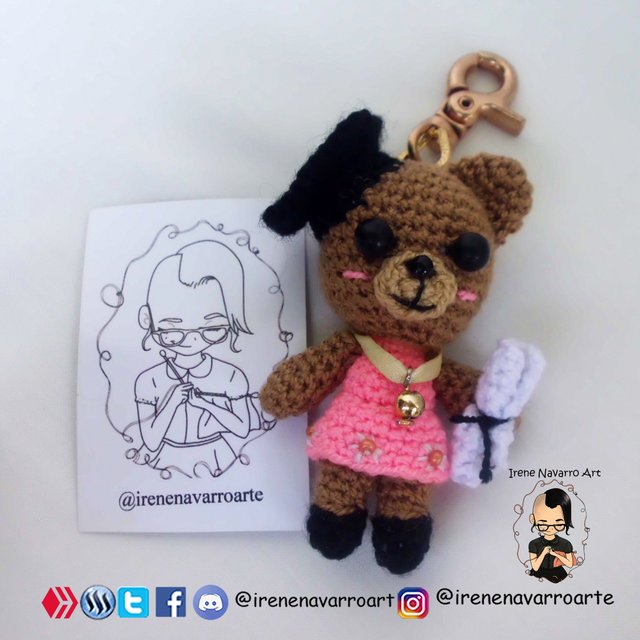 Imágenes tomadas con cámara Casio QV-R100 y editadas en Adobe Photoshop Cs6
Images taken with Casio QV-R100 camera and edited in Adobe Photoshop Cs6
Invítenme un Café/Support Me on Ko-Fi


Si te gusta mi contenido y quieres apoyarme a seguir dibujando, pintando, escribiendo y tejiendo puedes invitarme un Ko-fi en el enlace que les dejo aquí abajo, les recuerdo que es fácil, se usa Paypal y Tarjeta. ¡Muchas gracias a todos!


If you want to support my art you can also make donations for the value of a coffee (Ko-Fi) this uses Paypal, it is simple and with it I will be able to continue knitting and buying materials to create and share my publications


https://ko-fi.com/irenenavarroart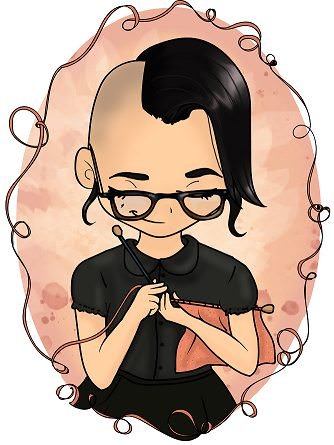 Espero les haya gustado. Les invito a leer mis próximas publicaciones y siempre estaré dispuesta a responder sus preguntas y comentarios, también pueden seguirme y contactarme en cualquiera de mis redes sociales. ¡Muchas gracias!
I hope you liked it. I invite you to read my next publications and I will always be willing to answer your questions and comments, you can also follow me and contact me on any of my social networks. Thank you!