Steemscan very simple fast and reliable.
---
---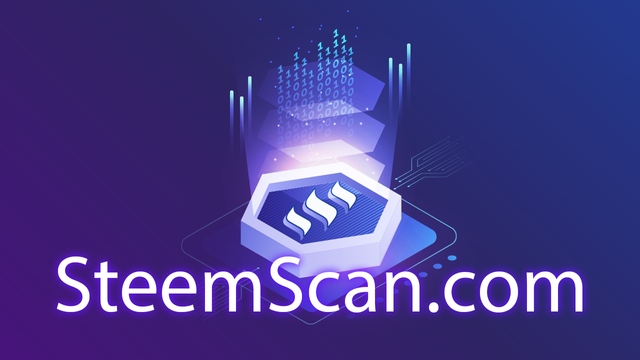 Image
---
---
---
The blockchain called Steem, you have many reliable tools for your exchange and it is accepted in many exchanges. I want to introduce you to a tool that can be very useful and best of all, it will allow you to convert your Steem currencies in a very fast and reliable way.
SteemScan, a platform created to facilitate the conversion of Steem to other currencies such as USDT, BTC, TRX, in this way the need that currently exists in the Blockchain system can be covered and also to perform in Steem exchanges.
I think that due to the ease of making the exchanges, it has had a good acceptance among the users of the platform, the procedure is very fast compared to currency conversions on other similar platforms.
SteemsCam was developed by @FutureShock and @RoadOfRich for everyone.
I invite you to continue reading so that you can know how the SteemScan platform works and how exchanges are carried out.
How can we use SteemScan. You must access the following link of SteemScan and you will be directed to the next dialog box or tab with which you can start making your exchanges.
I present to you which currencies can easily convert your Steem to ** BTC, TRX and USDT **, these are the currencies available for conversion right now.
Recommendation. They must have a wallet that accepts those three currencies so that they can receive it once they make the change. I particularly the change that I will make I will send it to the account that I have in Binance.com.
---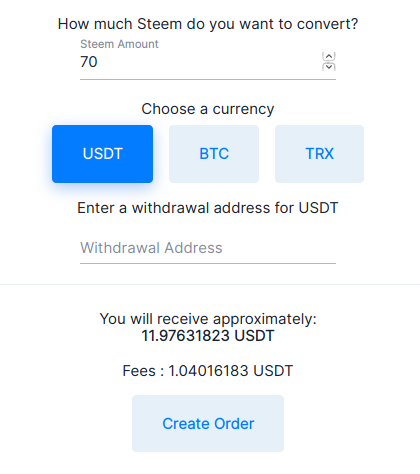 Image
---
Let's start, in the area where it says:
How much Steem do you want to convert?

We put the amount we want to change.
I decided to change 70 steem so you can see that I put 70.
Then there is the option to select the currency.
Choose a currency
I chose select USDT

Then they must put the address of their wallet in the field where it says:
Enter a withdrawal address for USDT

The system tells you how much USDT you will receive for the Steem you want to exchange, as well as shows you the commission they charge for making the exchange.

Then you just have to click the -----> Create order button to continue to the next step.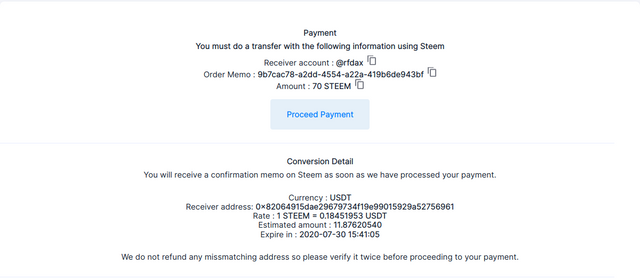 You can do the Steem transfer in two ways, one by pressing the Proceed Payment button

Immediately it will be directed to a window that we all know and does not need an explanation, however if you are new to the platform and you are reading this guide you can leave a comment and I can gladly explain: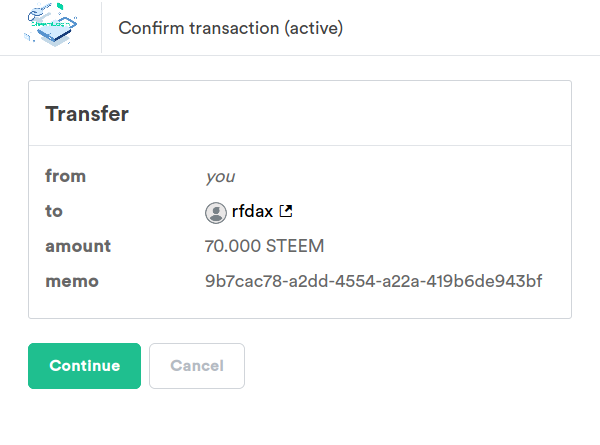 The second way is to make the transfer manually, you just have to go to your wallet and make the transfer according to the instructions in the tab that tells you to whom you should send the Steem, in this case, the user rfdax indicates the memo that you must use and the amount of steem you will send.
It is very, very easy to do these operations.

This is the transfer story that I made manually from my wallet.

I had the page of Binance.com. open and my active user to take the time that took the transfer and to be very exact it was 5 minutes with 27 seconds.
Honestly easy quick and easy.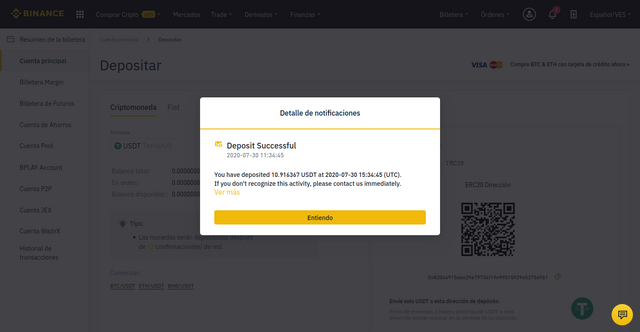 All images were a screenshot of operations performed on the SteemScan platform
I invite you to make exchanges on that wonderful platform.

---

---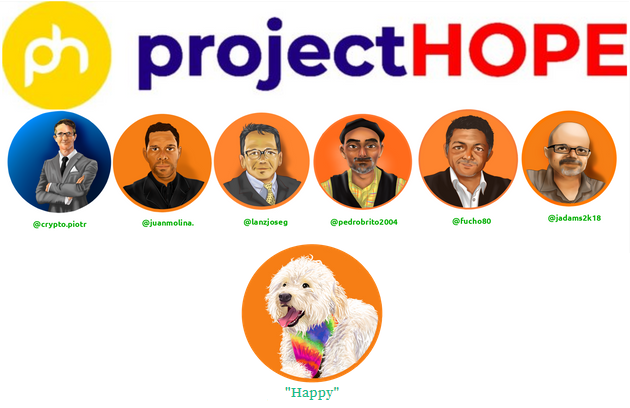 I invite you to meet Multidisciplinary team
---
PROJECT #HOPE An Initiative to give hope!
Hopefully by now you think that our efforts are worth your support and you'll consider delegating some SP to help us grow. We will be happy to have you on-board our project and in return we share 100% ROI (curation rewards) with all delegators.
We share those rewards on a weekly basis and currently 1000 SP delegated to @project.hope will result with a profit of average 2 STEEM / week (which is slightly more than pretty much all delegating bots are offering).

---

Thanks for visiting, I appreciate your opinion.

"In constant evolution".