Writing competition #84 for @xpilar's digital image. // Competencia de escritura #84 para la imagen digital de @xpilar.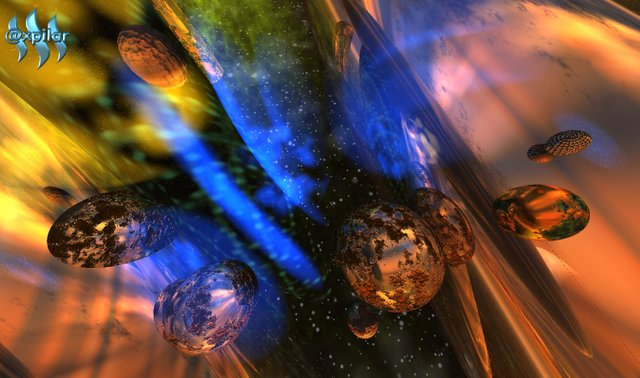 Image created by @xpilar you can see the publication here.

I must cross many planets and know more than I imagined and on my trip I will do the exploration of many unknown places with the aim of finding the right place to create a refuge for a possible global catastrophe on earth and thus be able to save as much as possible of humanity and repopulate a place with adequate conditions for survival.
My biggest fear is not finding any suitable place for the reinstatement of the inhabitants of the earth because at home we have everything necessary to have the life that each one wants to have, our ecosystem is the best; our waters, deserts, fields, mountains, among many other things that are impressive and adequate.
I continue on my journey and I appreciate each space which I go through, the colors and the environments are totally impressive, very authentic of each planet, but none like the earth where each element goes together with the other creating perfect ecosystems for humanity.
Each planet has its shape that defines and differentiates them, I have the opportunity on my journey to know and appreciate the different spaces that make life on these planets, which makes me go back on my journey to create awareness in humanity to appreciate and care more, this small space in the universe that has the perfect characteristics for the survival of our species.
It is important to take into account that a place that has the necessary characteristics for the survival of humanity has not yet been found, that is why we must take care of our ecosystem through the restoration of nature.

Thank you friend @xpilar for creating images that inspire you to develop the art of writing!
---
---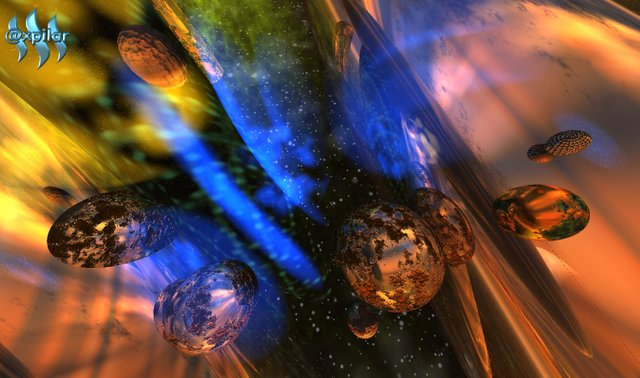 Imagen creada por @xpilar puedes ver la publicaccion aqui.
Debo cruzar muchos planetas y conocer más de lo imaginado y en mi viaje haré la exploración de muchos lugares desconocidos con el objetivo de encontrar el lugar indicado para crear un refugio para una posible catástrofe global en la tierra y así poder salvar la mayor parte posible de la humanidad y repoblar un lugar con condiciones adecuadas para la supervivencia.
Mi mayor temor es no encontrar ningún lugar adecuado para la reinstalación de los habitantes de la tierra pues en casa tenemos todo lo necesario para tener la vida que cada uno quiere tener nuestro ecosistema es el mejor; nuestras aguas, desiertos, campos, montañas, entre muchas cosas mas que son impresionantes y adecuadas.
Continuo en mi viaje y aprecio cada espacio el cual voy recorriendo los colores y los ambientes son totalmente impresionantes, muy auténticos de cada planeta, pero ninguno como la tierra donde cada elemento va en conjunto con el otro creando ecosistemas perfectos para la humanidad.
Cada planeta tiene su forma que los define y los diferencia, tengo la oportunidad en mi viaje de conocer y apreciar los diferentes espacios que hacen vida en estos planetas lo que me hace retroceder en mi viaje para crear conciencia en la humanidad de apreciar y cuidar más este pequeño espacio en el universo que cuenta con las perfectas características para la supervivencia de nuestra especie.
Es importante tomar en cuenta que aun no se ha encontrado un lugar que cuente con las características necesarias para la supervivencia de la humanidad, es por eso que debemos cuidar nuestro ecosistema por medio de la restauración de la naturaleza.

Gracia amigo @xpilar por crea imágenes que inspiran a desarrollar el arte de la escritura!