Buscando soluciones / Checking for solutions - A writing story competition (99) - Inspired by @xpilar's digital image.
Buscando soluciones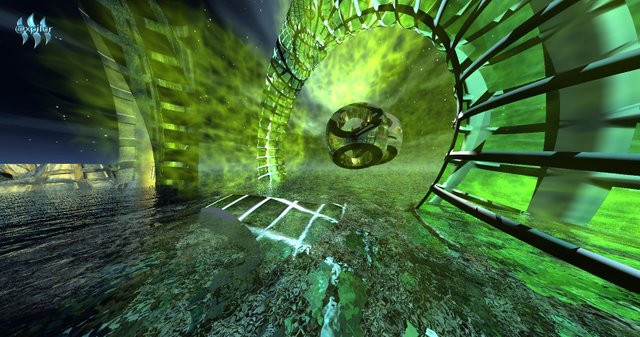 Imagen de @xpilar, del blog de @xpilar (Competencia #99)
El portal se abrió y con él, el acceso a universos paralelos. O tal vez debería decirse, se abrió la posibilidad de explorar nuevos mundos. La pequeña nave fue la primera. El mundo de mágicos verdes, entró en contacto con el exterior.
Jóvenes inexpertos
con un cúmulo de sueños,
con la suma de esperanzas
de todos sus ancestros,
se convierten en pioneros
en expandir las opciones
de una vida en verde
para futuras generaciones .
La letra de la canción con música sideral se escuchó en todo el mundo verde, haciéndolo vibrar y sus notas también se filtraron por el portal, inaugurado oficialmente con una ceromonia que se esperaba dejase huella para la posteridad. La botadura de esa primera nave fue temeraria, pero envuelta en la prudencia, porque aunque los jóvenes ponían su ímpetu en la faena y estaban arriesgando la vida; los ancianos agregaron su conocimiento y sabiduría para guiarlos adecuadamente y evitar riesgos predecibles o innecesarios.
Sabios con diferentes saberes
y diferentes habilidades,
juntos lograron la hazaña
de ser los líderes,
hacia nuevas direcciones
de la comunidad creciente,
superando la demagogia.
La letra de la canción siguió vibrando mientras la pequeña nave cruzaba el umbral hacia lo desconocido, hacia el universo paralelo cuyos datos habían encontrado a la luz de la física cuántica. Durante más de una década, cuando la escasez de recursos bioenergéticos les mostró una luz roja, el cónclave se reunió y dictó dos direcciones urgentes para evitar un desastre: Reducción del consumo y expansión del territorio. Se formaron equipos de trabajo entusiastas y los resultados llegaron antes de lo esperado. Todos los habitantes del mundo verde entendieron la gravedad a la que se enfrentaban y se unieron en la búsqueda de salidas.
Los aplausos siguieron a toda la ceremonia, más que la despedida de la pequeña nave verde, fue una bienvenida al un futuro.
¿Qué hermoso sería si los habitantes del Planeta Azul, logramos la misma unidad y coraje para enfrentar los problemas globales que atacan a nuestro mundo común, la Madre Tierra?



Checking for solutions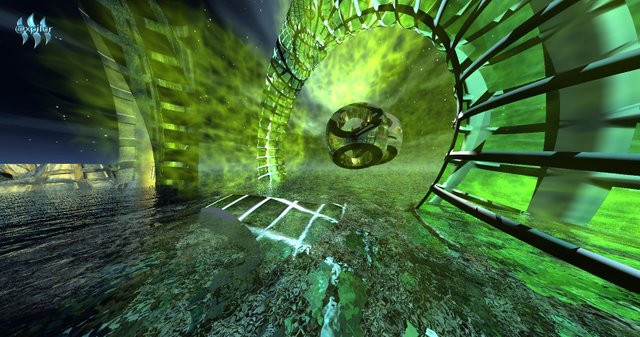 Image of @xpilar, blog of @xpilar (Competition 99)


The portal opened and with it, access to parallel universes. Or perhaps it should be said, the possibility of exploring new worlds was opened. The little ship was the first. The world of magical greens came into contact with the outside.
Inexperienced young people
with a cluster of dreams,
with the sum of the hopes
of all their ancestors,
become pioneers
to expand the options
of life in green
to future generations.
The lyrics of the song with sidereal music were heard throughout the green world, making it vibrate and its notes also filtered out through the portal, officially opened in a ceromonia that hoped to make a mark for posterity. The launch of that first ship was reckless, but shrouded in prudence, because although the young people put their impetus to order and were risking their lives; the elders added their knowledge and wisdom to guide them properly and avoid predictable or unnecessary risks.
Sages with different knowledge
and different skills,
together they achieved the feat of being leaders, towards new directions of the growing community, overcoming demagogy.
The lyrics of the song continued to vibrate as the little ship crossed the threshold of the unknown, into the parallel universe whose data they had found in the light of quantum physics. For more than a decade, when the scarcity of bioenergy resources showed them a red light, the conclave met and dictated two urgent directions to avoid a disaster: Consumption reduction and consumption reduction expansion. Enthusiastic work teams were formed and the results came sooner than expected. All the inhabitants of the green world understood the gravity they were facing and joined in the search for exits.
The applause followed the whole ceremony, the farewell to the little green ship, it was a welcome to the future time.
How beautiful would it be if the inhabitants of the Blue Planet, we achieved the same unity and courage to face the global problems that attack our common world, Mother Earth?



♦Esta es mi entrada para la Competencia 98, de @xpilar, quien nos reta a escribir una historia sobre su arte digital. Como siempre una imagen que motiva la creatividad. Para participar, pulsen el enlace:
https://steemit.com/hive-185836/@xpilar/digital-image-for-the-day-is-made-according-to-my-own-imagination-and-thoughts-your-writing-story-competition-99
♦Los separadores de párrafos son de mi propiedad. El banner de @worldofxpilar, pertenece a esta comunidad. 
GRACIAS POR LEER Y APOYAR MI PUBLICACIÓN
THANK YOU FOR READING AND SUPPORTING MY POST