The peacefulness and beauty of nature at once
Hello everyone,
I am from Sri Lanka. This is one of my country's religious places called "kiri vehera'' in kataragama. You all may be wondering about the historical story of this religious place. A really nice place to visit everyone. This was made by king Mahasen. This tope ( dageba) is 95 feet high and 280 feet in circumference. This building is mostly dated to BC. It is as old as the 3rd century.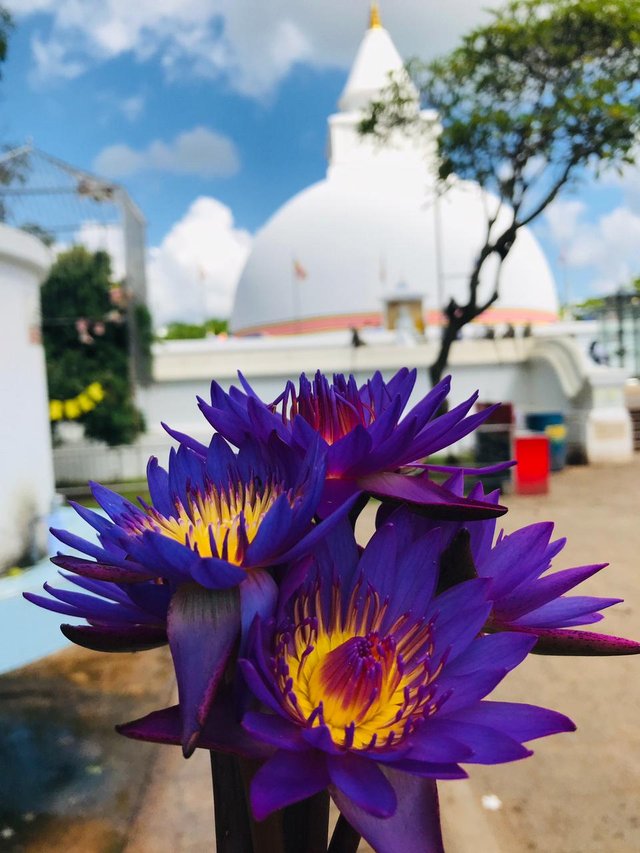 Those flowers are called water lillies. This flower is the national flower of our country. And also it is a year-round flower and is commonly found in shallow streams, ponds and lakes. Although native to Sri Lanka, it is not endemic to Sri Lanka and can be found in the Indian subcontinent, South Asia, Thailand, Myanmar and Afghanistan. A really beautiful flower. I'm sure you agree with me by seeing this lovely photo captured by me.

Thank you
| Location Photo | Katharagama (kiri-wehera) |
| --- | --- |
| Camera used | Apple iphone 7 |
| Photographer | @Nilumadu |
#blog #photography #steemexclusive #contest #promo-steem #foodphoto #steemitblog #steem #palnet #competition #worldofxpilar #travel #photosteem #srilanka #steemit-srilanka #dageba #kiriwehera #katharagama #budhist