Our home burns down, literally. Part 2 / Nuestra casa Se Quema, literal. Parte 2
Our house is changing! - Nuestra casa está cambiando!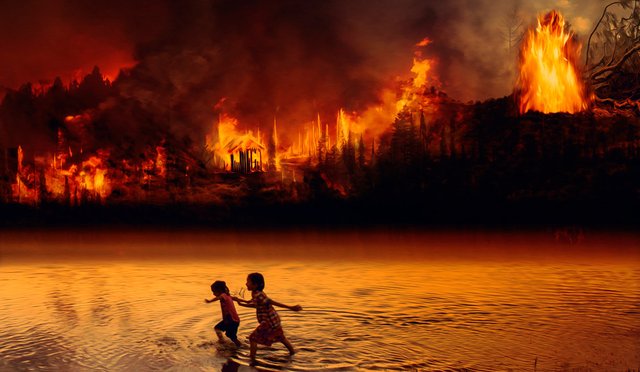 Souce/Fuente
When a rise in temperature occurs that takes tropical climate to places where it should not exist, however brief it may be, it has incalculable consequences, this brings me to the central issue - fires - increasingly frequent, larger and more abundant. , in regions where they did not usually happen, again the Arctic, is a great example of this as temperatures rise, less ice forms during the winter and the rivers that form during the thaw in spring carry less water, which dries up the forests and grasslands that used to have an abundance of moisture.
Cuando ocurre un subidón de temperatura que lleva clima tropical a lugares donde no debería haber, por breve que sea, tiene consecuencias incalculables, esto me lleva al tema central - los incendios - cada vez más frecuentes, cada vez más grandes y cada vez más abundan, en regiones donde no solían suceder, de nuevo el ártico, es un gran ejemplo de esto al subir las temperaturas menos hielo se forma durante el invierno y los ríos que se forman durante el deshielo en primavera llevan menos agua, lo que reseca los bosques y pastizales que acostumbraban tener abundancia de humedad.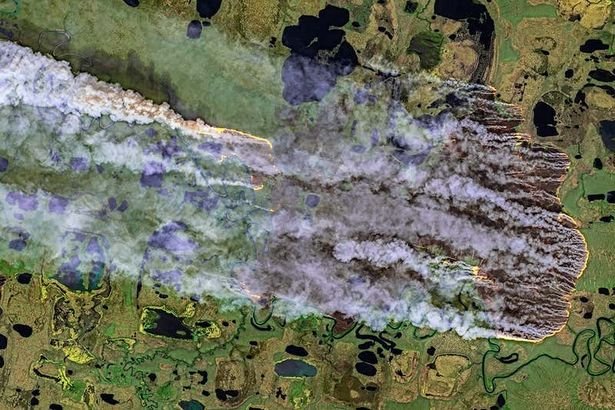 Souce/Fuente
Zombie fires
When that abundant vegetation and its roots die, they create layers of highly flammable organic matter under the ground and the result is very disturbing - zombie fires - they are fires that burn underground and consume thousands of hectares of forests and grasslands, because they call them zombies, because They are like zombies do not die, the brigade members inject all the water they can into the ground and the fires refuse to be extinguished, because they have enough fuel and heat to remain lit underground, up to five years, under normal circumstances that ground with so much combustible organic matter it would never be dry enough to allow it to burn, but now it is and each summer it will only get drier and drier.
Incendios zombi




Al morir esa abundante vegetación y sus raíces crean capas de materia orgánica altamente inflamable bajo el suelo y el resultado es muy inquietante - incendios zombi – son incendios que arden bajo tierra y consumen miles de hectáreas de bosques y pastizales, porque les dicen zombies, porque son como los zombies no se mueren, los brigadistas van inyectan todo el agua que pueden en el suelo y los incendios se rehúsan a extinguirse, porque tienen suficiente combustible y calor para permanecer encendidos bajo tierra, hasta por cinco años, en circunstancias normales ese suelo con tanta materia orgánica combustible nunca estaría lo suficientemente seco como para permitir su combustión, pero ahora lo está y cada verano solo se pondrá más y más seco.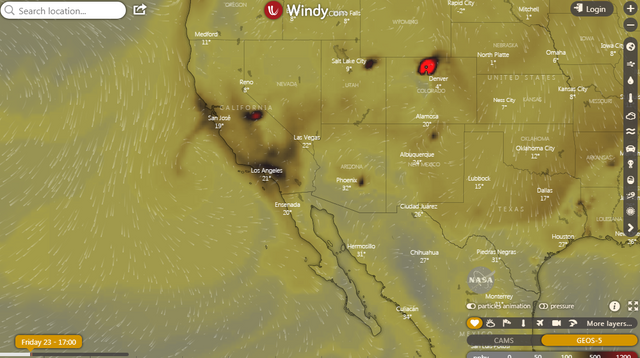 Souce/Fuente
But the Arctic is not the only place where the intensity and frequency of fires are growing alarmingly, are being experienced by Mediterranean countries in Europe, such as Greece; The western United States where a fire in California that has been burning for more than 50 days and has just inaugurated the Giga fire classification for the surface that has consumed, but in other places such as Central Africa and Latin America, the effects are not only of the climate crisis, we are also the ones who are increasing the number of fires, of the 63 thousand fires that have occurred this year in the Amazon and the Pantanal regions that include territories of Bolivia, Paraguay and Brazil, most are caused some to Real estate speculation and others for agro-industrial purposes, by the way that does not only happen in those countries, it is something that practically all Latin American countries suffer, unfortunately we have abundant resources such as fertile territory and mineral deposits, and when combined with the incompetence and corruption of governments translates into poor or no environmental protection measures.
Pero el ártico no es el único lugar donde está creciendo de manera alarmante la intensidad y la frecuencia de los incendios lo están viviendo países mediterráneos de Europa, como Grecia; el oeste de EE.UU. donde un incendio en california que lleva a más de 50 días ardiendo y acaba de inaugurar la clasificación Giga incendio por la superficie que ha consumido, pero en otros lugares como áfrica central y Latinoamérica, no sólo son los efectos de la crisis climática, los que están aumentando la cantidad de los incendios también somos nosotros, de los 63 mil incendios que han ocurrido este año en la Amazonía y el pantanal regiones que comprenden territorios de Bolivia paraguay y Brasil, la mayoría son provocados algunos para especulación inmobiliaria y otros con fines agroindustriales, por cierto eso no solamente ocurre en esos países, es algo que padecemos prácticamente todos los países de latinoamérica, desgraciadamente tenemos abundancia de recursos como territorio fértil y yacimientos minerales, y al combinarlo con la incompetencia y corrupción de los gobiernos se traduce en pobres o nulas medidas de protección ambiental.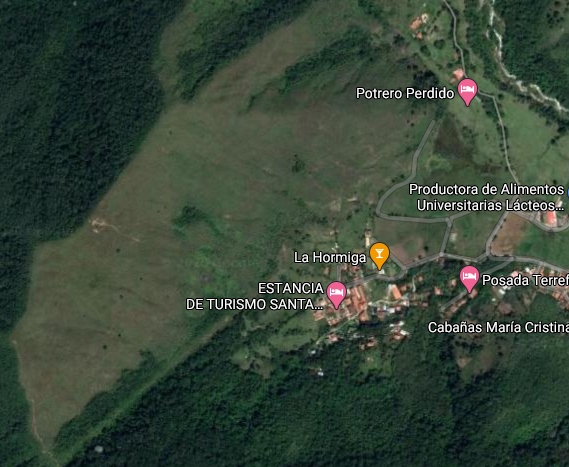 Souce/Fuente
Illegal logging or fires to prepare the land for urbanization in forests is not uncommon in Brazil, the forest that is near my house, little by little, is giving territory to the city in the form of exclusive subdivisions, some years fires they get out of control and end up destroying thousands of hectares of forest, Venezuela and Colombia are no exception, in fact both countries this year had twice the average number of fires, the case of Colombia is particularly curious because the dismantling of the farc It has helped real estate speculators and livestock and mining companies finally gain access to places they previously did not have access to, and this has resulted in an increase in fires and deforestation.
La tala ilegal o los incendios para preparar el terreno para urbanización en bosques, no es algo raro en Brasil, los bosque que está cerca de mi casa, poco a poco va cediendo territorio a la ciudad en forma de fraccionamientos exclusivos, algunos años los incendios se salen de control y terminan acabando con miles de hectáreas de bosque, Venezuela y Colombia no son una excepción, de hecho ambos países tuvieron este año el doble de la media de incendios, el caso de Colombia es particularmente curioso porque la desmantelación de las farc ha contribuido a que especuladores inmobiliarios y empresas ganaderas y mineras por fin puedan acceder a lugares a los que antes no tenían acceso y esto se ha traducido en un aumento de incendios y deforestación.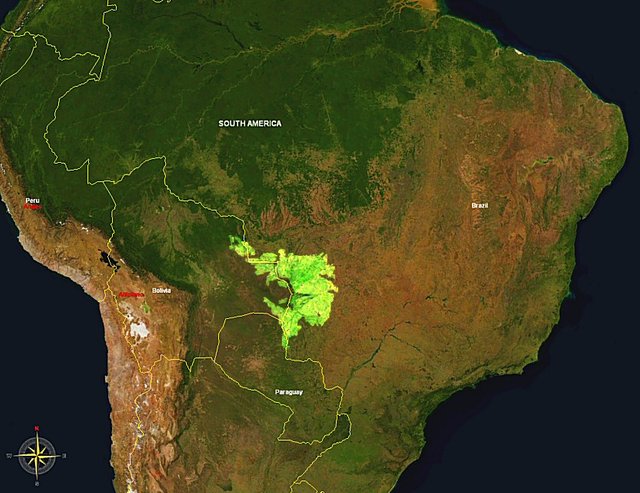 Souce/Fuente
The pantanal, the largest wetland in the world that stretches between Brazil, Bolivia and Paraguay with an impressive wealth of flora and fauna and which is home to the largest population of jaguars in America, lost 23 percent of its surface in the fires of this year, beating last year's record of a loss of 14 percent and so we go record, after record, after record of everything bad, but not all arsons are the work of corrupt businessmen and politicians, it is also due to the desperation of farmers, who due to the increasingly intense droughts resort to more extreme methods to increase soil fertility and thus expect a soon regrowth, one of these activities is controlled burning that is controlled until it stops being so and If you combine the embers out of control, with a landscape parched by the drought of several years, you have the recipe for the fires that are currently affecting several provinces in Argentina.
We are falling into a vicious circle where the farmer resorts to burning to try to improve the production of his field, affected by the drought and in doing so causes fires that release more greenhouse gases into the atmosphere that contribute to the temperature increase, which brings more droughts and so on we have to come to the conclusion that deforesting is not a sustainable activity and precisely in Argentina are the interests of China, so that it becomes its new producer of pigs, now that they have had to sacrifice 400 million pigs affected by swine flu that has already invaded 10 countries in Asia.
El pantanal, el humedal más grande del mundo que se extiende entre Brasil, Bolivia y Paraguay con una riqueza impresionante de flora y fauna y que es el hogar de la mayor población de jaguares en américa, perdió 23 por ciento de su superficie en los incendios de este año, batiendo el récord el año pasado de una pérdida del 14 por ciento y así vamos récord, tras récord, tras récord de todo lo malo, pero no todos los incendios provocados son obra de empresarios y políticos corruptos, también se debe a la desesperación de los agricultores, que debido a las sequías cada vez más intensas recurren a métodos más extremos para aumentar la fertilidad del suelo y así esperar un pronto rebrote, una de estas actividades es la quema controlada que es controlada hasta que deja de serlo y si combinas las brasas fuera de control, con un paisaje reseco por la sequía de varios años tiene la receta para los incendios que están en este momento afectando varias provincias en Argentina.




Estamos cayendo en un círculo vicioso donde el agricultor recurre a quemas para tratar de mejorar la producción de su campo, afectado por la sequía y al hacerlo causa incendios que liberan más gases de invernadero a la atmósfera que contribuyen a que la temperatura aumente, lo que trae más sequías y así sucesivamente tenemos que llegar a la conclusión de que deforestar no es una actividad sostenible y precisamente en argentina están los intereses de China, para que se convierta en su nueva productora de cerdos, ahora que han tenido que sacrificar 400 millones de cerdos afectados por la gripe porcina que ya ha invadido 10 países en Asia.
Fun fact, so many pigs have had to be slaughtered that they can't afford to do it one by one, so they chose to bury the living.
Here I leave this for now, think about the future of the planet, because if there is no future for the planet there will be no future for everyone.
Dato curioso, son tanto los cerdos que han tenido que sacrificar que no se pueden dar el lujo de hacerlo de uno por uno, así que optaron por enterrar los vivos.




Aquí les dejo esto por ahora, piense en el futuro del planeta, porque si no hay futuro del planeta no habrá futuro para todos.