Best Contributor to the Community- My Nominee is @cryptokannon
Hello my dear Steemians,
*
One more post from the 3 Nomination Award posts and this time I wanted to tell you about another personality who is playing a great role in the establishment of Steemit Community, who was from very beginning on the side of the Steemit Team. The person who deserves a bit of spotlight, this is @cryptokannon.
---
Who is @cryptokannon
---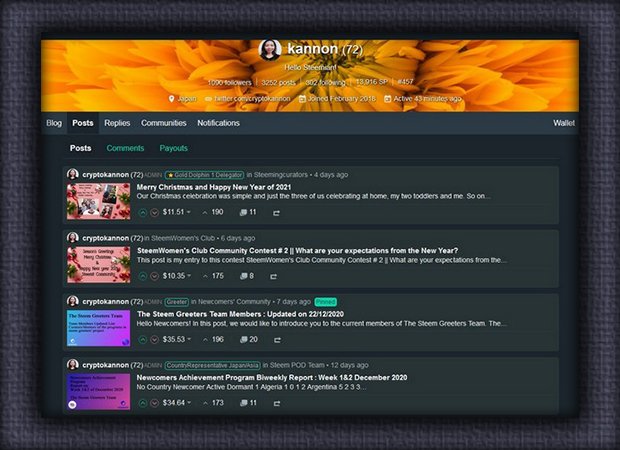 To start with, I wanted to take you back to the beginning of the year. The hard time of split of old witnesses who took the majority of community and the start of posts on @steemitblog with their 100 days of Steem.
One person who attracted my attention was @cryptokannon, she lives in Japan, she is mother of two children, actually full time mother. Nevertheless, she made herself noticeable due to her engagement in comments, her supportive art towards the Steemit Team. She took active part in all the challenges of 100 days.
Beginning of the Steemit journey, she together with @ciska became a driving force for onboarding newcomers and their guidance.

Creation of @steemingcurators
Both @cryptokannon and @ciska created this account with its discord so that people especially newbies could get answers to their questions and guidance through new place.
Here is s little screenshot from her posts that was issued 8 months ago: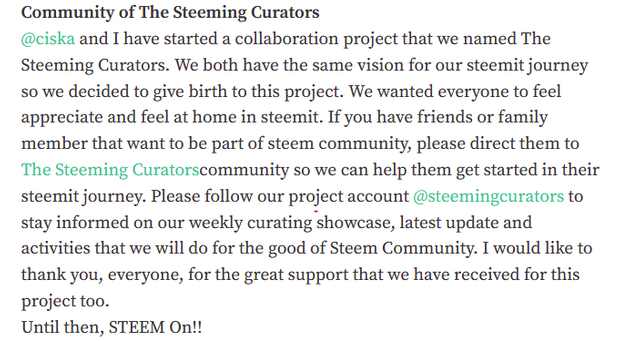 Shortly after @cryptokannon created a Greeter Community, with its own channel in Steemincurator discord.*

Then "Music for Steem" another project started by @cryptokannon and @ciska

@Cryptokannon delegated to all new accounts her own Steem so that they were able to post and comment.

She produced so many tutorials with explanation of basic function of programs.*

The amazing thing is the discord of Steemingcurators became so complex and had so many channels for every single activity.

6 months ago she created Achievement program with 6 Levels with comprehensive explanation.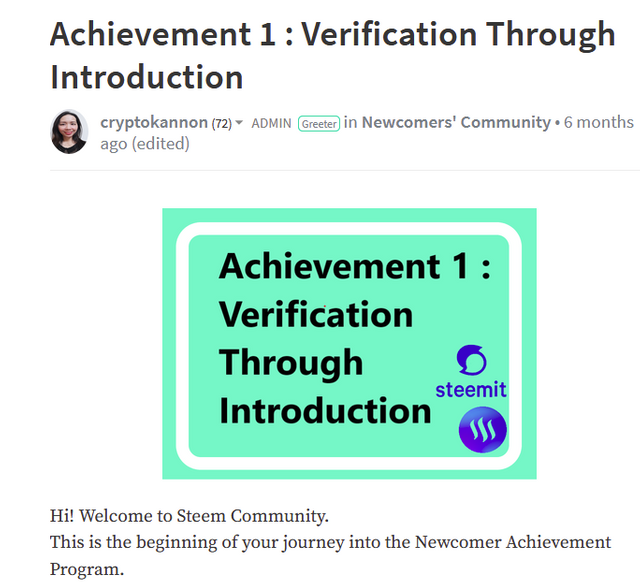 Currently there are many Country Representatives, but to tell the truth they all went through Steemingcurator Discord and guidance of @cryptokannon.
As it is in normal life, the small accounts are growing, getting more independent, creating good relationship with @steemcurator01 and often they forget that at the beginning they all started with Steemingcurators and @cryptokannon.
I have not seen many Nominations of this Powerful but fragile young woman, who is a driving force for new Steemit but the same time who is mother of two children. She has done so much for the whole Steemit platform and she is the one who really deserves the Nomination for the Best Contributor to Steemit Community.
*
With this post I would like to call anyone who was on early or later stage learned this engaged personality, join me and vote for @cryptokannon as the Best Contributor to Steemit Community.
---
I hope you enjoyed my post and thank you for viewing :-)

*
---
CURATION TRIAL @worldofxpilar
---