Steem Exclusive: Acrylic painting " Steemit &Tron or new friendship"
Hello my dear Steemians and Art Fans,
Today I wanted to present you my new work that I have done with acrylic paints. It is a long time ago when I used acrylic paint. The reason is simple, few of the tubes are empty and I had no time to buy new ones. But there are still plenty of yellow, red a bit of blue and white and using primary colours you might know we can create the others without much trouble. Actually those three colours are my favourite anyway.
Acrylic paints are very fast drying, therefore, I love to use them in impressionism style, quick brush strokes and mixing colours on canvas not on palette. When I was wondering about the topic I noticed that the week of the challenge by @steemitblog " Steemit &Tron Integration" is still ongoing actually it is a last day today. Therefore, I thought to create something about that.
---
The Idea is born
---
Idea behind is to combine Visual Art with the topic and create something interesting, something cute, that everyone will understand without much words.
That is the main aim of Visual Art, we should speak via our creation, so that everyone can understand and everyone can have their opinion without reading long text but reading with their hearts and emotions.
When I was thinking how to present the idea of "Steem and Tron Integration" I thought about children. Both of the Crypto are young and growing why not to put them in the roles of a girl and a boy who just met and the friendship is started.
"Tron" is of course a boy who should take care of a girl, "Steem" and this is the begin of a new friendship. What do you think?
The idea is born, and here it is my work, hope you like it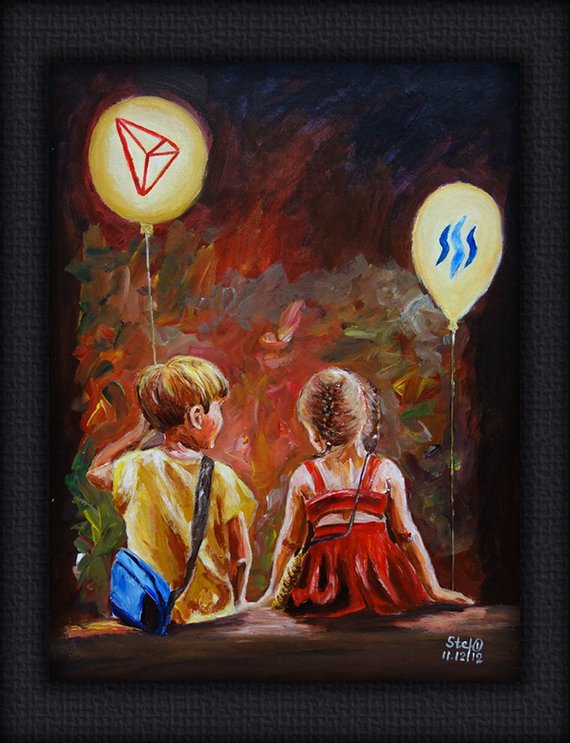 " Steemit &Tron or new friendship" by @stef1
*
---
Steemit &Tron Integration
---
It is already a week that we have now the possibility of earning Tron via blogging in Steemit.
You may ask: is it good or bad?
There is a positive side of it, simply blogging on Steemit we are rewarded for our work if we create for example Artworks, doing contest. Just telling about your life, sharing the news and communicating with friends and others.
Actually it is the aim of any social media-communication and engagement. You probably heard about Influencer who became famous because of being active on social media and few of them even Stars of the platforms.
The benefit of Steem and Steemit in compare to usual social media, everyone can be rewarded for their posts but the same time everyone can earn with giving votes. Sometimes people even earn more while voting and there are relatively big amount of users who just voting without posting.
The integration of Tron in the wallet on Steemit opens a door for many users to get active and to earn some Tron without investing much.
Unlike any other blockchain you can invest Zero but you can earn two Cryptocurrencies instead of one for doing only one post. Where else you can see such opportunity? Nowhere!
Of course people can say:
"But both Steem and Tron prizes are very low".
Everything depends on how much we do ourselves, as many people will be using Steem and introducing it to their friends and while spreading the info in other blockchains that may raise the curiosity. As human being we are very curious and if we see that other people doing something we also want to know what it is and to be involved.
That is why I think it is very realistic that the new feature of Tron in our wallet is a positive step, that definitely will show its result.
*

My step-by-step process: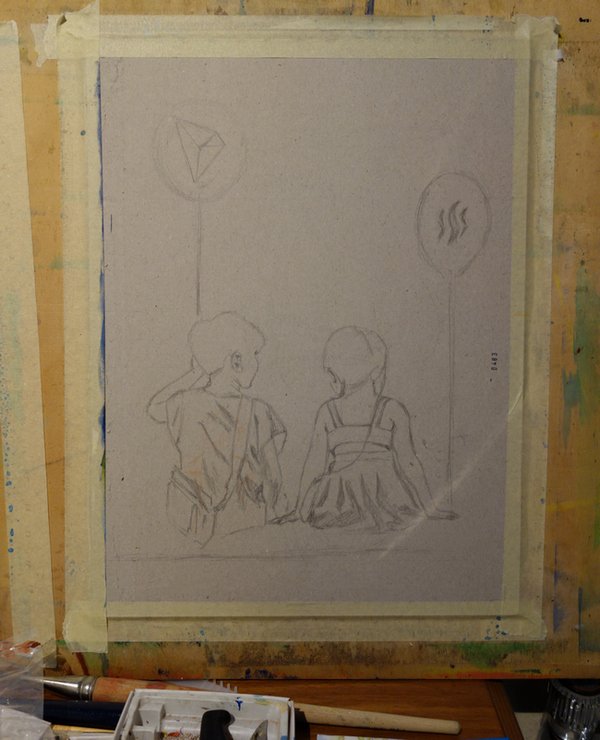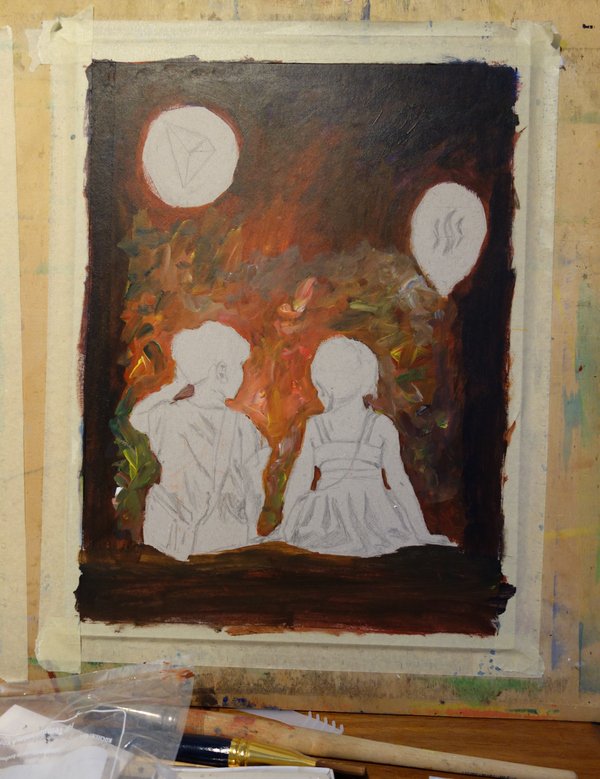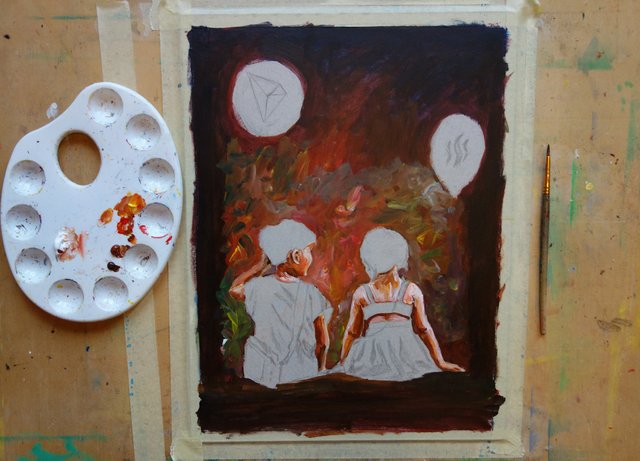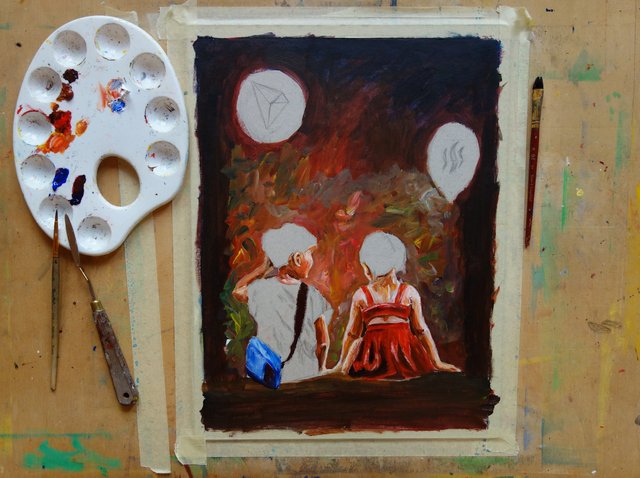 The finished painting: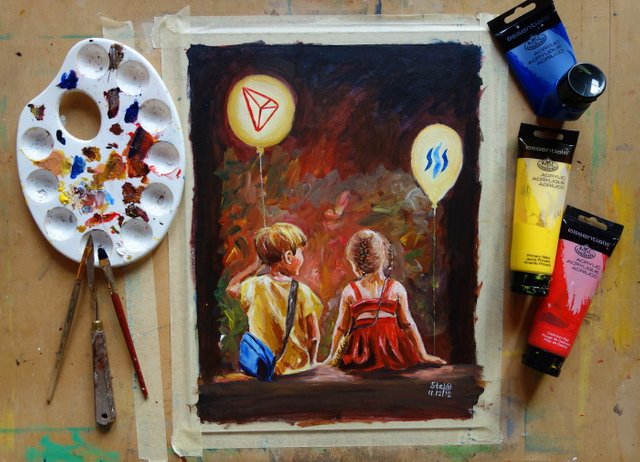 " Steemit &Tron or new friendship"
Textured acrylic paper 30x40 cm, paper weight 200 gsm, acrylic colours, flat and round brushes and palette knife
*

I hope you enjoyed my post and thank you for viewing :-)

*
---
CURATION TRIAL @worldofxpilar
---