Development Achievements 09 - Steemit Assisted Village and Build a Mushalla AL-Qariah in Aceh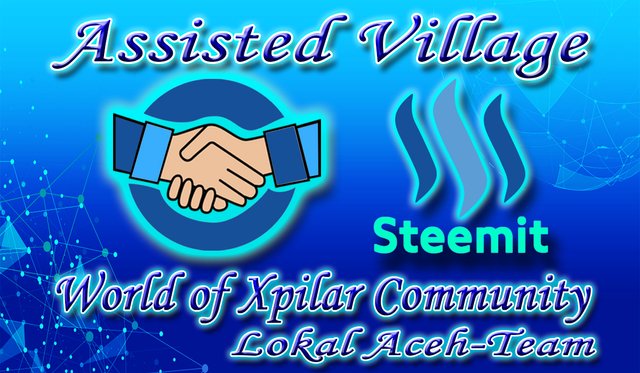 ---
Steemit Assisted Village and Build a Mushalla AL-QARIAH
With Photographer Steem Blockchain
World Of Xpilar Community
---
Achievement Activities. Date : 08 s/d 10 Juni 2021
---
Today, June 10, 2021, I will show you the progress of building a prayer room in Buket Village, which we are doing slowly with World Of Xpilar Members in the local Aceh-Team joint and local residents.
This achievement is of course thanks to the support of all friends, especially from the Donation Giver, the voter of this post and my personal post, to get Steem and Sbd, so that the achievement of Completion of Mushalla and Children's Educations complete.
This achievement, continuation from here Achievements 08, until the building that you will see is formed, in the arrangement of the images below of course.
In this activity, I'd like to show you all some of the activities I've put together over the past few days, dated above and in the picture, up to today.
---
Previous, Achievements 08, you can see as shown below, let's look at the image below before I will continue with another explanation.
---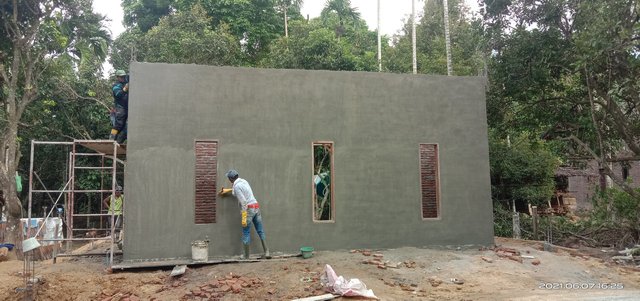 ---
Furthermore, we have moved the large banner that was previously behind, we have moved it forward, before the wall painting process is carried out, this is so that all the souls of the community around this village, as well as the people who pass by, can know that this mosque and children's education place in this village have been built by using, Steem and Sbd Achievements on Steemit.Com. and Proceeds from DONATIONS and other Support Votes overall.
---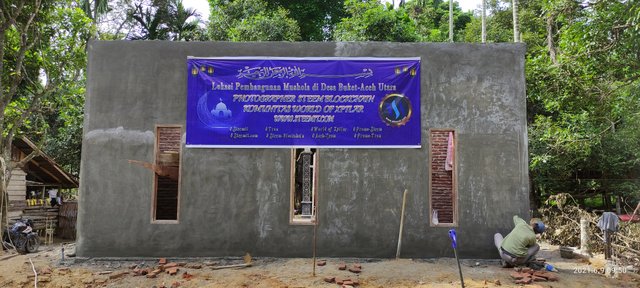 ---
for the continuation, let's see together, the achievements in the activities carried out in the field, so that all of you can know the process, let's see it below :
---
KEGIATAN TANGGAL 08 Juni 2021
---
Below, you can see in the picture, that all the construction workers, did their job, to make the walls of the mushalla visible from inside the mushalla.
Let's see the process below :
---
Wall Making Process
---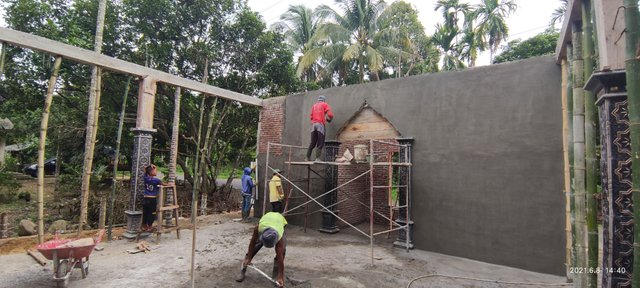 ---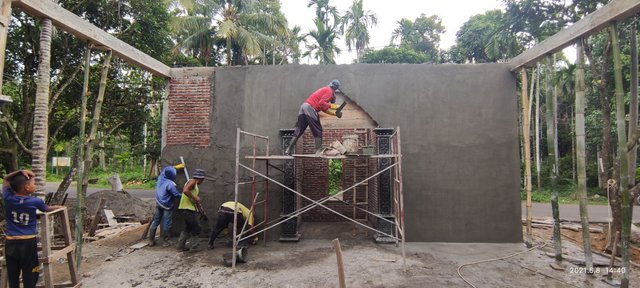 ---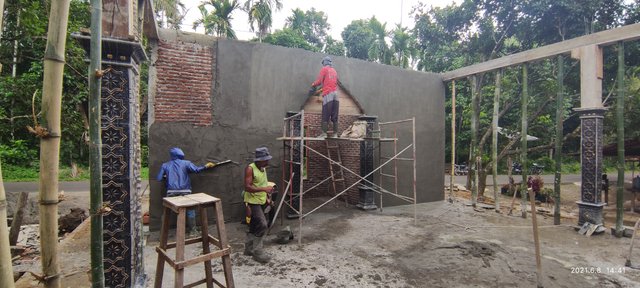 ---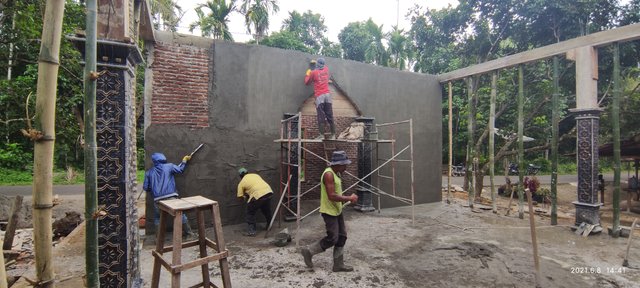 ---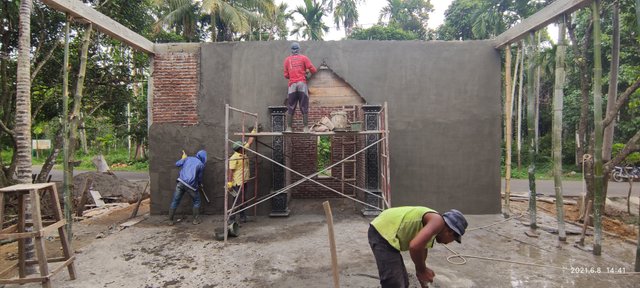 ---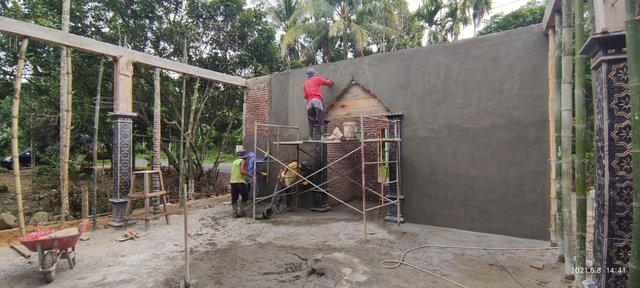 ---
The process of making the inner and outer walls has been completed
---
below, all process activities in the manufacture of walls, have been completed, and will be continued in the next stage is wall painting.
what the finished process looks like, let's see it below :
---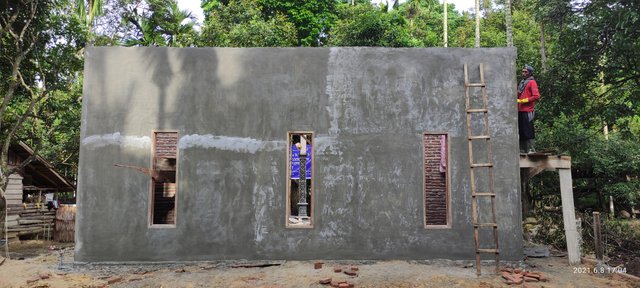 Front
---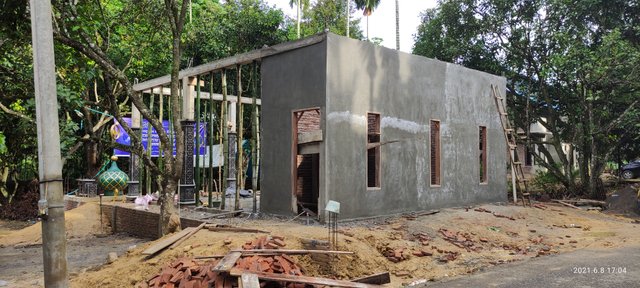 Front Left Side
---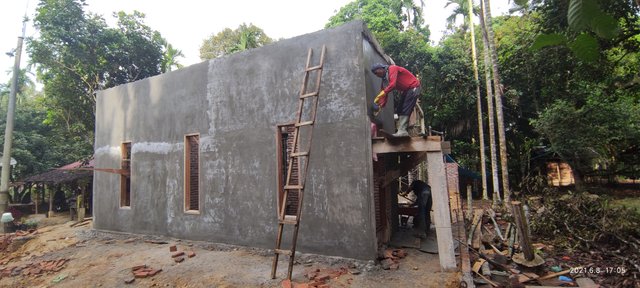 Front Right Side
---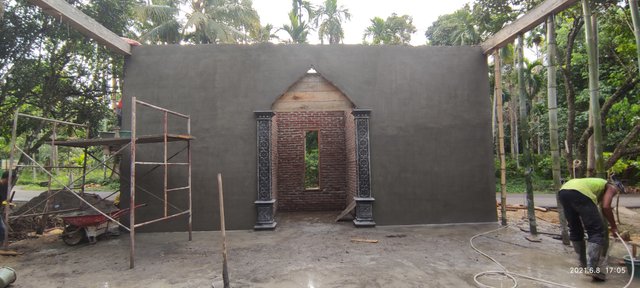 Front Inside
---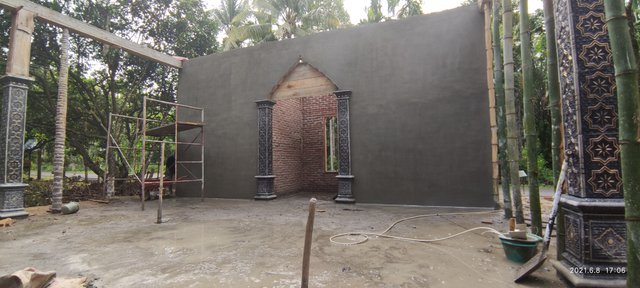 Right Side in the Mushalla
---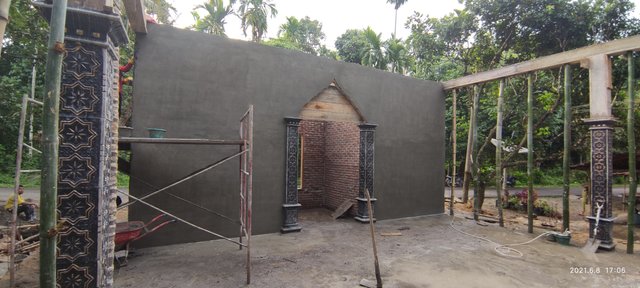 Left Side In Mushalla
---
ACTIVITY DATE 09 June 2021
---
Making Mushalla Terrace Boundary
---
In order to form a Mushalla courtyard, a small courtyard was made, in order to be able to place several motorbike riders, while doing worship and accompanying community children, in education, which will be held in this place.
below is the manufacturing process, let's see below :
---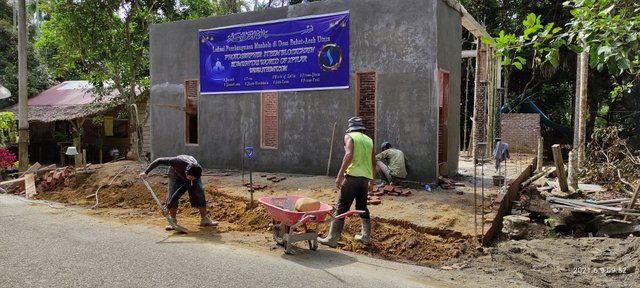 ---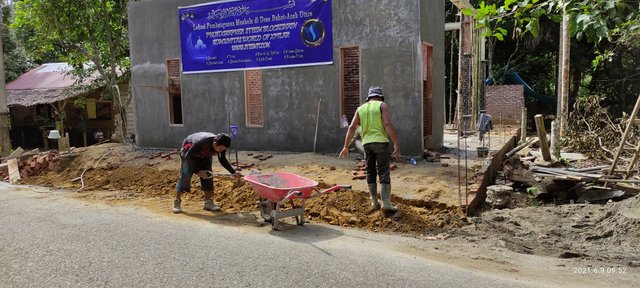 ---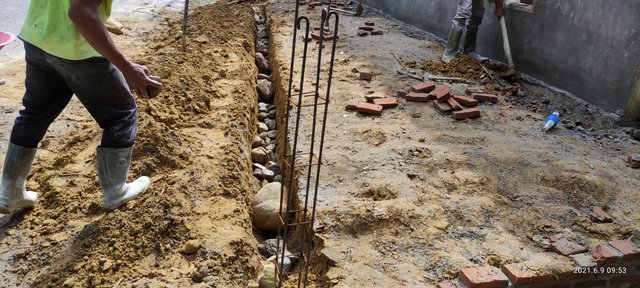 ---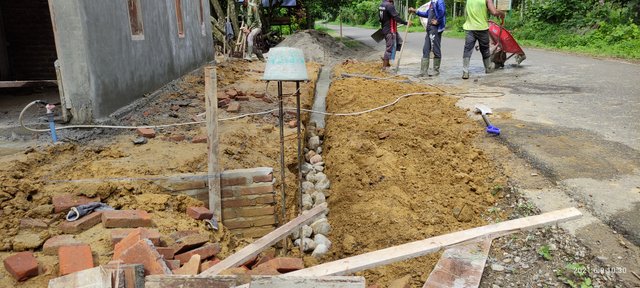 ---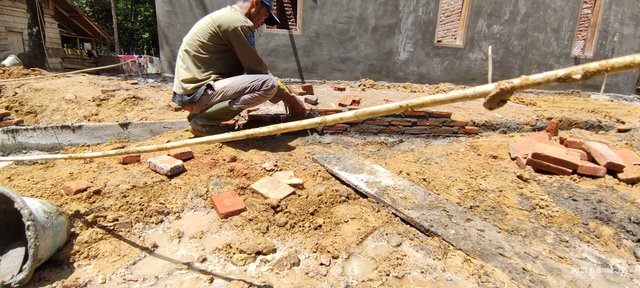 ---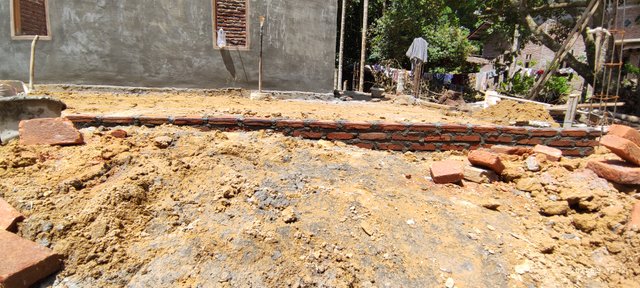 ---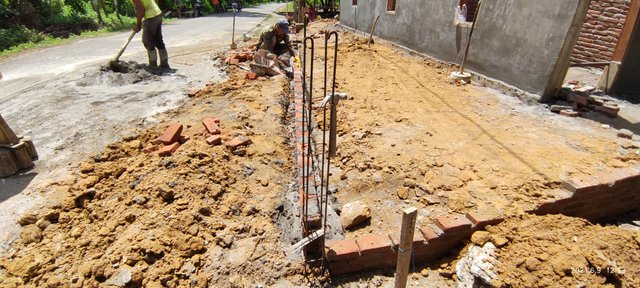 ---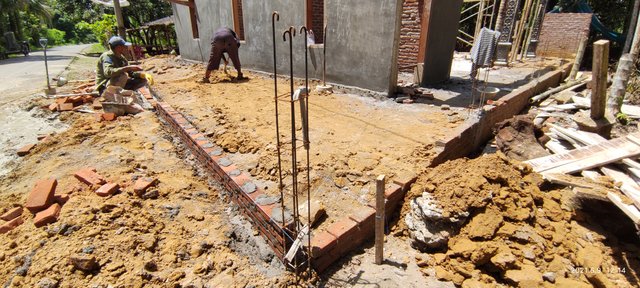 ---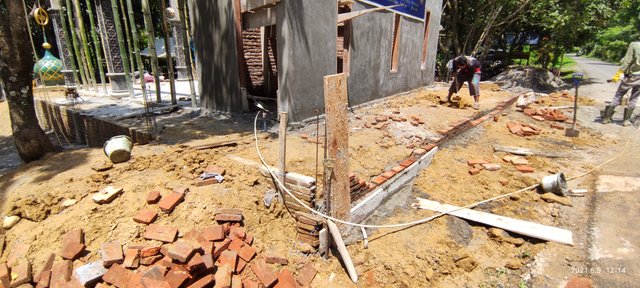 ---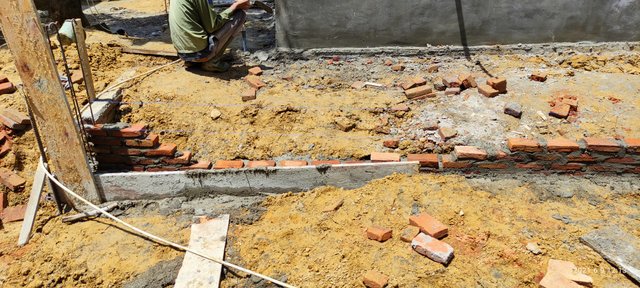 ---
ACTIVITIES Date : 10 June 2021
---
On the edge of the prayer room there is a path, which will lead to places such as:
a place to take ablution water
a place to urinate and defecate.
then, done, equalization of the land, so that a similar road can be made using a mixture of cement and sand, let's see it in the process activities below :
---
Soil Cleaning and Leveling
---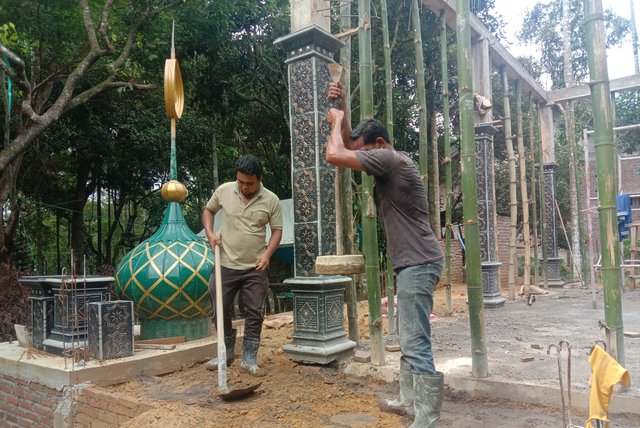 ---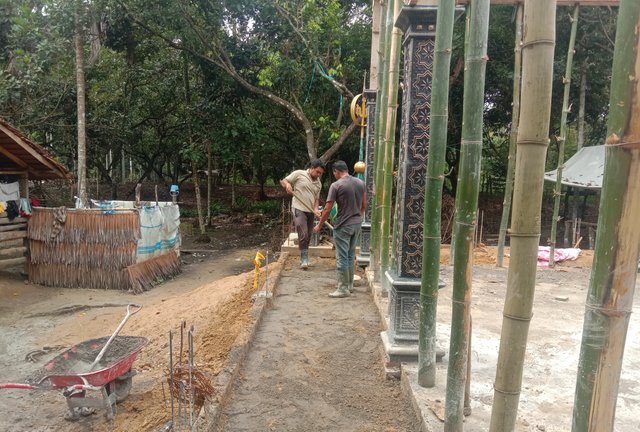 ---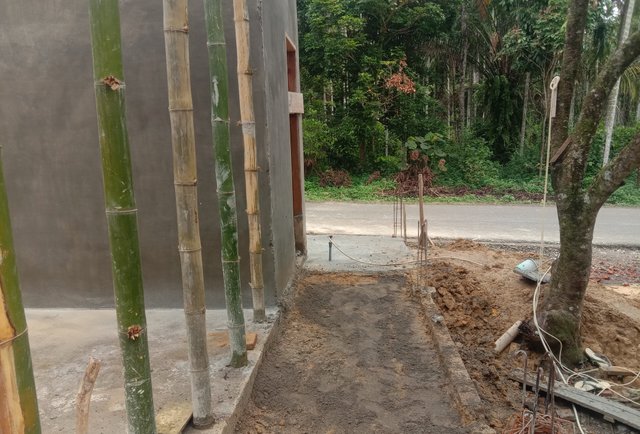 ---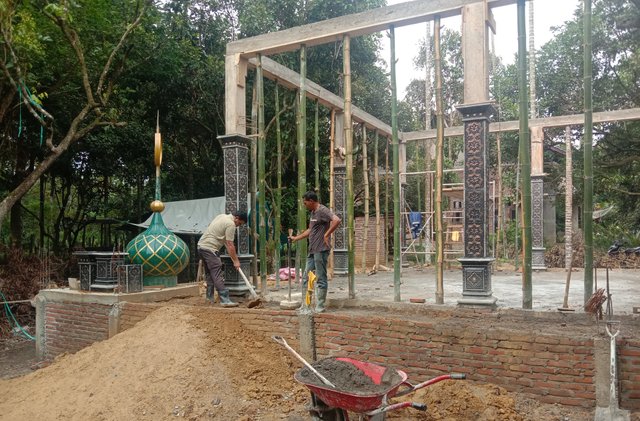 ---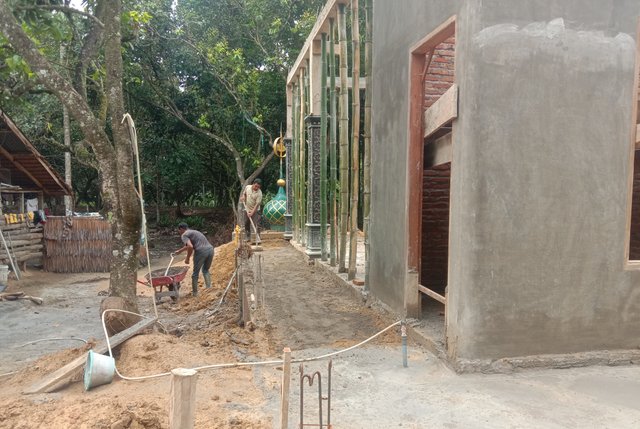 ---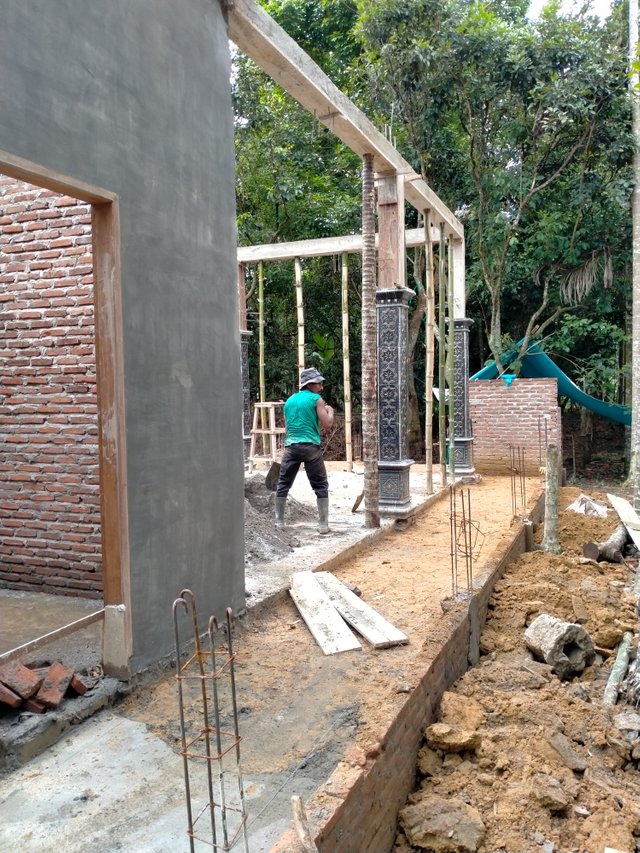 ---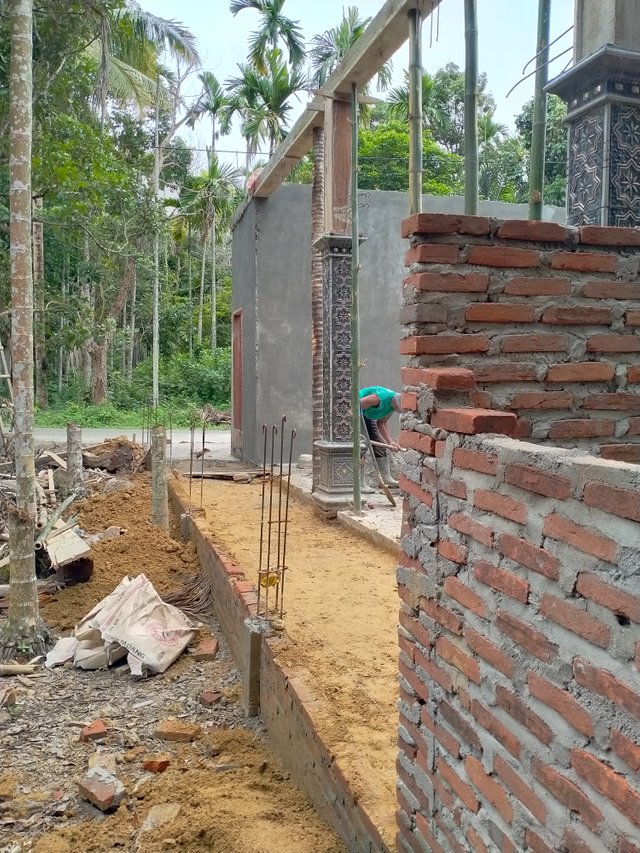 ---
Side Floor Making Activities
---
The cement and sand have been mixed, then the floor is immediately made, so you can see the process below.
---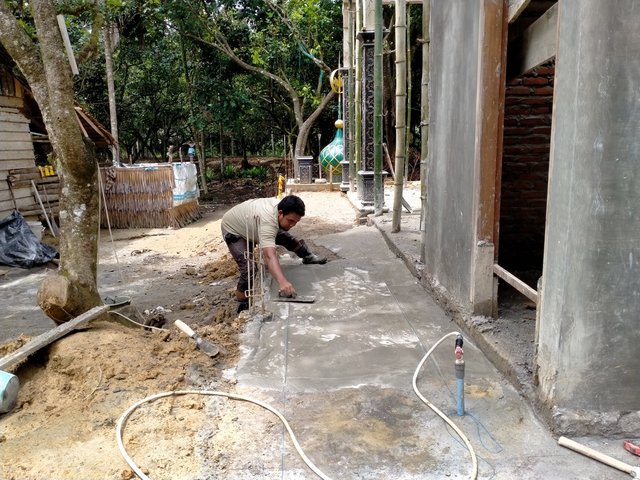 ---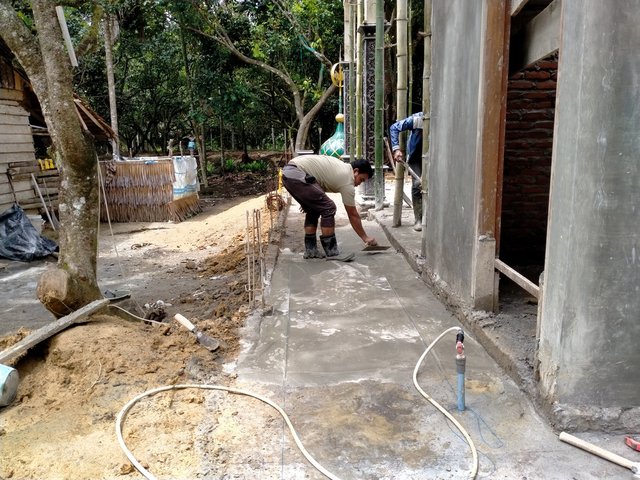 ---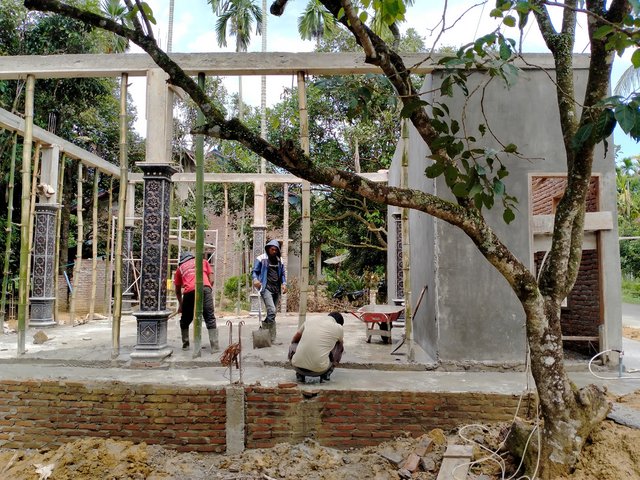 ---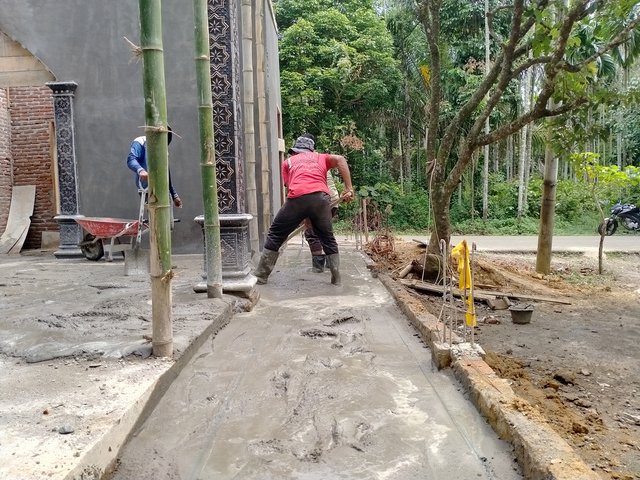 ---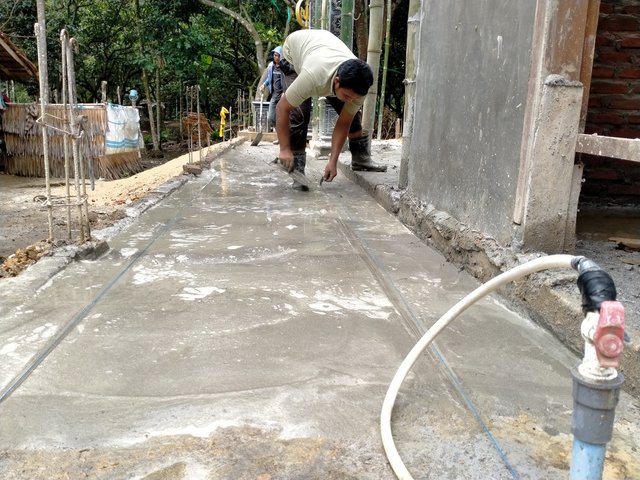 ---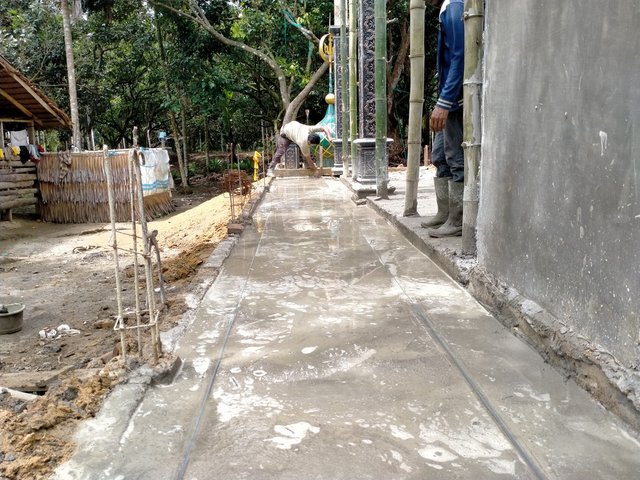 ---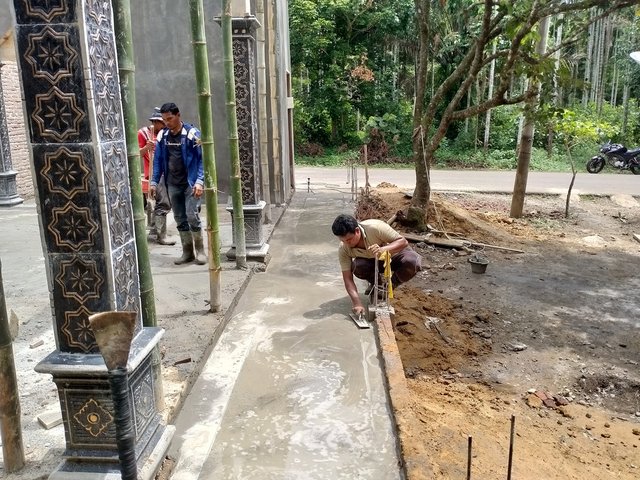 ---
Before and After Activities carried out.
---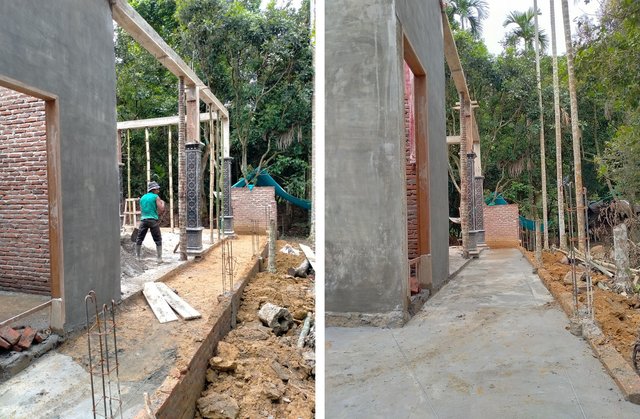 BEFORE AND AFTER "To the Left of Mushalla"
---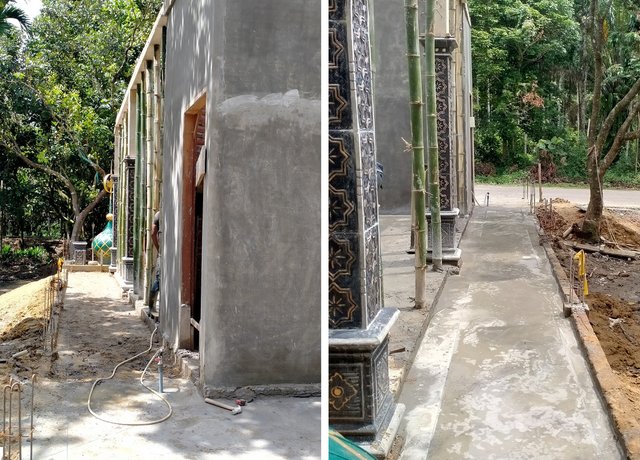 BEFORE AND AFTER "To the Right of Mushalla"
---
In the last few days, additional purchases of cement and sand are still being made, so some of the needs that are needed, you can see them below:
---
Buy Cement and Sand . Date : 06 Juni 2021
---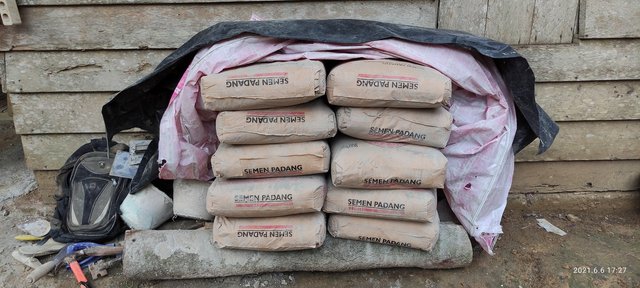 ---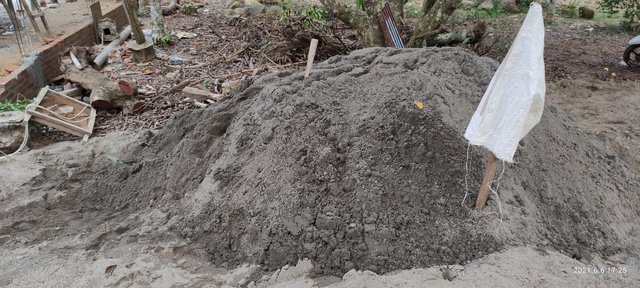 ---
Buy Cement . Date : 09 Juni 2021
---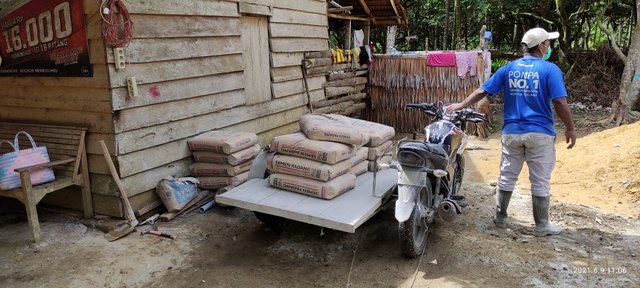 ---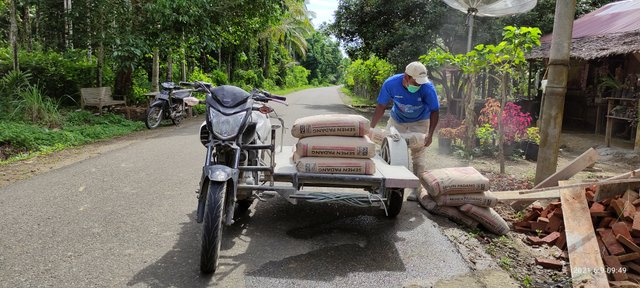 ---
TODAY'S SETTLEMENT Date. 10 June 2021
---
As of today's date, the settlement can be seen as shown in the image below, although several other things that hinder this process can be resolved properly, such as rainy weather and financial problems.
Let's see, in the achievement of this Mushalla in the picture below :
---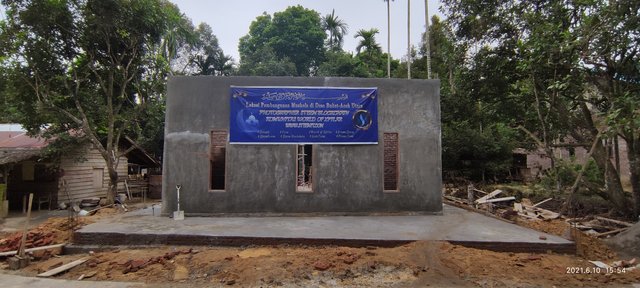 ---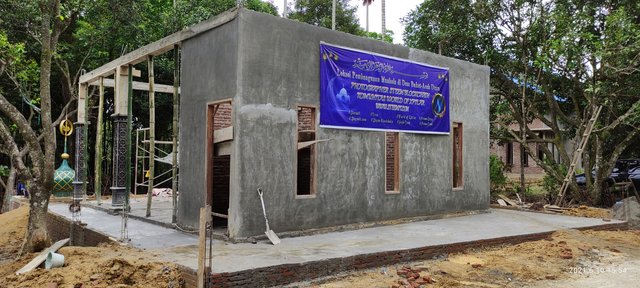 ---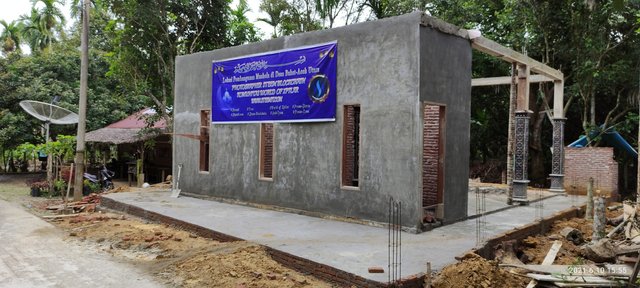 ---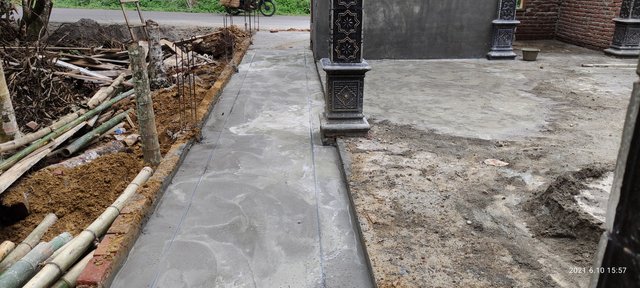 ---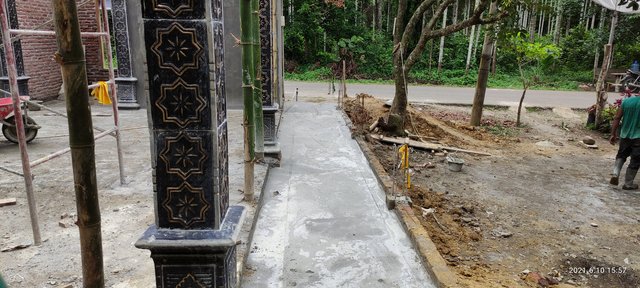 ---
Advanced Development Stages :
Install the Fence
Install the Roof
Install Ceramic Floor
Wall paint
Precisely today, June 10, 2021, all activities will continue until the prayer room is finished.
That is what I can say, in achieving the construction of a Mushalla and Children's Education Center in this village. I hope that in its development, this village will get more support from all Steem users.
Thus, the brief explanation above, in the joint activity of building a place of worship and an educational place for children in Buket Village, I hope you will be happy to see them.
Requesting assistance from:
Team Steemit
All home-building investors
All steem investors
All Steem users.
Hopefully this project submission will receive support from all parties.
A big thank you, from me representing the World Of Xpilar Community
who have helped in the form of field workers, during this development, including the people of Buket Village
---
Hilsen
@sultan-aceh
Responsible Field
World Of Xpilar Community
---
100% Vote for this Post
Will be given for the Financing
Mushalla Development and Children's Education in Buket Village
Steemit Fostered Village
---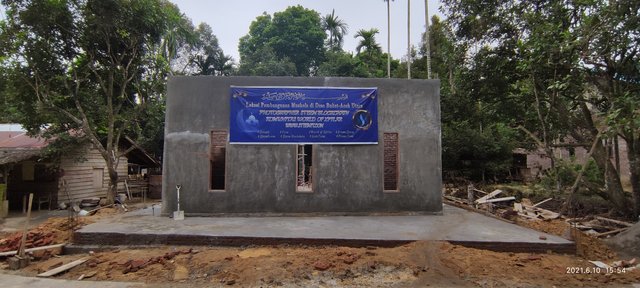 ---
---
Donation List Development Achievements 09
---
---
Donation List Development Achievements 07
---
---
Donation List Development Achievements 04
---
---
---
Donation List
---
---
---
DONASI FROM BUKET VILLAGE PEOPLE
---
| List- Name | Cement | Note |
| --- | --- | --- |
| 1. Cement | 11 | Villagers |
---
Management
---
---
Development Information
---
---