Vote for Home Round 4 - Magic Steemians Work Together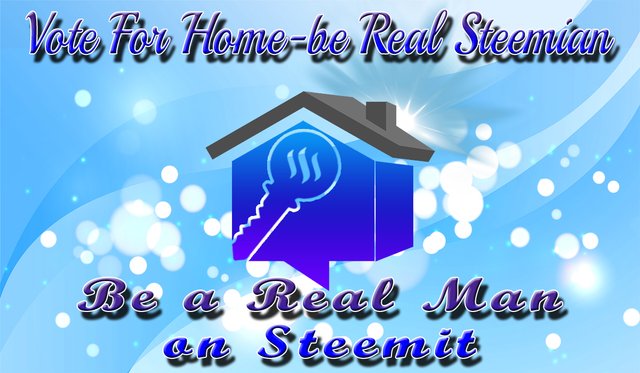 ---
WORK PHASE 5
---
Today, I will show again, the progress in the construction of the house Steemians @tailah.bayu, which is still under construction, in several more stages in the future.
My explanation below, I summarize the whole real work with @aceh-team members, in a true story that we adopted in helping Aceh Steemians, a journey to build Steem's house, supported by Team Steemit - @steemcurator01, in providing upvote. We really appreciate together the main sponsor @dobartim - @xpilar - @stephenkendal, as well as the support from the Steem Family who has provided donations, support and prayers, so that the achievement of this steem house construction becomes a reality. in the next few days.
Please support from all of you, to the Steemit @tailah.bayu users
---
The journey of the Aceh-Team members
---
Preparing for a trip to a house that was under construction, we agreed to gather at one of the coffee shops in the city of Hokseumawe, after gathering, while waiting for the sun to rise, we continued walking slowly, towards the village we were going to go to, namely Cot Murbo.
---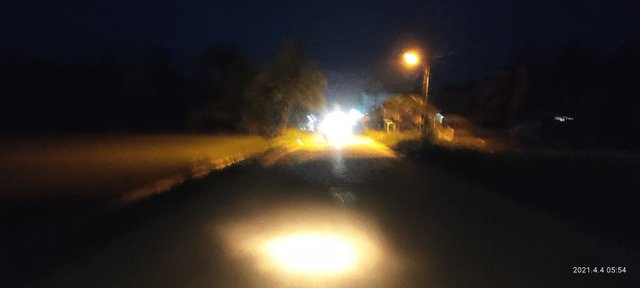 ---
Crossing a road that is still quiet and dark, towards a rural village, does not make the spirit that we already have decreased, the body is warm, has become cold and feels stiff, when the village we are going to, is almost there.
---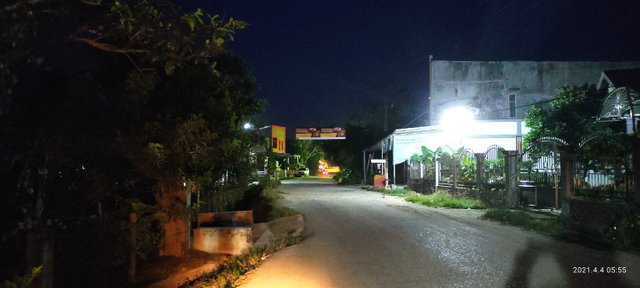 ---
pausing for a moment, while breathing the fresh air from the edge of the mountain of a village, where a Steemians @tailah.bayu, lives with his wife and family.
The village borders are beginning to appear, our enthusiasm continues to drive the two-wheeled vehicle, which we drive, to get to our destination quickly.
---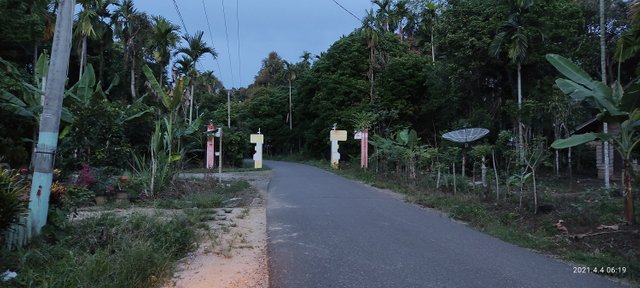 ---
House Construction
---
Below, we will see, house construction, 1 day before, after we jointly conduct monitoring together with all members of @aceh-team, in the work of building this house, let's see two initial pictures as a continuation of development, which continues.
---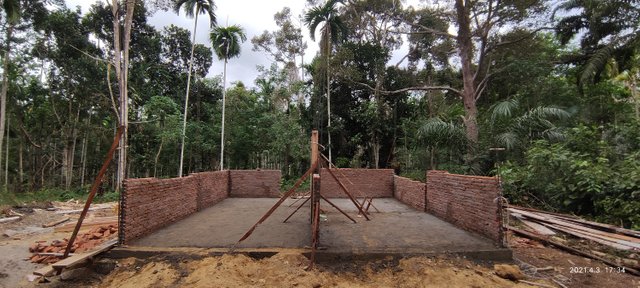 ---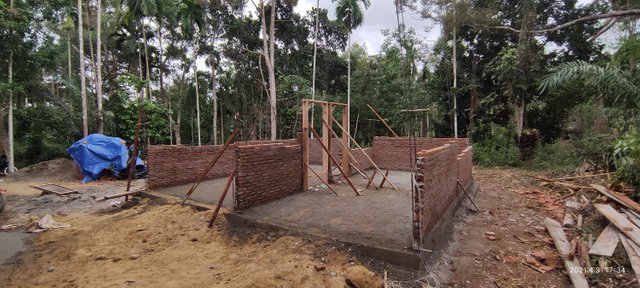 ---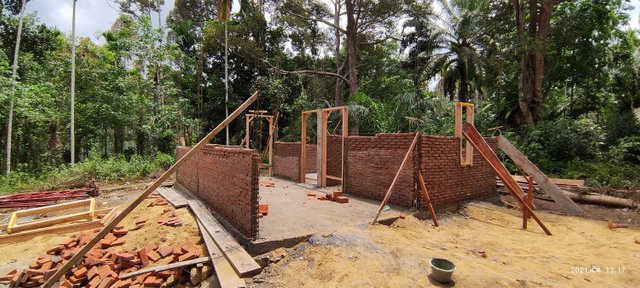 ---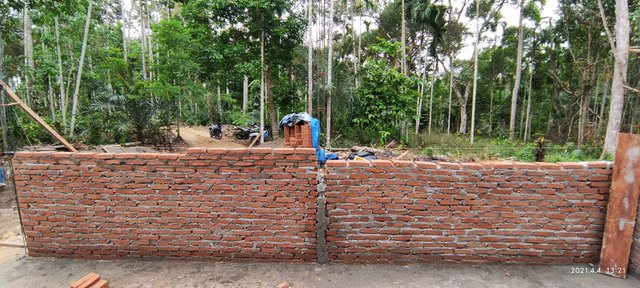 ---
House construction was resumed
---
Next, during our trip, below all the activities that we carried out together with all the workers who built this Assistance House, with the full support of the community around the location where the house was built, some meals and drinks of coffee and tea were also given.
In the activity below, all of you can see, some members of the aceh-team @grisaia-steem and @partner-macro, are carrying a bucket, which contains cement, while @jasonmunapasee, is mixing cement, which is only visible part of the head, the cement that is inserted ,, which will used by workers, to tie bricks. which is useful for making the walls of the house.
---
House construction was resumed
---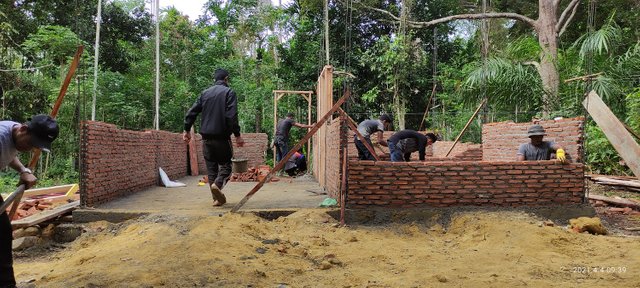 ---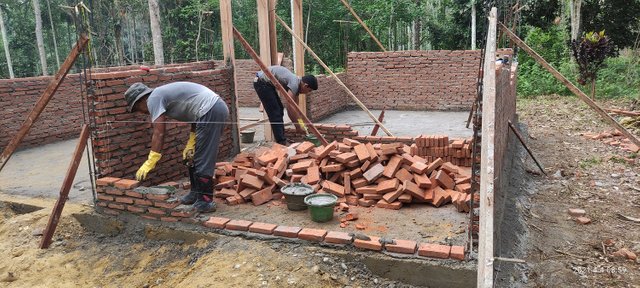 ---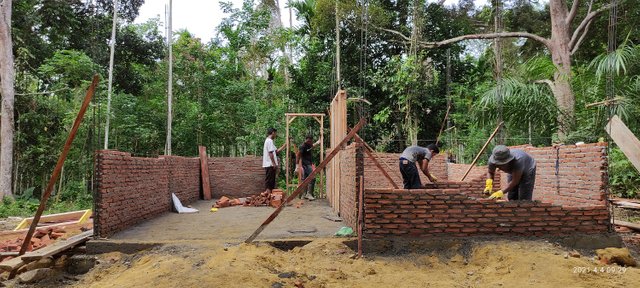 ---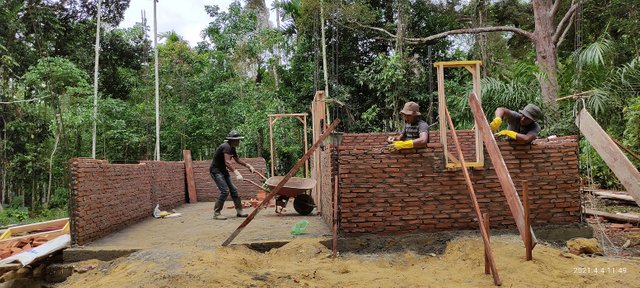 ---
As you can see above, in the activity of building a house @tailah.bayu, everything took place very quickly, tirelessly, all enthusiastically with the enthusiasm to help their siblings, in order to get a decent house, for their families in Aceh.
below, because at noon, all workers gather in a place, to perform other activities, such as:
Sholat
Lunch
Drinking coffee
and take a short break.
However, below, some documentation that has been taken with a cellphone camera, which we would like to show to all of you, in order to know, the progress of housing construction that is currently under construction in the Cot Murbo area - Aceh.
---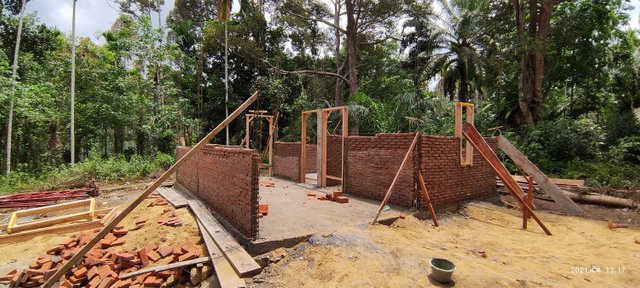 ---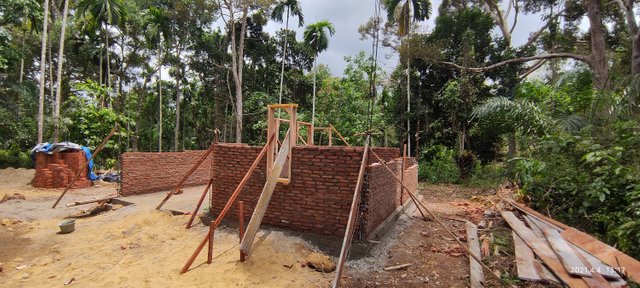 ---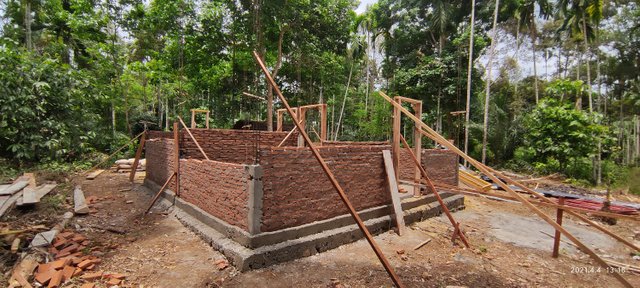 ---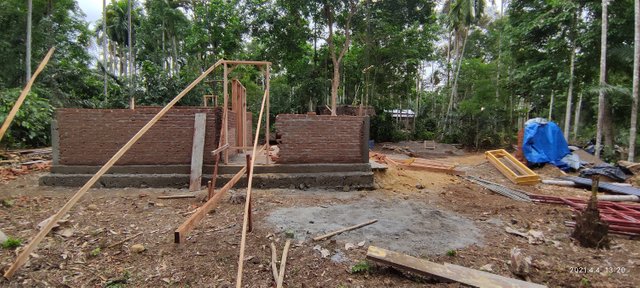 ---
---
House construction was resumed
---
after all have finished taking a break, workers begin to regroup, carry out activities, according to their respective fields, such as:
stirring cement
collect bricks
stacking bricks with cement
pulling the thread as a straightener mall
set up a rectangular iron pole.
window settings
door setting
etc
all of you, can see it below, in the photo that I have arranged neatly, so that all of you can see it at home, that the house that is being built, will be completed in a few more stages in the future.
let's look at it together below, the whole picture that I have compiled neatly. in the house building activities for @tailah assistance
---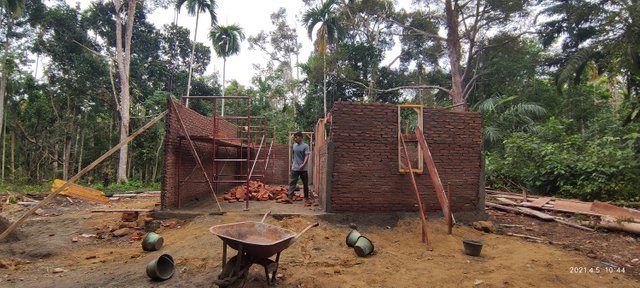 ---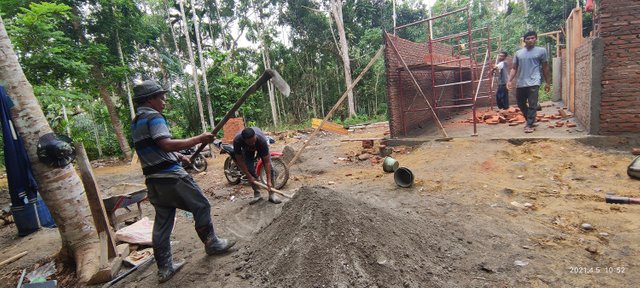 ---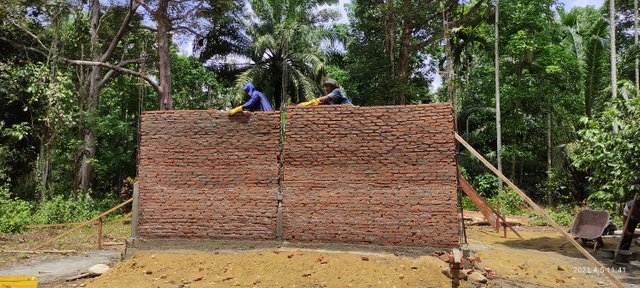 ---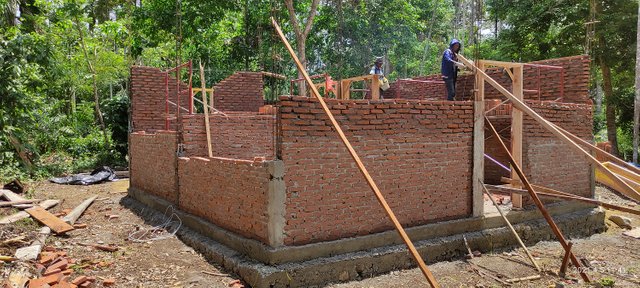 ---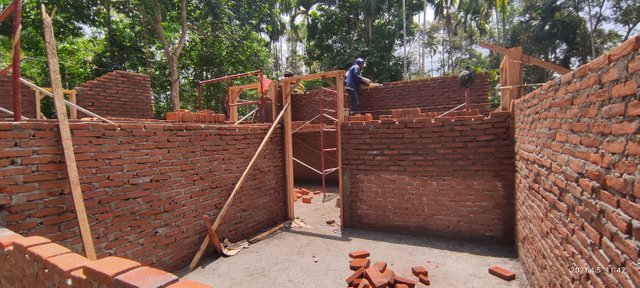 ---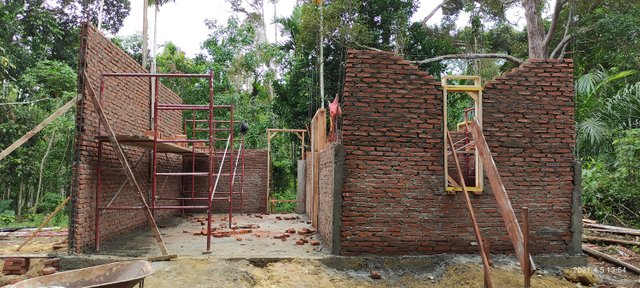 ---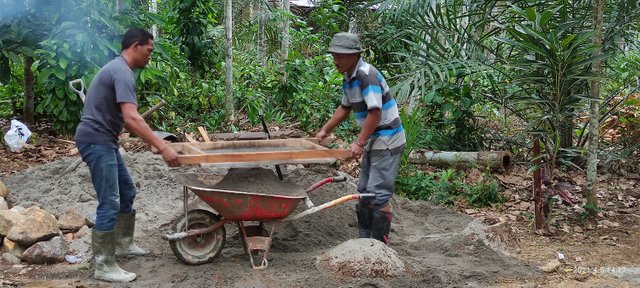 ---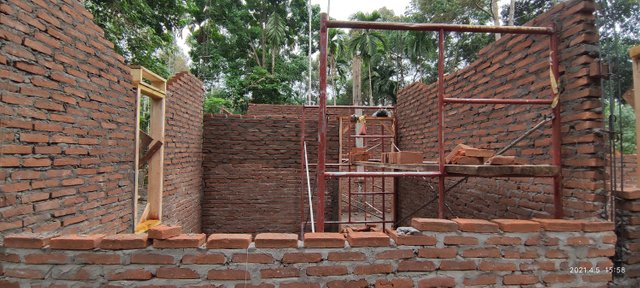 ---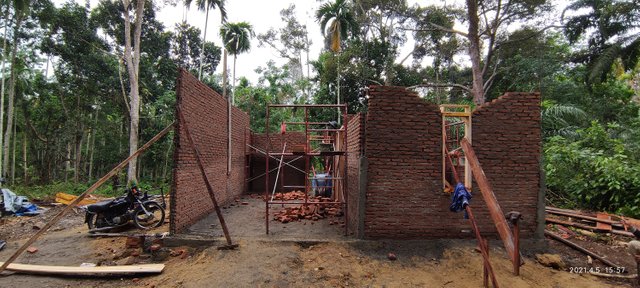 ---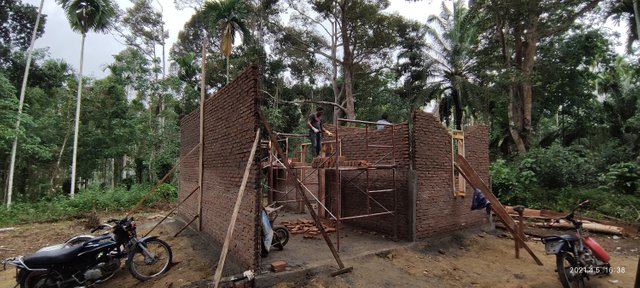 ---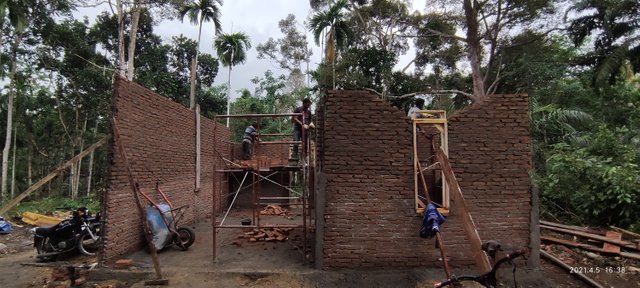 ---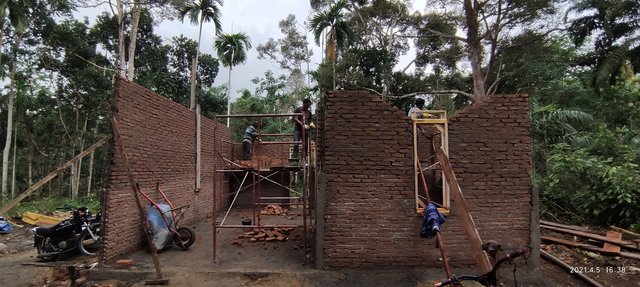 ---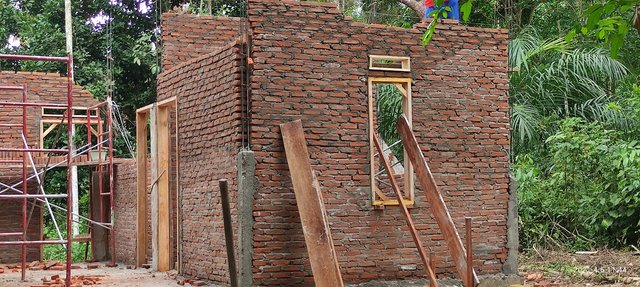 ---
---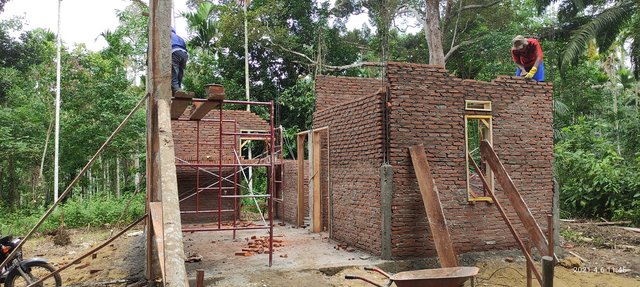 ---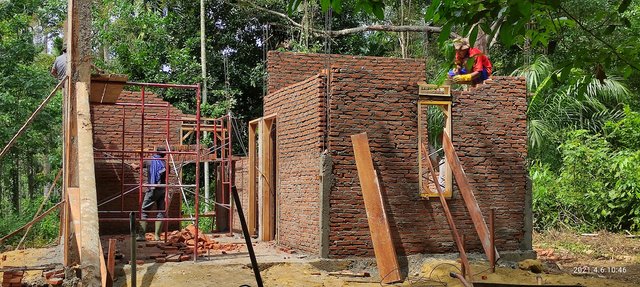 ---
As you can see above, that is the kind of activity that is taking place in the real world, in the construction of Steem houses for Acehnese residents.
---
Rain and wind
---
Rain and wind, surely no one can expect to come suddenly, however, this is what happened, rain, wind and thunder, taking place after noon, unavoidable natural conditions, as I have said before, So, I was forced to stop the activities, in order to avoid something that we didn't want to happen, the construction of houses would be continued tomorrow, 7, April 2021. Because the rain did not stop, until late in the evening, around the forest area where this house was built.
---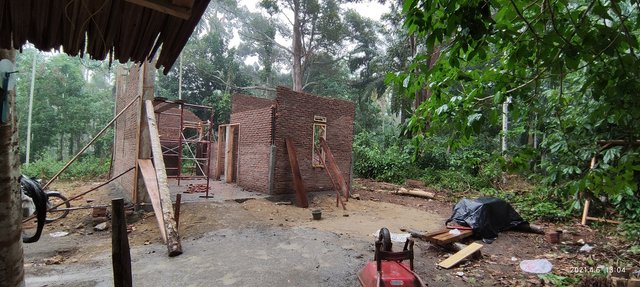 ---
Electricity and Additional Materials
---
For the house building process, so that it is carried out and there are no obstacles, then, electricity and several other additional equipment, procurement is immediately carried out at the location of the house construction, so that the house construction process can be carried out more quickly, several things are added.
---
Electric Meter Installation
---
Dismantling the electric meter box at the old house, moved to the new house, so that it can be used for lighting, while sleeping in the temporary shack in front of the house. "special guardian of purchased building materials @desainer-steem Member World Of Xpilar @aceh-team"

can take advantage of, electricity for other purposes to cut iron, at the location of house construction, faster.
---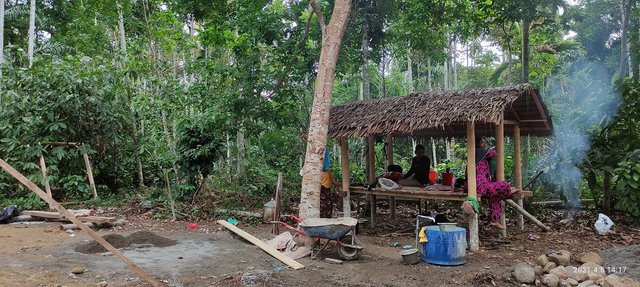 ---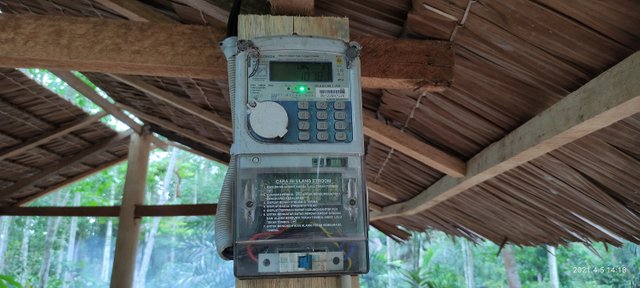 ---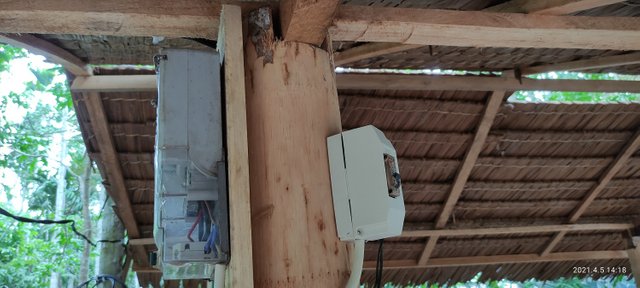 ---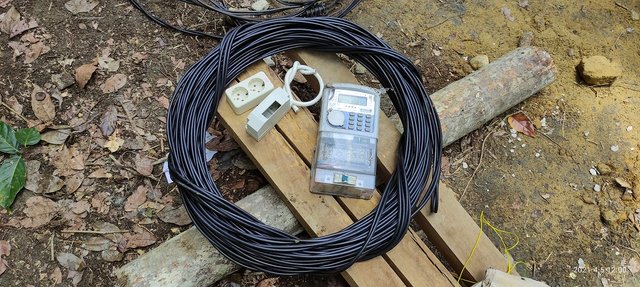 ---
Zinc delivery car
---
Zinc in a special shape and length, according to the size of the house, to avoid leaking, in other types of zinc, which is calculated per sheet.
---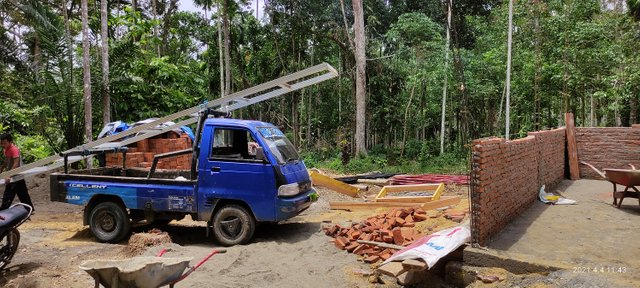 ---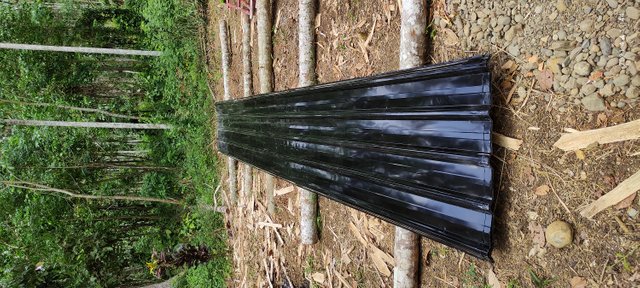 ---
Bricks Addition Car
---
there are some parts of the wall, not sufficient, from the number of bricks ordered beforehand. due to rainy conditions, brick and mortar providers can provide certainty. it must be purchased separately or from another provider.
---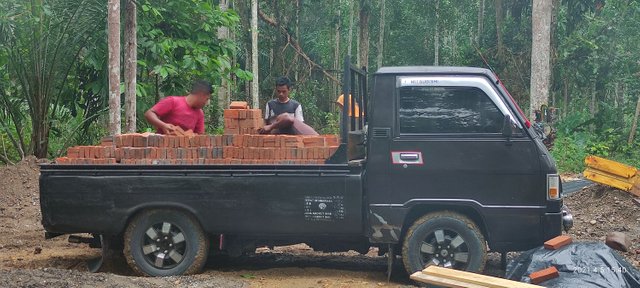 ---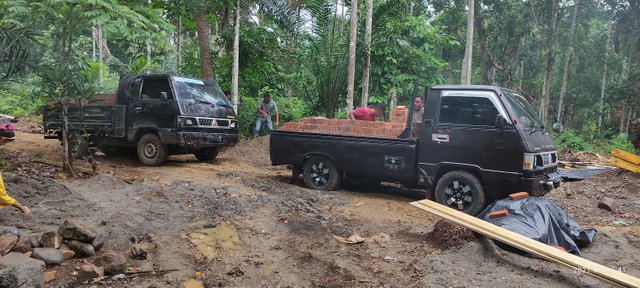 ---
Glass Block walls
---
which will be installed on the door
---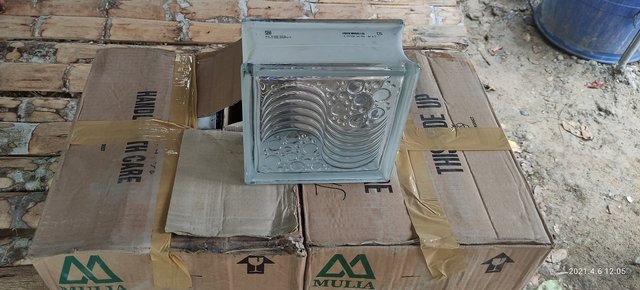 ---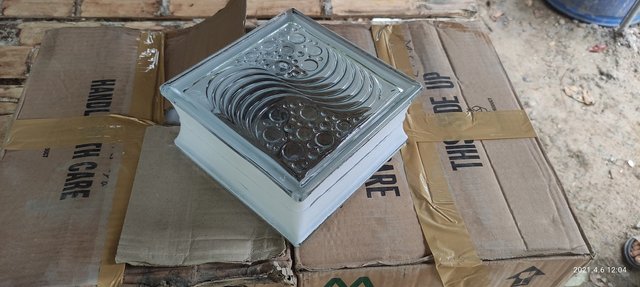 ---
Direct Help
---
In this section, @belkanca, between the breaks, handed over direct cement assistance to Mrs. @tailah.bayu, on behalf of the Personal and Community of World Of Xpilar. Local @aceh-team, representing other friends, who are working to build houses.
let's take a look below :
---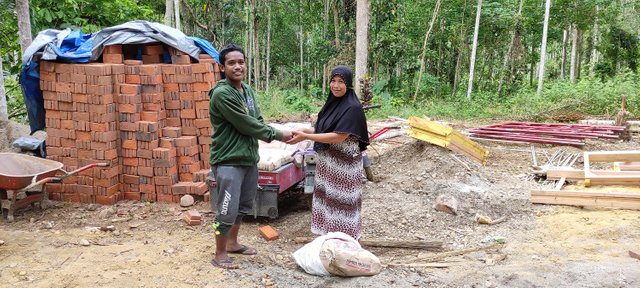 ---
INFO COST DETAILS
---
1 . DONATION WITHDRAWAL DETAILS
2 . WITHDRAWAL DETAILS
3 . Details of the Provisional Development Budget
4 . Proof of Purchase - Invoice
Information :
All Cost Details, are in total calculation, and will be notified, in the next post, this is because the construction process is still ongoing tomorrow.
---
Hello Steemians All, I hope you have seen it, the overall progress in the construction of this house, through the picture above, hopefully in the next few days, this house, is ready to be occupied by our brother @tailah.bayu.
---
I represent @sultan-aceh and members of the Aceh Team, @WorldOf Xpilar community, to convey thousands of thanks, to those who have supported all of these activities, both in the real world, online, enthusiastic support, and prayers.
Requesting assistance from:
Team Steemit
All home-building investors
All steem investors
All Steem users.
Hopefully this project submission will receive support from all parties.
A big thank you, from me representing the World Of Xpilar Community
who have helped in the form of field workers, during this development, including the people of Cot Murbo Village
This is what I can say, for the time being, ahead of tomorrow's next process. "Date. 07 april 2021"
---
Hilsen
@sultan-aceh
Responsible Field - Vote from Home - House in Progress
World Of Xpilar community
---
---
The results of 100% voting on this post will be given to @tailah.bayu and @tailah.bayu, which will be used for the cost of building houses and the purchase of subsequent building materials.
---
New Donations Round Three - Vote For Home - Progress
---
---
New Donations Round Two - Vote For Home - Progress
---
---
Donation List
---
---
---
Note :
Donations can be sent to the wallet @sultan-aceh address, and will be sent directly to @taillah.bayu and family.
---
Management
---
---
Development Information
---
---