Two cheetahs face each other on a tree branch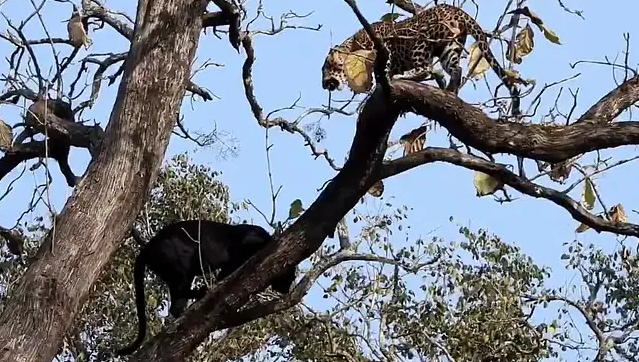 The fight took place between a black panther and a leopard at a sanctuary in India
The Black Panther and the Leopard are two of the same species. However, due to differences in physical constitution and habitat, the two have their own characteristics. Usually there is not much fighting between these two animals. However, in a sanctuary in India, there was a duel between the Black Panther and the Leopard. Video footage of the confrontation has also spread on social media.
The incident took place at the Kabini Wildlife Sanctuary in the Indian state of Karnataka on Saturday, Indian media NDTV reported. Nandan Nilekani, co-founder of Indian telecom company Infosys, and his wife Rohini encountered the rare moment while visiting the sanctuary. The couple recorded a video of the whole incident. Nandan later published it on Twitter. That video has gone viral.
In the video, two animals are seen sitting on the branches of a tree and looking at each other violently. Later, the black leopard attacked the gray leopard. The Black Panther did not take advantage of the attack.
After uploading the video, Nandan wrote in the caption, "Today I saw, March 7, at the Kabini Wildlife Sanctuary, the duality of that black leopard and its spotted-faced enemy!"
The video has been viewed by over a million people since it was uploaded to Twitter.
Hundreds of people responded. One commenter wrote, 'It's like seeing a dream scene! I don't think it's real ... thanks for sharing. '
Another wrote, 'Wow paradise! You are lucky, you have seen such a scene. Such incidents rarely happen. But it really happened. I was thrilled to see the video of this incident.
Besides uploading the video, Nandan also shared a still image. It shows the black leopard preparing to attack. The photo was taken by Nandan's wife Rohini.