Have you lost your "PDF TRON account" with keys that you opened in your browser or has your Tron account changed address to your account with TRX and you no longer have access
Or you forgot to save your "PDF TRON account" with keys
Is there an opportunity to find PDF with keys
The answer is yes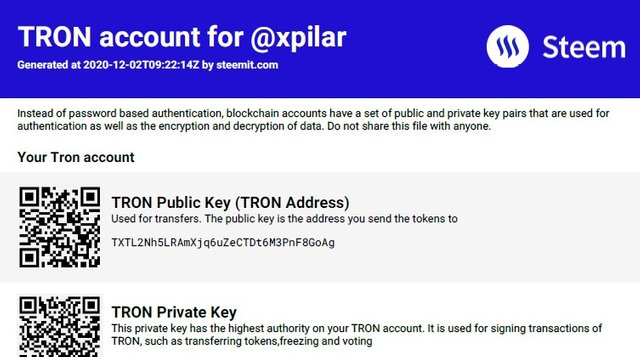 The possibility is there if you have not deleted the log in your browser
I give an example here with the Google app
View or delete your activity in the Google app
When you use the Google app, some of the activity in your Google Account is saved. You can view and delete this activity in My activity, and you can stop saving most types of activities at any time.
The menu here is in Norwegian in the picture
But click on log in the menu in your browser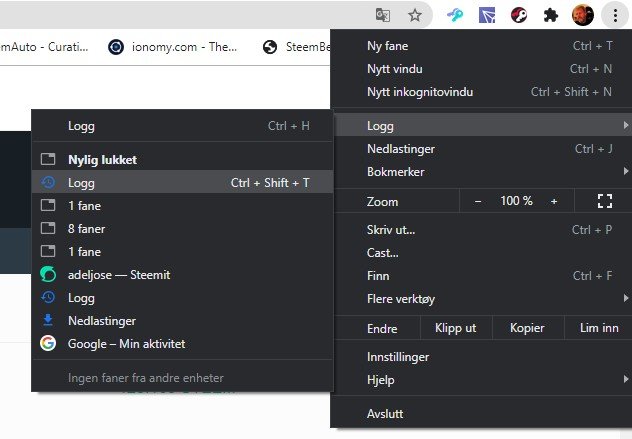 Here you can type in the search field
TRON account for @your username
Here I apply with a TRON account for @xpilar


As you can see I find 2 TRON account for @xpilar
and when you click on them, the PDF will open in your browser
remember to save them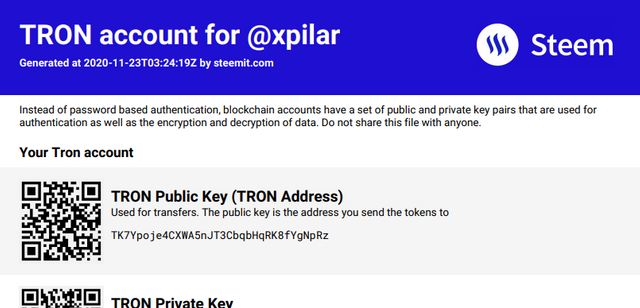 At https://tronscan.org/#/ you can search for addresses and see how much TRX is in the account
TRON Public Key (TRON Address)
Used for transfers. The public key is the address you send the tokens to
TK7Ypoje4CXWA5nJT3CbqbHqRK8fYgNpRz
We're doing a search with my address that was created November 23, 2020
TK7Ypoje4CXWA5nJT3CbqbHqRK8fYgNpRz

It does not find the account from when I was on the Tron test network.
But before I created the account on December 2, 2020, I had already earned some TRX. Where are the earned TRX today?
But let's do a search on the account was created December 2, 2020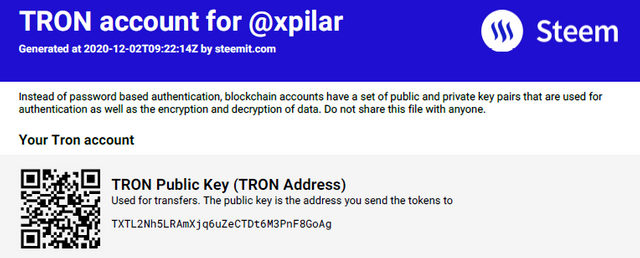 TXTL2Nh5LRAmXjq6uZeCTDt6M3PnF8GoAg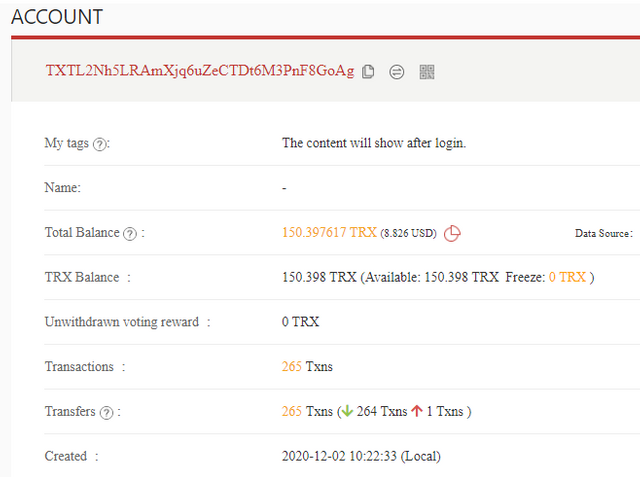 Once you have the address visible in https://tronscan.org/#/
you can import the account to "TronLink wallet" your TRON account to manage TRX assets.If you have your TRON Private Key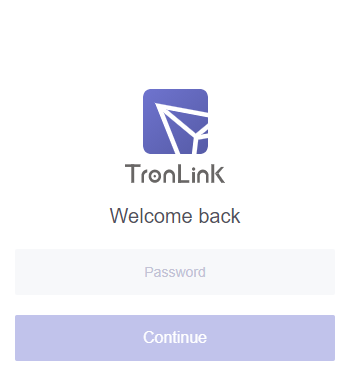 Is it possible to restore the TRON account when you have your PDF with keys. I'm unsure when the account or address is not visible in https://tronscan.org/#/
I would also like to direct that question to Steemit Team @steemitblog and @steemcurator01 and others who can answer this
I also want to ask what might have happened when your own address on Tron in Steem Wallet does not match what you have on your own PDF with keys for Tron account
We know that this issue affects several users and hope that everyone will shed light on this so that we can understand what is going wrong
---

Promotion
Do you like Sports Betting? "Steembet" is now live on Steem Blockchain!
play the video