Mini contest - share the newspaper in social media // @essygold //24/06/2021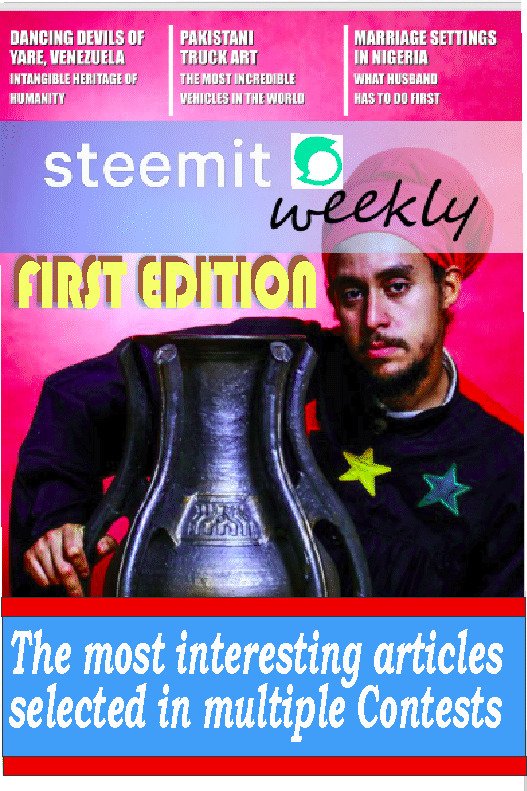 ADVERTISEMENT:
Advertising is a form of marketing that reveals and tells the audience about a service, idea or product offered. The Advertiser's aim is to get the attention of as many people as possible with the message. If the End User is satisfied and sees value from the promotion, there will be an exchange of money or payment for the product/service involved.
There are many forms of Advertising. We have – word of mouth, town criers, radio, newspaper, billboards, social media, banners, handbills, videos etc.
The Steemit.com Social Blockchain Network is also offering different services to the entire globe. It has published series of articles on is maiden newspaper called 'Steemit Weekly Newspaper' for you to learn more about this community. I invite you to click on the link below to see the Newspaper articles put together. There are different articles specially put together by non-journalists and people from all works of life across the globe. Each writer presents his/her article in such a beautiful way you will love reading through. You are going to learn about different cultures, land, music, food, education etc. Tap the link below for more information.
https://drive.google.com/file/d/1vk_HhKXcEPVR1NXkRrw0bqe4fcNdN1G0/view
Here are a few excerpts from the above Newspaper reviews link:
This newspaper has a very beautiful design with the cover picture of Gabriel – a citizen of the world, Rastafarian and artist, his article was published in "World of Xpilar" Community on Steemit.com.
Steemit Weekly Newspaper exposes a lot of facts in culture and other diverse areas. Have you heard about the Calypso music and its origin? Let me take you to Trinidad and Tobago here in this newspaper as it discussed that:
Calypso is a traditional dance from the Bolívar region in Venezuela, but the music originally comes from Trinidad and Tobago, the Caribbean country from Central America. It is played and danced mostly at carnival parties. The calypso has its history at the time when the Antilleans arrived in Venezuela in the 1870s. . . The rhythm of the calypso has its maximum peak during the carnival of the months of February or March. That time it is danced on the streets - people gather to celebrate together in their beautiful and diverse costumes: ladies wear marvelous dresses, and so-called "black pinto" are painted from head to toe with burnt oil In addition to wearing costumes". Written on Page 9 and 10 by @luimer79
The 'Yellow Soup' is a traditional soup in Igboland for eating Yam and is also used to prepare the African Salad. Here in Cameron it is a special dish. On Page 14 of the Steemit Weekly Newspaper is this beautiful Cameroonian Achu and Yellow Soup that can make your mouth water longing to eat this delicious meal. It caught my attention because I love it, so I share it here:
Achu and yellow soup" is the traditional meal in Awing, Cameroon. This dish is prepared by boiling taro (colocasia escuelenta), specifically "Ibo coco" and "achu banana", a special short type of banana. When they are ready, the banana and taro are peeled and pounded with a wooden mortar and pasted. Finally, it is mashed into a soft smooth mixture, using water as needed. I prepare the yellow soup by heating red oil and mixing it with "Niki", which is water drained from wood ash or a bit of calcium carbonate solution. I add Maggi, pepper, and achu spices, mix it all and it is ready to be consumed. Achu is usually eaten with egusi pudding, huckleberry, or garden egg as side dishes. Not forgetting the complimentary chicken, pork meat, fish, goat meat, or cow meat, which the local villagers call "obstacles". This traditional meal is usually prepared on all important occasions as it truly represents who we are." The article was written by @rosita-nkefo.
Another interesting article worthy of note in the 'Steemit Weekly Newspaper' is on Traditional Marriage in Nigeria, here are the details:
Traditional marriage in Nigeria (except in the northern part) often starts. . . with the "Consultation or Introduction stage". This is a very crucial moment. The groom's family will meet with the bride's family. It is the duty of the groom's family to consult the bride's family and ask for the hand of their daughter in marriage. The groom will later assemble among his family members and inform the elders, and friends in his hometown, buy kola nut which serves as a sign of respect, crates of mineral & beer, bottles of locally made drinks, tubers of yam, goat, fish, rice, oil, etc. . . At the end of the meeting, the groom will be given a long list of items which also include the bride price (money paid as a way of appreciating the worth of the bride). . . The traditional marriage is the most decorative and popular traditional celebration for couples in Nigeria. It is always a mouth-watering event filled with amazing entertainers." Check out the full details of this article on Page 17 and 18 written by @idken
CRYPTOCURRENCY
The last but not the least I want to mention from this Newspaper is on Cryptocurrency the main currency of the future, a decentralized secured money not owned by anybody not even the government. You need to position yourself for this solid alternative. Get familiarized with the internet and learn about it because only about 30% of the world populace knows about it. @Wumpini5 shared his piece here:
CRYPTOCURRENCY IS THE FUTURE: For past centuries, there have been massive developments in all sectors in the world. These achievements help improve the way of life of individuals and are the key to greater innovations in the future. We have witnessed much more advancements, especially in technology in the 21st century. . . Many of these have attracted much attention around the world, although the greatest invention in my opinion was the discovery of Bitcoin and other cryptocurrencies. . .They are an increasing number of merchants accepting cryptocurrencies especially Bitcoin all over the world. The first decentralized cryptocurrency was created in 2009 by a pseudonymous developer, Satoshi Nakamoto. SHA256 was used in its proof-of-work scheme as the cryptographic hash function. It is a digital currency with no central authority that uses peer-to-peer technology to operate". Page 19 has the full details.
I am inviting my friends to become part of Steemit.com There are basically 6 things you will do when you sign up and create an account.
Register your account, it is 100% free
Join the Communities of your choice
Join Newcomers Community so you can learn and be tutored here
Mention Steemit by using appropriate tags for each of your article
Earn the money by creating original quality content through proof of brain
Invest your money into Steemit.com to get maximum benefits and rewards in retun
Already my Facebook friends @Ebere Maurine Chidera @Emilia Ota @ Ogechi Obialo have been invited and the links sent to them to sign up for Steemit.com
It was when I mentioned to my friends that if they get registered instantly and tag @papi.mati in their Achievement 1, they will get a juicy package of rewards. These motivated them so much that they are making solid arrangements to get stated soon. Here is my chats with them: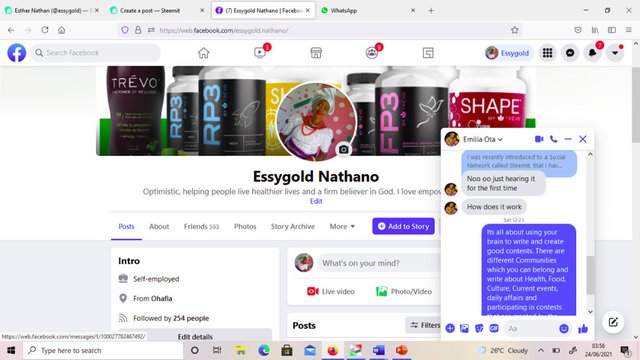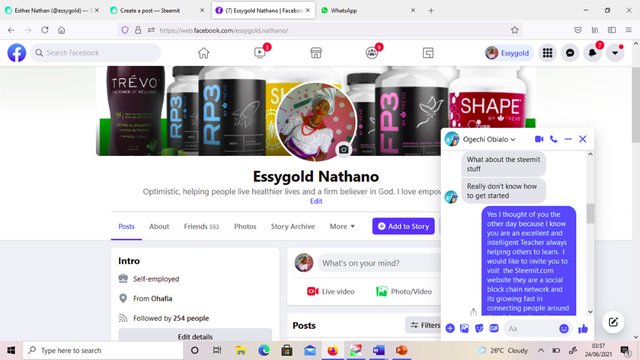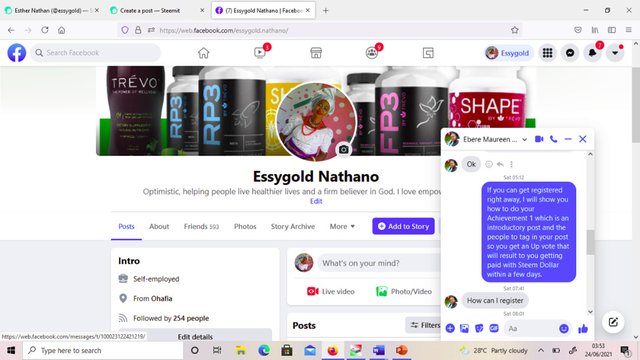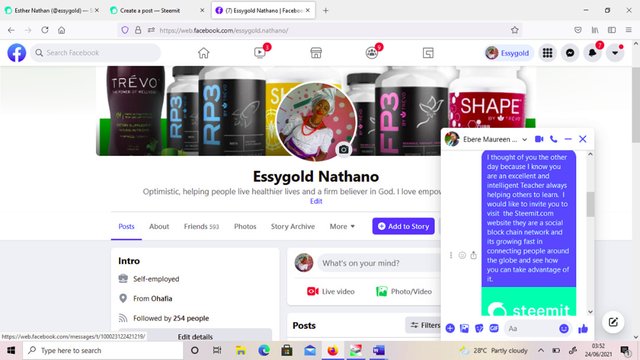 I also invite at @beautybb @meymeyshops @goodspeed22 to also join the contest