Contest # 6 | Promote Steem Library and Win Steem | Prize Pool : 18 Steem + 1 surprise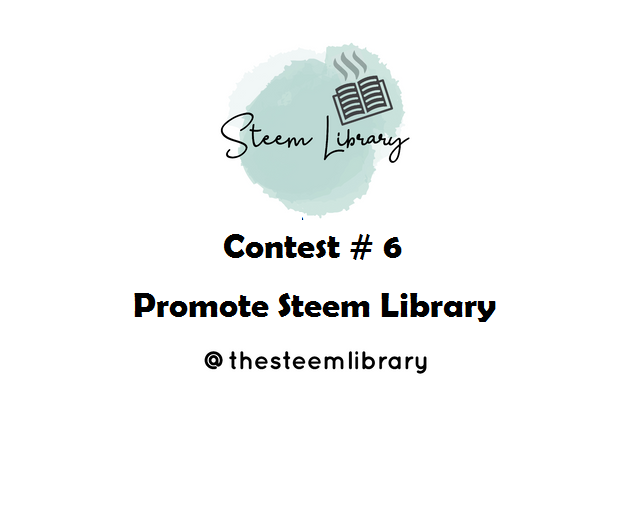 Hello everyone,
We are back with another interesting contest. This time you will not be writing about a book instead you will have to find bookworms who would love to join this community. It's time we promote our little library and get more people on board. So the contest for this week is:
---
Promote Steem Library
---
Promote this community to your book lover friends. Tell them about the interesting contests and why you like this community.
---
How can you reach people?
---
1- Write a message or make a placard and share it on your social media and on Steemit too.
2- Leave comments on #achievement1 posts of people and invite them to join Steem Library.
3- Or any other way you can think of which can make people to join.
---
What you will have to do?
---
Write a post about how you promoted Steem Library. Show screenshots of your messages and comments in the post. Explain why you like Steem Library. What do you expect from Steem Library.
---
Rewards:
To be eligible for the 1st reward you must manage to get at least 5 genuine book lovers to join the community and give solid proof.
---
1st Winner = 10 steem + a chance to organize a contest in Steem Library
2nd Winner = 5 steem
3rd Winner = 3 steem
Rules!!!
Subscribe and Join Steem Library.
Follow @thesteemlibrary.
Upvote and Resteem this post.
Make a separate Participation post and drop its link in the comments of this post.
Tag as many bookworms as you can (you can get a bonus point if someone participates because of you). Don't tag same people all the time.
Plagiarism and cross posting is not allowed.
Post should be of atleast 300 words excluding markdown lines.
Use the following tags: #steemlibrary, #library-promo, #yourcountry #steemexclusive
---
Deadline
July 18, 2021, 00:00hrs, GMT + 5:00
---
Join us at Discord