CONTEST!!! TELL US ABOUT YOUR DREAM JOB
Greetings to everyone,
---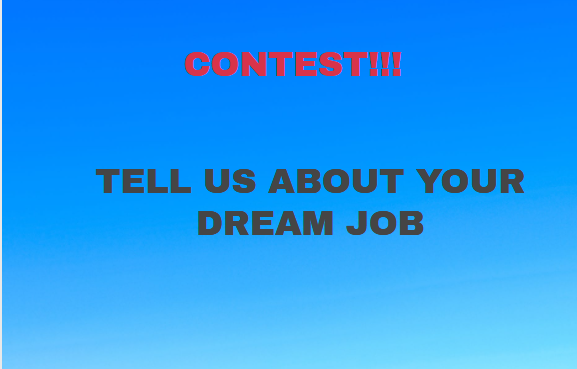 ---
Today I will like to present us all with a contest.
This is my first contest in the community and as time goes on I will look to put up more contest.
Now what is the contest about.?
This contest is about telling us about your dream job
As kids we all had who we wanted to be when we grow up.
Some of us are actually following that dream as we are currently studying our dream courses in the various universities.
So tell me about what your dream job will be.
There are so many things we will be looking our for.
Some are; name of job, what the job entails, qualifications you need for the job, educational background, amongst others.
Generally what we are looking for is creativity.
Guidelines.
Anyone is invited in participate as it is open to everyone on the platform.

Make your entry post in the Steem-Ghana community.

Make sure to write not less than 200 words.

Make sure to avoid plagiarism as all posts will be checked for plagiarism.

Please use #contest #ghana #dreamjob #ghcontest, you can use you own country tag if you are not from ghana.

Make sure to tag me as (@rubilu123) somewhere so that I can find your post easily.

Please be as creative as possible as we will be looking for creative posts.

For now only English is accepted.

Make sure to leave you entry link under this post.
---
Prizes.
First place- 15 steem
Second place- 10 steem
Third place - 5 steem
Fourth place - 3 steem
An amount of steem will be shared to all other participants.
Deadline.
Payout of this post and the winners will be announced the next day.
Have fun.
Thank you.