CONTEST!!!! TELL US ABOUT A FAMOUS PLACE YOU HAVE VISITED BEFORE.
---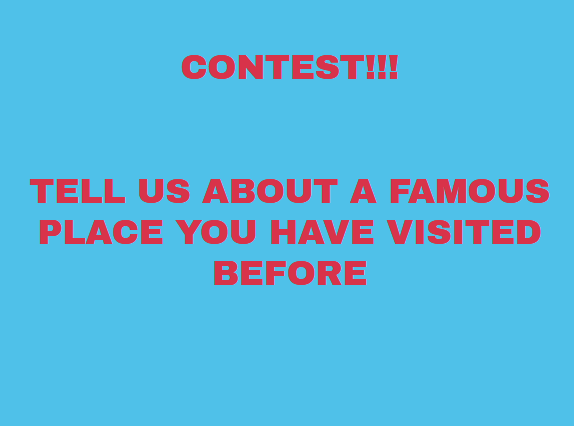 ---
Greeting guys,
The last contest I announced the last time was a great success and we had a lot of people show interest in the contest.
So today I am here to announce another contest.
This contest is telling us about about famous place you have visited before.
As a kid I was interested in going for excursions all the time but I never went for one so it's always fascinating when u hear people have gone or are going for an excursion.
So today I want to hear about the experience you had at an excursion you went for or tell us about a famous place your visited.
Since this is a contest about a place you have been to before, we will need pictures as proof; not pictures from the Internet but pictures you took when you went for the excursion.
Guidelines
Anyone can participate in the contest.

Entry should be posted in the Steem-Ghana community.

Please avoid plagiarism

A minimum of 150 words.

For now only English is accepted.

Please leave your entry link under this post.

Please use tags #contest #ghana #ghcontest #famousplaces

This requires pictures of your own and make sure to mention me @rubilu123 in your post so that I can find it easily
Prizes
First place-10 steem
Secod place- 7 steem
Third place- 5 steem
Fourth place-3 steem
An amount of steem will be sent to all participants
Deadline
---
Payout of this post and winners will be announced the next day.
Have fun and be creative.
Thank you.