Community of the Month Support Program Application
Greetings Steemit Team,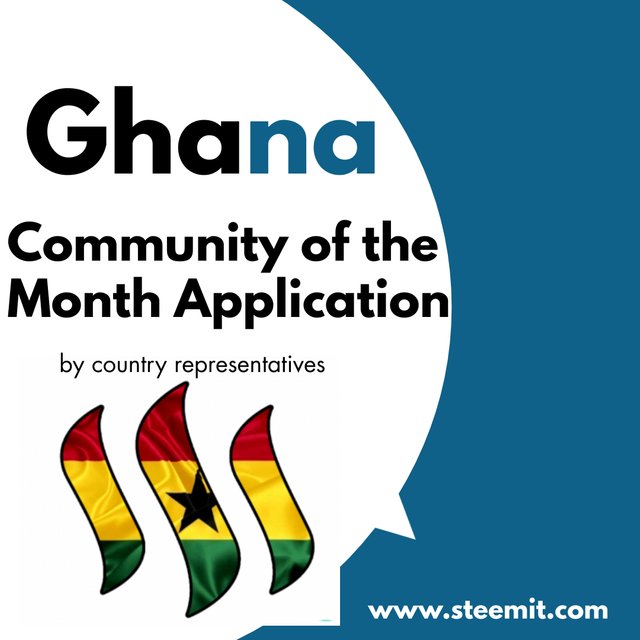 Community Purpose
---
Steem Ghana is the official community for Ghanaian steemians. It was set up to create a safe space for our countrymen to share their articles, connect and help us get to know each other well.
---
It also helps us country reps to better follow the posts of our Ghanaian steemians so that we can render assistance where possible. Community updates, meetups, activities, and events are also better prepared and can be pinned in the community for our members as well.
---
Our community is unique as it is the only Ghanaian-based community on steemit.
---
We urge all Ghanaian steemians to join us in our community since we can keep track of our members, guide them, and provide relevant assistance to support them. They will also get to know what is happening among steemians in Ghana once they join us.
---
Community Team
---
---
---
Our keys have been shared with our team so in the event one loses his keys, there are still others with the keys to our curation account and the running of the Community
---
Community Curation Account
---
---

---
Most of the rewards we receive on this account are powered up and the rest are used to tip delegators and reward participants of our programs like the weekly telegram meetings as a sign of motivation. In case the Community Account run contests, the winners are also motivated with some Steem Tokens from the Community Account.
---
All the 3 of us have access to voting with the community's curation account. We just need to make sure it doesn't fall below a certain percentage (75%) and the vote must be cast on posts from our Ghanaian origin.
---
---
Although not everyone in the community had delegated their SP to this curation account, we try to include everyone in the voting process to ensure that no one gets left out.
---
Plagiarism & Abuse
---
---
This way, we can cover more grounds and ensure that our steemians are abiding by our rules. Currently, we are also running a moderator for the week program of which we pick out an individual member from within our hardworking steemians to work with us for a week. They are to help learn how our community operates, check plagiarism and we also run a contest with them.
---
---
We prohibit the use of copyrighted materials within our community which is why we constantly remind our members to stick to copyright-free sites like pixabay.com, pexels.com, unsplash.com, and so on for their images. If they have any difficulty, we correct them and if it persists, we must have their content or account downvoted.
---
To prevent duplicate or fake accounts, we have asked steem greeters to leave achievement one post verification of Ghanaian steemians strictly for us. That way, we can properly assess them and upon investigation, we can verify their account.
---
Engagement & Commenting
---
Members are strongly encouraged to engage with others on the blockchain and also leave good comments on posts. We also do well to ensure that no post is left unattended in terms of comments and voting. Since the inception of our top 5 daily posts challenge members have drastically increased their level of engagement and we are going to ensure that this keeps going on. The community team doesn't cover every single post in terms of comments however the community members have been made to understand because of which around 99% of post-receive comments.
---
Plans & Updates
---
As it stands now community team leaders do well to provide updates with regards to the community growth and development, contests, meetings, etc weekly. These updates are done with the community accounts except for contests for which we give the chance to members to host a new contest every week. We do have a roadmap, a long-term goal that seeks to make the community self-sufficient hence our consistency in powering up. We believe that in the future to come the community must be able to support its members even if nothing is coming in from outside.
---
Promotion
---
Aside from our community purpose, steem promotion is one of the activities Ghanaians are keen about and so we have our members regularly creating steem awareness, printing t-shirts, and flyers and doing a whole lot to take steemit to every nook and cranny of the country.
---
Every Ghanaian who enrolls on the blockchain is made to understand that our community is for Ghanaians for which 100% of all who join also join us. We also tell newbies and prospects about our community during steem promotional activities outside the blockchain, so they know that should they come on board they have a place waiting for them already.
---
Why Select Steem Ghana Community for extra support?
---
We are currently the only Ghanaian community on the blockchain and have over 200 Ghanaian steemians and counting as new members are signed up every day. Because of our hard works and successes, we also have lots of people from other countries joining us in our community. With our community account, we can support as many as we can alongside personal accounts of team leaders however this may just not be enough considering the weight of these votes combined. All post that goes through our community is steemexclusive because we strongly encourage and talk about it regularly.
---