Contest!, Contest!!, Contest!!!: Share with Us Your Thoughts/Opinions On Gender Statistics That Outnumber Each Other(Either Male Or Female) In The Steem Blockchain, Why & What We Can Do To Balance/Increase Such Minimal Gender In Steem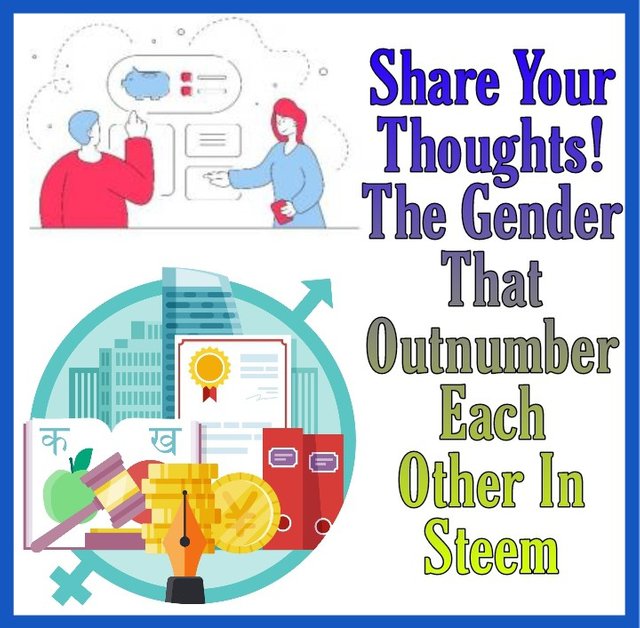 source
While waiting for our Moderators for contest, there is a certain topical issue we were actually contemplating as to how best we can find solutions to it. Maybe we know the exact number of Steemians who form Steem Ecosystem statistically. But have we thought of the number of males and the number of females who are in Steem? Or that wouldn't be necessary for now, but which Gender outnumber the other?
---
We found out that this debate may be suitable for contest for members to research and share their opinions on "the Gender that outweigh/Outnumber the other and why this is so on Steem Blockchain."
The Details & Purpose of this Contest:
We know that in every work place, one gender outnumber the other. But this cannot be a wide number as it would bring competition in that department. As we continue to aspire for gender equality, in Steem Blockchain too, we would prefer to see that gender balance or bringing the gender different to a close proportion in order to make the Community interesting. This will enable us make a survey of a particular Gender that need more support in Steem Blockchain as a matter of motivating them to join or remain in Steem. Through the contest, we can draw a program that would suit them for them to like in Steem.
The Rules for the Contest:
1.The contest is opened for all
2.Share your thoughts/opinion on which Gender outnumber each other. The exact number is not necessary but you have to research to know Gender which more and small on Steem.
3.Tell us the reasons why that Gender outnumber the other in Steem. Not less that two(2) reasons.
4.Give at least not less than two(2) ways you can do to motivate such Gender in Steem to increase.
5.Try to be creative and share the details of what you know.
6.Not less than 300 words are expected for the contestants to cover.
7.Plagiarism would not be tolerated. So, try to cite the source of your information well, being text, pictures or graph.
8.Share your contest through @steem-ghana Community. And make sure to use #ghcontest among the first 5 Tags for your content to receive upvotes.
9.Share the link of your contest to the comment of this post.
10.The contest ends at 26th July 2021. After which the winners would be announced.
Winners & their Respective Prizes
WINNERS
STEEM PRIZES
1st
15 Steem
2nd
10 Steem
3rd
7 Steem
4th
5 Steem
5th
3 Steem
Note: Every participants is legible to get some small Steem reward. So, if you don't win, it doesn't mean that your toil to participate in this contest has been in vain.
---
@steem-ghana
welcome you all in our lovely Community to share what you have in this contest with us.
---
Thanks for your Attention!
---
This Contest is organized by @oppongk, CR for Ghana.
---