Contest!, Contest!, Contest!: What Do You Do When You Are In Search Of Motivations?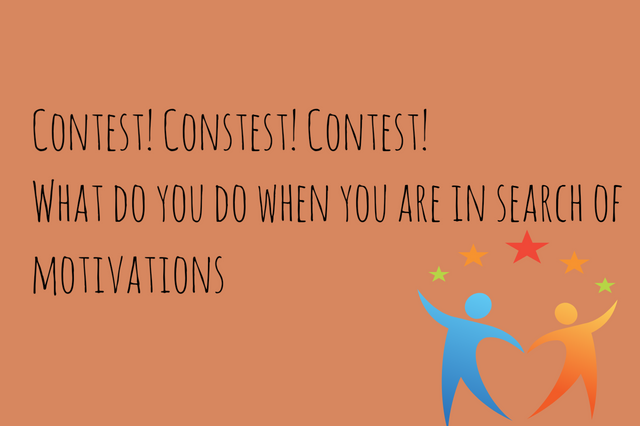 Life we all know can be smooth and rough sometimes. There are times you wake up with high spirit and full of hope.
There are also days, you feel like the earth has even deserted you. Even life on steem is like that. Sometimes, you post and not a single soul will comment not to talk of upvotes. This is kind of discouraging but in all these people still find the zeal to write.
So this week, we want to find out what real gives you the edge to go through life struggles. What gives you the motivation when you feel like letting go of your dream or when you feel like all hope is lost.
ABOUT THE CONTEST
What do you do when you are in search of motivations or what really gives you the edge to go through life difficulties when you feel like letting go.
You can share with us one life challenge you had and how you got motivated to bounce back.
How that motivation has helped shape your life all these year.
Has that been a routine activity you do when you are faced with a different life experience.
CONTEST RULES
This Contest is open to everyone in the word.

Write at least 150 words with beautiful pictures.

No plagiarism

Be sure to post your entry in the Steem-Ghana Community.

Use #ghcontest , as part of your tags and also your country tag as well. Try to mention any of the country reps @njaywan,@oppongk and @nattybongo somewhere in your post for easy identification and recognition.
Contest Runs from 31st July 2021 to 6th August 2021, at 12am GMT
Prize Pool
1st prize- 10 Steem
2nd prize- 6 Steem
3rd prize- 4 Steem
Every participant will be rewarded at the end of the contest from steem-ghana accounts
We pray for the support from our evergreen steemcurator01 and steemcurator02, booming and every curator who have shown interest I'm our community so far. I believe we are here to learn so let's all come involve and share with the world, the rich stories untold.
---
This post was authored by @delakloe