STEEM GHANA COMMUNITY ANNOUNCEMENT - COMMUNITY GOALS, ADMINISTRATION, ACTIVITIES, RANKINGS & STEEM POWER DELEGATIONS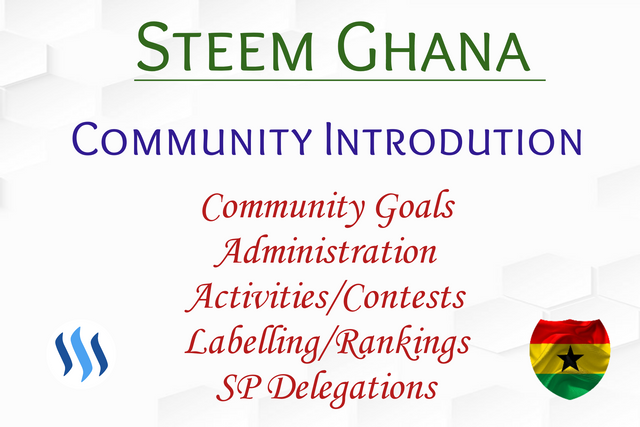 COMMUNITY BACKGROUND
---
This community has been established on the 16th November,2020 to converge all ghanaian steemians into one place where their posts can be readily accessible for curation as well as feedback. Due to the colossal nature of communities on steem, it has become urgent for us to have a community of our own, where ghanaians can interact and help each other grow steadily here on steem. We would be providing various guidelines as well as helpful tips to improve the writings of our members.
The underlying principle governing the efficiency of steemit based on the 3 R's(Recruitment, Retention & Rewards) would be our priority as we bring on board ghanaians and provide them with adequate training to guide their stay. Newcomers are therefore highly advised to posts all their content aside their achievement tasks in this community so that we can provide assistance on where they may be lacking.

COMMUNITY ADMINISTRATION
---
Our goal is to become a self sustaining/sufficient community and be able to reward our own content with our community curation account so we would be putting much focus towards the building of the effective steem power of our community account (@steem-ghana). This account would be handled by the country reps (@njaywan and @oppongk). We would be setting the posts coming from the @steem-ghana account to 100% power up as well as support with curation from our personal accounts as well. With time, other hardworking steemians within the ghanaian community will be invited to help moderate this community as it grows.
COUNTRY ACTIVITIES
---
Announcement of our various activities would be coming through our @steem-ghana account. This would help address the following issues;
Provide members with reliable source of information.
Increase our organizational capability.
Guide/assist newcomers
Help towards the building of our steem power.
CONTESTS
---
Aside participating in any of the 4 themes of the betterlife with steem daily posts, contests are a great way of actively engaging on steemit. We would therefore be bringing lots of new and exciting contests in this community as well. Contest creation is not just limited to community MODs/ADMINS. Individuals can also bring out some amazing contests that is likely to foster engagement within the community.
MEMBERSHIP LABELLING/RANKING
---
Memebers would be labelled based on merit and activeness on the blockchain. This would help curation teams to identify who is adding value to our ghanaian community. For now we haven't settled on what labels to assign but they would surely be based on which of our members stands out among the lot.
When it comes to labelling, the first order of business is that of our delegations to the official @steem-ghana account. Members are therefore highly encouraged to delegate part of their steem power to this account to receive a label with their respective delegation indicated.

STEEM POWER DELEGATIONS
---
Aside the support we hope to receive from @steemcurator01, we would like to encourage members to delegate to our official account (@steem-ghana). This is because once we pull our resources (steem powers) together, our effective steem power becomes large enough to cast a much bigger vote.
For instance, your 2,000SP may be good enough to cast a maximum vote of $0.02 but ones half of it is combined with other twenty 1,000SP holders, we get an effective Steem Power capable of casting a much larger vote for a larger reward.
---
Step #1 : Log into Steemworld and select "delegations"


Step #2 : Select Delegate


Step #3 : enter steem-ghana as the account and input preferred delegation


Step #4 : Click yes and confirm delegation with your active key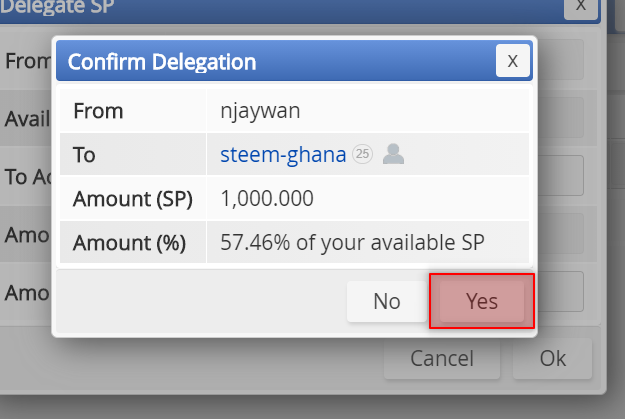 Your will now see your delegation in the outgoing section


In order to make delegation convenient, these quick links have been provided for a variety of amounts;
---
Here is a demonstration
Step 1 : Click on preferred amount

---
Step 2 : Click continue

---
Step 3 : enter your username and your private active key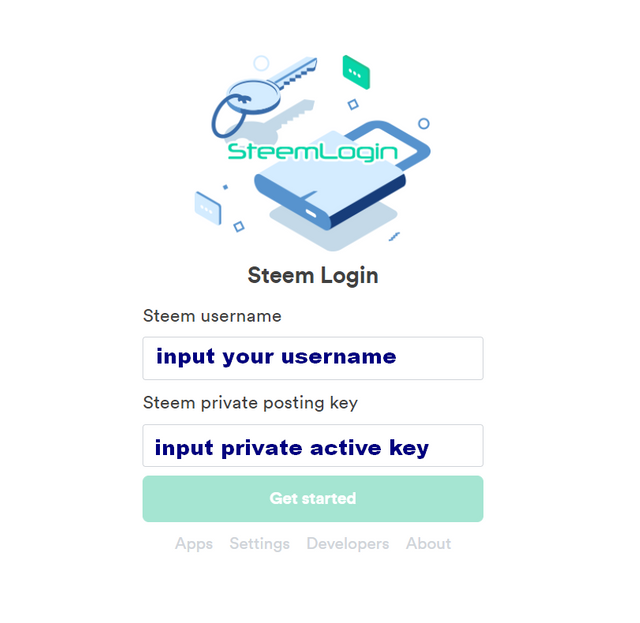 ---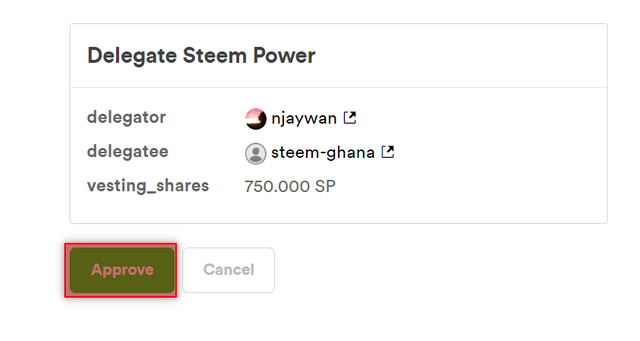 ---
You can now get your cool badge/label based on the amount you delegated and will receive extra upvotes on your content.

THANK YOU!