Steem Women Club Design Contest #24 | The design of anything you want! | | Mandala Art on Brother's Kurta using Febric ,By @isha.ish
Hello my lovely girls of @steemwomensclub. Hope all of you are doing great. I was extremely excited after seeing this contest -
Steem Women Club Design Contest #24 | The design of anything you want!
It's really really great topic . So , I decided to design a cloth. I have a little brother. He is 12 years younger than me. Name is - Ishan .
My brother has many types of kurta . He has a full white kurta . So, I decided to make the Kurta colourful and beautiful and surprise him .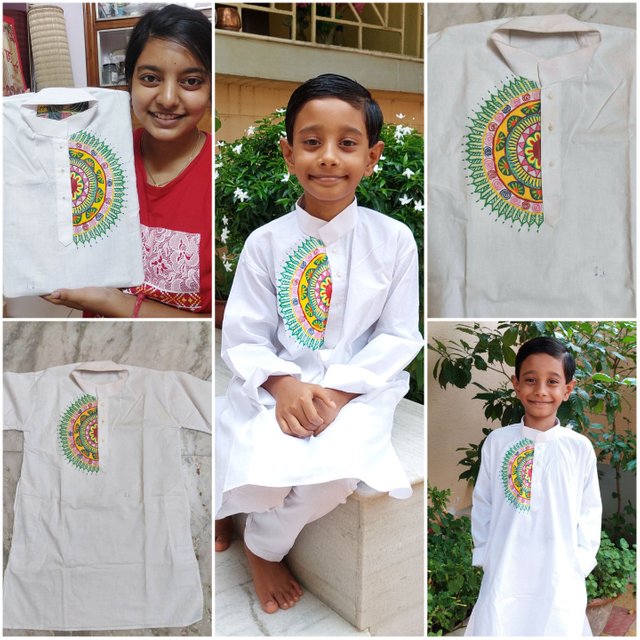 So, Now I'm going share hoe step by step I designed . I used Febric colour . I have lots of colour in my house. I don't copy any design , I don't take any suggestion . I just took paint brush and started.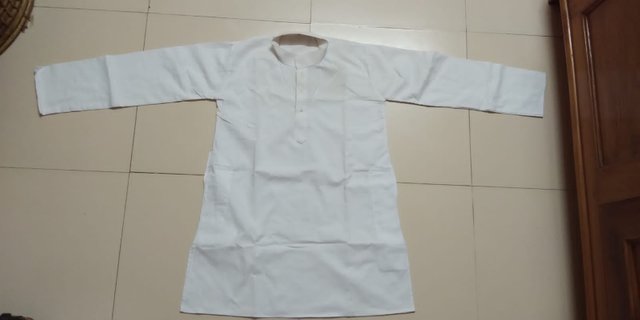 1.
At first I arrange all I need beside me. Like - brushes, Febric colours ,pencil, a board ,a bowl of water ,a plate for paint mixing and the kurta.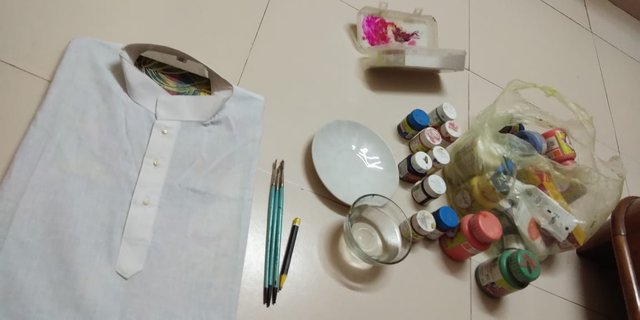 2.
I put the board into the kurta. Perticuler in coller area. I'm going to Design the coler area and one side of the buttons.as you can see on this picture.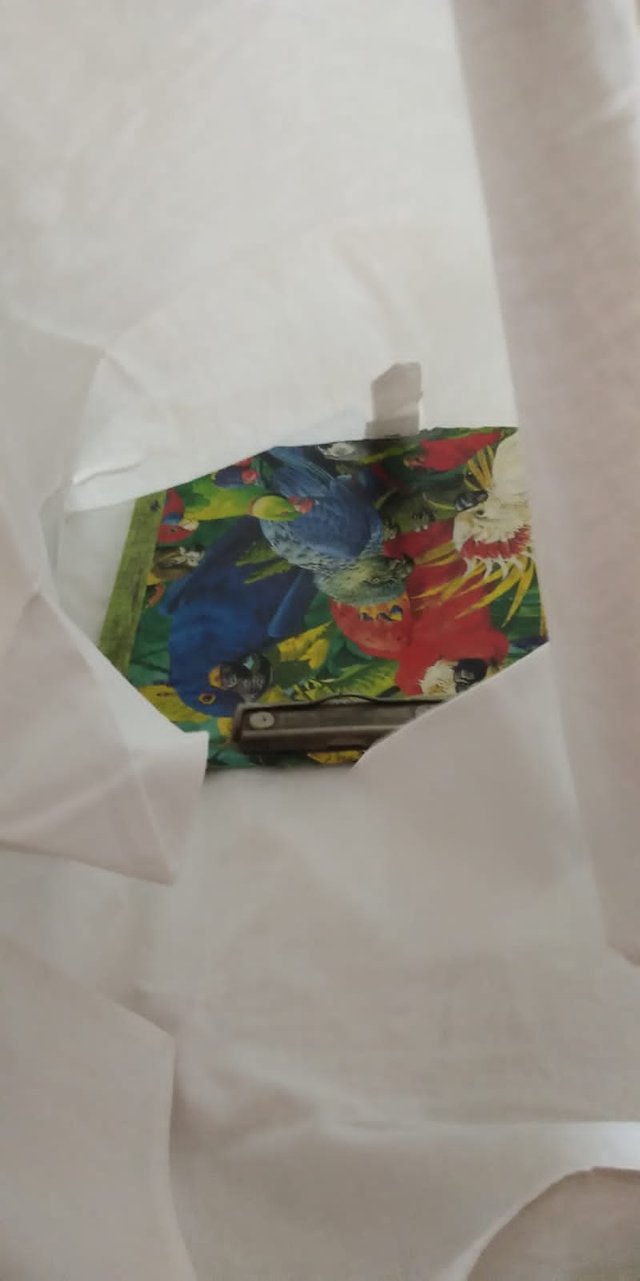 3.
I started drawing according to my imagination. You can see I draw a half circle first on the one side of button part.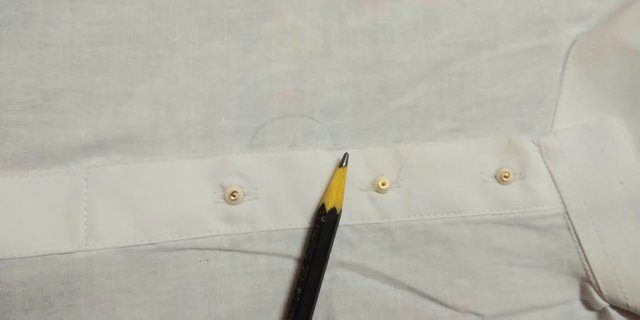 4.
I drew many circles . I didn't use pencil compus .I was just lightly drawing. Because it will be painted.then I started drawing of mandala Art according to my imagination.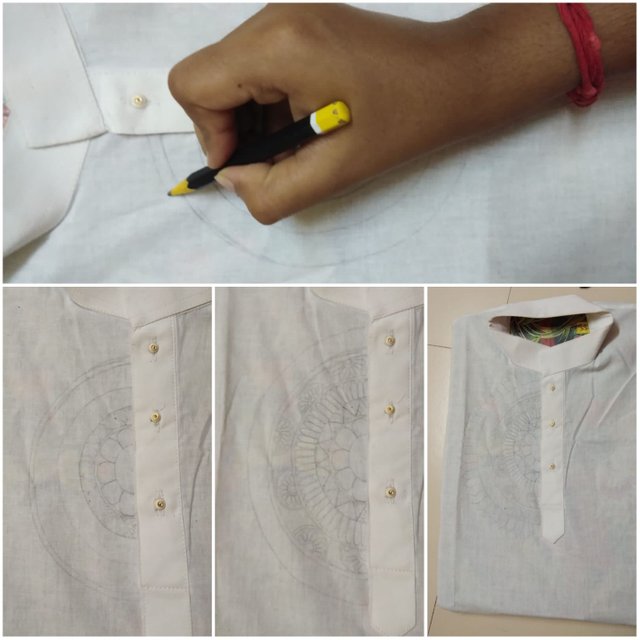 5.
After giving a structure of the art .I took red Febric colour and using a brush I started coloring the half circle.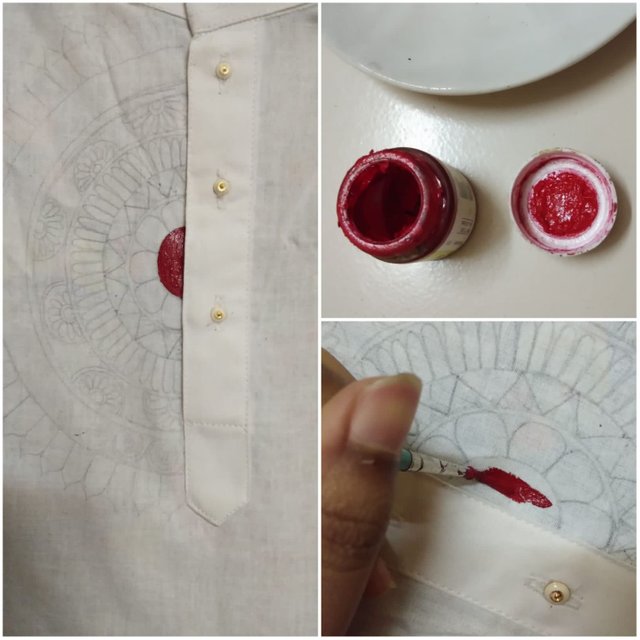 6.
Then the flower portion , I used yellow Febric colour. It's my favorite.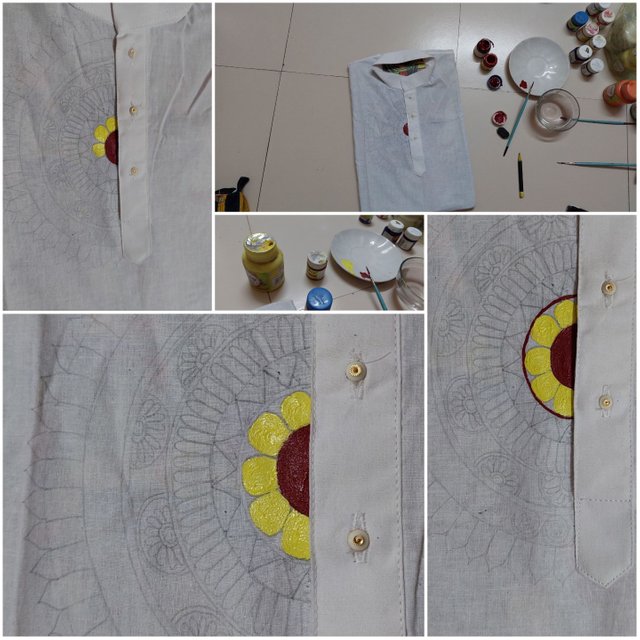 7.
Ishan is my little brother and I really want to creat a colourfull art on this kurta. Simple but beautiful . So I used very light and sweet colours on this art. Like I used baby pink Febric colour to fill up the triangle which I drew.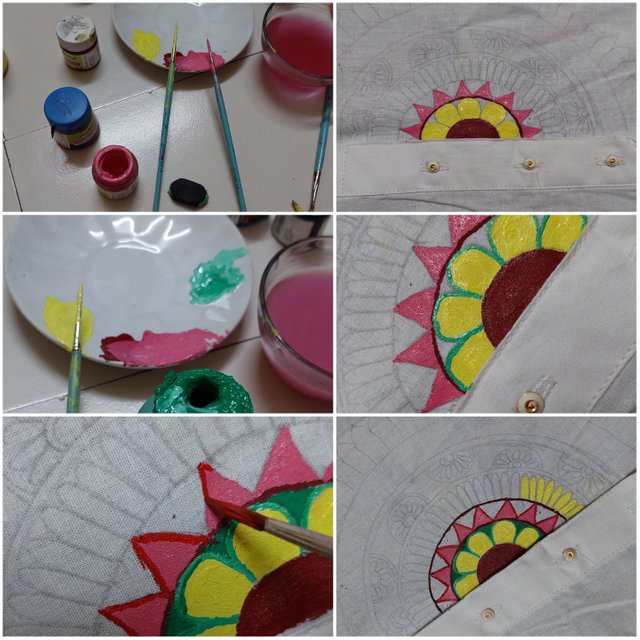 8.
Then again I used yellow ,and then deep green . I was just doing this work according to my thoughts and imaginations.
And I think it is really good to do as your wish.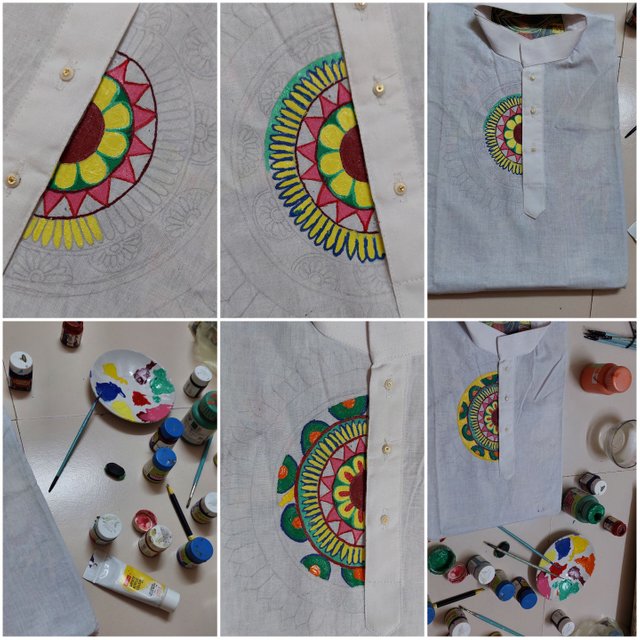 So, If you design anything .do as you want. Don't copy. .. because one creativity is fully defferent from others.
9.
I think you all understand how it was going. isn't it beautiful?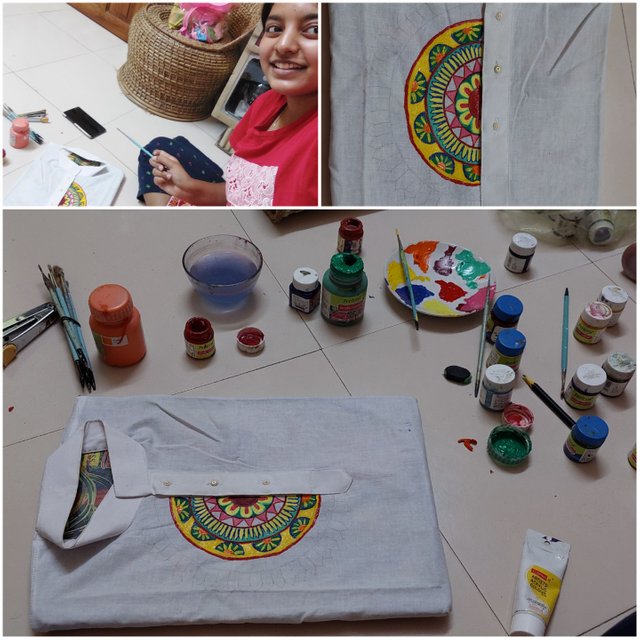 10.
Then I designed some rose .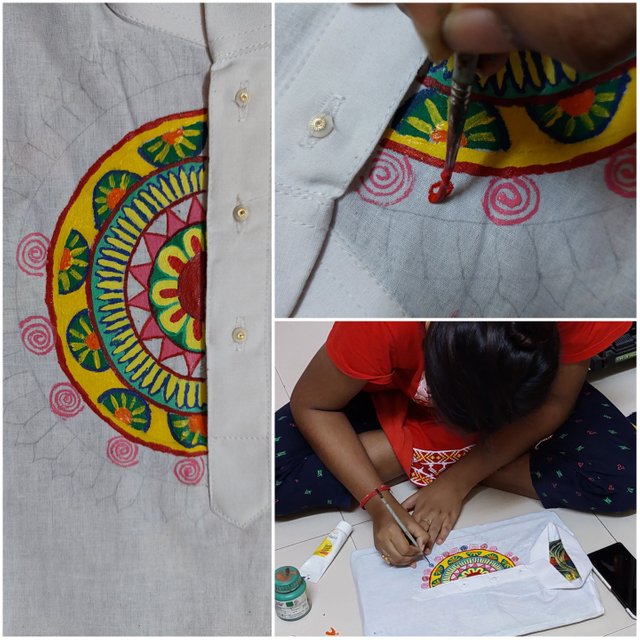 11.
And the last I designed like this .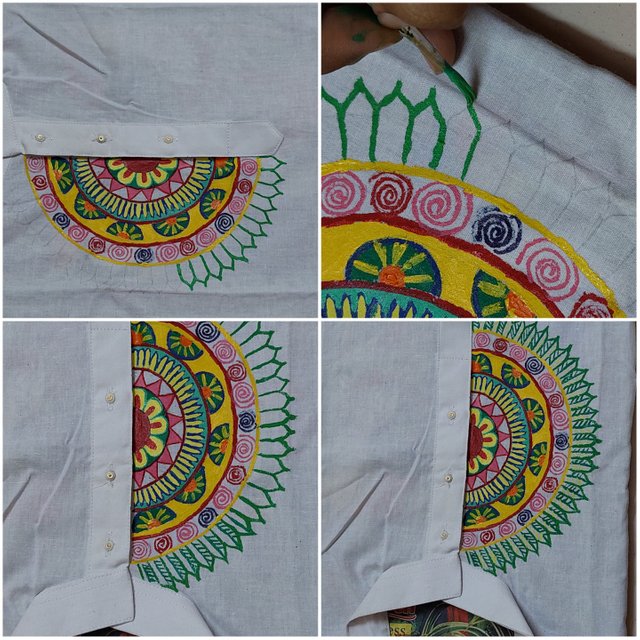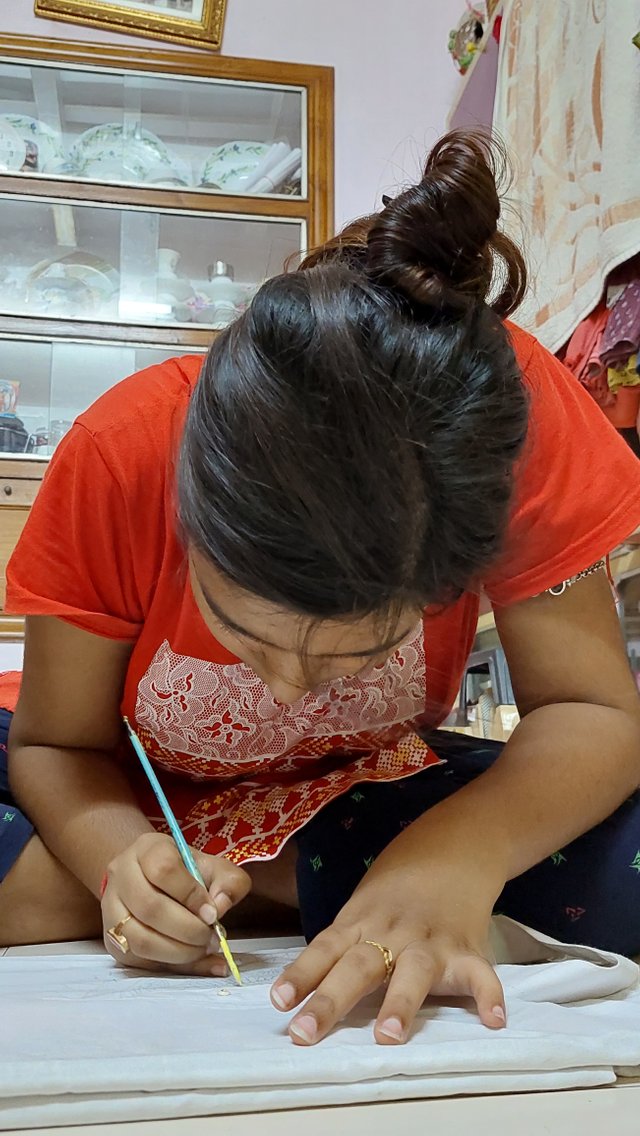 And it is ready .
Final look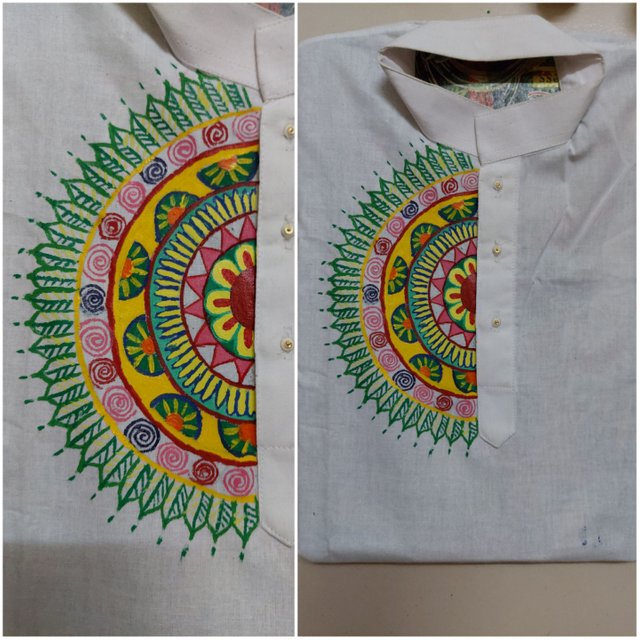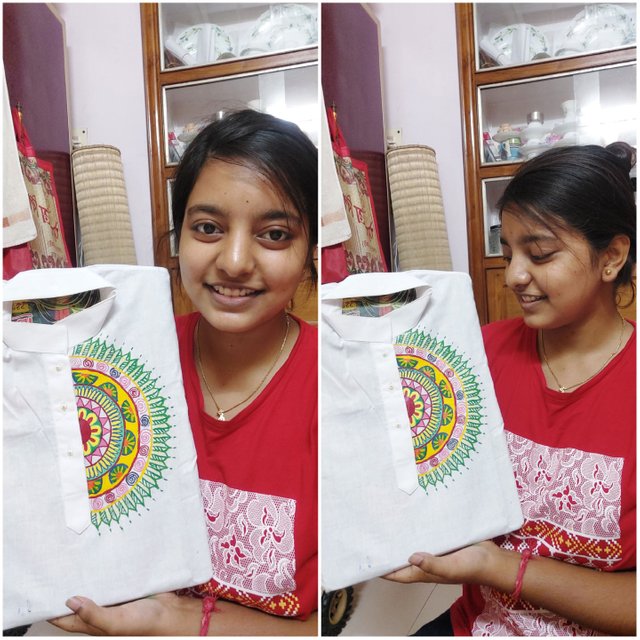 My brother wearing my designed Kurta.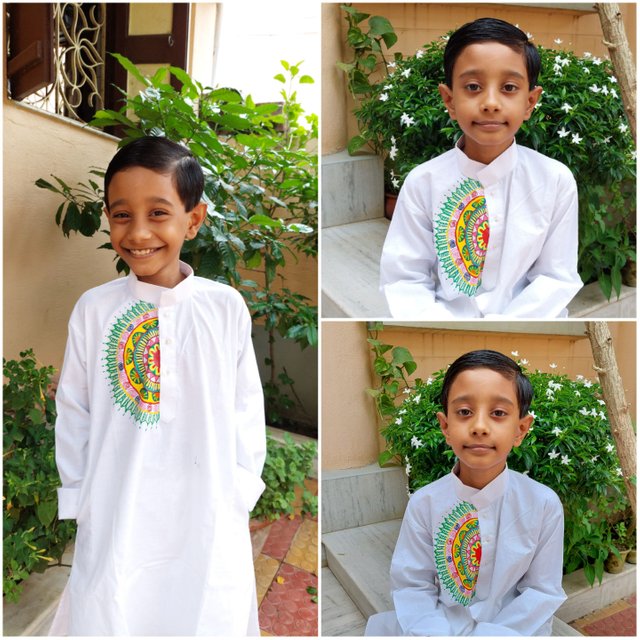 He just love it.after seeing this he hugged me and he was so Happy.
So, this is my perticipation of this contest .
Hope I successfully shared my journey about this design.
Hope you like this work and support me. Please comment your thoughts about this post.
I want to invite my lovely friends @sandupi & @jenny018 for this contest.
Thank you so much 💗