Steemwomenclub-1st April - April Fool's day | Tell us about your most exciting April fools story by @janemorane
Hello Fairies!!
Hello I am @janemorane and Today I am going to start this contest in @steemwomensclub which is 24 hours contest and this contest is going to be so exciting, because this contest is all about fun and exciting things.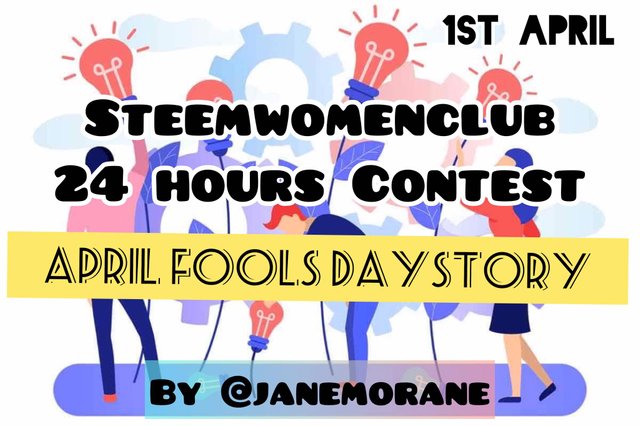 ABOUT THE CONTEST

So finally I am announcing this contest so basically what you have to do is to share any of your most exciting April fools story that you have experienced. It can be your own like if you have make fool out of anyone or if someone make you fool.
You will need to write about only one of the stories you have been experienced.


CONTEST TIPS

• Take it easy and write it in a unique way
• It is a fun contest so be relax and write the most funny story
• Write all the details about when it happened how you enjoy
• If you have played any role in this story write about it


RULES FOR THE CONTEST

No difficult rules will be followed.
These are just the guidelines for making your valid entry.
• You must make your post in Steemwomen Club community.
• You can make your entry in any language.
• Include pictures that are your own or else add a source to the picture you pick from other sources.
• Your post should must be at least 300 words.
• Write in detail only one paragraph will not be considered as a quality post.
• Invite atleast 2 of your friends in your post.
• Resteem the contest post
• You should use the #aprilfoolstory and #steemwomenclub and don't to add #yourcountry, for example #pakistan

COMPETETION AWARDS
This contest is only for 24 hours that's why there will be only one winner. The winner will get 5 steem as a prize and also we hope that a winner can get an upvote from any of the curators or booming accounts.
Extra Prize
If your post is quality and fulfill all the contest rules than we hope that you will get an support from @steemcurator01 or @steemcurator02 (upvote is not guaranteed)


TIMINGS

The Contest will end at 1am (saturday) 3 April Pakistan time, 4pm Friday 2nd April Venezuela time and 4pm Friday 2nd April United states time.

I invite my friends @ngoenyi , @cryptokannon , @saracampero and admin of @steemwomenclub @sevim038 to support me and join the contest so that I will be motivated with their kind comments.

I hope to get support from @xeldal , @trafalgar @steemitblog on my this new initiative of spreading happiness through this fun contest, and remember some joyful memories.
Looking forward for the support of @steemcurator01 and @steemcurator02, I hope as always you will support me and my new initiative of April fools contest.
THANKS FOR YOUR TIME
With Love
@janemorane
WE ARE STRONG TOGETHER!