Giving Back the Support From Steemit Community to the People | Truly a Chain of Goodness
It's a wonderful day today most especially yesterday *(March 24, 2021) because we are able to give back to the people especially the kids in neighboring areas the chain of goodness we received from the steemit supporters especially @steemcurator01 and the Steem Women Club admin and MOD.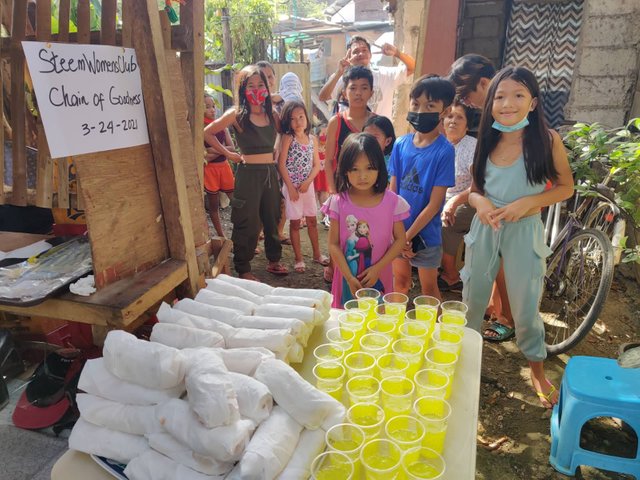 To look back from my previous posts in the chain of goodness in this community, I was able to get numerous support, and from those upvotes and earnings, I have to continue the chain of goodness to the community where we live. As the saying goes, great things start from small beginnings, it was such a great joy for me, my wife @georgie84 and to the rest of our family members that we were able to feed some people because people with generous heart like you (you who is reading this) is also helping us. Again, truly a chain of goodness and mercy last forever.
These were the two previous post I made that gain generous upvotes from supporters . Please click link for references. post 1 post 2
The Feeding Process
A day before yesterday, I purchase 60 pieces of hotdog buns and 2 kilos of hotdogs (55 pieces all in all) to make sure that we will not run out of supply in the market.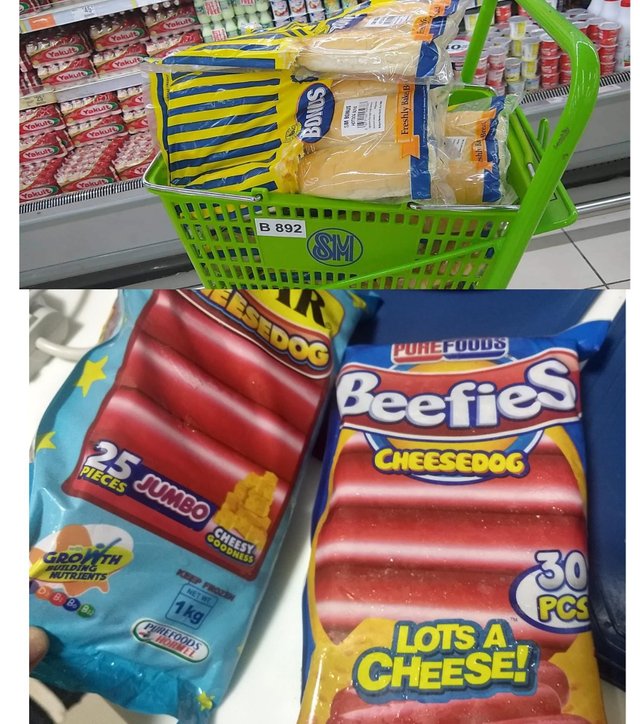 And the following morning in our apartment, I had to prepare the hotdogs by taking out the plastic and boil them before frying at Mama's house just to make sure kids will get cooked and freshly made hotdog buns. Then after boiling the hotdogs we packed up and brought them with the buns, mayonnaise, catchup, disposable plastic glass (to prevent kids from using the same glass with others), and paper towel ( to wrap the hotdog buns) to Mama's house where the kids and adults were excitedly waiting for the 2 in the afternoon.
Of course, I can't do all this things without the help of my wife @georgie84 with her encouragement and full support as we share the same goal and that is to help even in little ways.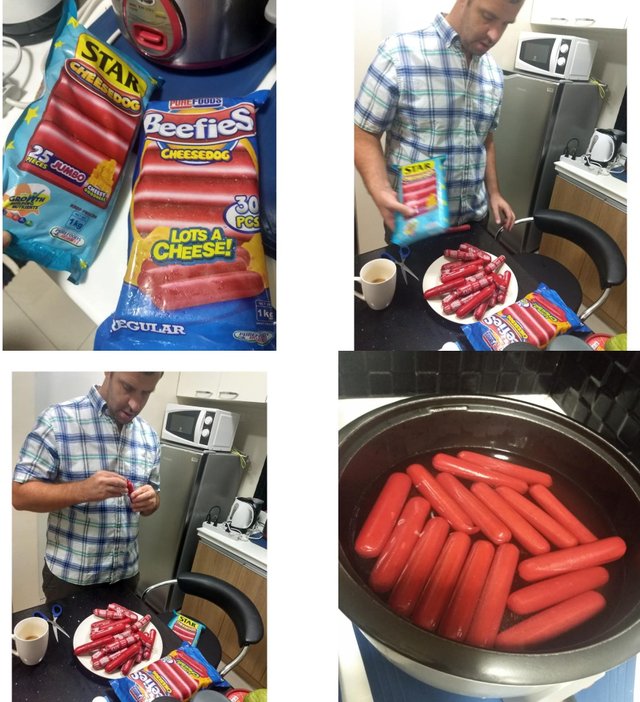 When we got at Mama's place, the family started to prepare the necessary things needed. We had our uncle Ruben (Mama's younger brother) who make sure that no flies could touch on the buns and ran errands for us. Sister Vilma @sweetspicy for the set-up of the gas stove, table and helped us with the hotdog buns. Sister Rose who assisted the distribution and make sure kids would go straight home after getting snacks so that they will not be exposed with any viruses. Brother Betoy for gathering all the kids around and also adults. And of course the best supporter as always our Mama Betty for frying the hotdogs and wrapping the buns with paper towel. Everyone was happy while doing each chores. That was a call for a complete family sharing kindness to people.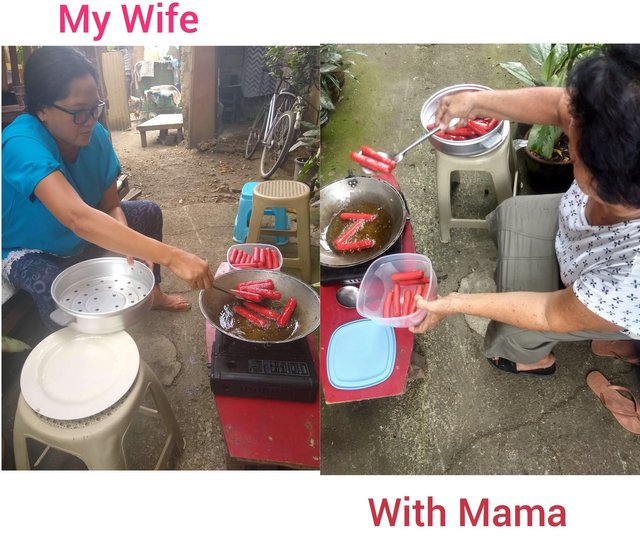 The ongoing preparation
After frying the hotdogs, we started to prepare the hotdog buns by putting mayonnaise and catchup and wrapping them with paper towels, and we did not forgot washing our hands and sanitize before preparing the food.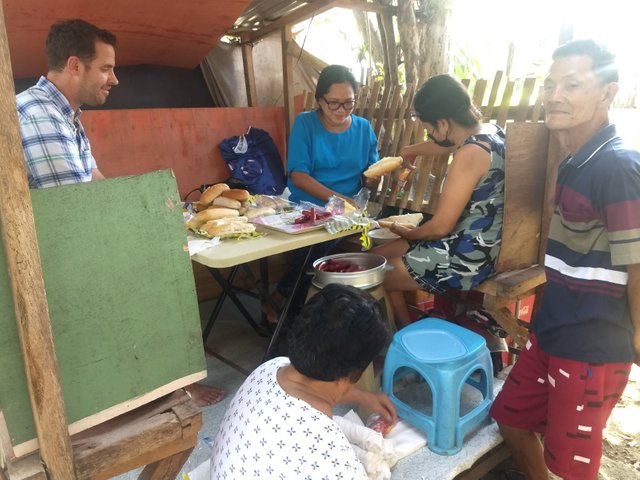 Ready for distribution. My wife facilitates first and give instructions to kids to go back directly to their houses and not to forget to say thank you whenever they received something may it be small or big. That way kids will learn to be grateful in life as well while looking back in their young age that they have this certain family who loves giving them snacks from time to time.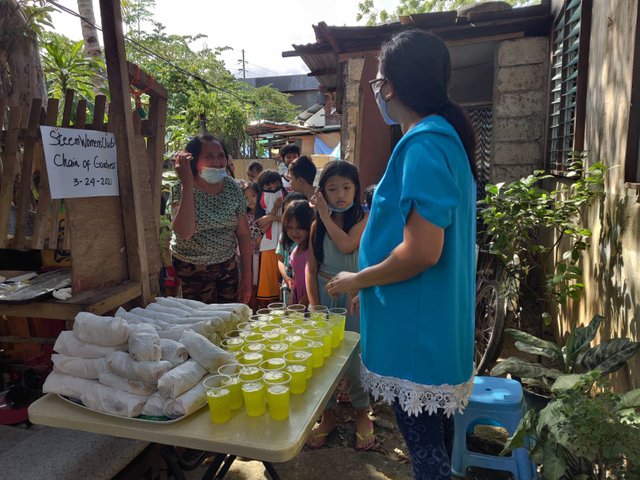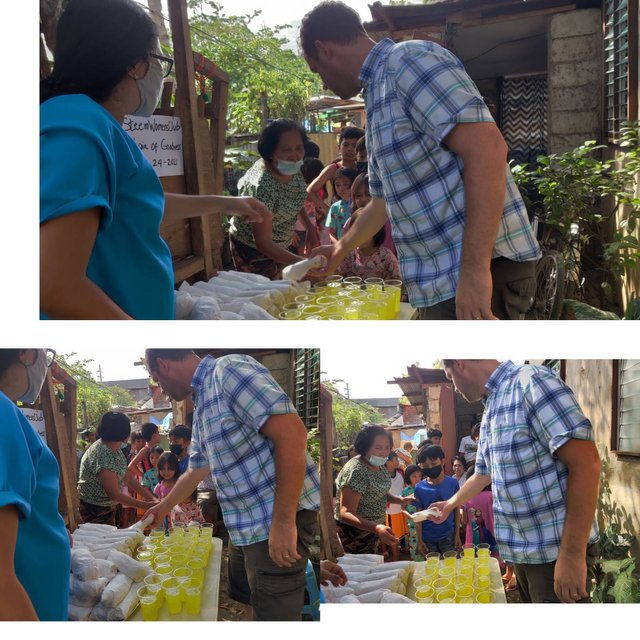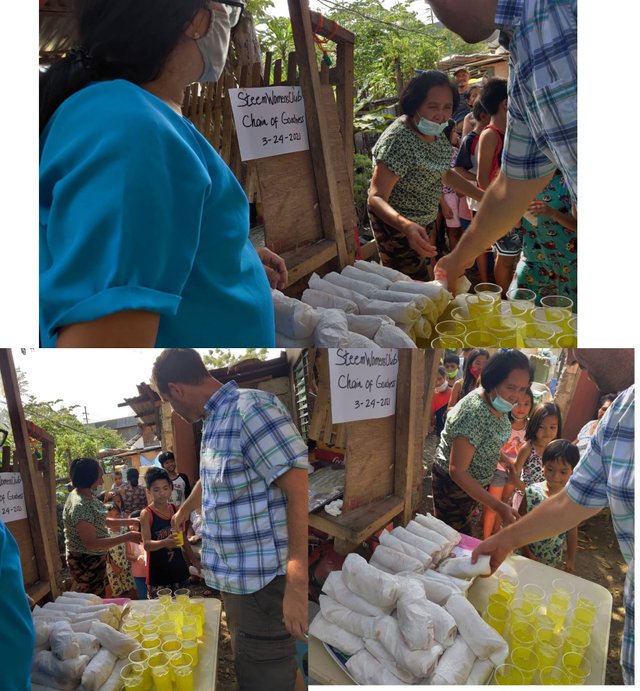 Aside from the kids, teenagers and parents were able to enjoy the snacks too!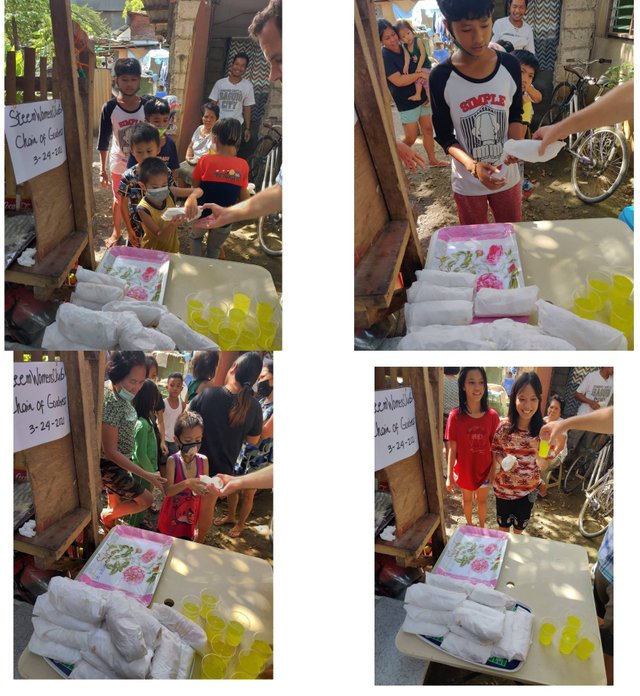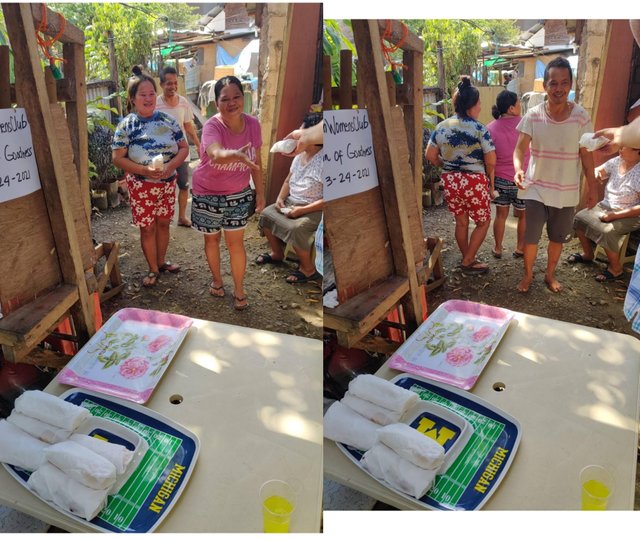 These are some of the houses where those kids live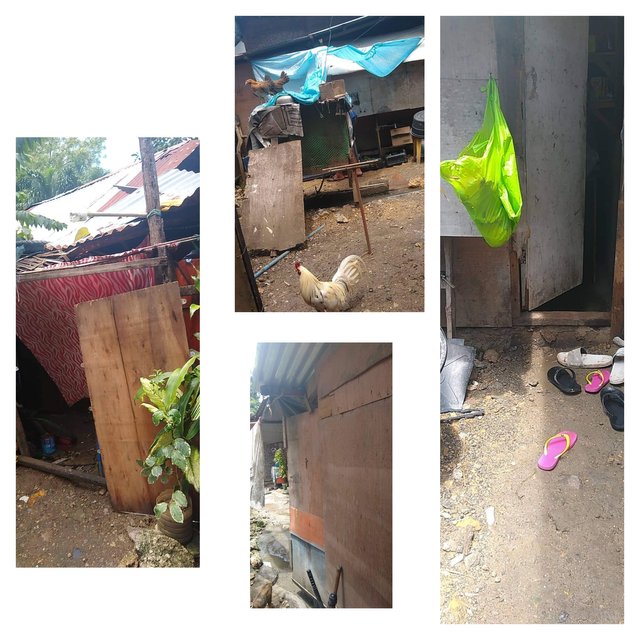 Out of 60 buns and 55 hotdogs, we were able to distribute 51 hotdog buns with lemon juice to kids, teenagers, and parents. The extra snacks were eaten by us. There were 4 hotdog buns and extra bread that we shared with family. look how happy are these 3 who got their share of snacks... smiles are priceless just like kids.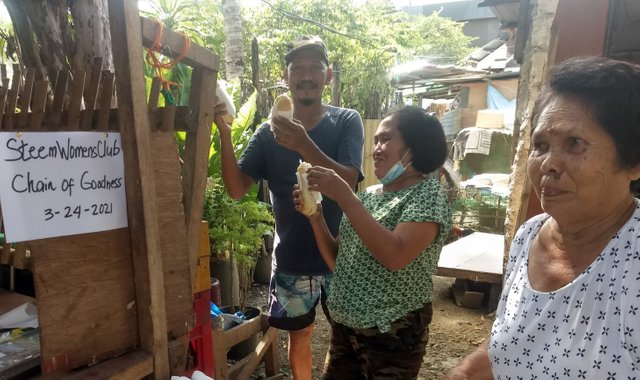 THANK YOU very much @steemwomenclub for this chance that we are able to continue what the family has started long time ago by feeding our neighboring people. It such a big joy for us because we don't have to worry much of the time if the food would be enough for them. The last time we only had less than 25 snacks and some kids was not able to get because they came in late and no more available, but this time we had extra and everyone enjoys. For sure for the next feeding, we already have an idea that a lot of kids and families just live around the area and some had snacks from us for the first time yesterday.
To the supporters @steemcurator01 @steemcurator02 we were not able to buy that special snacks if not from your help. Truly the chain of goodness in this planet should be activated and we need more people like you to support little beginnings that people like us who wants to extend blessings to those in really need. THANK YOU!
To fellow steemians who resteemed, upvoted, shared their kind words of appreciation for our work, and was inspired by us,** THANK YOU!
TO ALL OF US, MAY THE GOOD LORD BLESS THE DESIRES OF OUR HEARTS AND GUIDE US TO SPREAD THE WONDERS OF KINDNESS TO EACH AND EVERYONE!