Daily Dynamic Friday ; Fashion | A different topic every day | %10 womenclub charity
Hello beautiful women of Steem Women Club community;
• I am warning you in both personal and community posts so that you can create quality posts. If you follow the rules and create quality posts, you will have a better chance of getting votes from both @steemwomensclub and curators. With the #Steemexclusive tag, we ensure that your posts are exclusive to Steemit. You cannot post any of your posts in this community to another community.
• I send 5 quality posts to curators every day that don't get votes. In this way, we try to support unrated quality posts. I will continue to select quality contest posts that have not received votes. I don't choose the same person twice a week, as quality posts are growing. A fair system is applied.
• you must be aware that we are not curators. Thanks to the delegation power of the community, we can vote for you. This is different for every community. The more power you give, the stronger the community. As a community, we provide voting support for most quality posts, taking into account voting power**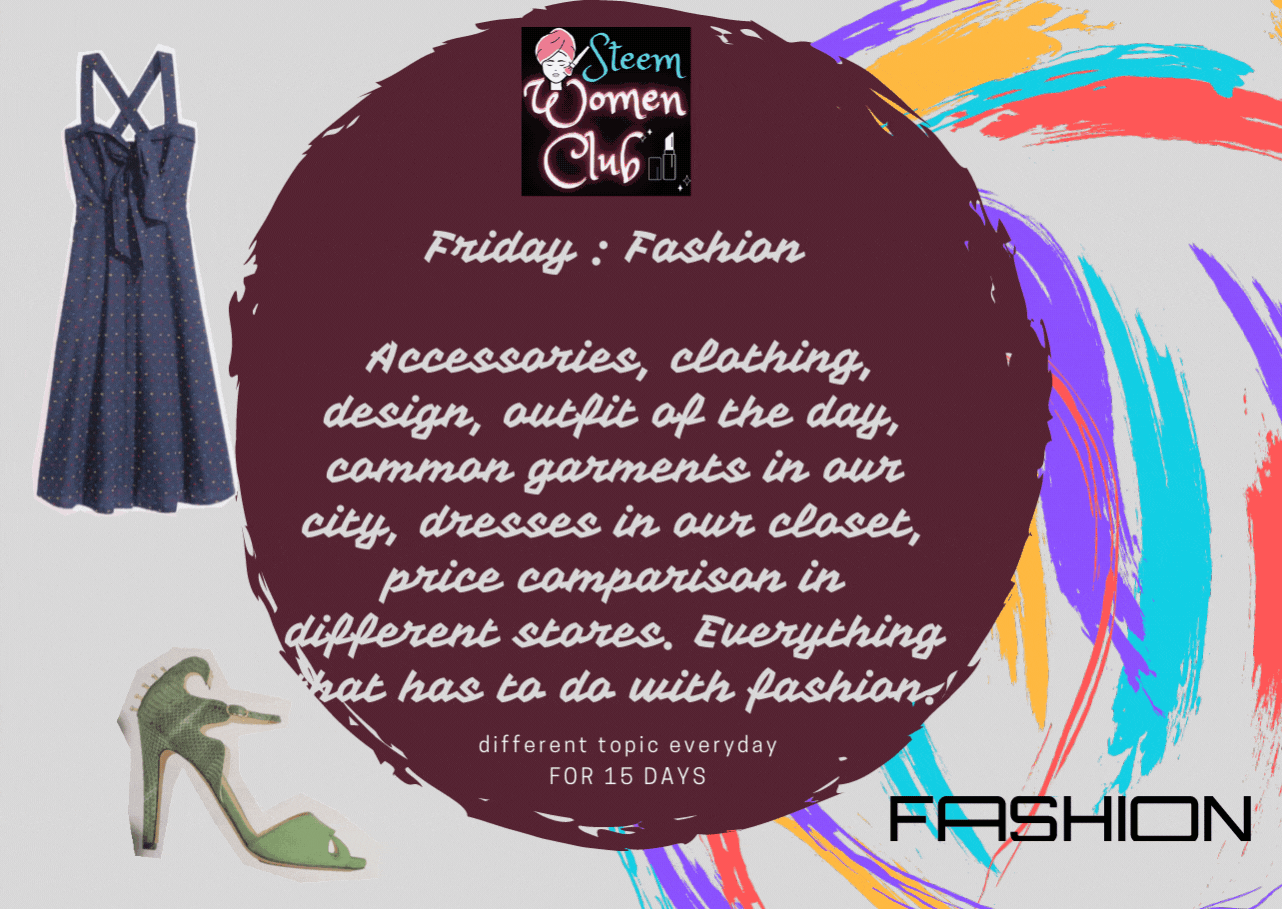 15-Daily Dynamic
I'm going to tell you about an activity you're already familiar with. A few women initiated these dynamics. But after a while she stopped. Now, to increase active post, we will ask you to share dynamically on different topics every day. It will be a fun and rewarding event.
Friday : Fashion Accessories, clothing, design, outfit of the day, common garments in our city, dresses in our closet, price comparison in different stores. Everything that has to do with fashion.

Then they will have a table that breaks down and explains the characteristics of each topic for their publications and their location on each day.


| Topic or Category | Description |
| --- | --- |
| Monday : Casual makeup and skincare | Makeup tips, tips to take care of our face, products, routine of the day, etc. |
| Tuesday : DIY, creativity, and art | Crafts, sewing, crochet, DIY, recycling, drawings, paintings, artistic makeup, etc. |
| Wednesday : Beauty, hair, nails, and body. | Beauty tips for the care of hair, nails, and body skin. Products, routines, treatments, cleaning, etc. |
| Thursday : Healthy Living | Fitness, physical exercises at home, nutritional advice, diets, healthy drinks and meals, everything that improves our health, etc. |
| Friday : Fashion | Accessories, clothing, design, outfit of the day, common garments in our city, dresses in our closet, price comparison in different stores. Everything that has to do with fashion. |
| Saturday : Recipes (food and drinks) | Special dishes, favorite food, meal of the day, all kinds of drinks and juices, cocktails, etc. |
| Sunday : Special day | Day to let ourselves go and share any important content for women, summary of our week, tips for improvement, motivational, entrepreneurship, advice or experiences about motherhood, experiences like daughter, sister, granddaughter, grandmother, trips in the week, vacations, etc. |
---
You can include your post in the #thediarygame of that day

Now, as a strategy to increase participation and the probability that your publications are more visible within the platform. I invite you to publish based on some of the daily topics by including them in your #thediarygame of the day . This is because surely many are active in the daily game and may wish to participate in the dynamics and share their day-to-day life at the same time. This way they will be able to slightly increase their chances of being visited from the #thediarygame tag, which is where the best newspapers of the day are chosen.

Rules
• The title should start with the name of the dynamic of the day or if you use the diary game, adapt it as such, so that we know that your posts are dynamic.
Make sure to use the #dynamicsteemwomenclub hashtag.
• It doesn't matter whether the text is long or short.
•Have completed at least mission 1 of the achievement missions. (in the newcomers community)
Is there a prize?
This event will last for 15 days. Every day you will post on different topics.
• Every day, 5 popular dynamic posts will be voted 100% from the official account.
•If you are active, there will be a chance to be selected for a quality post.
At the end of 15 days, a big prize will be given to those who share the most daily dynamic posts.


SteemWomen Club Discord :https://discord.gg/s5g2unD7
İnstagram Account: Steem WOmen Club
Twitter Account:Steemwomenclub
Blog Site : Site

Support us by delegating STEEM POWER.