Steem Women Club POWER UP ! | #welovepowerups 750 Sp | SP for Curator! | %50 Charity
Hello beautiful women of Steem Women Club community;
I warn you on both personal and community posts so you can create quality posts. If you follow the rules and create quality posts, your chances of getting votes from both @steemwomensclub and curators increase. With the #Steemexclusive tag, we ensure that your posts are exclusive to Steemit. You cannot post any of your posts in this community to another community.
• I send 5 quality posts to curators every day that don't get votes. This way, we try to support unrated quality posts. I will continue to select quality contest posts that have not received votes. I don't choose the same person twice a week because quality posts are growing. A fair system is applied.
• You must be aware that we are not curators. Thanks to the delegation power of the community, we can vote for you. This is different for every community. The more power you give, the stronger the community. As a community, we provide voting support for most quality posts, taking into account voting power.
Now you should be aware that we do sp. Please support us to become the curator of women by strengthening our sp amount. Get us to vote for more women by delegating!
POWER UP Event- Contest for New Users to Steemit and Steem Women club community
The curators and us want to aim for you to have the power of voting by turning the powers in your wallet to SP. In this way, we can see that you are a "Minnow". Be aware that we want this for your benefit. Therefore, by starting this event and competition, you will be empowered and awarded.Or we can observe how other users are getting stronger.
Before we start this event for you, of course, we should be the first example ourselves. That's why I'm going to show you some powerup footage I made for a few days. Because we need to get stronger to curate more votes for you!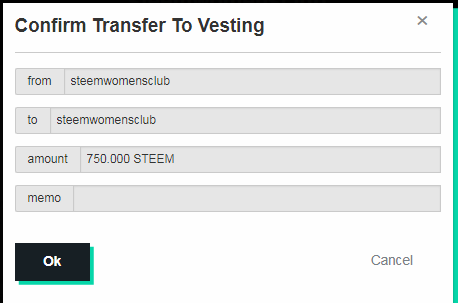 I made SP to boost750 sp. In this way, the vote value became stronger.

The final version is in this image. We've reached 24K sp. Our total goal is 50K!
SteemWomen Club Discord :https://discord.gg/eSKMdDYv
İnstagram Account: Steem WOmen Club
Twitter Account:Steemwomenclub
Blog Site : Site

Support us by delegating STEEM POWER.