Steem Women's Club Contest #5 Do women help the family earn a living? || How do you invest in Steemit, why?
Hello beautiful women of the community:
Who is your idol ? I announced the winners of the competition. We congratulate the winners, we continue to offer you and win contests, we read beautiful and quality content. Mostly everyone got good awards.
I will continue to bring you back and encourage you to be active. We are not one in this community, we will all win!
• The awards were distributed by -steemcurator02.
• Quality content was given extra votes.
Results of the Contest;
STEEM WOMEN'S CLUB CONTES4 ENDED! || WHO IS YPUR IDOL? || BIG REWARDS CONTEST RESULT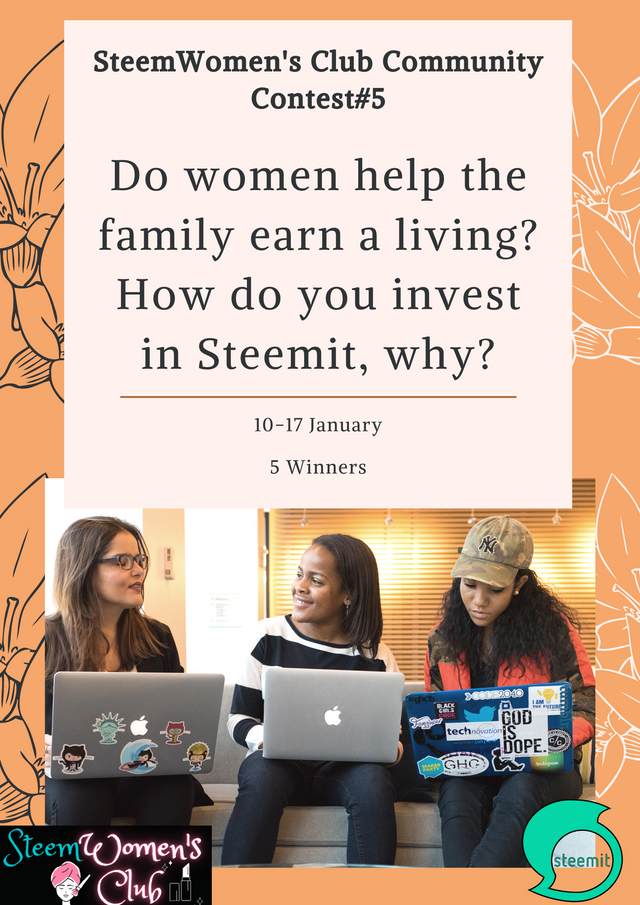 What is Subject fifth Contest?
• ''Do women help the family earn a living? How do you invest in Steemit, why?''
We wondered what he was doing this week, how he evaluated his steems.We all come here for a different reason. We are on this platform for some investment and some target. We will learn how to help our family livelihood as women.

Contest Tips;
• Sample questions;
• Should women help with family livelihoods?
• How do you help with family income?
• Why should women invest?
• How do you invest in Steemit?
If you answer these questions, you will be preparing more quality content.
Use images that are not copyrighted.
Original painting is always our preference.
• Take care to have detailed, quality and original content
• For emphasis in your post, please see the Markdown Styling Guide Use Preview . Writing styles written in different programs are not translated into different languages.
• There is no limit to language options, but it will be easier for me to understand if you write in English

Yarışma için kendi girişim
Contest Rules;
• You must share your post in the Steemwomen's Club community
• You should use the #steemwomensclub and #womensclubinvesting tags.(Don't Forget)
• Resteem the contest post*
• your post must be your own
• Invite your friends
• More than 300 words
About the Competition:
Of course, women play an important role in the livelihood of the house. Some of us care about family livelihood, some do not. Some of us invest in the establishment. We want to know how women invest here. Thanks to @cryptokannon who gave me an idea on this. We can think about why women should be interested in finance and investment. This topic will be quite interesting.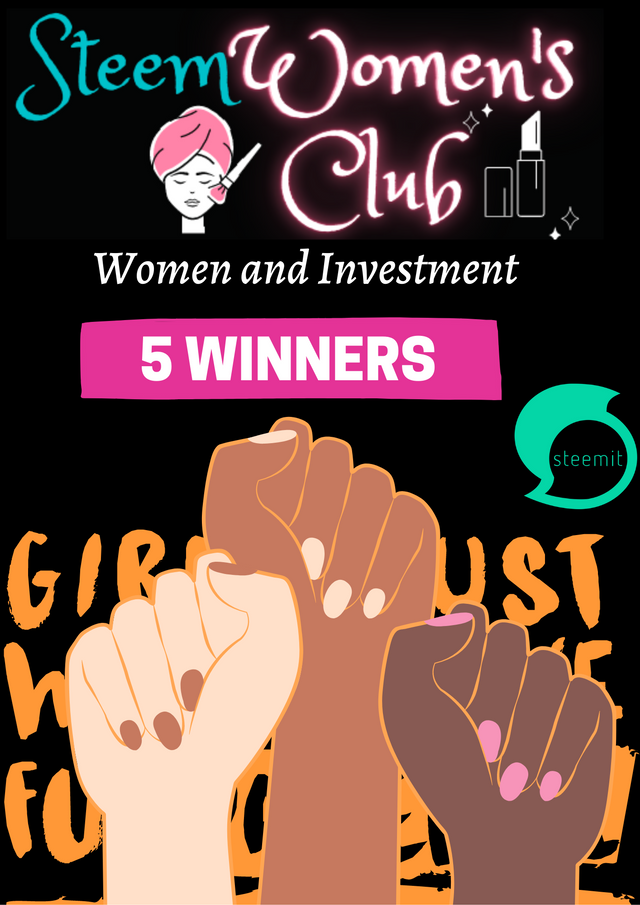 Competition Awards;
As I shared before, our Community has been accepted into the support program.
• I post 5 quality content to @joanna2018 every day.
• I will also send the posts of the winners.
• At the same time, they can provide support for your quality content
@steemcurator01 @steemcurator02 @booming @booming01,
@booming02,
@booming03 and
@booming04.
•No votes are guaranteed. Do not forget .
Rules for 5 posts to be selected per day;
• I will select 5 posts per day. I will send them to the curators accounts for vote support.
• As I always say, quality content will be selected,
• Photos will belong to you. You cannot use photos with copyright.
• Posts must be #steemexclusive only. Posts shared on different platforms will not be selected.
• There will be no plagiarism.
Steem Women's Club Community& @booming ||Community Support Program || Voting Support for Quality Content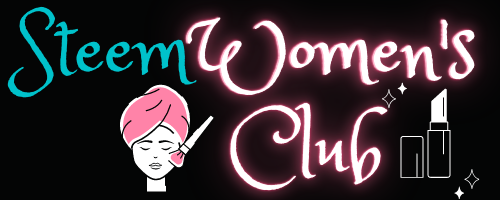 • SteemWomen's Club Discord : https://discord.gg/ADv6aCZr
• Twitter Account: Steemwomensclub
Thank you very much for your help and support. @steemcurator01 @steemcurator02 @booming I am working hard to be useful in Steemit. Everything is for the mighty Steemit! WE ARE STRONG TOGETHER Stay with love ❣