SteemWomen's Club Community Contest # 2 || What are your expectations from the New Year? || + $90 Big AWARD
Hello beautiful women of our community;
I explained the results of the natural mask competition. I distributed the steem awards of the winners, and now the concept and award have changed. You can view the winners from this link.
SteemWomen's Club Contest #1 RESULT || 65 STEEM AWARDS WERE DISTRIBUTED
𝐖𝐡𝐚𝐭 𝐢𝐬 𝐭𝐡𝐞 𝐬𝐮𝐛𝐣𝐞𝐜𝐭 𝐨𝐟 𝐭𝐡𝐞 𝐜𝐨𝐧𝐭𝐞𝐬𝐭?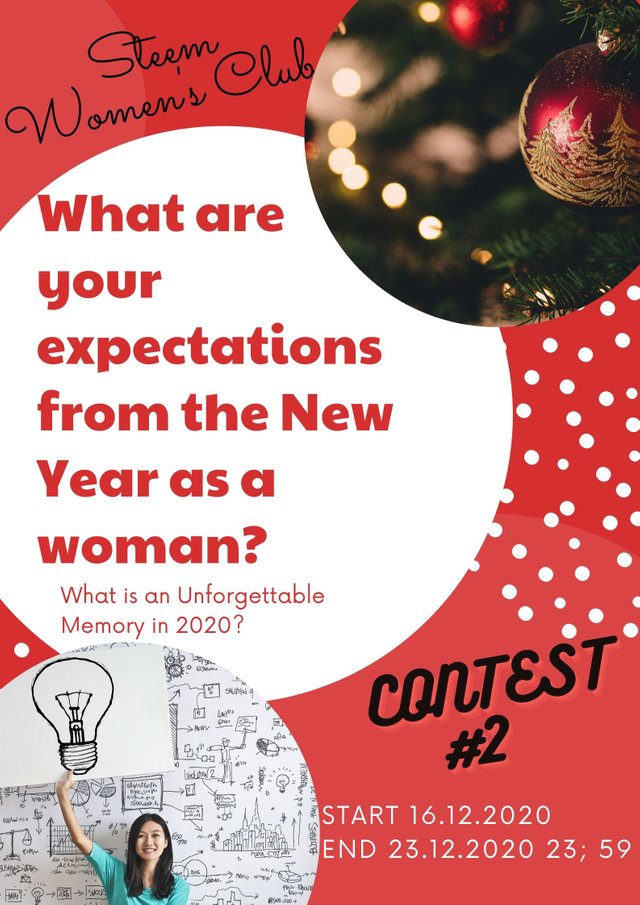 ◘ I want you to write an article this week.'' What are your expectations from the new year?
What is your unforgettable memory in 2020? ''
The competition is very simple. As 2020, we have had a bad time as the world. Expectations of all of us have increased, especially as women, I think our responsibilities have increased. I wondered what would you like to happen.Especially write down the memories that you cannot forget. Visualizing is very important.

◘ If you are celebrating New Year, we wonder about your preparations. Share this with us.

𝐇𝐢𝐧𝐭 𝐚𝐛𝐨𝐮𝐭 𝐲𝐨𝐮𝐫 𝐚𝐫𝐭𝐢𝐜𝐥𝐞

•Express your expectations from the new year. Imagine. We all have expectations of course.
•What is your unforgettable memory in 2020?
•And if you are preparing for Christmas, what are these?
•If your posts are set to 100 Power, your chances of getting extra votes increase.

𝙒𝙝𝙖𝙩 𝙖𝙧𝙚 𝙩𝙝𝙚 𝘾𝙤𝙣𝙩𝙚𝙨𝙩 𝙍𝙪𝙡𝙚𝙨?

•Share your post in the SteemWomen's Club Community.

•Use the #steemwomensclub #womensclubnewyear tag. (Don't Forget).

•Share quality and original content

•You must share at least 2 photos. There is no limit.

•At least 200 words

•Resteem this post

𝐁𝐢𝐠 𝐀𝐰𝐚𝐫𝐝𝐬

Instead of Steem awards, we decided to make a bigger award. @steemcurator02 will give award support to the winners.
At the same time, if your posts are set to 100%, we'll try to support them with an extra 10% vote @steemcurator01

1st Winner Prize: 50% upvote by @steemcurator02 (just about $31)

2nd Winner Prize: 40% upvote by @steemcurator02 ( $25)

3rd Winner Prize: 30% upvote by @steemcurator02 ( $18)

4th Winner Prize: 20% upvote by @steemcurator02 ( $12)

5th Winner Prize: 10% upvote by @steemcurator02 ( $6)

• They are approximate numbers and may be more.

•Turkey Send your date 12.23.2020 time 23; 59 you can share up.

We women are strong altogether. You can invite your friends to win the grand prize. You can support this community. We are intertwined in this community, please feel free. If you want to worry, I'm here too :) If you have anything to ask me, you can tag my account @svm038.

Stay with love ❣️