HAIR CARE || Aloe vera gel with coconut oil: repairs, moisturises and strengthens your hair! [ESP||ENG]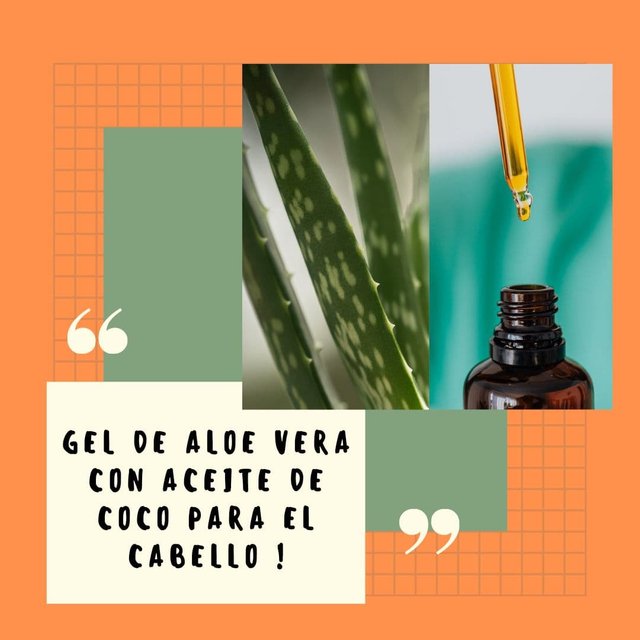 Imágen editada y extraída de Canva || Image edited and extracted from Canva
Bienvenidos ! || Welcome !
Hola hola! estoy muy feliz por presentar mi primer post en esta comunidad mas aun por que se trata de algo que a todas nos encanta y es el cuidado de nuestro cabello! desde hace años mi vida gira entorno a la medicina natural y los beneficios que he adquirido son incontables, es maravilloso poder aprovechar todo lo que la madre tierra nos brinda así que aquí les comparto el paso a paso de mi rutina de cuidado de cabello con Aloe vera y aceite de coco!
Hello hello! I am very happy to present my first post in this community but even more because it is about something that we all love and is the care of our hair! for years my life revolves around natural medicine and the benefits I have acquired are countless, it is wonderful to take advantage of everything that mother earth gives us so here I share with you the step by step of my hair care routine with Aloe vera and coconut oil!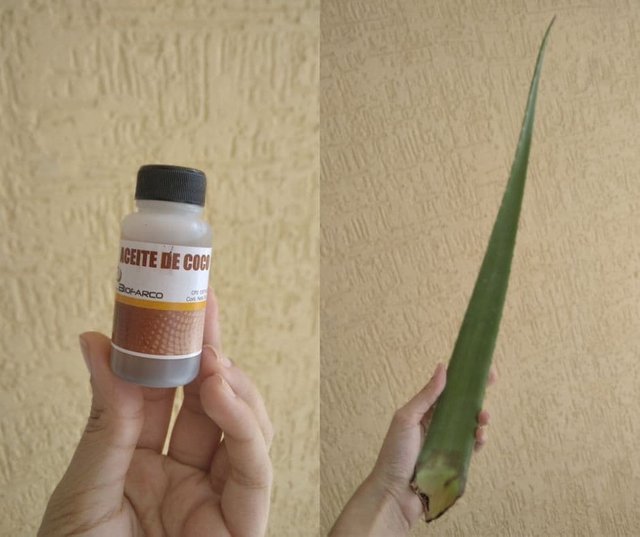 INGREDIENTES || INGREDIENTS
Una penca de sábila
Dos cucharadas de aceite de coco
One stalk of aloe vera

Two tablespoons of coconut oil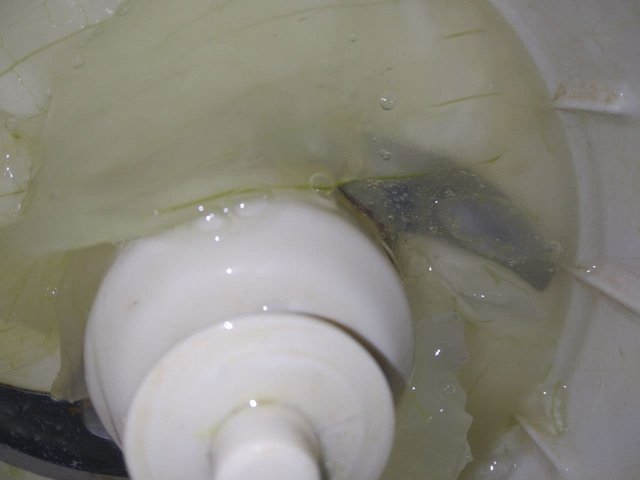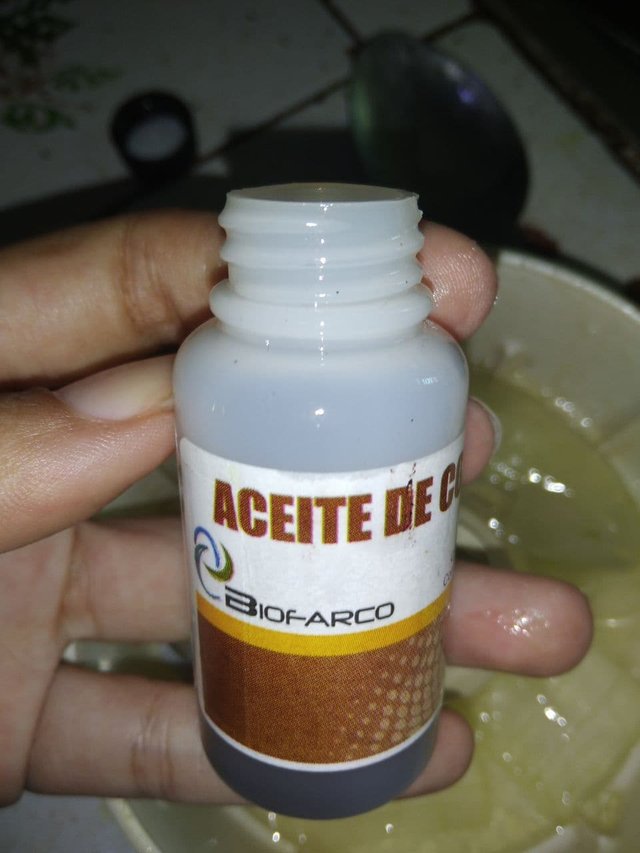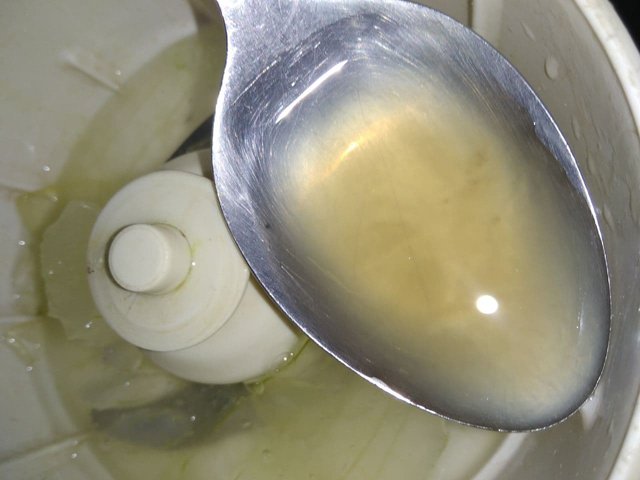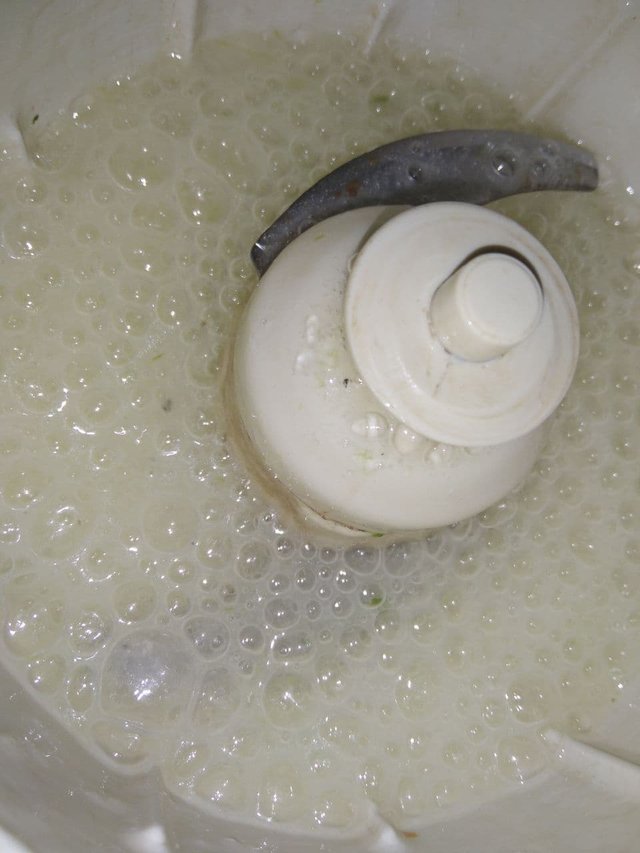 PREPARACION || PREPARATION
En una licuadora vamos a añadir el sumo de cristal de la sábila, primero le quitamos las orillas luego poco a poco con una cucharilla vamos agregando este sumo a la licuadora, nos lavamos las manos para quitarnos la baba de este sumo y procedemos a añadir dos cucharadas de aceite de coco, si tienes el cabello muy grasoso recomiendo que sea solo una, es importante que le quitemos toda la concha a la sábila ya que aunque así este triturada tiende a picar al contacto con la piel, lo digo por experiencia propia no es agradable jajaja asi que de esta manera obtenemos nuestra mezcla natural!
In a blender we are going to add the aloe vera crystal juice, first we remove the edges then little by little with a spoon we are adding this juice to the blender, we wash our hands to remove the slime of this juice and we proceed to add two tablespoons of coconut oil, if you have very greasy hair I recommend that it is only one, it is important that we remove all the shell to the aloe vera because although this crushed so this tends to sting on contact with the skin, I say it from personal experience is not pleasant hahaha so this way we get our natural mixture!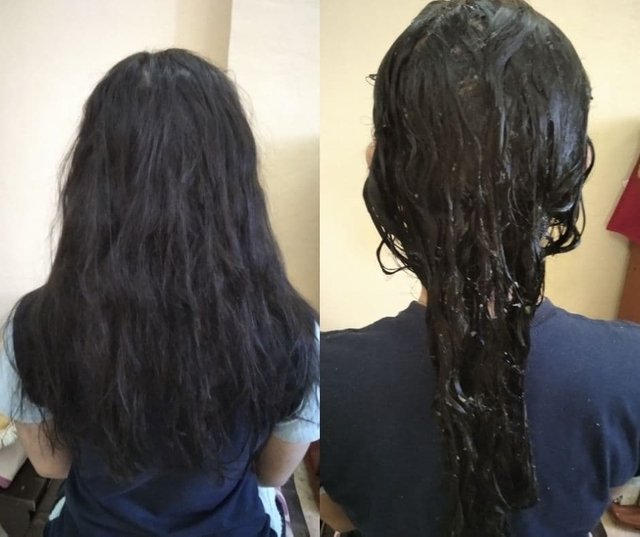 APLICACION || APPLICATION
Primero desenredamos nuestro cabello desde las puntas en sentido a la raíz para dañar lo menos posible, luego dividiendo el cabello por mechones vamos aplicando nuestra mezcla natural poco a poco por toda la raíz, luego vamos bajando por todo el cabello hasta llegar a las puntas, a mi me gusta dejarlo actuar por una hora y luego me lavo el cabello como habitualmente lo haría!
First we untangle our hair from the ends towards the root to damage as little as possible, then dividing the hair by strands we apply our natural mixture little by little throughout the root, then we go down the entire hair until we reach the ends, I like to leave it on for an hour and then I wash my hair as I usually would!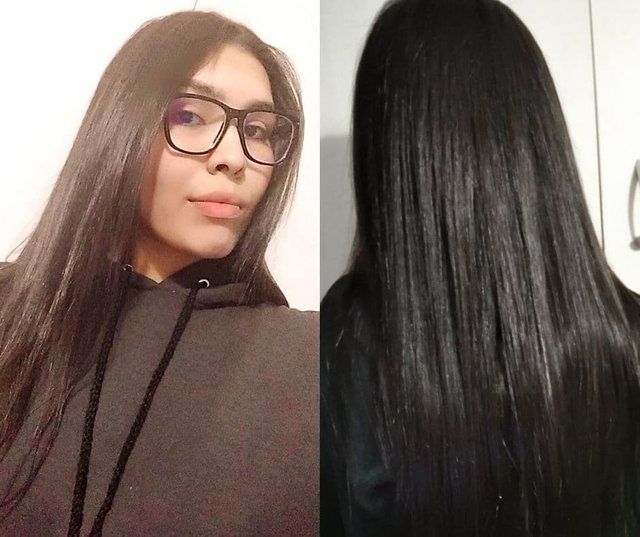 RESULTADO || RESULT
La sábila y el aceite de coco tienen múltiples beneficios como hidratar, restaurar, dar fuerza, hacer creer, dar brillo, frescura y aportar vitaminas esenciales a nuestro cabello que se notan de inmediato! estos productos se consiguen en todos lados, soy fiel creyente que mientras mas usemos productos naturales mas beneficios tendremos en nuestro cuerpo me encanta como queda mi cabello suave y sano! espero que lo prueben en casa ❤️
Aloe and coconut oil have multiple benefits such as moisturize, restore, give strength, make believe, give shine, freshness and provide essential vitamins to our hair that are noticed immediately! these products are available everywhere, I am a true believer that the more we use natural products more benefits we will have in our body I love how my hair is soft and healthy! I hope you try it at home ❤️

Me gustaría invitar a @ileart para que forme parte de esta comunidad !
I would like to invite @ileart to be part of this community !