Ottoman Palace Dessert: Şekerpare | Osmanlı Saray Tatlısı : Şekerpare
Today I cooked Şekerpare, the dessert of Ottoman Palace Cuisine. An easy to make and delicious dessert with sherbet.
Bugün Osmanlı Saray Mutfağı tatlısı olan Şekerpare yaptım. Yapımı kolay ve lezzetli bir şerbetli tatlı.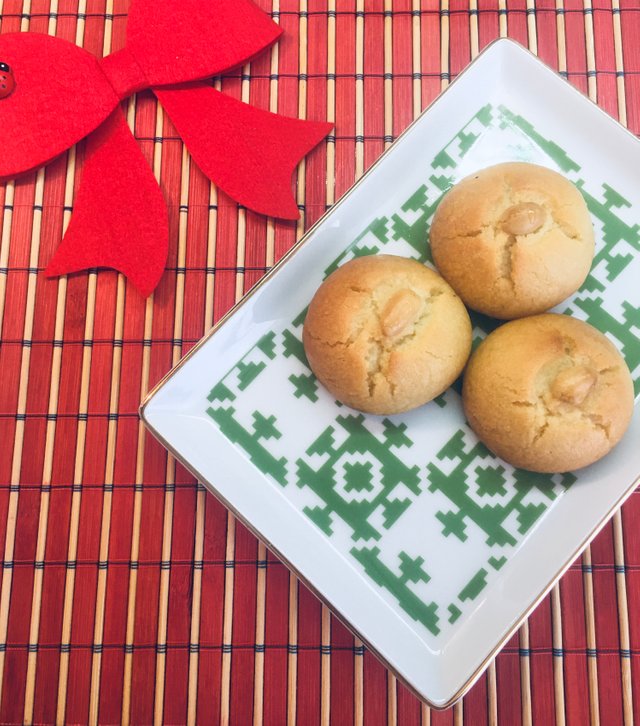 | Ingredients | Malzemeler |
| --- | --- |
| 125 grams of butter | 125 gram tereyağ |
| An egg | 1 yumurta |
| Half a glass of powdered sugar | Yarım su bardağı pudra şekeri |
| 2.5 tablespoons of semolina | 2,5 yemek kaşığı irmik |
| A pack of baking powder | Bir paket kabartma tozu |
| Flour as much as it takes (about 2 glasses of water) | Aldığı kadar un (yaklaşık 2 su bardağı) |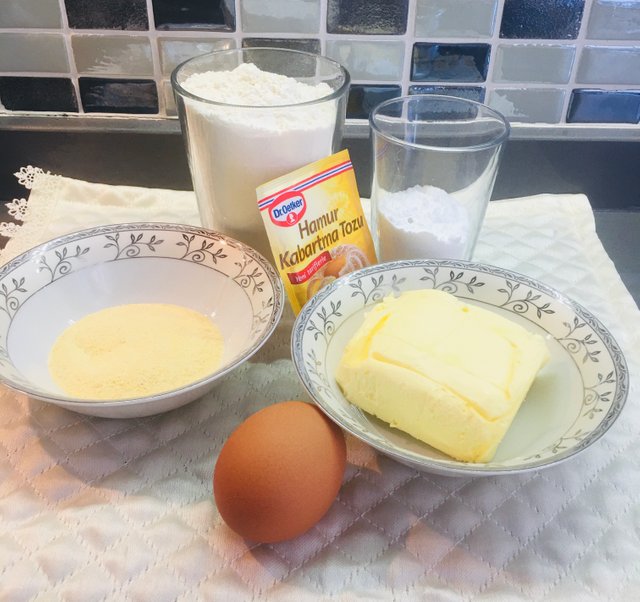 For the sherbet: 2.5 glasses of sugar, 3 glasses of water, 3-4 drops of lemon juice
Şerbeti için : 2,5 su bardağı şeker, 3 su bardağı su, 3-4 damla limon suyu
First, we prepare the syrup of the dessert and leave it to cool. (Dessert will be hot, sherbet will be warm)
Önce tatlının şerbetini hazırlayıp soğumaya bırakıyoruz. (Tatlı sıcak, şerbet ılık olacak)
We mix the given ingredients and add the flour in a controlled manner and turn it into a dough with a soft consistency that does not stick to the hand.
Verilen malzemeleri karıştırıp unu kontrollü bir şekilde ekleyerek ele yapışmayan fakat yumuşak kıvamlı bir hamur haline getiriyoruz.
We take walnut-sized pieces from the dough, roll them and lay them on a baking tray.
Hamurdan ceviz büyüklüğünde parçalar koparıp yuvarlayıp fırın tepsisine diziyoruz.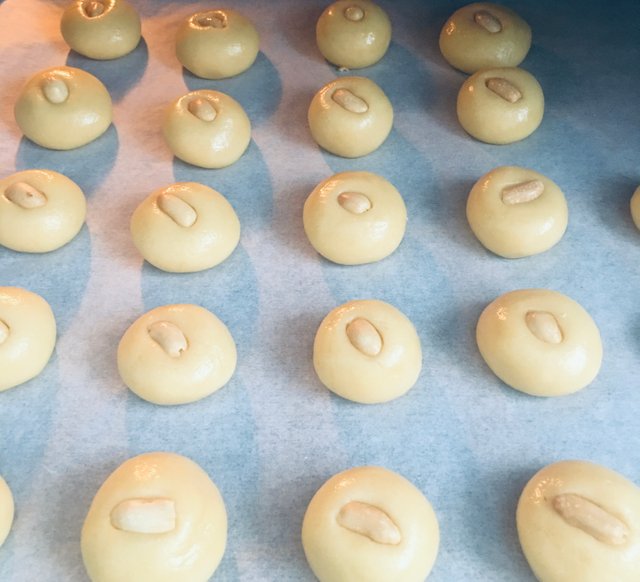 You can put hazelnuts, peanuts or walnuts in the middle.
Ortalarına fındık, fıstık ya da ceviz koyabilirsiniz.
We bake them in an oven preheated to 175 degrees until they turn slightly pink.
Önceden 175 dereceye ısıtılmış fırında üzerleri hafif pembeleşene kadar pişiriyoruz.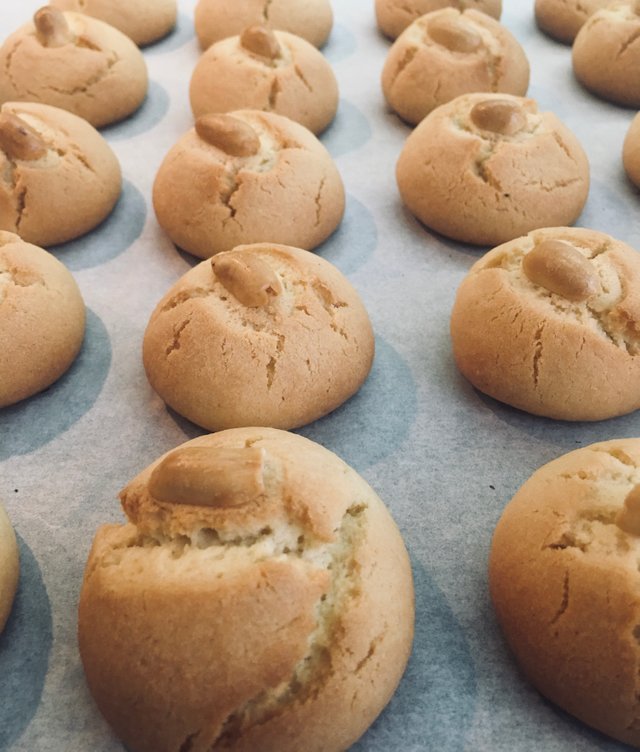 After waiting the dessert we take out of the oven for five minutes, we pour the cooled sherbet over the dessert.
Fırından çıkardığımız tatlıyı beş dakika beklettikten sonra soğumuş olan şerbeti tatlının üzerinde gezdiriyoruz.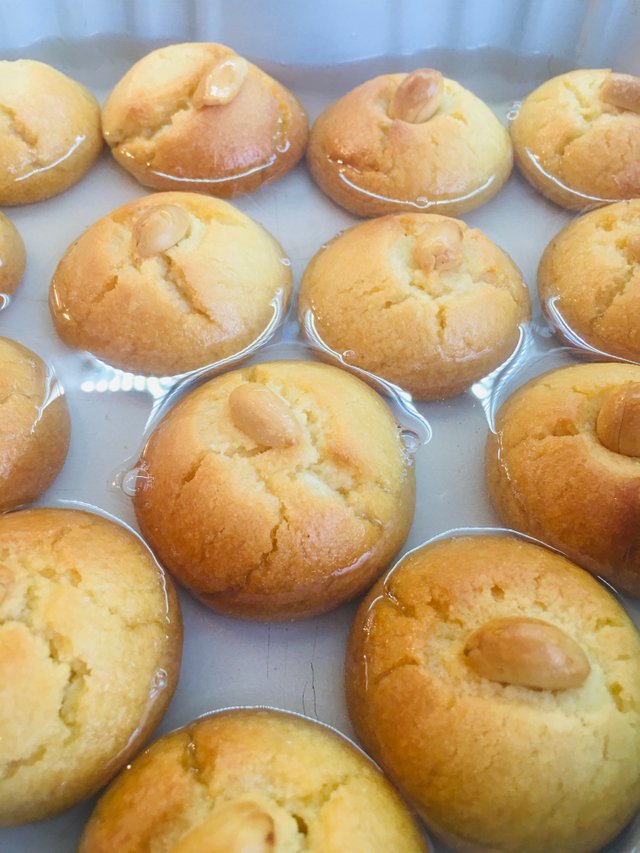 You can serve the sweet syrup when you have it. Bon Appetit.
Tatlı şerbetini çekince servis edebilirsiniz. Afiyet olsun.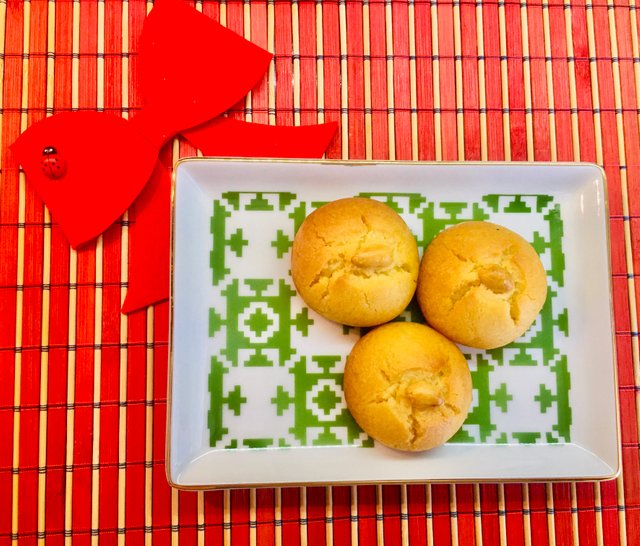 Thank you very much for your support. @steemcurator01 @steemcurator02