1000 DAYS OF STEEM: The Diary Game - 24/08/2020
Hoje foi dia de viajar um pouco mais longe, não muito, mas são trinta quilômetros de ida e trinta quilômetros de volta, o que dá uma hora de viagem no total mais o tempo de visita à cidade vizinha. Deixei para sair de casa só depois do almoço, já que voltaria para casa mais tarde.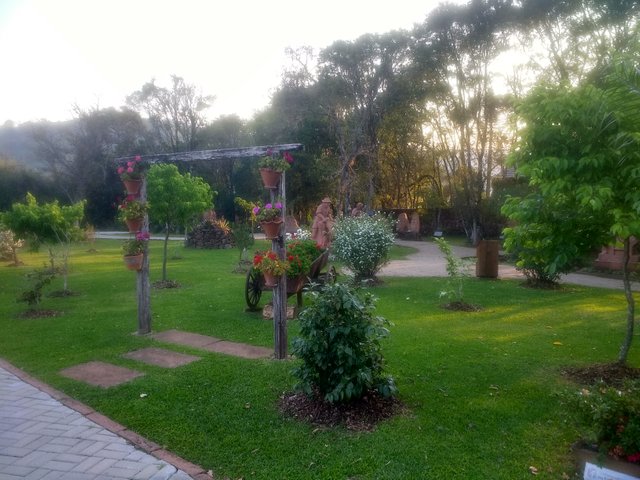 Foto: Parque Pedras do Silêncio, Nova Petrópolis, Rio Grande do Sul, Brasil
Pela manhã, deixo para limpar o carro, não precisa lavar todo o dia, mas é bom passar um pano úmido na lataria e um pano seco nos vidros para tirar a poeira, além de utilizar um aspirador de pó no interior do carro para tirar a sujeira dos pés no tapete.
Com o tanque cheio e o dinheiro do pedágio separado, além da revisão do carro em dia, dá para viajar tranquilo e aproveitar a descida da serra, que garante uma boa economia de combustível. No meio do caminho, descobri um parque com esculturas em pedra. Já tinha visto a placa na estrada, mas nunca havia parado e desta vez resolvi dar uma conferida.
O Parque Pedras do Silêncio conta a história da imigração alemã no Rio Grande do Sul em esculturas em pedras como arenito, abundante na região e esculpidas no próprio parque. Além das esculturas, o local com trilhas e ao ar livre garante um passeio muito agradável e relaxante em meio à natureza.
Seguindo viagem, toda a estrada a caminho de Nova Petrópolis, cidade que homenageia a cidade fluminense conhecida como cidade imperial, lembra muito o relevo por também ser uma cidade serrana. Na beira da estrada são muitas plantações e cultivo de flores e morango.
Na cidade se destacam os canteiros de flores, a cordialidade da população, a tranquilidade da vida simples da colônia alemã e o desenvolvimento com indústria de laticínios, calçado e malhas. Outro destaque é a culinária com destaque para os embutidos e os doces de fruta, além dos pães preparados pelos colonos de forma caseira.