[ESP-ENG] 🚲 Paseo en Bici por Madelena 🚴 Madelena Bike Ride 🏙️
👋Un saludo y una grata bienvenida a mi blog para todos los miembros de esta hermosa comunidad. Un abrazo a todos mis seguidores en especial a los que siempre comentan y apoyan con su voto positivo en cada una de mis publicaciones.
Ayer como de costumbre decidí dar un paseo por algún lado en mi bicicleta, cuando salí de mi casa pensé en ir hasta el parque Simón Bolívar pero en el camino cambie mi parecer, me pareció mas divertido ir a conocer un parque que queda cerca del centro comercial Gran Plaza El Ensueño.
👋A greeting and a warm welcome to my blog for all the members of this beautiful community. A hug to all my followers especially to those who always comment and support with Upvote each of my publications.
Yesterday as usual I decided to take a ride somewhere on my bike, when I left my house I thought about going to Simon Bolivar Park but on the way I changed my mind, I thought it would be more fun to go to a park near the Gran Plaza El Ensueño shopping center.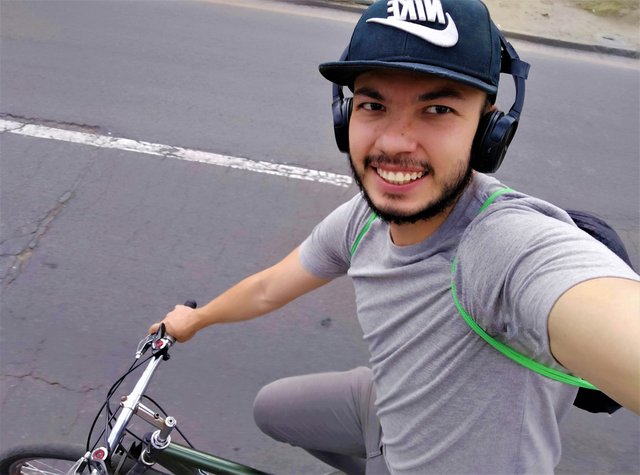 Apenas cuando me encontraba iniciando mi camino levante mi mirada y vi el hermoso paisaje que en ese momento pude apreciar, me encontraba en el puente de Meissen y al fondo se puede ver toda la localidad de Ciudad Bolívar, una loma con muchas casas coloridas sobre ella.
Just when I was starting my way I looked up and saw the beautiful landscape that I could appreciate at that moment, I was on the bridge of Meissen and in the background you can see the entire town of Ciudad Bolivar, a hill with many colorful houses on it.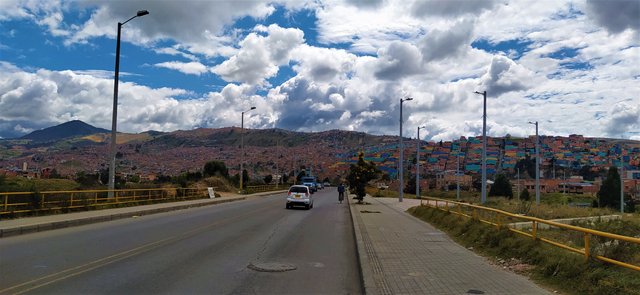 Puente de Meissen
Meissen Bridge
Luego de unos 30 minutos llegue al centro comercial Gran Plaza El Ensueño, simplemente debía ir a un costado del centro comercial que es donde se encuentra el parque que quería conocer. El parque se llama Gimnasio Al Aire Libre El Ensueño.
After about 30 minutes I arrived at the Gran Plaza El Ensueño shopping mall, I simply had to go to the side of the mall where the park I wanted to visit was located. The park is called Gimnasio Al Aire Libre El Ensueño.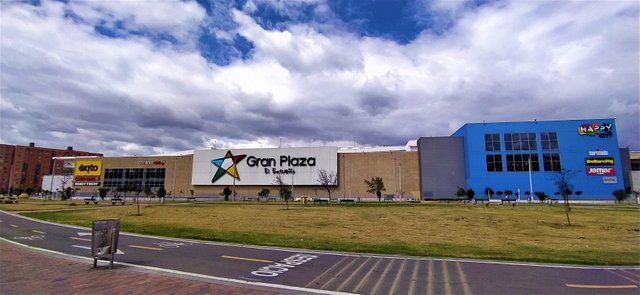 Centro Comercial Gran Plaza El Ensueño
Gran Plaza El Ensueño Shopping Mall
Al costado izquierdo del Centro Comercial Gran Plaza El Ensueño se encuentra este parque, llamado Gimnasio Al Aire Libre El Ensueño y esta rodeado por muchos conjuntos residenciales del sector de Madelena. Además es un sitio muy lindo ya que hay mucha zona verde.
On the left side of the Gran Plaza El Ensueño shopping center is this park, called Gimnasio Al Aire Libre El Ensueño and is surrounded by many residential complexes in the Madelena sector. It is also a very nice place because there is a lot of green area.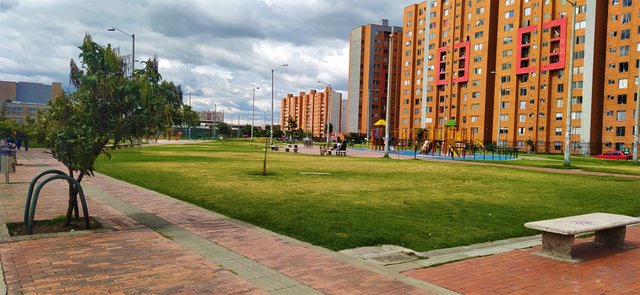 Parque Gimnasio Al Aire Libre El Ensueño
El Ensueño Outdoor Fitness Park
En este parque hay una zona para los niños más pequeños, en este sitio hay rodaderos, pasamanos y escaleras. Los niños aquí pueden desarrollar sus habilidades motrices divirtiéndose al mismo tiempo.
Al igual se ve que es un lugar tranquilo y seguro para ellos y hay un sitio donde los padres pueden sentarse, de paso pueden prestarle atención a los niños mientras ellos se divierten.
In this park there is an area for younger children, where there are rollers, handrails and stairs. Children here can develop their motor skills while having fun at the same time.
It is also a quiet and safe place for them and there is a place where parents can sit and pay attention to the children while they are having fun.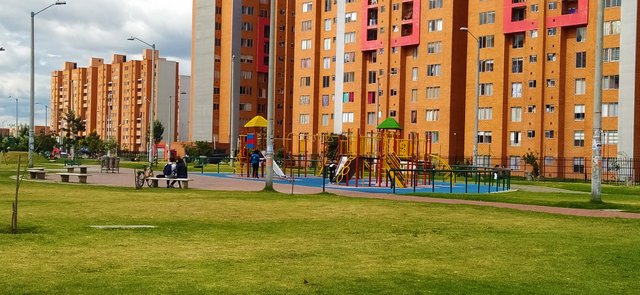 Zona Infantil
Children's Zone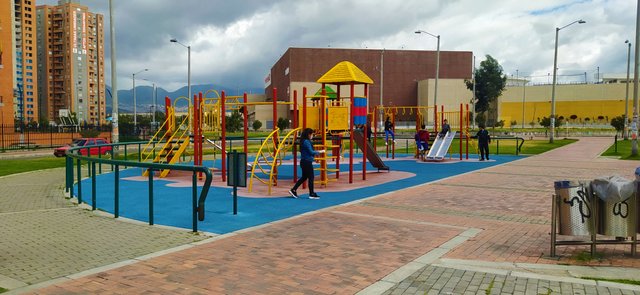 Este es otro sector del parque donde hay un gimnasio, unas canchas deportivas y carias zonas verdes, es una zona muy grande y creo que es muy importante para todos los apartamento que hay alrededor.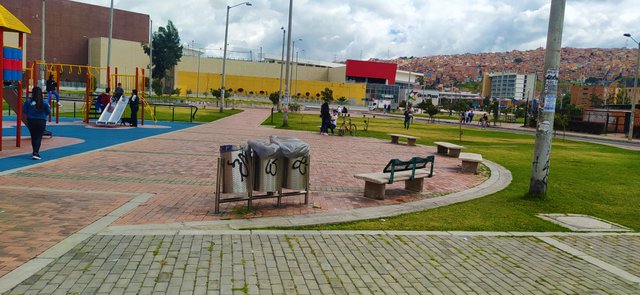 This is another sector of the park where there is a gymnasium, sports courts and several green areas, it is a very large area and I think it is very important for all the surrounding apartments.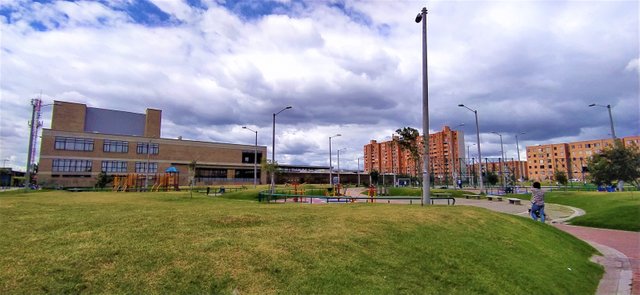 En esta parte del parque se encuentran estos gimnasios al aire libre, creo que gracias a esto el parque recibe el nombre de Gimnasio Al Aire Libre El Ensueño. Es un sitio donde las personas de todas las edades pueden ejercitar su cuerpo de forma gratuita.
In this part of the park you can find these outdoor gyms, I think this is why the park is called Gimnasio Al Aire Libre El Ensueño. It is a place where people of all ages can exercise their bodies for free.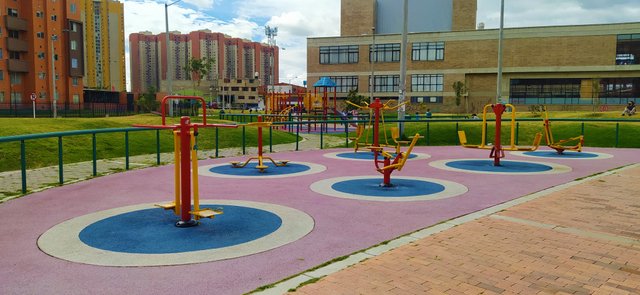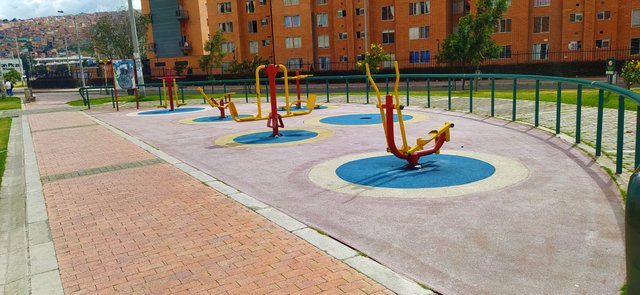 Gimnasio al Aire Libre
Outdoor Gym

El parque como es de costumbre no puede carecer de unas canchas deportivas, hay una de microfútbol y dos de baloncesto donde se reúnen muchos jóvenes a jugar toda la tarde.
The park, as usual, cannot be without sports fields, there is a micro soccer field and two basketball courts where many young people gather to play all afternoon.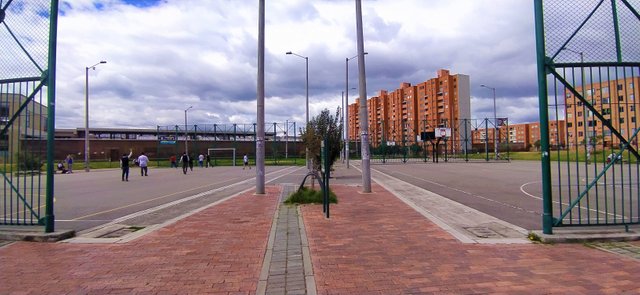 Canchas de Microfútbol y Baloncesto
Micro Soccer and Basketball Courts
Me llamo mucho la atención que detrás de las canchas había un edificio y decidí acercarme, al estar frente a la edificación me percate de que es un teatro llamado El Ensueño, me hubiese gustado entrar a conocerlo pero estaba cerrado.
I was struck by the fact that behind the courts there was a building and I decided to approach it, when I was in front of the building I realized that it was a theater called El Ensueño, I would have liked to go in to see it but it was closed.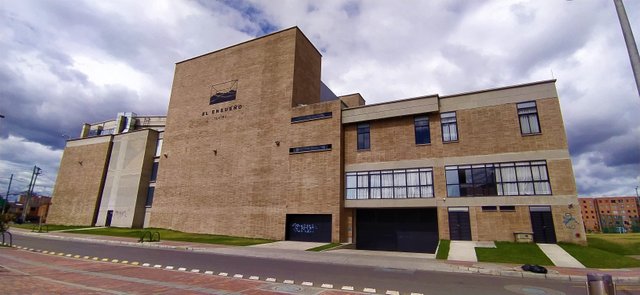 Teatro El Ensueño
El Ensueño Theater
Cuando ya me disponía a irme vi este parque alterno, se encuentra en frente del teatro El Ensueño, es un poco pequeño pero me percate de que es para niños, hay una zona de pasamanos y rodaderos, otra zona con columpios y otro espacio donde pueden realizar otras actividades de motricidad.
When I was about to leave I saw this alternative park, it is located in front of the El Ensueño theater, it is a little small but I noticed that it is for children, there is an area with handrails and rollers, another area with swings and another space where they can perform other motor activities.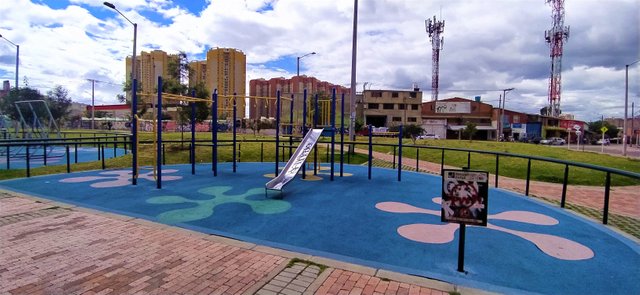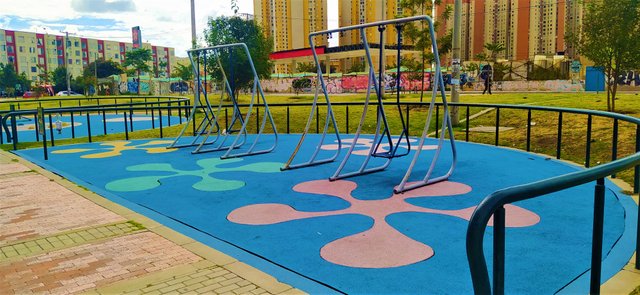 Me gusto mucho salir la tarde de ayer a pedalear en mi bicicleta, esta es mi forma de pasar el tiempo, de paso realizo deporte, tambien puedo ayudar al medio ambiente y lo mejor de todo siempre conozco lugares nuevos.
Este fue el fin de mi paseo en bicicleta por el parque Gimnasio Al Aire Libre El Ensueño, fue muy divertido conocer esta zona de la ciudad, espero les haya gustado las fotografías. Si llegaste hasta aquí quiere decir que leíste toda mi publicación y te doy las gracias por visitar mi post, si te gustó házmelo saber en los comentarios.
Fotografías de mi autoría.
Fotografías tomadas en con un teléfono Xiaomi Redmi Note 8📱.
Lugar de las fotografías Madelena - Bogotá.
Traducción con ayuda de Deepl Traductor.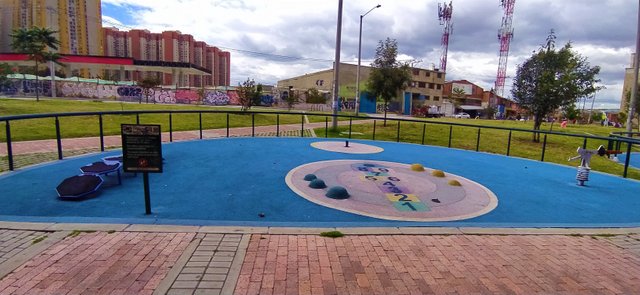 I really enjoyed going out yesterday afternoon to ride my bike, this is my way of spending my time, I get to do some sport, I can also help the environment and best of all I always get to know new places.
This was the end of my bike ride through the park Gimnasio Al Aire Libre El Ensueño, it was a lot of fun to get to know this area of the city, I hope you liked the pictures. If you made it this far it means you read my whole post and I thank you for visiting my post, if you liked it let me know in the comments.
Photographs of my authorship.
Photographs taken on with a Xiaomi Redmi Note 8📱 phone.
Location of the photographs Madelena - Bogotá.
Translation with the help of Deepl Translator.